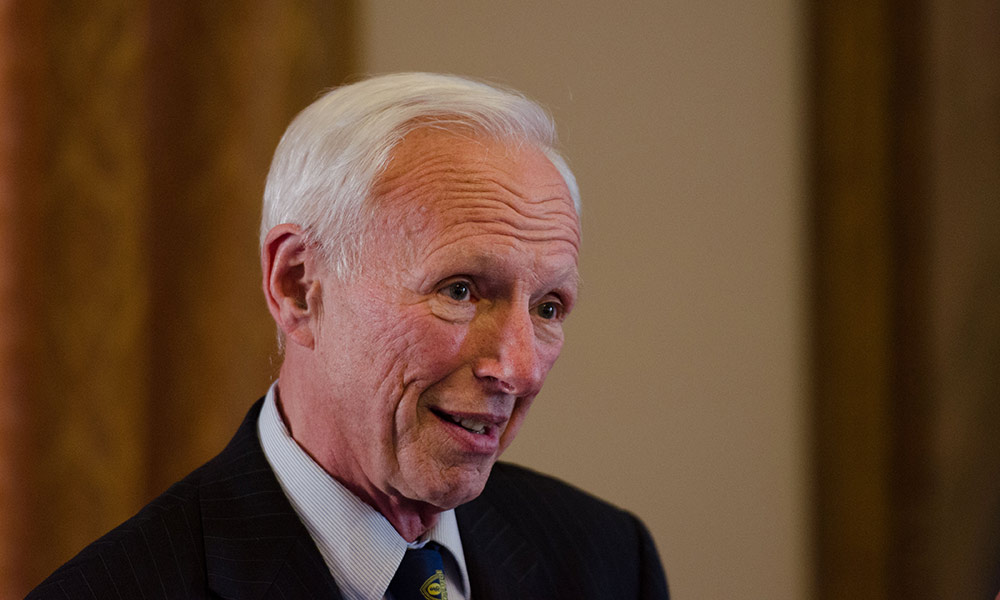 University Trustee and Board Chairman Emeritus G. Robert Witmer Jr. '59—noted jurist, distinguished alumnus, longtime servant of the University and the Greater Rochester community, and a man known affectionately as "Mr. Rochester"—is being remembered this week as one of the institution's most significant and beloved leaders. Witmer died Sunday evening, August 18.
In a message to the Board of Trustees, President Sarah C. Mangelsdorf wrote, "We have lost an extraordinary University friend, a dedicated civic and legal leader, a lifelong athlete, and a person of great integrity, intelligence, and grace."
Remembering G. Robert Witmer Jr. '59
A funeral service will take place Saturday, August 24, at the Interfaith Chapel beginning at 1:00 p.m.  A reception will follow.
Calling hours are Friday, August 23, from 2:00 to 4:00 p.m. and 6:00 to 8:00 p.m. at Anthony Funeral Chapels, 1031 Ridge Road, in Webster.
Board Chair Rich Handler '83, speaking on behalf of the entire board, said, "The University of Rochester lost one of our true legends and a pillar of our community. Bob Witmer represented all that is special about our University. Thank you, Bob, for teaching us every day about integrity, respect, humility, generosity, commitment, and the importance of education.Each day you made our University 'ever better.' Our hearts go out to the entire Witmer family, whom we cannot thank enough for sharing this amazing man with our University for these past 60 years."
Witmer was elected to the board in 1979 and chaired the executive committee from 1992 until he was named chair of the board in 2003. He served in that role until 2008, having achieved a transformational tenure that included the selection of the tenth president of the University, Joel Seligman, and the groundwork for the launch of the largest campaign in University history, The Meliora Challenge. In addition, he served as president of the board of directors of the Eastman Dental Center (now Eastman Institute for Oral Health); chair of the Trustees' Council of the College, the University Alumni Council, and the Eastman School of Music's National Council; and as a longtime member of the Medical Center's board.
Over the course of his long career, he advised six University presidents, including Richard Feldman, who served as interim president preceding the start of Mangelsdorf's term on July 1 of this year.
President Emeritus Seligman called Witmer "the board chair par excellence."
"His ebullient spirit, his love of family, Rochester, and the University of Rochester were an inspiration to all of us," said Seligman, who also holds the title of University Professor. "He was Mr. Rochester and, in many ways, Mr. University of Rochester—a man whose generous contributions of time, treasure, and love are deeply etched into our University's history."
As a philanthropist, Witmer gave generously to the University. In 2016, he and his wife, Nancy Wenner Witmer, who died in 2017, endowed the Witmer University Professorship to provide financial support for the presidency. The couple were the major benefactors of a renovation and addition to the presidential residence, renamed Witmer House in 2006, in honor of Witmer's parents. Each year since 2008, the Witmer Award for Distinguished Service has honored staff members for outstanding and sustained contributions to the University.
Witmer's impact extended across units and programs within the University. "Bob was a great friend and loyal supporter," said George VanderZwaag, executive director of Athletics. "His contributions to Athletics at the University are immeasurable. We will miss him dearly."
Jamal Rossi, the Joan and Martin Messinger Dean of the Eastman School of Music, shared an anecdote. "Bob and Nancy were fiercely committed to making music as part of the New Horizons ensemble program," he said. "The importance of music to the Witmer family was on full display at Nancy's funeral, when Bob, his children, and grandchildren performed as the 'Witmer Family Band.' I remember being deeply moved by the power of music to both unite and provide healing to broken hearts. Bob will be deeply missed by all who were lucky enough to know him."
The son of a Rochester alumnus—the late Hon. G. Robert Witmer '26, a former justice in the Appellate Division of the New York State Supreme Court—the younger Witmer's own long association with the University began in the fall of 1955. During his four years in the College, he became co-captain of the Yellowjackets basketball team and was elected to Phi Beta Kappa. He graduated with honors with a bachelor's degree in history in 1959.
Following graduation, he entered Harvard Law School, from which he received an LLB in 1962. A native of Webster, New York, he returned to the Rochester area, joining the law firm Nixon, Hargrave, Devans & Doyle (now Nixon Peabody). He became a partner of the firm in 1970. Later, as senior counsel for Nixon Peabody, he successfully presented cases before the state's highest courts and represented clients in high-profile decisions that helped shape real estate and environmental law in New York and at the federal level. As president of the New York State Bar Association in 1994–95, he distinguished himself as an articulate champion for the legal profession and for his colleagues' efforts to improve the lives of those they served.
The University presented Witmer with the Hutchison Medal in 2008 and the Eastman Medal in 2016. In 1992, he was named to the inaugural class of the University's Athletic Hall of Fame.
Witmer is part of an extended family of Rochester alumni that includes, in addition to his father, daughter Heidi Witmer Smith '95N, '10M (MPH); son G. Robert Witmer III '00M (MD); brothers John R. Witmer '60 and Thomas W. Witmer '65; niece Catherine T. (Puck) Witmer '86; and nephews J. Robert Witmer Jr. '85 and Jonathan W. Witmer '01.
Witmer is survived by two daughters, two sons, eight grandchildren, and other family members.
Category: University News