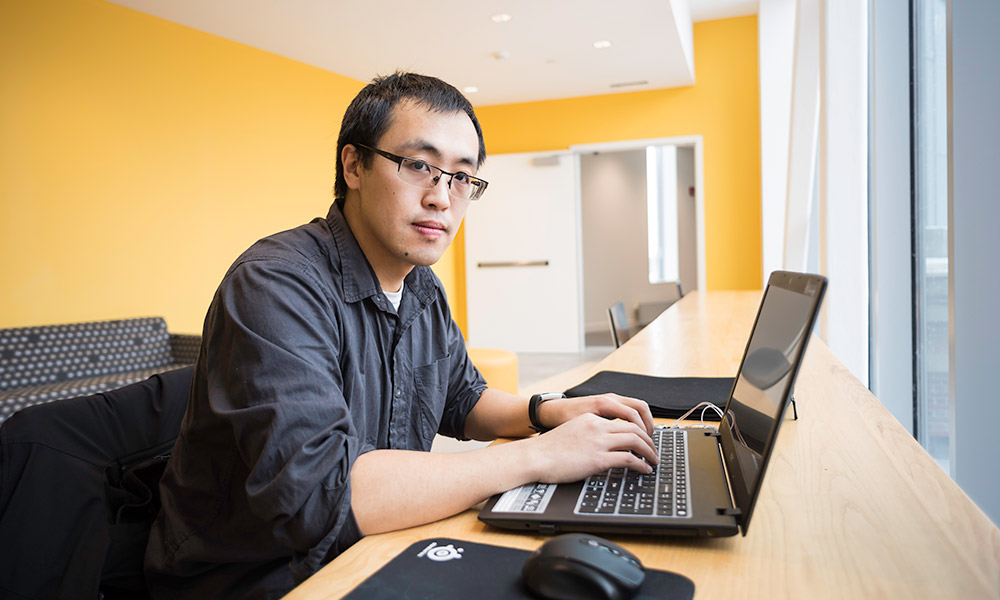 Jesse Wang remembers exactly when his crusade began.
The doctor he had seen since childhood turned a computer screen towards him during an office visit, in obvious frustration.
He couldn't get the program started to make the required entries in Wang's electronic medical record.
"This is absurd," his doctor said. "I just want to be able to talk to you like I used to."
Wang, who is pursing both a medical degree and a PhD in translational biomedical science at the University of Rochester, understands the frustration. Especially when he reads studies showing it's not unusual for physicians to be online maintaining patient e-records from 5 in the morning until 9 at night.
"It's not what I signed up for; it's not what any doctor signed up for," Wang says.
Thanks to Rochester's Medical Scientist Training Program, which allows him to combine his interest in medicine with his passion for coding, Wang is well positioned to do something about the problem.
He'll explain how, as one of four finalists in the ACP Innovation Challenge — a "Shark Tank"-style competition hosted by the American College of Physicians on April 13 in Philadelphia.
During an eight-minute pitch in front of a panel of judges — and an audience of 100 or more physicians — Wang will describe the virtual assistant he is creating. The device will use speech recognition and natural language processing to take over the job of maintaining patient e-records, freeing up physicians to concentrate on their patients.
"It would be like Amazon Alexa," Wang says. "There would be a little speaker in the room that would be recording while your doctor talks to you and, based on that conversation, the device would know what to enter into the e-record."
"I think the key that will make this work is that doctors are already encouraged to use what's called a patient-centric communication style."
For example, physicians are encouraged at the end of a visit to sum up a patient's concerns and their plan to address them. Physicians would use a phrase like "to make sure I understand." The virtual assistant would recognize the phrase as a cue to transcribe everything from that point to the next cue, such as when the physician says, "Do I have that right?"
The device would be less expensive than hiring a transcriptionist, Wang says, and less obtrusive for patients who find it hard enough to divulge personal health information when there's just a physician in the room.
He already has a prototype for transcribing the summary portion of a patient's visit.
'Seamlessly see what the problem is — and fix it'
Wang, who is from Westford, Massachusetts, came to Rochester after majoring in physiology and neurobiology at the University of Connecticut.
He is now in his fourth year of Rochester's Medical Scientist Training (MD/PhD) Program, which currently enrolls 66 students. The program incorporates the MD and PhD degrees into a cohesive curriculum that endows the select group of students with the clinical and basic science skills needed to understand disease and to translate that understanding into new therapies.
Students spend the first two years on their medical degrees, then complete their PhDs in four years before returning for the last two years of medical school.
Wang is pursuing his PhD in translational biomedical science under the direction of Henry Kautz, professor and former chair of computer science and founding director of the Goergen Institute of Data Science.
Wang is now thinking about forming his own company after he graduates. He would use his medical and computing background to pursue his virtual e-record assistant and other medical-related projects full time.
"Physicians go to programmers for help with a lot of things besides e-records. It might be for applications for telemedicine," Wang says. "But it can be hard for them to convey what they need to a programmer who doesn't have a medical background.
"I'll have that background. I'll be able to very seamlessly see what the problem is — and fix it."
Category: Science & Technology