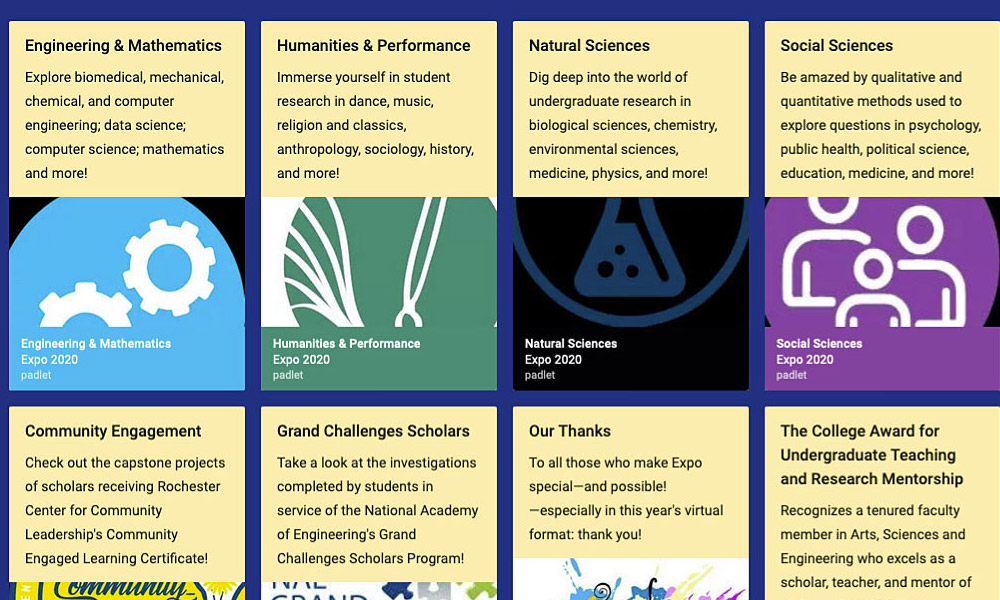 The annual Undergraduate Research Expo—typically held in person, with printed displays featuring students' research projects—is this year taking place online, with 96 virtual "posters."
Chen Ding honored
In conjunction with the Undergraduate Research Expo, Chen Ding, a professor of computer science, was presented with the College Award for Undergraduate Teaching and Research Mentorship during a virtual ceremony.
Ding has offered research internships to at least 48 undergraduates and welcomed eight of them into his research group last summer alone. He takes a keen interest in what his interns are doing, visiting with them daily, getting to know them individually, answering questions, and hosting team-building activities like rock climbing.
Wesley Smith was an undergraduate at the University of Edinburgh when he came to Rochester for a summer REU (research experience for undergraduates) internship in Ding's group. "From day one he treated me with respect and as a peer," he says.
"Thanks to Chen's guidance and mentorship, I was inspired to pivot completely my area of academic interest and pursue a PhD (in Ding's group)." Read more here.
Erin Campbell '21, an environmental health major at the University of Rochester, is disappointed that she won't have an opportunity to share her first research poster in person, side by side with other students.
The coronavirus pandemic nixed that, forcing the University to close its campus and conduct classes remotely.
However, Campbell is "still so glad" that the University's annual Undergraduate Research Expo is being held as a virtual event now through next Friday, April 24.
"I took the work I had done, and was able to practice creating a poster," says Campbell, who is finishing the semester at her parents' home in Bethlehem, Pennsylvania.  "Although there is no formal judging this year, I am so grateful that I and my fellow undergrads have the opportunity to share the cool stuff we've been working on."
That "cool stuff" is reflected in 96 research projects, spanning engineering and mathematics, humanities and performance, natural sciences, social sciences, community engagement, and the University's Grand Challenges Scholars program.
Topics range from "School District Demographics and Natural Gas Wells in Colorado" (Campbell's project) to "A Community-Engaged Approach to Economic Redevelopment of Brownfield Sites," to "Fourier Processing of Partially Coherent Fields."
The expo is an example of the University's efforts this spring to maintain as many of its annual celebrations and traditions as possible through virtual observances. The Hajim School of Engineering and Applied Sciences is planning a virtual Senior Design Day next month.
Sina Ghaemmaghami, an associate professor of biology and College director of undergraduate research, says the virtual Undergraduate Research Expo "is a great way to showcase the accomplishments of undergraduates, and I'm hoping students, faculty, and staff will take the time to view, comment on, and 'like' these posters online."
Finishing the semester remotely has been a challenge, Campbell says.
"Even with Zoom, Slack, and other communication networks, I still feel that I am missing an integral part of the student experience," she says. "For example, I usually work with other students on macroeconomics problem sets, as the professor recommends, and since the implementation of remote learning, many of my study-group (members) have moved to other time zones, and we have been unable to work together."
That means fewer people to turn to for help. And it has been harder to find quiet space "with everyone at home all the time."
On the plus side, "I have accomplished a few things that I am proud of. My research poster is one of these things. Since leaving extra-curriculars like student organizations largely behind in Rochester, I find that I now have more time to dedicate to my research, which has been extremely positive."
Category: Student Life