Rochester Ready 2017–18
Here's a roundup of changes in campus dining for 2017–18:
Peet's Coffee, Wegmans Hall
Peet's opened in April and will transition to full fall hours (Monday through Thursday 7:30 a.m. to 5:30 p.m., Fridays 7:30 a.m. to 2 p.m.). It serves brewed coffee, a variety of hot and cold espresso drinks, specialty beverages, and teas. Soup from Rochester's own Nathan's Soup & Salad will be added as well as a new selection of grab-and-go sandwiches, salads, and sides produced on campus.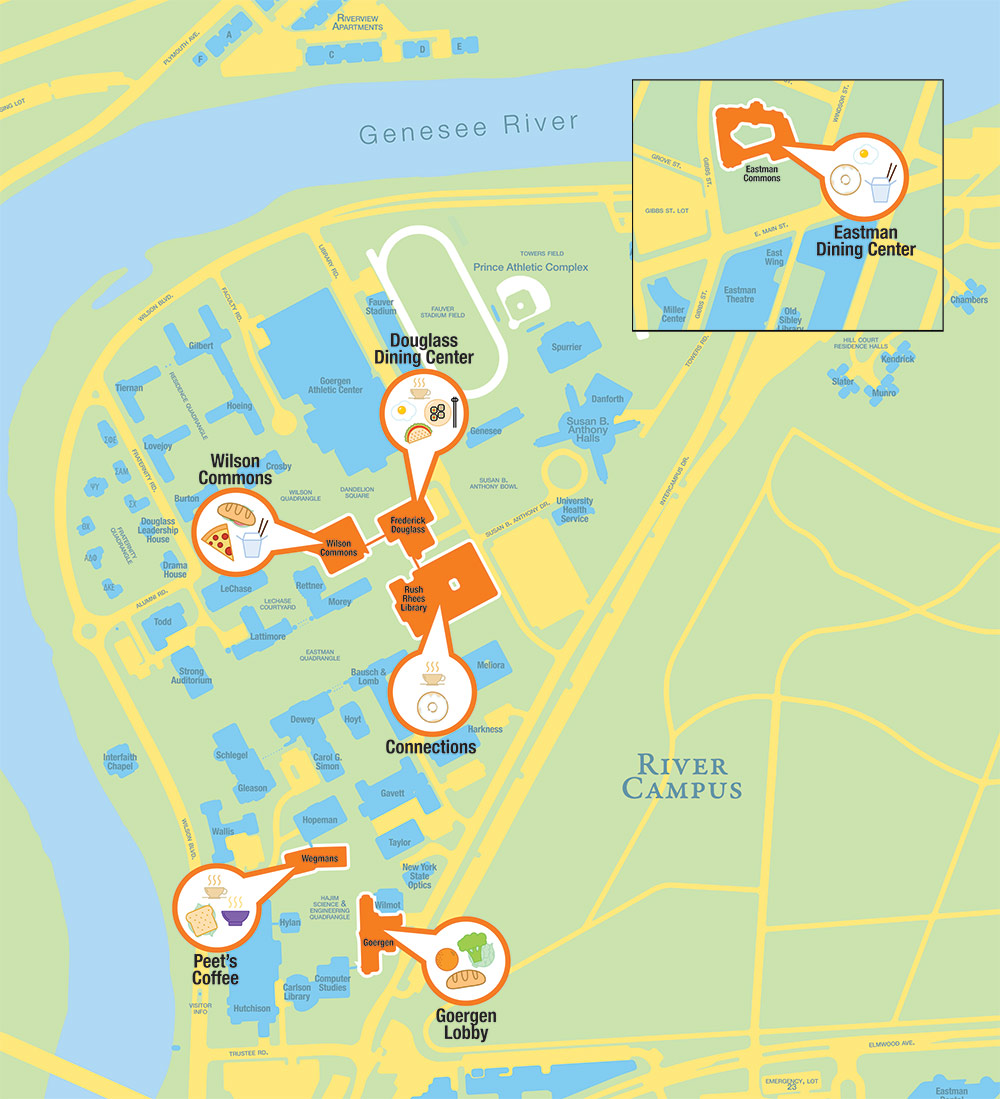 Goergen lobby
OptiKale replaces Pura Vida in the lobby of Goergen Hall this fall. The location will feature fresh produce, grains, broths, and proteins, all hand-tossed in made-to-order salads and bowls that are gluten-free. The healthy food–focused concession will be open Monday through Friday from 11 a.m. to 2 p.m.
Connections
The market and café at Rush Rhees Library was remodeled slightly this summer to allow for more offerings and better traffic flow. An expanded bagel display will be accented by an all new cream cheese "schmear" bar, giving customers the option to have their bagels toasted and customized with many of the new cream cheese flavor options. Connections will add cold brew coffee as well as the same new grab-and-go options to be offered throughout campus.
Douglass Dining Center
In its grand reopening, an expanded multicultural menu will be offered, with new options at every station. A few highlights will be breakfast served at the Street station each day, hand-rolled sushi options each Thursday, and fruit smoothies at Just Desserts, Grab & Go will offer a wider variety of premade sandwiches, salads, wraps, and sides for breakfast and lunch as well as brewed coffee and a selection of fruit smoothies.
Wilson Commons
Rocky's Sub Shop is officially open in The Pit, having replaced Blimpie over the summer. Rocky's features locally-produced rolls and breads baked in-house, clean label deli options and local cheese.
Panda Express has been replaced with a new Asian-fusion concept called Wok On Up. The station will continue to serve many of the favorite dishes previously offered while introducing healthier sauces and ingredients. The menu will be expanded to offer rotating specials such as Korean BBQ, Indian curry, and Japenese tempura.
The pizza served at the Pizza PI station will be produced from 100 percent New York state ingredients.
Grab & Go
Grab & Go, located on the Douglass Commons terrace, will now be open for breakfast Monday through Friday and has added many new options, including a line of breakfast sandwiches and brewed coffee, fresh-squeezed juices, and a new line of sandwiches and salads.
Eastman Dining Center
Eastman will be expanding their breakfast at the Grill with several new menu options. The rotating Comfort Kitchen station at Eastman will add two new menus that will feature Korean and Indian flavors.
Visit Dining Services for hours, menus, locations
Category: Campus Life