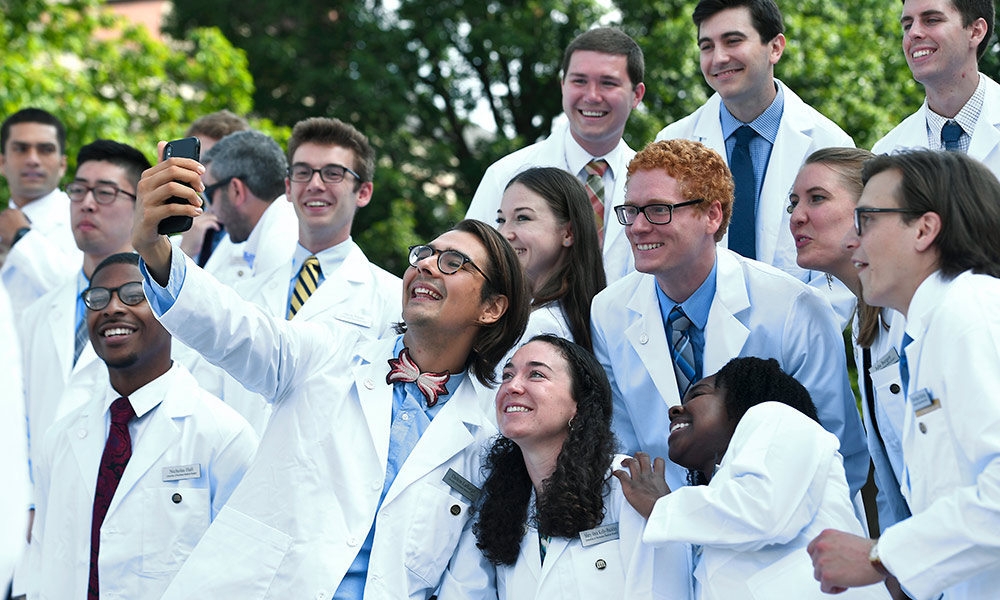 More than 100 medical students formally became members of the University of Rochester's School of Medicine & Dentistry on Friday during the annual Robert L. & Lillian H. Brent White Coat Ceremony at the Interfaith Chapel.
The 104 students received their white coats—the traditional lab jackets worn by physicians and medical scientists—to symbolize they are joining their peers and predecessors in the profession.
"In receiving their white coats today, our newest medical students accept the responsibilities of compassion and confidential patient care, both in their words and in their actions," said Mark Taubman, dean of the School of Medicine & Dentistry.
Rochester has held the ceremony each year since 1994. It's named in honor of Robert Brent '48, '53M (MD), '55M (PhD) and Lillian Brent '50, longtime benefactors to the school.
The Class of 2023 was chosen from approximately 5,800 applications. They hail from 25 states—led by New York (36), Massachusetts (10), and California and New Jersey (8 each)—and 17 are from countries such as China, Korea, Canada, India, Pakistan, Saudi Arabia, Switzerland, and the Ukraine.
They attended 54 different colleges and universities as undergraduates, including 20 who were students at the University of Rochester. Other schools represented include Cornell, Duke, Harvard, Johns Hopkins, Notre Dame, Princeton, and UCLA. Their average age is 24.
Edgar Alaniz-Cantu '17 graduated from the University of Rochester with bachelor degrees in biology and clinical psychology. The resident of McAllen, Texas, applied to 20 medical schools but ultimately chose Rochester for one simple reason: "I didn't want to leave."
He plans to specialize in primary care, with a focus on the Latino population.
"It's an exciting day, and a privilege to wear this coat," he said. "I look forward to many years of service."
Category: In Photos