On to the Next 150 Years . . .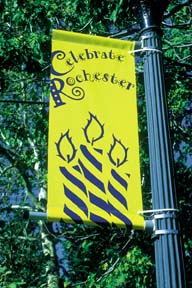 So much fun, we should do it every year.
That's the idea behind a new annual celebration announced last spring intended to carry the spirit of Rochester's successful Sesquicentennial celebration into the future.
The first edition of the celebration, called Meliora 2001, will be held October 12-14 on campus. As with Sesquicentennial, the three-day weekend includes Reunion, Homecoming, Family Weekend, and the Regatta.
Those kinds of events-plus an overflowing slate of panel discussions, lectures, open houses, exhibitions, concerts, and fun-filled get-togethers-proved to be a powerful combination for alumni, parents, students, faculty, and staff who attended the on-campus Sesquicentennial Weekend, October 12-15, 2000.
More than 7,800 people-far surpassing expectations-gathered on campus for the main celebration. In addition, nearly 3,000 participants attended the 22 regional birthday events around the country.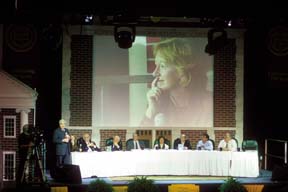 Arthur Miller '56, Harvard University law professor and Emmy Award-winning legal commentator, leads a panel discussion on "Privacy and the Media" during last October's Sesquicentennial Weekend. Panelists include Pulitzer Prize-winning historian Doris Kearns Goodwin (at left and on the projection screen); Robert Sack '60, a federal judge on the Second Circuit of the U.S. Court of Appeals; Jack Valenti, president of the Motion Picture Association of America; Charles Phelps, University provost; Elaine Dutka '69, arts writer for the Los Angeles Times; Richard Davis '66, an assistant special prosecutor in the Watergate hearings who is a partner at the New York law firm of Weil, Gotshal and Manges; Marc Rosenwasser '74, senior broadcast producer at Dateline NBC; and Tom DeFrank, Washington editor of the New York Daily News.
Also celebrating a milestone last October was the Medical Center, which rolled out the red carpet for alumni and guests in celebration of its 75th anniversary.
The culmination of more than two years of planning, the 150th anniversary provided a heartwarming opportunity for the University and its many communities to reflect on the way Rochester touches the lives of people-not only during the past century and a half but also for generations to come, says President Jackson.
"The Sesquicentennial celebration continues to reverberate-on and off campus -in a renewed appreciation for the teaching, research, service, and community that makes Rochester what it is," Jackson says. "No one wants to see the spirit and momentum come to an end."
For more on Meliora 2001, visit the Web site at www.rochester.edu/alumni/meliora2001.
Maintained by University Public Relations
Please send your comments and suggestions to:
Rochester Review.