Student Earns Goldwater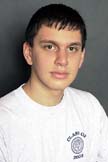 Etlinger
David Etlinger '03 received a Goldwater Scholarship, one of 302 students chosen nationally for the award.
As a Goldwater Scholar, he receives a grant of $7,500 a year for the next two years to support his studies toward a career in science.
Named for the late Senator Barry M. Goldwater, the awards are judged on the basis of academic merit and presented to sophomores and juniors nationwide. A total of 1,164 students were nominated last year.
Etlinger plans to pursue Ph.D. studies in mathematics, physics, or computer science.
Maintained by University Public Relations
Please send your comments and suggestions to:
Rochester Review.