Polish Studies Center Renamed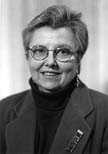 Hauser
One of the nation's premier centers for the study of Poland and Central Europe has a new name.
The Skalny Center for Polish and Central European Studies, named in honor of the Rochester-based Louis Skalny Foundation, was formally dedicated last November.
Established in 1994 with a gift from the foundation, the center brings together faculty and students to study the historical legacy and political and economic changes within Central Europe.
Worth Noting
For the second year in a row, the Eastman Jazz Ensemble, directed by Fred Sturm, was named a co-winner in the "best big band" category in Down Beat magazine's annual college student awards.
The June issue also cited Eastman graduate student Jamey Simmons for best jazz arrangement.
Housed in the Department of Political Science, the center coordinates an academic exchange with Jagiellonian University, hosting professors, offering student exchange opportunities, and promoting other scholarly collaborations between the institutions.
The center also coordinates a book series about Poland and Central Europe, which is published by the University of Rochester Press.
The series, called Rochester Studies in Central Europe, has produced its first two books: Lessons in Democracy, edited by Ewa Hauser, director of the Skalny Center, and Jacek Wasilewski, and Post-Communist Transition: The Thorny Road, by Grzegorz W. Kolodko, who last fall was named the first John C. Evans Visiting Professor in Polish Studies.
Maintained by University Public Relations
Please send your comments and suggestions to:
Rochester Review.