The [R]Evolutionary Work of a Leading Scholar
by Scott Hauser
"I like to work on the neglected problems," says H. Allen Orr, a professor of biology whose work has put him at the forefront of his field.
Since the early 20th century, Rochester scholars have transformed the way many academic disciplines are conducted.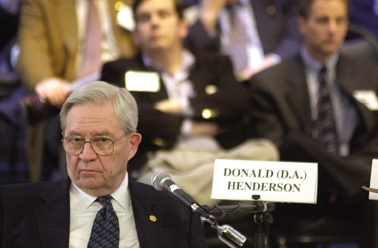 Leading the Fight Against Bioterrorism
by Scott Hauser
One of the nation's foremost experts on the threat of attack using biological weapons, Donald (D. A.) Henderson '54M (MD) is called into national service just days after September 11.
Innovative research, scholarly achievements, high-tech advances, and community involvement all marked the 2001-02 academic year. Review takes a look back.
---



Rochester Review for the Web
Editor: Scott Hauser
Associate editor: Jeffrey Marsh
Design supervisor: Stephen Reynolds
Graphic artist: Jeannine Papelino
Staff Photographer: Elizabeth Torgerson-Lamark
Copy coordinator: Joyce Farrell

Editorial office: 147 Wallis Hall, University of Rochester, Rochester, NY 14627-0033
(585) 275-4119 | Fax: (585) 275-0359 | E-mail: rochrev@admin.rochester. edu


Published three times a year for alumni, students, their parents, and other friends of the University, Rochester Review is produced by the Office of University Public Relations, Robert Kraus, associate vice president for public relations.

Opinions expressed are those of the authors, the editors, or their subjects and do not necessarily represent official positions of the University of Rochester.

Join Currents Digest
Click here to subscribe to Currents Digest and receive a daily electronic summary of news and events with links to the latest press releases from the University's public relations units and a rundown of daily events featured in the campuswide online calendar.

Maintained by University Public Relations
Please send your comments and suggestions to:
Rochester Review.