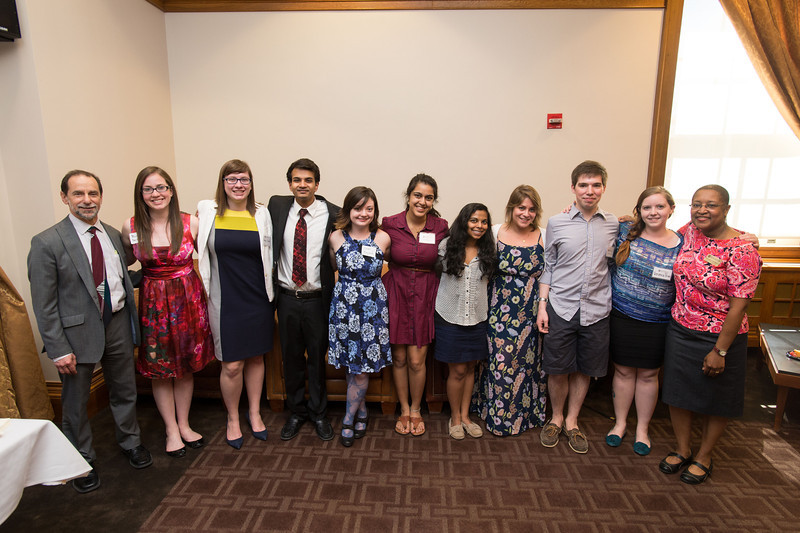 Student Fellowships Office
Welcome to the Fellowships Office!
We support UR students with excellent academic records in applying for a wide range of prestigious, nationally competitive fellowships, scholarships, and awards. If you want to pursue one of the many merit-based awards for undergraduate or graduate study, here in the U.S. or abroad, the Fellowships Office is here to help you. Some programs include a service and/or leadership focus in addition to the academic criteria. Recent college graduates and graduate students may also compete for selected awards.
Getting Started on Your Fellowships Quest
Step 1
Step 2
After attending a fellowships information session and/or reviewing award program websites, send an up-to-date résumé to the Fellowships Office and plan to come meet with Director of Fellowships, Belinda Redden, to discuss your profile and opportunities for which you might be a good match.
If you do not have a résumé, please complete the Prospective Fellowships Applicant Form and send by e-mail to the Fellowships Office at fellowships@rochester.edu.  See contact information for walk-in hours and appointment details. We look forward to hearing from you!
NB: It is not necessary to complete the Fellowships Preliminary Questionnaire (FPQ) until you are fairly certain you want to pursue specific competitive opportunities that require formal UR endorsement or want to work intensively with the Director of Fellowships on other highly selective open-competition awards.
Aaron Cravens '14
Benjamin Goulet '14

Amgen Scholarship
§
§
§
Alexander Turpin '13E (Russian), declined
Samantha Whalen '15 (Indonesian)
 §
Davis Projects for Peace Fellowship
 §
§
Barry M. Goldwater Scholarship
§
Sarah Walters '13

National Science Foundation Graduate Research Fellowship
Public Policy & International Affairs Fellowship
§
 Claire E. Crowther '13
Teaching Assistantship Program in France
(French Ministry of Education)
Congratulations to Rochester's National Fellowships Winners, Finalists and Honorable Mentions!
Lili Sarayrah '14E (Applied Music - Violin) Jordan
Gabrielle Cornish '13 (Russian Studies / Music) Russia
* Madeleine Klingler '13 (Russian) Alternate, Russia
Katie Bredbenner '13 (Molecular Genetics / Philosophy) Goettingen
Justin Roncaioli '13 (Molecular Genetics; minor: Psychology), declined
Maria Guano Zapata '14 (Chemical Engineering) Forschungszentrum Julich
Emerson National Hunger Fellows Program
2012-13 Fulbright Scholars
David Liebers '09 (History / Ecology & Evolutionary Biology) Poland
* Edith Hanson
'
12 (Japanese / Computer Science), Alternate, South Korea
Adam Russak '14 (Math; minor: Classical Civilization) Durham, United Kingdom
* Daniel Gorman, Jr. '14 (History / Religion), Finalist
2012 Hertz Foundation Graduate Fellowship Finalist
Scott Barenfeld '12 (Physics & Astronomy; minor: Math) Berlin
David Kaphan '12 (Chemistry)
Sharese King '12 (Linguistics; minor: American Sign Language)
Mark Levin '12 (Chemistry; minor: Math)
Susan Pratt '12 (Math / Physics)
Emilia Sola Gracia '12 (Ecology & Evolutionary Biology)
Chad Hunter '12 (Chemical Engineering)
Matej Penciak '12 (Physics / Math)
Benjamin Snyder '12 (Chemistry / Math)
2012 Pickering Foreign Affairs Fellowship Finalist
Zachary Palomo '13 (International Relations / Russian)
2012 Public Policy & International Affairs Fellow
2012-13 Rotary International Ambassadorial Scholar
2012 Harry S. Truman Scholarship Finalist
Rohini Bhatia '13 (Epidemiology)
2012-13 Whitaker International Fellows
Douglas Clift '12 (Biomedical Engineering) Spain
Kelli Summers '11 (Biomedical Engineering; minor: Studio Arts) Austria
Catherine Marando '12 (Biomedical Engineering; minor: Economics / Chemical Engineering) United Kingdom