A Salute to the University's Veterans
On Veterans Day, we honor the service of University of Rochester students past and present in our nation's armed services.
In 2009, the University launched the Rochester Pledge Scholarship in anticipation of the Department of Veterans Affairs' Yellow Ribbon Program, which was included under a revised G.I. Bill. The University's contribution, combined with the Yellow Ribbon benefits, guarantees full tuition for qualified veterans attending the College, the Eastman School's undergraduate program, and the Simon School.
Joe Lanphear '14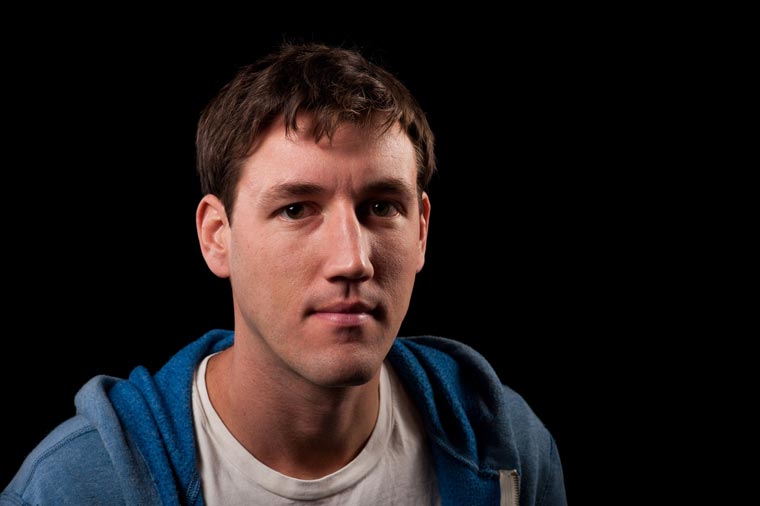 Joe Lanphear majors in mechanical engineering and while he is keeping his future plans open, he would like to put both his engineering and military background to use in a career in the U.S. government. The Bergen, N.Y., native served in the Marine Corps from 2002 to 2009, joining right out of high school and serving in Iraq in 2009. While in the Marines, Lanphear became an instructor in the Marine Corps Martial Arts Program, which teaches a blend of judo and other martial arts moves especially adapted to the heavy gear and special circumstances of military infantrymen. "Serving in the Marine Corps gave me a lot more discipline, which I didn't have coming out of high school," says Lanphear. "It helped me grow up. A lot."
October 1944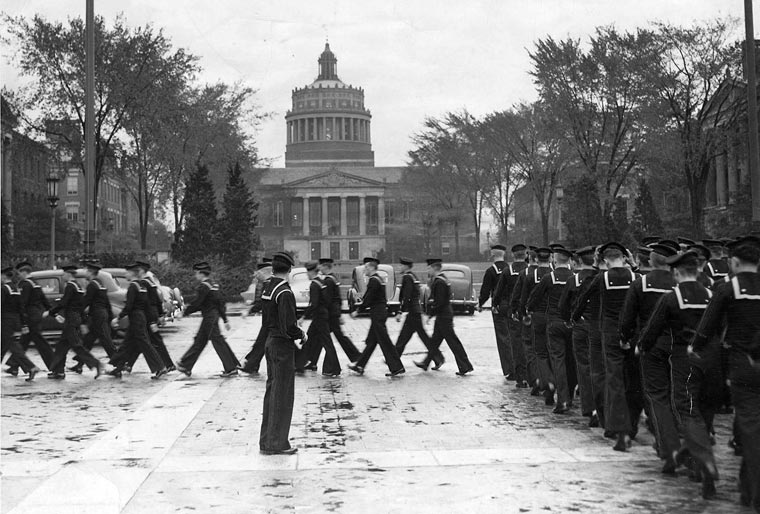 Anchors aweigh for V-12 graduates. Navy V-12 trainees at the University of Rochester parade past Rush Rhees library en route to Strong Auditorium for graduation exercises for the first sailor group to compete their training for college degrees. Photo from Rare Books and Special Collections.
Kelly Lannon '12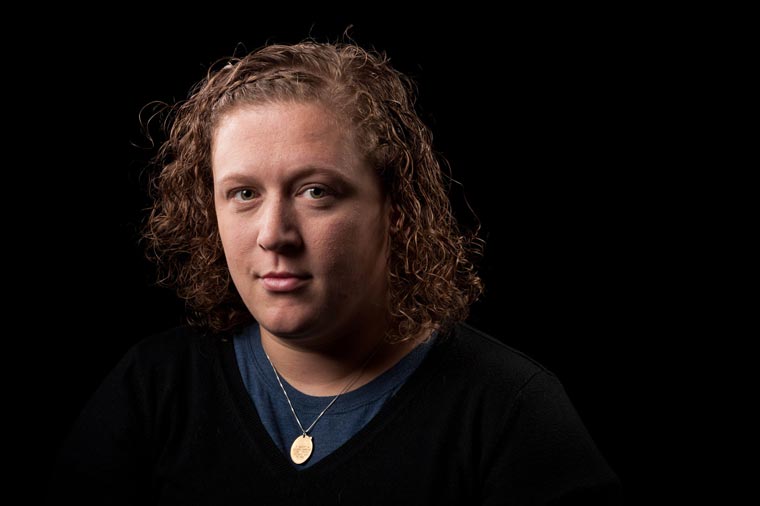 Kelly Lannon is currently a Warner School student enrolled in the community mental health counseling program. After serving in the Air Force from 2003 to 2007, the Clifton Springs, N.Y. native returned to upstate New York to major in psychology, graduating from the University last May. Lannon served in Iraq in the security forces at a detention facility at Camp Bucca, and received a medical discharge in 2007 after tearing a tendon in her leg. She is looking forward to a her practicum this spring at the VA Medical Center in Canandaigua, N.Y. "I really want to help other veterans on issues related to PTSD, substance abuse, and transitioning," says Lannon. "I think as a veteran myself I know what it feels like when you aren't being heard or taken seriously. ... I've been able to do such great things here, to get my education basically paid for. I just want to give back."
March 1949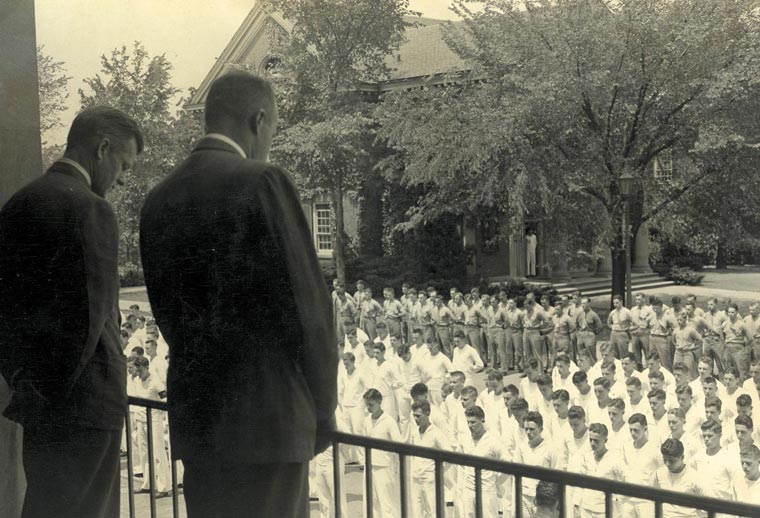 The annual review of midshipmen of Rochester's naval Reserve Officers Training Corps on the River Campus. Photo from Rare Books and Special Collections.
Rory Hamilton '14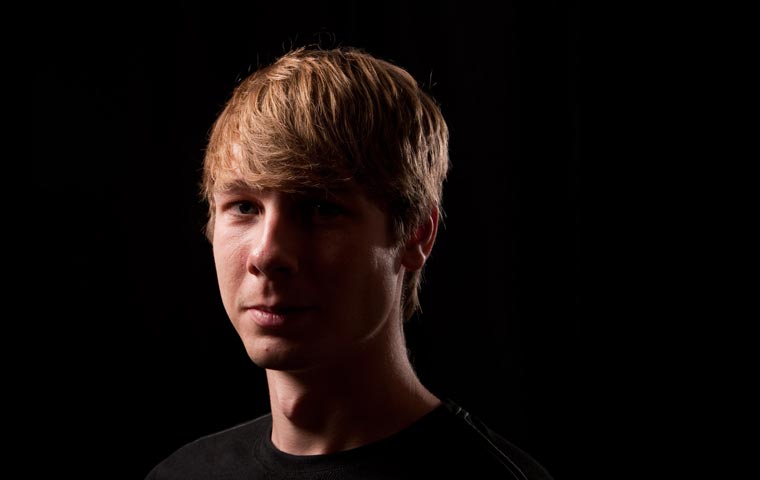 Rory Hamilton says serving the Army was more than just a job for him—it was a "life-altering experience. I felt compelled to give something back to my country which has given so many opportunities to me," he says. "Serving was about being a part of something bigger than myself." Hamilton was a combat medic in Germany for four years and he was deployed to Iraq as part of the surge for 15 months. His unit helped stabilize some of the most volatile areas of the country, an experience that helped Hamilton "grow as a person in a way that no other experience could."
March 1949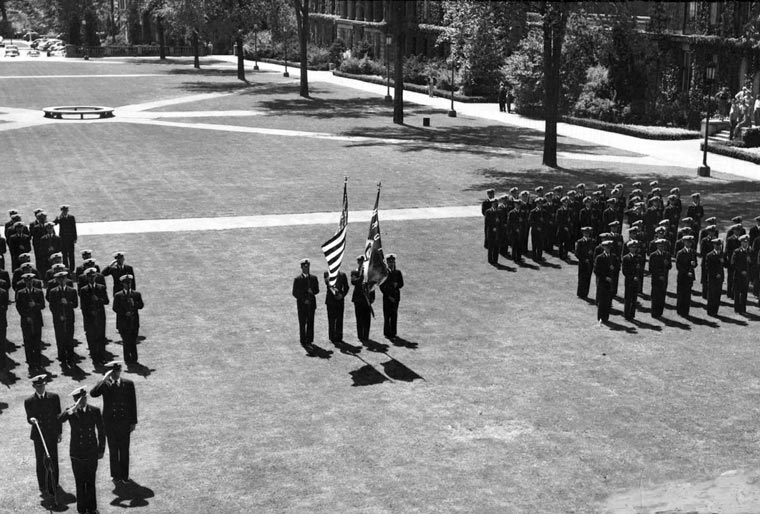 The annual review of midshipmen of Rochester's naval Reserve Officers Training Corps on the River Campus.Photo from Rare Books and Special Collections.
Tom Anderson '15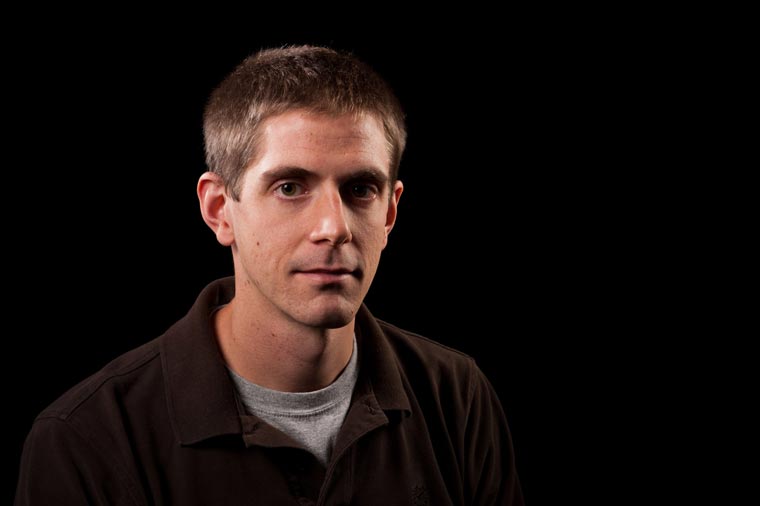 Tom Anderson is a freshman microbiology major who admits he "kinda stumbled into" being a Navy corpsman. "I needed to pick a job, but I really liked it and now medicine is something that I am really interested in." Anderson served in the Navy for five years — serving in both Kuwait and Afghanistan — before leaving active service this past April. He now plans to go on to medical school. "Being a student is very different from being in the military," says Anderson. "In the military, you can't just sit down for four hours and read a book. You're always on the go. You learn in different ways."
May 1944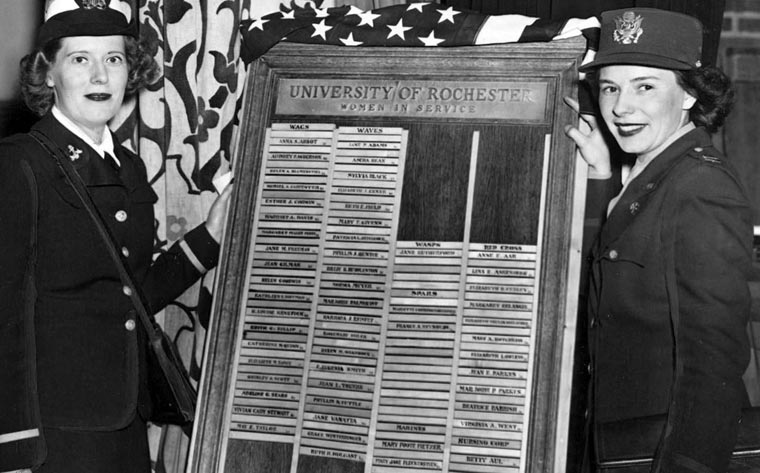 University Alumnae Association presented the school a plaque listing all women graduates and undergraduates as well as faculty members in the armed services. Ensign Helen Shaddock '37, left, and Captain Margaret Ferry '34 look it over. Photo from Rare Books and Special Collections.