The Community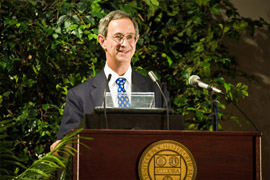 At the 41st annual Garden Party, President Seligman emphasized the role of a research university and the "human beings who are the teachers, scholars, and researchers who have been pivotal to the progress of this University."
Building Community Partnerships
George Eastman's vision to "make Rochester one of the healthiest communities in the world" stands at the center of our student learning experiences. Students from undergraduate through post-doctorate gain a better understanding of Rochester and its surrounding communities by engaging its residents and community-based organizations as partners in service learning. Opportunities for community engagement are available through the following:
---
Rochester Promise
Graduates of Rochester public high schools who enroll at the University of Rochester stand to receive up to $100,000 over four years to cover the cost of tuition, under a new plan to expand higher education opportunities for talented students in the University's home city.
The Rochester Promise initiative, which will be available to applicants for the 2008-09 academic year, will offer a $25,000 tuition benefit annually to students who earned their high school diploma in the Rochester City School District and are admitted to the University of Rochester.
---
Campus Master Plan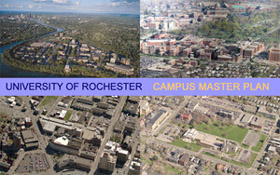 The University is engaged in a Campus Master Plan process that will evaluate the facilities and land use implications of future University programs and other new directions identified during our strategic planning.
---
Youth/Community Camps and Programs
---
Arts in the Community
---
Office of Special Programs
The Office of Special Programs invites adult learners, talented youth, business professionals, educators, and community leaders to enjoy the many programs geared for their age group or interest.
---
Patient Care
With a broad slate of robust and unique-to-the-region patient care services, the University of Rochester is emerging as Upstate New York's premier medical center.