Adam Fenster
J. Adam Fenster in the University photographer.
Adam Fenster's Latest Posts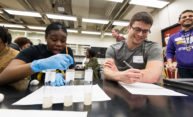 Students from Rochester's East High School got a sense of how startling science can be when they spent the day in the lab with professors and researchers from the Department of Biology.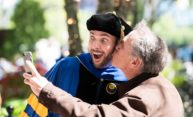 Mitchell Gruber gets a peck on the cheek from uncle Alan Gruber '80 after receiving his doctoral degree in history. (University photo / J. Adam Fenster)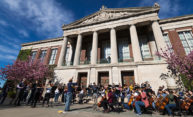 Students on River Campus celebrate the last day of classes with a performance by the chamber orchestra, conducted by David Harman, of Tchaikovsky's 1812 Overture on the steps of Rush Rhees Library. The performance marked the final conducting appearance by Harman, who is retiring this semester. Richard Feldman, who is also retiring this year as dean of the college, performed the cannon solo.
Dandelion Day, Rochester's annual celebration of the arrival of spring, was greeted with warmth, sunshine, fun and plenty of food.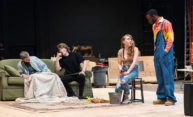 The International Theatre Program ends its spring semester with a production of Sam Shepard's Pulitzer Prize-winning drama Buried Child. The production opens on April 27 and runs through May 6 at the Todd Theater on the University of Rochester's River Campus. The play, called a "darkly comic portrait of a family brought to its knees by betrayal, adultery, and murder," is directed by Rochester senior Aishwarya Krishnamoorthy '17.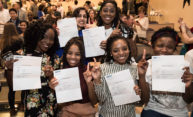 Senior medical students Shwetha Manjunath and Oluchi Iheagwara (back row, left to right); and Joanne Alcin, Brittany Moore, Brittany Black, and Leslie Anderson (front row, left to right) receive their match letters on Match Day. More than 100 School of Medicine and Dentistry students gathered in the Class of '62 Auditorium to open sealed envelopes and learn their placement for residency. They were surrounded by their families, friends, and advisors during this emotional and exciting moment revealing the next chapter of their medical careers. (University photo / J. Adam Fenster)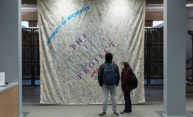 Haytham Abdelhakim '20 and Ashley Tenesaca '20 stop to look at a panel signed by University of Rochester students, faculty, and staff in 1994 when it accompanied the NAMES Project AIDS Memorial Quilt that had been displayed in Goergen Athletic Center. The panel had been saved by Linda Dudman, the associate director of health promotion at the University Health Service; Dudman has donated the panel to River Campus Libraries, where it is now on display.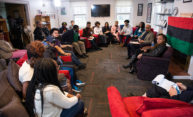 Joy DeGruy (far right), assistant professor at Oregon State University and a self-described ambassador for healing, met with student leaders at Douglass Leadership House before delivering the Martin Luther King Jr. Commemorative Address Friday evening. She answered questions and talked about her background, her experiences as a teacher, and about fighting injustice. "Choose your battles," she told students. "But always be who you are." (University photo / J. Adam Fenster)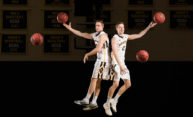 As another calendar year comes to a close, we're looking back at 2016 through the lens of University photographer J. Adam Fenster. He's selected his top shots from the past year and offers his insights on what makes Rochester such a special place to photograph.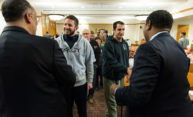 University Vice President Paul Burgett, left, and Associate Vice President for Human Resources Tony Kinslow hand out "Veteran Rocky" pins at an ceremony in recognition of all faculty and staff who have served in the United States armed forces. (University photo / J. Adam Fenster)