Adam Fenster
J. Adam Fenster in the University photographer.
Adam Fenster's Latest Posts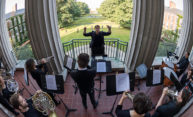 Rachel Waddell, director of orchestral activities, conducts a brass and percussion ensemble composed of Department of Music students as they perform Aaron Copland's Fanfare for the Common Man to mark the beginning of classes. (University photo / J. Adam Fenster)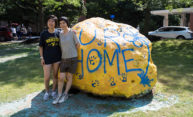 Christina Kersten '21, left, and her mother, Jie, pose for a photo at the painted rock at Susan B. Anthony Hall. Students from the incoming Class of 2021 arrived on both River Campus and the Eastman School of Music. "It's new and exciting, and fresh," orientation director Eleanor Oi said of Move-In Day. "It's a new beginning for everyone."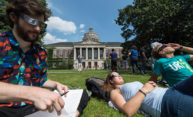 From Eastman Quad to the Engineering Quad, River Campus was filled with people, eclipse glasses in hand, to view the moon passing across the face of the sun, offering views of a partial eclipse. Despite some passing clouds, the show didn't disappoint.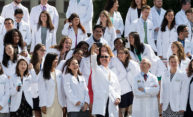 David Lambert, senior associate dean for medical student education at the School of Medicine and Dentistry, takes a selfie with first-year students as they assemble after the twelfth annual Dr. Robert L. & Lillian H. Brent White Coat Ceremony marking the start of their medical careers. (University photo / J. Adam Fenster)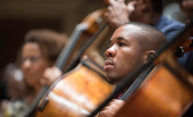 Eastman School of Music alumnus Thapelo Masita '17 rehearses for the final orchestra performance of the Gateways Music Festival in Kodak Hall. Now in its 24th year, the festival brings together classical musicians of African descent for a week of workshops and free performances. (University photo / J. Adam Fenster)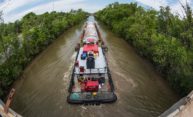 The view from the Moore Street bridge across from the River Campus as a barge transporting the large beer fermentation tanks destined for the Genesee Brewing Company heads down the Erie Canal. (University photo / J. Adam Fenster)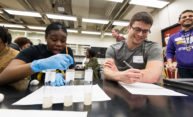 Students from Rochester's East High School got a sense of how startling science can be when they spent the day in the lab with professors and researchers from the Department of Biology.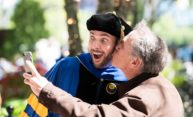 Mitchell Gruber gets a peck on the cheek from uncle Alan Gruber '80 after receiving his doctoral degree in history. (University photo / J. Adam Fenster)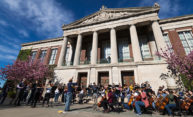 Students on River Campus celebrate the last day of classes with a performance by the chamber orchestra, conducted by David Harman, of Tchaikovsky's 1812 Overture on the steps of Rush Rhees Library. The performance marked the final conducting appearance by Harman, who is retiring this semester. Richard Feldman, who is also retiring this year as dean of the college, performed the cannon solo.
Dandelion Day, Rochester's annual celebration of the arrival of spring, was greeted with warmth, sunshine, fun and plenty of food.