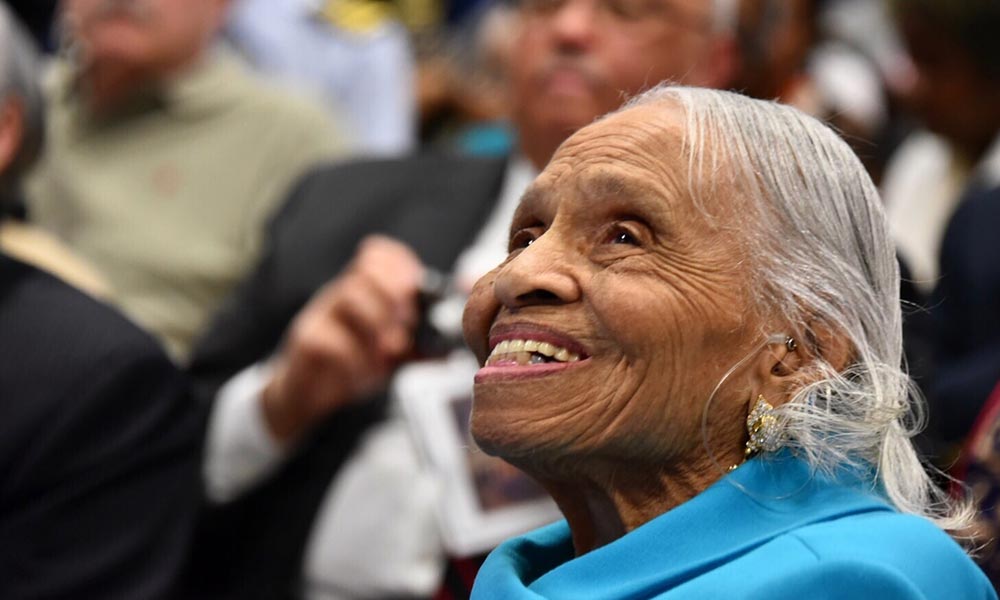 Olivia Hooker '62 (PhD) began her life as a victim and a witness to devastating acts of racial violence. By the end of her life, last November, at age 103, she had become a leader and a pathbreaker in multiple and disparate domains. She was a point person in efforts at restitution for victims; the first African-American woman to enlist and serve in active duty in the Coast Guard; and a newly minted PhD, in psychology, at a time when racial segregation, either legal or de facto, was ubiquitous in the United States.
Witness to a massacre
Hooker grew up in Tulsa, Oklahoma, where her father owned a clothing store in a prosperous African-American neighborhood that was sometimes called "Black Wall Street." In 1921, when Hooker was six years old, an accusation that a black man had assaulted a white woman led to an attack by a mob of white men on the neighborhood. Olivia hid under a dining room table with her siblings as rioters entered her home, destroying objects of value before moving on. The 24-hour assault led to the deaths of an estimated 300, mostly black, Tulsans and leveled more than 1,000 homes and black businesses—including the Hookers' store.
"Nothing was left but rubble," she told Review in 2005.
In the late 1990s, she had helped form the Tulsa Race Riot Commission, which made a case for reparations. While that goal has eluded the group, Hooker achieved one of her lifelong goals posthumously: a week after her death, the group, gearing up for the centennial anniversary of the tragedy, renamed itself the Tulsa Race Massacre Commission.
Taking on—and serving—the military
Following the massacre, her family moved to Columbus, Ohio. As a college student at Ohio State University, Hooker became an activist in a campaign to secure for black women the same opportunities in the military that World War II was opening up for white women. She wanted to join the Navy, but her application was denied multiple times. Then, as she told the Coast Guard Compass blog in 2013, a friendly Coast Guard recruiter convinced her to join that branch instead, under its women's reserve program, SPAR ("Semper Paratus, Always Ready").
Hooker served from March 1945, when she reported to boot camp, to June 1946, when the SPAR program was disbanded. Her role, in Boston, consisted largely of paperwork. But "it taught me a lot about order and priorities," she told the Compass.
In 2015, the Coast Guard named a dining center and a training facility in her honor.
A doctorate, and a new career
Using GI benefits, Hooker enrolled at Teachers College, Columbia University, where she earned a master's degree in psychological services. Following a stint working with female prisoners with developmental disabilities, she enrolled at Rochester to earn her doctorate under the late Emory Cowen. Cowen had begun work on what became known as the Primary Mental Health Project—a pioneering example of community mental health. Hooker remained focused on people with developmental disabilities, exploring the learning capabilities of children with Down syndrome.
Colleagues at Fordham University, where Hooker taught from 1963 to 1985, say it was typical for her to help people find ways to stretch beyond real or perceived barriers. Working with children with developmental disabilities, she helped them improve their strategies for self-motivation, and for students of color, she offered steadfast support. "Following her 'retirement,' she was working harder than ever to ensure the field of psychology and federal, state, and local agencies were inclusive and working toward the benefit of all peoples," Celia Fisher, the Marie Ward Doty University Chair in Ethics at Fordham, told Fordham News last fall.
Last survivor
At the time of her death, she was believed to be the last survivor of the Tulsa massacre. She was certainly the last to recall it. (It's since been reported that there's another survivor, jazz saxophonist Hal Singer, who was 18 months old at the time.)
Over the years, Hooker shared the ways in which memories of the massacre had left her traumatized. But in an interview with the Radio Diaries podcast in May 2018, she shared the advice her parents offered to her and her siblings. "Our parents told us, 'Don't spend your time agonizing over the past.' They encouraged us to look forward and think about how you could make things better. I think things can get better. But," she added with a chuckle, "maybe it won't be in a hurry."
---
Celebrating Black History Month
Check the calendar for events throughout the month of February.
Category: Society & Culture