The Rochester Review, University of Rochester, Rochester, New York, USA



CLASS NOTES
SCHOOL OF MEDICINE AND DENTISTRY
Go to: Pre-1950s 1950s 1960s 1970s 1980s 1990s
---
65TH REUNION, OCTOBER 10­11, 1997
Jean Watkeys M (MD) (see '32 undergraduate).
60TH REUNION, OCTOBER 10­11, 1997
55TH REUNION, OCTOBER 10­11, 1997
50TH REUNION, OCTOBER 10­11, 1997
45TH REUNION, OCTOBER 10­11, 1997
40TH REUNION, OCTOBER 10­11, 1997
C. McCollister Evarts M (MD), '64M (Res) has been named chair of the board of directors of the Alliance4 Health, a health-care alliance in central Pennsylvania. Evarts is senior vice president for health affairs and dean of Penn State's College of Medicine in Hershey.

David H. Smith M (MD) and Porter Anderson, researchers and emeritus professors of pediatrics at the University, in October 1996 received the Albert Lasker Award for their pioneering work in the '80s in the development of a vaccine against Hemophilus influenzae type b, the bacterium that causes bacterial meningitis.
35TH REUNION, OCTOBER 10­11, 1997
30TH REUNION, OCTOBER 10­11, 1997
25TH REUNION, OCTOBER 10­11, 1997
Henry A. Nasrallah M (Res), chair of the department of psychiatry at the Ohio State University Medical Center, received the 1996 Exemplary Psychiatrist Award from the National Alliance for the Mentally Ill. The award was presented during the 1996 Annual Convention of the American Psychiatric Association in New York City in December.

Michael Sise (MD) (see Class Acts).
20TH REUNION, OCTOBER 10­11, 1997
Kathleen Friend Gensheimer M (MD) (see Alumni Gazette).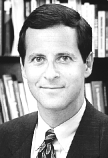 Nash

David Nash M (MD) has been named to the newly created position of associate dean for health policy at Jefferson Medical College of Thomas Jefferson University in Philadelphia. In addition, he will continue to direct the university's Office of Health Policy and Clinical Outcomes and serve as associate professor of medicine. Nash, who also holds an M.B.A. from Wharton, is nationally recognized for his work in outcomes management, medical-staff development, quality-of-care improvement, and managed-care medical education.

15TH REUNION, OCTOBER 10­11, 1997
Robert Frisina M (FLW) was featured in an article in the November 1996 issue of New Scientist. Frisina was interviewed for his research on loss of hearing in old age. He is associate professor in the Division of Otolaryngology at the University's Medical Center.
10TH REUNION, OCTOBER 10­11, 1997
Tim O'Brien M (MD) (see '85 nursing).

Rebecca Finkel Rubeor M (MD) (see '85 undergraduate).

Alicia Linares M (Mas) (see '92 undergraduate).

Lorna Rodriguez M (PhD) has been appointed director of the Division of GYN/Oncology at the University's School of Medicine and Dentistry. She holds a dual academic appointment as associate professor of oncology in obstetrics/ gynecology and in microbiology and immunology. Rodriguez had been assistant professor of medicine at Albert Einstein Medical School in the Bronx. . . . Andrew Rosen M (MD) is a resident in combined medicine-pediatrics at Baystate Medical Center in Springfield, Mass. "I haven't been thrown up on yet," he writes.
---
Go to: Pre-1950s 1950s 1960s 1970s 1980s 1990s



| UR Home | Review Contents | Mail |



Copyright 1997, University of Rochester
Maintained by University Public Relations
Last updated 3-20-1997 (jc)