Cynthia Bergman Levy writes, "My husband, Mark, and I had our first child on Aug. 21, 1996. Sharon is a most adorable baby. A big 'hello' to everyone!" . . . Paul Woitach '95S (MBA) writes, "I have joined Mettler Toledo as vice president of marketing and sales. I had been vice president of national accounts with the Health Imaging Division of Eastman Kodak. Mettler Toledo is located in Hightston, N.J., and is the leading manufacturer of weighing equipment and scientific instrumentation. I am relocating with my wife, Joan, and son, Michael, to Princeton. The move from Rochester is not going well. The significant increase in sunshine is causing me to be unnaturally cheerful and I had just introduced my four-year-old to Nick Tahou's. Now we can't find a good plate of 'hots & potats' anywhere. We are looking forward to reconnecting with friends and local 'Rochester Support Groups' to help us through the difficult transition back to the New York area. One last note: We had no choice but to move. We were excited that Rich King '78 moved in around the corner from us with his wife, Janet, and daughter, Alex. Unfortunately, just as back in the '70s on campus, Rich always wanted to play backgammon and he always lost to me. He even lost to my son. His Don Quixote-like persistence became too much for us." . . . Warren Wolfeld and his wife, Joanne, write they are delighted to announce the adoption of their baby daughter, Shauna-Li Fay Wolfeld. Shauna-Li was born in Changsha, Hunan Province, China, on Nov. 19, 1995, and was adopted by the Wolfelds in Changsha on June 10, 1996. Wolfeld is a partner in the San Francisco patent law firm of Fliesler, Dubb, Meyer & Lovejoy, specializing in advanced electronics and computer-related technologies. His wife, Joanne, practices Chinese acupuncture at her clinic in San Mateo.

In January 1997, David Monde was named partner in the law firm of Jones, Day, Reavis & Pugue, the country's second largest law firm. Monde works in the litigation group in the firm's Atlanta office. . . . John O'Neill (see '83). . . . Stephanie Siegel writes to announce the birth of her son, Daniel Isaac Whalen, in April 1996. "Daniel is our fourth child, and second boy. Siblings Sam, Jessica, and Aliza keep me busy. I still work three days a week as an attorney with a D.C. law firm," she says.
15TH REUNION, OCTOBER 17­18, 1997
Nina Grody writes, "After a short stint at BMW corporate headquarters in New Jersey, I have moved to Los Angeles and joined Nissan Motor Corporation as market representation manager. I would love to hear from any University or Columbia Business School alumni in the area." . . . In October, Neil Halin wrote, "We now have two rug rats to terrorize Max-the-Wonder-Dog (Philip, age 3, and Eric, age 7 months). Still living, working, and bailing water in the Boston area." . . . Julia Steinfirst Howard writes, "My family (husband, John, and 4-year-old triplets, Sam, Will, and Ben) are glad to be back East after a year in Houston. We're settled in Greenwich, Conn. I'm still telecommuting health policy research projects to Georgetown University and doing freelance grant writing. It's been great to get together with other University alumni in the Northeast. Anyone traveling the N.E. corridor is welcome to stop by for a visit!" . . . Navy Lt. Cmdr. Daniel Lynch graduated from the Naval War College with distinction in October 1996. . . . James Pawelczyk (see Alumni Gazette). . . . Elena Pousada writes, "My husband, Mark Jacobs, and I are thrilled to announce the birth of our son, Benjamin Jacobs Pousada, on Nov. 6, 1996." . . . Joe Russo reports he has been promoted to coordinator of outpatient services for Park Ridge Mental Health Center in Rochester. Russo has also opened a private practice in the city. . . . In June 1996, Ellen Sugarman began a new job as implementation consultant for Thomson Investment Software and bought a condominium in Brookline, Mass. She writes, "If anyone's in the area, drop me a line!"

William Buffone writes, "We recently had our third child. I am a podiatrist in Ithaca, N.Y., and recently became board-certified in foot surgery by the American Board of Podiatric Surgery.". . . Jill Bachmann Cheriff and Bruce Cheriff report they are pleased to announce the birth of their third child, Carly Sarina, on Nov. 22, 1996. . . . Denise Robinson Henzes and Jack Henzes write, "We welcome with love our new son, Jake, born March 29, 1996. He joins brother, Jamie, 2. Also, John O'Neill '81 and Donna Redmond O'Neill had a second daughter on July 14, 1996. Chloe joins her older sister, Kristen. The O'Neills reside in Seattle, Wash." . . . Tony Martonosi writes, "I married Carole Smith and we live in a suburb of St. Louis. I left the Navy in 1993 and am now a teacher." . . . Paul Wlodarczyk and Beth Tourtellotte Wlodarczyk (see '85).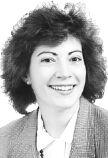 Salzman

Scott Evans reports that Non-Racist & Non-Sexist Jokes is the first book released by his new publishing company. . . . Ruth Keene Forsyth '45, '46 (Mas) and her husband, Don Forsyth '43, report they were pleased to discover that the music director for their cruise last December was Tom Haberman, who also performs on ship as a drummer. Haberman has been musical director and band leader for major cruise lines around the world for the past 10 years. The Forsyths saw him on his current ship, the Royal Viking Sun. . . . Ani Nazerian writes that she and her husband, Mark Gabrellian '79, have moved to Wyckoff, N.J., with their children, Christine and Michael. . . . Martha Salzman has been named a partner in the law firm of Phillips, Lytle, Hitchcock, Blaine & Huber. Based in the Buffalo, N.Y., office, she's a member of the corporate department, where she focuses on taxation, including federal income taxation of corporations and individuals, tax-exempt bond financing, New York State franchise and personal income tax and miscellaneous New York State taxes, and corporate law. She received her law degree from the University of Pennsylvania. . . . Dave Shein is writer, director, and producer of Crunchy Granola, a radio sitcom centered on the misadventures of a group of women sharing a house in Salem, Mass. The show, which has 12 half-hour episodes, airs on WITR in Rochester. Shein is negotiating for national distribution, and a Web site is planned. . . . Karen Kaplan Weissman '86W (Mas) has been recognized as one of the top personal bankers for 1996 in sales and service for Huntington National Bank in the Cincinnati/northern Kentucky banking market. She is also involved in community activities involving arts and music. . . . Jerry Zolkowski reports that he and his wife, Donna, have a new daughter, Mary Teresa, born on July 12, 1996. Zolkowski is manager of the Georgia Tech Economic Development Institute in Dalton, Ga.


Kathy Kriese reports she relocated to California to accept a position as product manager for Adaptec in Milpitas. "I am looking forward to applying my consumer products marketing experience to a high-tech organization. Adaptec is known for its small computer system interfaces." . . . Robin Wakoff Lerner wrote to report she got married in 1995 and is living in Washington, D.C. E-mail her at Giantsjets@aol.com. . . . David Michael '91S (MBA) married Liz Klein '86 in August on Canandaigua Lake. Guests at the wedding included Paul Wlodarczyk '83 and Beth Tourtellotte Wlodarczyk '83, Erich Wendt '87, and Celine Lossa '96 (Mas). "Eleven years since graduation and we still live within walking distance of the campus," they write. . . . Navy Lt. Michael S. Murphy in October participated in NATO exercises in Southern Europe, while serving on the USS La Salle. . . . Tim O'Brien '89M (MD) (see '85 nursing). . . . Bernie Rubeor '91S (MBA) and Rebecca Finkel Rubeor '87, '91M (MD) report their second son, Tyler Alexander, was born on Aug. 2, 1996. Rebecca writes, "Bernie is still working in the finance department at Merck & Co., Inc. and I will be returning to my ob/gyn practice part time so I can spend more time with the boys." . . . Curt Silva writes that he and his wife, Emily Swartz Silva '86, are pleased to announce the birth of Hayley Erin on June 14, 1996. Emily is editor for a financial newswire, Federal Filings, and Curt is assistant vice president of Lincoln Property Company. The Silva family lives on Capitol Hill in Washington, D.C. . . . Tom Tshontikidis is a principal in InnoVision Communication, a San Francisco firm specializing in communication counsel and support for businesses. . . . J. Robert Witmer is a partner in the law firm of Stevens Vigilante & Witmer in Media, Pa.

Edie Davidson and her husband, Mark Epstein, have a new son, Mitchell Andrew, born on Oct. 22, 1996. . . . Andy Hoffman writes, "My wife, Debbie, and I now have two sons: Cal, who turns 4 in August, and Sam, 1. I am a senior producer with Court TV in New York City." . . . Liz Klein (see '85). . . . Sherrie Hitchcock Leuthauser (see '89). . . . Charles Mester married Jessica Weiner, a professional opera singer, on Oct. 27, 1996. David Tobias was best man and Joseph Rich was an usher. Other alumni present were Craig Mondschein '88 and Usha Subramaniam '88. Mester writes, "I opened my own law practice with offices in New York and New Jersey. My specialties are commercial, personal injury, and landlord/ tenant. I offer discounts to all University alumni on referral and other fees." . . . Melanie Meehan Nelson writes, "My husband, Steve Nelson '88S (MBA), and I announce the birth of Madeline Rose on Sept. 30, 1996. She joins big sister, Samantha, age 2, and big brother, Kyle, age 1. Hello to all my Rochester friends and Kappa Delta sisters!". . . Jeffrey Rhodes (see '87). . . . Emily Swartz Silva (see '85). . . . Catherine "Puck" Witmer married Victor Workman on June 8, 1996, in Stryker, Mont. She reports she has started her own business in Whitefish, Mont., offering intermediary services for 1031 tax-deferred exchanges. . . . In October, Marine Capt. Lewis Wood reported for a new assignment with Marine Wing Headquarters Squadron One in Okinawa, Japan.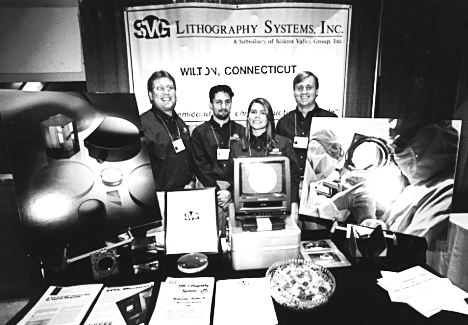 SVG Corporation employees Mike DeMarco '87, Chris Margeson '94, Diane Singel '96, and Chris Bond '87 returned to the University in October to help recruit new graduates at the eighth annual "Rochester Works" employer fair, sponsored by the Center for Work and Career Development. SVG, based in Wilton, Conn., was one of some 50 companies to participate in the employer fair.
10TH REUNION, OCTOBER 17-18, 1997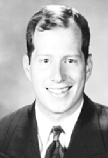 Rochester

In November 1996, Lawrence Creatura '94S (MBA) was part of a group that successfully climbed Mount Ama Dablam in Nepal, a mountain known as "The Matterhorn of the Himalayas." In 1994, Creatura, a portfolio manager and analyst in Rochester, climbed Denali (Mt. McKinley), the highest point in North America. . . . Lee Feinberg is managing the Hubble Space Telescope Imaging Spectrograph, which was scheduled to be launched in February. He and his wife, Shari, have a son, Evan Harris Feinberg, born April 27, 1996. . . . Karl Geercken and Monica Mukherji Geercken '90S (MBA) are expecting their second child in May. They live in Stamford, Conn., with their son, Philip, 2. . . . Michael Gordon is engaged to marry Marni Lewis in July 1997. Gordon completed his master's in physical education at Adelphi University and is now teaching at Hillcrest High School in Queens, N.Y. . . . Sam Guerrieri (see '88). . . . Linda Mercuri Heineman and Bill Heineman write to announce the birth of their daughter, Joanna Beth, on May 22, 1996. "She looks exactly like Bill! We also bought a house in Chelmsford, Mass., in November 1995. Being grown-up is exhausting!" Linda reports. . . . Michael Lange writes, "My wife, Melissa, and I are proud to announce the birth of our son, Alex Houston, on Jan. 12, 1997. His big sister, Jillian, will be 4 in May." . . . Allison Levy lives in Berkeley, Calif. She has started a company called Aspiring Heights, which produces events and acts as an agent for athletes involved in rock climbing and mountaineering. Last spring Levy went to Nepal and Thailand. . . . Amy McKee-Egitton '88S (MBA) graduated from Syracuse University College of Law and has opened a law practice in Syracuse, where she lives with her husband, Peter. . . . Michael Pregitzer writes, "My wife, Kathy, and I welcomed our son, Ryan Michael, on Nov. 29, 1996." . . . Sherry and Howard Reichel write they are pleased to announce the birth of Steven David Reichel on Sept. 29, 1996. . . . Cheryl Roberts Rhodes and Jeffrey Rhodes '86 announce the birth of their son, Steven, on Oct. 24, 1996. They write, "Steven is welcomed by his adoring sisters, Carolyn, 6, Diane, 4, and Susan, 2. Jeff will finish his surgery residency in June 1997, then we are moving to Rochester, Minn., where Jeff will begin a two-year vascular fellowship at the Mayo Clinic." . . . David Rochester has been appointed vice president of Plating Systems and Technologies, Inc., in Jackson, Mich. . . . Rebecca Rubeor '91M (MD) (see '85). . . . Navy Lt. Robert D. Sallade in November participated in search and recovery efforts for TWA Flight 800, while serving aboard the USS Trenton. . . . David Soroka writes, "My wife, Nora, and I would like to announce the birth of our daughter, Sydney Allison, on Oct. 8, 1996. I am still working as a meteorologist for the National Weather Service in Upton, N.Y.". . . Erich Wendt (see '85).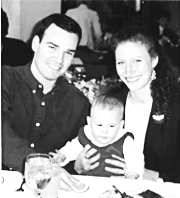 John McKenna '88, '92S (MBA), Martha Winter McKenna '90, '95W (Mas), and their daughter Claire, enjoy "Breakfast with Santa" at the Faculty Club. The Christmas holiday event was hosted by the Alumni Association.


Ragnish Garg '91S (MBA) married Keya Mukherji in August 1996. . . . Lt. David "Hoss" Geisler and his wife, Theresa, and their two daughters, Katie, 3, and Kristina, 1, moved to Mayport, Fla., in March 1997, where Geisler is the engineering officer on USS Carney. . . . Nancy Lesko Guerrieri and Sam Guerrieri '87 write in to announce the birth of their daughter, Jordan Elizabeth, on June 17, 1996. She joins her two sisters, Samantha, 4, and Tylar, 2. . . . Michael Hoshlyk is serving on the fisheries research vessel Miller Freeman, operating in the Bering Sea, the Gulf of Alaska, and the North Pacific. Hoshlyk lives in Seattle, Wash. . . . Mindi Barth Maline writes, "My husband, Al, and I are pleased to announce the birth of our first child. Jeremy Harris Maline was born Oct. 20, 1996, and welcomed by University alums Debbie Szyfer, Marj Hatzmann, and Pallavi Shah." . . . Craig Mondschein (see '86). . . . Christopher Morog has joined the construction practice group of Hinckley, Allen & Snyder, a full-service regional law firm with offices in Boston, Mass., and Providence, R.I. His practice concentrates in construction law and general litigation. Prior to joining the firm, he was an assistant attorney general with the State of Massachusetts in the Government Bureau, Trial Division, where his responsibilities included defense of construction, contract, environmental, and eminent-domain cases. . . . Jill Sotsky is now living in Monmouth Junction, N.J. "I completed my master's in geology at the University of Delaware in May 1995 and am teaching science and computers at a middle school in Edison, N.J. I have also gotten engaged! Hi to the Oakster," she writes. . . . Usha Subramaniam (see '86). . . .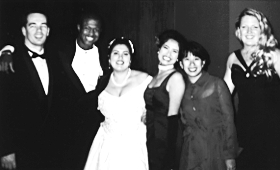 Marylou Tanael-Popick writes, "In October, Jacqueline Robles married Neil Werner in Glen Cove, N.Y. Fellow alums Aurora Bayoneto, Kristin Johnson-Holz, Mike Mullen, and Brian Davis '87 joined in the festivities." . . . Mark Weiner married Traci Kay Moss in Columbia, S.C., on Sept. 7, 1996. Dan Nash was in the wedding party and guests included Chris Dennis, Michael Mullin, and James Battiato. Weiner writes that he and his wife now live in Brookline, Mass., and love Boston. . . . C. Anthony Wolfe, Jr. married Lisa C. Baumann on Sept. 7, 1996, in Goshen, Conn. Wolfe is a military physician with the rank of captain, serving at Aberdeen Proving Ground in Maryland.


Navy Lt. Joseph G. Aquilina returned in November from serving six months aboard the USS Tarawa in the Western Pacific. . . . Richard Cairncross, visiting assistant professor of mechanical engineering at the University of Delaware, received a Presidential Early Career Award at the White House in December. The award recognizes scientists and engineers who show exceptional potential for leadership in the 21st century. . . . Michael Chang '91 (Mas), '96 (PhD) writes, "I have been with Hewlett-Packard in San Diego as an imaging scientist since 1994. In late '95 I returned to Rochester and defended my dissertation. I sometimes run into Andrew Patti '96 (PhD) and Yucel Altunbasak '94 (Mas), who are both with HP in Palo Alto. Life and work are both very interesting. Classmate David Walters has visited, and Jon Getz and Julie Bentley Getz '90, '96 (PhD) live just up the coast." . . . Gary Clarke is working on a master's degree at R.I.T., concentrating in telecommunications management and information technology strategy. He works full-time at Frontier Information Technologies. E-mail him at gclarke@frontiercorp.com. . . . Ed Corey married Donna Jungbluth on June 15, 1996, near Boston. Alums Ed Fiorillo, Kevin Starrett, Paul Barber, and Nick Stathopolous served as groomsmen. Corey lives in Annapolis, Md., working as a consultant in Washington, D.C. . . . Joan Fischer and Douglas Gerhardt were married on Oct. 12, 1996. The Gerhardts write, "Alumni present included Philip Varughese (married in August 1996 and part of the wedding party), David Nohara, Paul "Opus" Myers, Sue Barker Moran (now a mom), Claire "Bear" Roberts (married in September 1996), and Kurt Nelson (to be married in November 1997). The doctors Gross (Matt Gross and Karen Clary Gross '90), both practicing in Rochester, attended but had to make a quick exit to the ER. We both have new jobs, Joan as a PR specialist in a private firm and Douglas as in-house counsel and chief lobbyist for the School Administrators Association. We live in Saratoga Springs. Stop by if you're in town for the races!" . . . Sherrie Hitchcock Leuthauser '86 wrote to report that Steve Hitchcock married Jennifer Benin on Aug. 31, 1996, in Falls Church, Va. Also in attendance were Sudarshan Siva, Ed Johnson, and Andrew Wheelock. . . .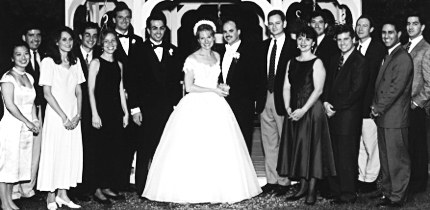 Susan Nann and Peter Clemens were married on June 22, 1996, in Wappingers Falls, N.Y. Alumni present included Josephine Park, John Loncto, Lesa Hojnicki, Dave Macannuco, Shawn Donaldson Macannuco, Scott O'Connor, Christian Sanna, Peter Delp, Deanna Morell Stadtmiller, Andy Fields, Brian Ossias '91, Sean Sheehan, Mo Jishi, and Dan Gronning. The couple lives in Fajarbo, Puerto Rico, where Peter is a lieutenant in the Coast Guard, in command of a coastal patrol boat. . . . Kristin Rush writes, "I'm engaged to Jamie Palmer, with a wedding planned for May 1998 on Cape Cod. I'm currently working as an R.N. at Strong Memorial on the child and adolescent psychiatric unit and I love it. I will be pursuing a career as a psychiatric nurse practitioner." . . . Vivyan Golbois Weinman reports that she and her husband had a boy, Simcha David, on Oct. 9, 1996. "His older sister, Maita Esther, is now almost 2 and loves her little brother," Weinman writes. . . . Mark Zaid appeared on Court TV on Oct. 11, 1996, discussing the Tadic war crimes trial in the Hague.
---
Go to: Pre-1950 1950s 1960s 1970s 1990s



| UR Home | Review Contents | Mail |



Copyright 1997, University of Rochester
Maintained by University Public Relations
Last updated 3-14-1997 (jc)