SLATER SOCIETY
POST 50TH REUNION, JUNE 6­8, 1997
G. Robert Witmer, Sr., and his wife, Marian, celebrated their 60th wedding anniversary at the University Club in Rochester with relatives from across the country in attendance.

Jean Norris Saks, the daughter of Mary Page Norris, writes in to report her mother's death on July 20, 1996, in Dover, N.J. Norris was president of both her class and her sorority, Theta Eta, as an undergraduate. She became one of the founders of the Tri-State Alumna Association and was a founder of the New Jersey Alumni Association for the University. In 1961, she received the Fannie Bigelow Award for outstanding contributions to the University as an alumna. Her daughter writes, "I wanted to let you know just how much my mother loved the University. It probably started with her father, Judge Jay Stuart Page, who graduated Phi Beta Kappa in the Class of 1892. Judge Page married Carolyn Gillette, whose brothers, Judge Willis Gillette and Judge George Gillette, also went to the University, I believe. My brother, Stuart Norris, graduated in the Class of 1955, and his wife, Carol Rice Norris, in the Class of 1954. My father, B. Emmett Norris, Class of 1930, met my mother at the University, attended the Eastman School, and graduated president of his class and president of his fraternity, Theta Chi." Memorial contributions may be sent to the Alumni Association, University of Rochester, 685 Mount Hope Avenue, Rochester, NY 14627-8993. . . . "Evil or Good Winds? Whither," a poem by Eleanor Dylewski Otto, was published in The Best Poems of 1996 and read as an award-winning poem at the Poetry Forum meeting in November in New York City.
65TH REUNION, JUNE 6­8, 1997
In November 1996, Judge Carl F. Paul observed the 55th anniversary of his admission to practice before the Supreme Court of the United States. Chief Justice William H. Rehnquist sent him personal congratulations. In September 1996, Paul was also honored with a Certificate of Appreciation from the Federal Bar Association for his "service, dedication, and kindness." . . . The University's Susan B. Anthony Center presented its first annual Lifetime Achievement Award to Jean Watkeys '36M (MD) at a dinner in February. Watkeys, who was one of three women in her medical school class, received Planned Parenthood's Lifetime Dedication Award in 1995 for 25 years of service to the agency's medical advisory board, board of directors, and speakers' bureau. She worked for many years as a physician at Eastman Kodak Co.

Because of his outstanding conservation work, Jack Houseknecht was recently featured in several Arizona publications. Houseknecht was instrumental in setting up the Desert Foothills Land Trust, the first land trust in Arizona. The trust received the Morris K. Udall Award for outstanding achievement in 1995.
60TH REUNION, JUNE 6­8, 1997
55TH REUNION, JUNE 6­8, 1997
Don Forsyth (see '84).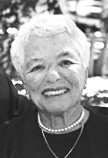 Baldwin

In September, Halee Morris Baldwin represented President Thomas Jackson at inauguration ceremonies for Augusta Souza Kappner, the sixth president of the Bank Street College of Education in New York City. Founded in 1916, the college includes a Graduate School of Education, a model School for Children, an on-site Family Center, a Division of Continuing Education, and a Publications and Media Group. The college has been a national leader in early childhood education, in improving the quality of classroom education, and in advocating for children and families. "It was a really lovely ceremony," says Baldwin, who has spent much of her life working in pre-school education. "The thing that impressed me most was the real feeling for children that came across in this group." Marian Wright Edelman, president of the Children's Defense Fund, gave the keynote address.


Ruth Keene Forsyth '46 (Mas) (see '84).

Josephine Kelly Craytor '60W (Mas) (see Class Acts).

Vern Thayer celebrated his 80th birthday in December by making his 80th aphresis donation at a blood drive in Rochester. Thayer, who has been married to his wife, Bing, for 55 years, was the subject of a feature article in the Brighton-Pittsford Post at the time of his birthday.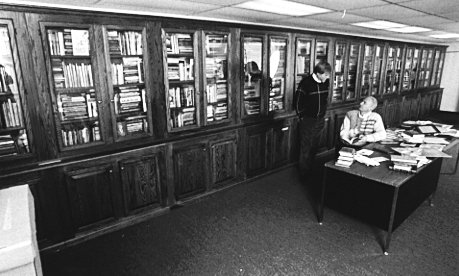 UNIVERSITY SEEKS TO ACQUIRE RARE COLLECTION: Gwendolyn Brooks, Raymond Carver, James Dickey, Annie Dillard, Rita Dove, Allen Ginsberg, Seamus Heaney, Anthony Hecht, Erica Jong, Galway Kinnell '49 (Mas), Robert Lowell, Carl Sandburg, May Sarton, Anne Sexton, Kurt Vonnegut, Robert Penn Warren, Elie Wiesel--these poets and writers of the late 20th century and many, many more are featured in the Heyen Collection (on the bookshelves seen above). It's owned by William Heyen, a celebrated poet and a professor at SUNY Brockport (that's Heyen on the right, with Peter Dzwonkoski, director of the Department of Rare Books and Special Collections at the University). For more than 25 years, Heyen has been collecting signed first editions, trading correspondence, and keeping a journal--all of which will soon become a part of the University's rare books collection, if generous alumni like Andy Neilly '47 have their way. They've inaugurated a campaign to raise $500,000 to purchase the collection, and Neilly himself has made a challenge gift of $100,000 to move things along. For details on helping to bring the Heyen Collection to the University, contact Jack Kreckel at (800) 635-4672 or (716) 273-5891--or e-mail him at kreckel@alumni.rochester.edu.

In October 1996, Joyce Gitelman Barrow was named manager of communications for the Employee Benefits Department at Consolidated Edison Company of New York. . . . Jean Somers Walter (see Alumni Relations).
---
Go to: 1950s 1960s 1970s 1980s 1990s



| UR Home | Review Contents | Mail |



Copyright 1997, University of Rochester
Maintained by University Public Relations
Last updated 3-14-1997 (jc)