RUDOLPH TANZI '80
2001: Decoding Alzheimer's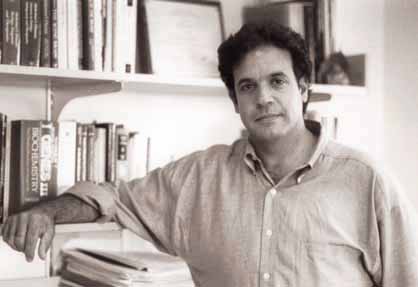 The question sounds like the setup for an old Vaudeville joke: How does a 22-year-old keyboardist fresh from college at Rochester in 1980 get to be one of the world's top experts on the genetics of Alzheimer's disease?
Not practice, practice, practice exactly.
But for Rudolph Tanzi '80, professor of neurology at Harvard Medical School and director of the Massachusetts General Hospital's Genetics and Aging Research Unit, his 20-year trajectory from aspiring musician to groundbreaking researcher illustrates some of the human drama-including humor-that lies behind most scientific endeavors.
It's an aspect of the scientific calling that shines throughout his highly regarded book, Decoding Darkness, documenting his efforts to pinpoint some of the genetic machinery behind the debilitating neurological disease.
"One of the goals of the book was to give people the human side of science," Tanzi says. "Research doesn't always follow a nice, clear, sterile line from inspiration to discovery."
Published in November 2000, the book, written with science journalist Ann Parson, is part biography, part introduction to molecular genetics, and part initiation into the sometimes cutthroat world of high-stakes medical research.
The book also has a strong tone of detective story, beginning with Tanzi's first summer out of Rochester-when he was trying to support himself playing music-and following him as he rekindles his interest in genetics research. He soon begins tracking the elusive villain that many scientists have identified as the culprit behind Alzheimer's, amyloid beta protein.
As a reviewer in the New England Journal of Medicine described the book: "You do not have to be a geneticist or a neurologist to enjoy Decoding Darkness. The story is invigorating, the progress is fantastic, and the writing is lively."
Tanzi has contributed several milestones to recent progress on Alzheimer's. His lab was the first to find the genetic link for the precursor to amyloid beta protein on chromosome 21, and he created the first genetic map of the chromosome.
Of the six genes implicated in Alzheimer's, Tanzi and his lab have identified or were closely involved in the discovery of five.
Not a bad career's worth of work, especially given that Tanzi walked into his first Mass General lab in 1980 in response to a bulletin board ad. He had been working as a musician in Boston and Providence and was looking for a steadier paycheck.
"In the fall of 1980, I decided I needed a real job," he says.
As luck would have it, the scientist looking for help was a 26-year-old researcher named Jim Gusella who had set himself the task of trying to find the genetic markers for Huntington's disease.
"That sounds totally mundane now, but at the time people thought it was totally crazy," Tanzi says.
With that goal accomplished, Tanzi set his sights on other targets, including Down Syndrome and Alzheimer's. Along the way, he earned a Ph.D. in molecular biology from Harvard and rose in the tanks of the lab.
A history and microbiology double major at Rochester, Tanzi was instrumental in getting Gusella's lab up and running. As a microbiology major, he had spent many hours in Medical Center labs.
"Coming out of Rochester, I knew how to do things that the majority of undergraduates probably never learn how to do," Tanzi says. "I knew enough from my training to set up (Gusella's) lab."
While at Rochester, too, he continued his interest in music, taking courses at the Eastman School and playing in jazz and rock bands on the River Campus.
He continues to compose and perform music, and he maintains a Web site, called the "Quiet Mind Project" (http://artists.mp3s.com/artists/34/rudy_tanzi.html) that features his work. The site has recorded more than 40,000 hits and several times that many downloads.
"It's a hobby," Tanzi notes.
As for his "real job," Tanzi, like many Alzheimer's researchers, marvels at the progress scientists have made in unlocking the mystery of the disease in the past two decades, especially in pursuing amyloid protein.
"I think we're going to see a dovetailing in the next five to 10 years of reliable genetic testing along with an effective drug treatment," Tanzi says. "We need to continue to attack the disease with a strategy of early prediction, early prevention, and effective therapy."
He cautions that progress on the genetic front will require a corresponding effort to protect the medical privacy of people who may be at greater risk for the disease, but he's confident that the disease-which will afflict an estimated 14 million Americans by 2050 if no effective treatments are found-will eventually yield to science.
"If we stay on this course of solving the genetic puzzle behind Alzheimer's and if we keep trying to hit the amyloid protein target, we have a significant chance of reducing the occurrence of Alzheimer's."

1980: Human Side of Science
Rudolph Tanzi was a student in some of the first classes taught at Rochester by Theodore Brown, now chair of the Department of History and professor of community and preventive medicine and of medical humanities.
One of those courses was a freshman preceptorial on the scientific revolution wrought by evolutionary pioneer Charles Darwin. Brown says the goal of the course, like nearly all of his courses dealing with the history of science, was to show that science-like music or art-is a human endeavor.
It's a lesson that apparently sunk in for Tanzi, whose Decoding Darkness recounts the human emotion behind efforts to understand Alzheimer's disease.
Says Brown: "If there was one message that I hoped students took away from that course it was that even the greatest scientists have times in which they are blocked and feel frustrated, but that the greatest discoveries may come at times when they least expect them."

---
Scott Hauser
Maintained by University Public Relations
Please send your comments and suggestions to:
Rochester Review.