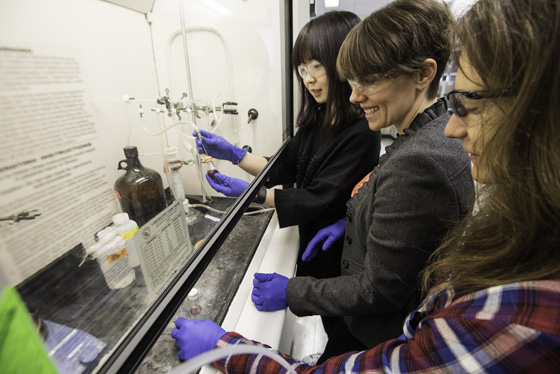 Danielle Benoit, center, in her Goergen Hall lab with PhD students Yuchen Wang (left) and Maureen Newman. (Photo by J. Adam Fenster/University of Rochester.)
NSF CAREER award: Getting drugs exactly where they're needed to repair bone tissue
(From February 2015 to February of this year, three Hajim School Faculty members — Danielle Benoit of Biomedical Engineering, Douglas Kelley of Mechanical Engineering, and Nick Vamivakas of Optics — received Faculty Early Career Development (CAREER) awards, the most prestigious grants given by the National Science Foundation to junior faculty members. This is the first of three parts looking at what they're doing with their awards, and their tips for junior faculty members interested in applying for a CAREER award.)
"The challenge with drug delivery to bone tissue is that there's currently no good way to target the drugs exactly where they are needed," says
Danielle Benoit
, the James P. Wilmot Distinguished Associate Professor of Biomedical Engineering. Her goal: Develop a drug delivery system that can be targeted to specific parts of the skeleton to treat osteoporosis.
Key components of her strategy include:
1. The
osteoblasts and osteoclasts
that continually remodel our bone tissue to maintain a healthy skeleton. In osteoporosis, there is an excess of bone resorption by osteoclasts, and insufficient formation of replacement bone by osteoblasts.
2. The
Wnt signaling pathway
, which helps activate regeneration of bone and other body tissue. Current anabolic drug treatments that stimulate this signaling pathway do so indiscriminately, causing "aberrantly high levels of Wnt activation all over your body, which can lead to oncogenic transformation or progression," Benoit notes.
3.
Molecular signals
left behind where osteoclasts excavate bone as part of skeletal remodeling.
4.
Peptides
that are known to bind to one of these molecular signals.
By "decorating" these peptides on polymers that also contain the anabolic drugs, Benoit says, the peptides
should be able to direct the drugs to the parts of the bone where actual remodeling is taking place.
In other words, "a unique and very specific targeting approach to enhance bone distribution exactly where it is needed."
Make CAREER a vision of your future as a researcher
To Danielle Benoit, an NSF CAREER award is more than just a grant.
"It's about your ability to plan a significant trajectory/vision for your research program in the future."
So when she surveyed her research portfolio in preparation for applying for her CAREER award, she
looked for the area that had the most potential in terms of "laying a foundation for literally a career of research."
The topic she picked is
one she's been working on ever since she arrived here in 2010
. The genesis, in fact, dates to a conversation she had with
Edward Puzas
, the Donald and Mary Clark Professor of Orthopaedics, when she first interviewed here. Puzas mentioned a peptide his group had discovered that Benoit thought could have real potential for targeted drug delivery. It's the same peptide that's now a key part of her CAREER project. "So really you can weave this all the way back to that conversation as the start of this idea, which has evolved since then and gained momentum and changed direction."
That momentum was aided by funding from the University's Technology Development Fund, Pilot Project funding from a P30 University of Rochester Environmental Health Sciences Center Grant, and a Women's Health and the Environment over the Entire Lifespan (WHEEL) K12 Career Development Award.
These awards gave Benoit the protected research time for graduate students to start developing the preliminary data
that helped bolster her CAREER application.
Her advice to other junior faculty thinking about applying for a CAREER, especially those applying for the first time:
1.
Don't make it your first grant.
Try to get some grant-writing exposure and feedback on other proposals first. "Test the waters," Benoit advises.
2.
Get feedback from your colleagues.
Benoit said she received helpful suggestions on writing and polishing her proposal from the junior faculty mentoring group run by Prof. Laurel Carney in the Department of Biomedical Engineering and from the weekly Friday
PI meetings
held by the Center for Musculoskeletal Research "The people reviewing your grants at NSF might know a little something about your field of expertise, but generally come from a more general background, so it's important to get a more general but scientifically literate audience to look at your proposal ahead of time and see how readable it is. The more dense it is, the harder it will be for even someone who is an expert to continue to look at it in a fair and balanced way."
3.
Talk to your program managers
at NSF.
4.
Look at successful CAREER proposals written by other investigators
, even if they are in other disciplines. "It can give you a sense for how things should look and how things should be worded."
5.
Plan ahead.
"The deadline comes in July, but that comes really fast, so don't think you can wait until the end of the semester and get cranking," Benoit said. "You should have a draft (ready to share for feedback) well before then."
Watch workshop that offers tips for applying
Click
here
and scroll down to view the video of an AS&E workshop on applying for NSF CAREER awards, held on April 20, 2015.
Do you have an interesting photo or other image that helps illustrate your research? We would like to showcase it. Send a high resolution jpg or other version, along with a description of what it shows, to bmarcotte@ur.rochester.edu.
---
PI Oversight: "If it's not documented, it didn't happen"
(This is the third in a series of articles to help principal investigators understand their role in ensuring that human subject protection requirements are met in their studies.)
If you are a principal investigator doing research with human subjects, the official
Research Subject Review Board (RSRB) letter of approval
to begin (or continue) your study is an important milestone.
Treat it accordingly.
Don't toss it
; don't lose it among all the other papers stacked on your desk and, most importantly, don't ignore it.
Approval letters — as well as several other types of study documentation — are required to be maintained by the study team
in what often is referred to as a "Regulatory File."
Why? As far as a Quality Improvement reviewer or FDA inspector is concerned,
"If it's not documented, it didn't happen,"
says
Kelly Unsworth
, Director of Research Education and Training with the University's Office for Human Subject Protection. And that can lead to a finding of noncompliance.
"Often PI's mistakenly think because they submitted materials to a review board that the University automatically 'has them' filed away somewhere," says
Steven Lamberti
, a Professor of Psychiatry who is a PI himself, and chairs the University's Research Subject Review Board for behavioral and social sciences. "We are just a review board. We're not the repository for every laboratory at the University of Rochester engaged in human subject research."
What should a regulatory file include?
That can vary depending on the nature of the research, the funding source and whether a study involves an investigational drug, device and/or biologic, but
at a minimum it should include
:
1. The approved study protocol
2. All versions of watermarked informed consent forms
3. RSRB approval documents, including the original approval letter and approval letters from all amendments and continuing reviews
4. Any other RSRB approved recruitment flyers or release forms
5. Documentation of any reportable events
6. Documentation of data safety management plan adherence, if applicable
7. Subject-specific research files
Click
here
for a more detailed description, from the OHSP's
Study Documentation Tool Box
.
Where should the regulatory file be kept?
In a binder or a folder, or stored electronically — do what works best; just make sure it's accessible to the study team! You should also be systematic about how the file is organized so the file does not become convoluted.
You should be able to access any one study document at a moment's notice without having to dig for it.
An example of how you to organize an electronic regulatory file is available
here
.
What can a PI do to be sure the file is being maintained properly?
Communicate regularly with the study coordinator and other team members. For example, Lamberti suggests, PIs should meet regularly with team members to look over the latest consent forms to ensure they were properly obtained and filed. At least once annually, PIs should do a more thorough review by checking the regulatory file to ensure IRB approvals have been maintained and also by picking a couple of subject files to self-audit, including reviewing eligibility, consent, data gathered, and any reports of adverse occurrences.
(Next: The Free Study Start-Up Consultation Service available through the Office for Human Subject Protections' Division of Quality Improvement can get your team off to a good start.)
---
CTSI launches new forum next month to help junior investigators with funding
The CTSI is implementing
a new Research Methods Forum this May to help junior investigators become independently funded
. The pathways are a fast track showing how investigators can rework their scientific proposals for KL2 Mentored Career Development and CTSI Pilot Awards into proposals for K or R21 awards from the National Institutes of Health, according to the
CTSI Stories blog
.
The twice monthly forums will focus on multidisciplinary research methods and allow investigators to share research ideas and receive constructive criticism from their peers. While the forums are open to all investigators, they will particularly benefit junior investigators by
offering the opportunity to interact with potential collaborators and receive thorough feedback on their proposed research early in project development
.
The forums will advise investigators how to repurpose existing grant proposals for new funding opportunities. Timelines are also included in the pathways to ensure investigators don't miss important submission deadlines. In this way,
an investigator could submit a KL2 application in November, and use it for the base of a K08 or K23 application in February
.
Junior investigators interested in applying for funding through one of these pathways must present their research ideas at the Research Methods Forum at least 2-4 months prior to submitting their KL2 or CTSI Pilot Award applications. Watch the
CTSI weekly update
for reminders about upcoming Research Methods Forums.
To learn more about CTSI funding opportunities or the Research Methods Forum, contact
researchhelp@urmc.rochester.edu
.
---
3D print service is now available in Rettner Hall
The Digital Media Studies program has launched a public 3D print service in Rettner 201 (the Digital Media Lab). Any faculty, staff or student with the ability to pay using URos/declining can ask the Rettner Help Desk staff to print a 3D file at a reasonable cost, whether it is related to coursework or not. To learn more, click
here
.
---
University researchers in the news
A collaboration between researchers at the Medical Center and the Rochester Institute of Technology (RIT) has
produced a highly efficient method for gene transfer
that involves culturing and transfecting cells with genetic material on an array of carbon nanotubes. This
appears to overcome the limitations of other gene editing technologies
. "This platform holds the potential to make the gene transfer process more robust and decrease toxic effects, while increasing amount and diversity of genetic cargo we can deliver into cells," said
Ian Dickerson
, Associate Professor of Neuroscience and co-author of a paper published this week in the journal
Small
. The process is not only simple, inexpensive and efficient, adds co-author
Michael Schrlau
, an Assistant Professor at RIT's Kate Gleason College of Engineering, but is "well-tolerated by cells and can successfully deliver DNA into tens of thousands of cells simultaneously." Using a process called chemical vapor deposition, researchers
created a structure akin to a honeycomb consisting of millions of densely packed carbon nanotubes
with openings on both sides of a thin disk-shaped membrane. The carbon nanotubes act as conduits drawing the genetic material into the cells. Using this method, the researchers observed that
98 percent of the cells survived and 85 percent were successfully transfected
with the new genetic material.
Read more . . .
The lab of
David I. Yule
, Professor of Pharmacology and Physiology, has answered an important question that has stumped scientists for years:
What does it take for a particularly important calcium channel to open and start the process of secreting fluids like saliva and digestive juices?
Using advanced molecular engineering and gene editing techniques driven by
Kamil Alzayady
, Research Assistant Professor, the lab has found that
all four parts of a protein called the IP3 receptor must be activated (turned on)
for calcium to increase in a cell and start processes like fluid secretion.
Robert T. Dirksen
, Chair of Pharmacology and Physiology, said the results have broad implications not only for how calcium is controlled in cells, but also for understanding various human secretory disorders that range from dry mouth to pancreatitis.
Read more . . .
An experimental immune-stimulating drug plus a standard four-drug chemotherapy regimen
can control pancreatic cancer tumors well enough to make some patients eligible for surgery
, according to an early-stage (phase 1b) clinical trial conducted by a Wilmot Cancer Institute researcher and published in
The Lancet Oncology
. Since surgery currently provides the best chance for survival of pancreatic cancer, any research that helps to move more patients toward that goal is exciting, said lead author
David C. Linehan
, Director of Clinical Operations at the Wilmot Cancer Institute, and Chair of Surgery at the Medical Center. This study is also significant, Linehan said, because there is no consensus on the best way to treat locally advanced pancreatic cancer that cannot immediately be removed. The median five-year survival rate is less than 5 percent. Doctors typically use chemotherapy and combinations of other therapies to try to control the disease.
Read more . . .
---
Phd dissertation defenses
Sarah Cron
, Biophysics, "Investigating an SF3b155 Scaffold for UHM-Containing Pre-mRNA Splicing Factors." 1:30 p.m., April 8, 2016. Neuman Room (1-6823). Advisor: Clara Kielkopf.
Malcolm Kotok
, Mathematics, "Computing zeta functions of nondegenerate hypersurfaces over finite fields." 2:30 p.m., April 11, 2016, Hylan 1106A. Advisor: Charles Haessig.
Amy Arbogast
, History, "The First American Playwrights: The Emergence of Professional Playwriting in the United States, 1870-1909." 2 p.m., April 13, 2016, Rush Rhees 456. Advisor: Joan Rubin.
William Rowley
, Philosophy, "An Evidentialist Epistemology of Testimony." 2 p.m., April 15, 2016, Lattimore 531. Advisor: Richard Feldman.
Caleb Strait
, Brain and Cognitive Sciences, "Neural Mechanisms of Reward Based Choice." 9 a.m., April 15, 2016, Meliora 269. Advisor: Benjamin Hayden.
---
Mark your calendar
Today:
"Perspectives for Aspiring Inventors in Medicine," presented by Richard L. Ehman, keynote speaker for the Medical Center's fifth annual Medical Scientist Research Symposium. Ehman is the Blanche R. & Richard J. Erlanger Professor of Medical Research and Professor of Radiology at the Mayo Clinic in Rochester, Minn. 3:30-4:30 p.m., Class of '62 Auditorium. For more information about the symposium, which highlights the research and scientific accomplishments of Medical Scientist Training Program students, click
here
.
Today:
BIO101: Big Data and Precision Medicine, the promise and current realities of so-called precision medicine (a.k.a. personalized medicine) and how "big data" is influencing science and medicine today and into the future. Noon to 1 p.m., Miner Classroom 1 (1-6051H).
Today to April 10:
RocHackHealth: Rochester Healthcare Data Hack-A-Thon. University faculty, students, staff and other "techies" form teams to collaborate on solutions to healthcare related data problems. Click
here
to see the schedule of events, to register or to find additional information.
April 12:
KL2 and TL1, presented by Timothy Dye, Associate Chair of Research, and Professor, Department of Obstetrics and Gynecology, and Robert Holloway, Chair, Department of Neurology. Noon to 1 p.m., Helen Wood Hall Auditorium (1w-304). CTSI Seminar series.
April 12:
An Integrated View of the Genome. Workshop will discuss bioinformatic analysis of the human genome through the lens of the ENCODE and ENCORE projects, with hands-on introduction to various databases and tools that can be used for analysis. 3-5 p.m., Miner Classroom 1 (1-6051H)
April 14:
Mechanisms and Functions of Nrf2 Signaling in Aging and Stress Defense, presented by Dirk Bohmann, Department of Biomedical Genetics. 11 a.m. to noon, EHSC Conference Room (4-8820). EHSC Seminar series.
April 14:
Hear My Story: Sharing the When, How and Why in Developing and Advancing a Career in Research, panel discussion featuring David Oldfield, Project Nurse, SMH Pulmonary; Noreen Connolly, Health Project Coordinator, Strong Epilepsy Center; and Jessica DeSanctis Keith, Student, Clinical and Social Sciences in Psychology. Noon to 1 p.m., Saunders Research Building, 1.416. SCORE meeting.
April 15:
Patient-Provider Communication and Patient Centeredness, presented by Ronald Epstein, Professor of Family Medicine. Noon to 1 p.m., Helen Wood Hall Auditorium (1w-304). Public Health Grand Rounds.
April 15:
Reproducibility of Biomedical Research, presented by Lawrence Tabak, principal deputy director of the National Institutes of Health. 3-4 p.m., Class of '62 Auditorium (G-9425). Bioethics Lecture.
April 15:
Deadline to apply for the University's preliminary Falling Walls competition, which will select a graduate student, postdoc, junior faculty member or young entrepreneur to represent the University at the international Falling Walls competition in Berlin, Germany, this fall. Register at the official Falling Walls
website
; contact Adele Coelho, Faculty Outreach Coordinator, at
adele.coelho@rochester.edu
for additional information.
April 15-16:
Hard Coded Humanities, a two-day interdisciplinary conference organized by the Andrew W. Mellon Fellows in Digital Humanities, will challenge traditional distinctions between software and hardware in scholarly contexts. All events are free to attend. Register to secure your spot in a workshop and to stay in the loop. More info can be found on the conference
site
.
April 21:
2nd Annual Rochester Global Health Symposium. 8:30 a.m. to 5:30 p.m., Saunders Research Building. The call for posters and registration portal are available
here
.
May 6:
Humanities Proposal Writing Workshop,to help faculty, postdocs, and graduate students (and staff who assist them) prepare compelling proposals to non-federal funders interested in advancing the Humanities and Humanistic or Interpretive Social Sciences. All day, Hawkins Carlson Room, Rush Rhees Library. Sponsored by the AS&E Dean for Research's Office, under the umbrella of the University's Humanities Center. For more information and to register (required), click
here
.
---
Please send suggestions and comments to Bob Marcotte. You can see back issues of Research Connections, an index of people and departments linked to those issues, and a chronological listing of PhD dissertation defenses since April 2014, by discipline.