In this week's edition . . .
Why compressed Achilles tendons become diseased
Study shows salivary glands replenish without stem cells
Worth pondering: Why capital campaigns and private philanthropy matter
Workshop for faculty explains Fulbright programs
CEIS event showcases applied sciences
Applications sought for Cancer Research Program Grants
Technology Development Fund begins spring round
Introducing Matthew McCall
Congratulations to Robert Dworkin
In the news:
Keith Nehrke and Paul Brookes study stress surveillance mechanism to mitigate damage from heart attacks
Supercomputer helps identify genetic mutation involved in infant seizure disorders
---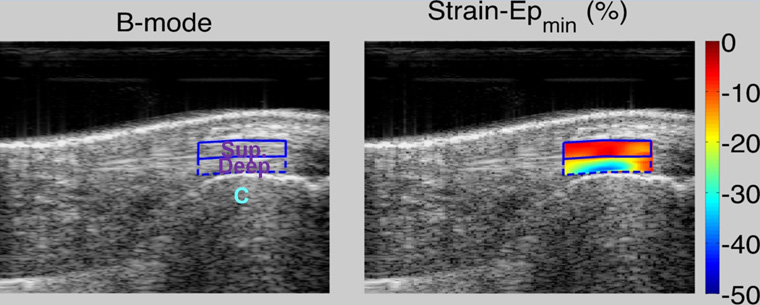 At left is an ultrasound image of a healthy Achilles tendon and the calcaneus, or heel bone (labeled C). In the image at right, taken as a healthy subject performs a heel lift, a compressive strain map shows the high (negative) compressive strains where the heel bone impinges on the tendon.
Research explores why compressed Achilles tendons become diseased
A poisoned arrow to the back of his heel was the undoing of Achilles during the Trojan War.

But what causes the excruciating pain of a disorder known as insertional Achilles tendonopathy? And is there a less invasive way to relieve these symptoms, short of the surgery most patients must undergo to remove damaged tissue from the tendon that bears Achilles' name?

These are the questions that Mark Buckley, an Assistant Professor of Biomedical Engineering and current Furth Fund award recipient, is pursuing with postdoctoral student Ruth Chimenti of his lab and three Medical Center faculty members — Michael Richards, a Research Assistant Professor of Surgery (and expert in ultrasound elastography), and Prof. A. Samuel Flemister and Asst. Prof. John Ketz of Orthopaedics.

Tendons, which connect muscles to bone, can be very good at stretching; cartilage, which connects our joints, is much better at handling compression. And yet, the Achilles tendon, which wraps around the back of the heel bone, must do both. When the stretched tendon is pressed against the heel bone, it undergoes tremendous compression — even during such ordinary activities as standing up or walking a flight of stairs, Buckley and his team have documented.

In IAT patients the tendon has become stiffer and less permeable, which Buckley's lab has also documented by comparing diseased tissue from patients who underwent surgery, with tissue from donated cadavers of persons who did not have the disease. The tissues can be kept alive in bioreactors for a week or more so they can be subjected to various stretching and compression tests.

"We are exploring the possibility that these patients had excess compression at some point in their lives, and their tendons have adapted," Buckley said. "The tissue has started to change into something more like cartilage — more like a tissue that can withstand compression."

This could mean that the pain experienced by IAT patients involves compression of tissues other than just the tendon, Buckley added. Because the diseased tendon can no longer deform as much when the heel bone pushes against it, "the deformation has to be taking place elsewhere," Buckley explained. "There are lots of highly enervated tissues that surround the tendon, including fatty tissue with lots of nerve endings."

For most IAT patients, physical therapy and other conservative treatments provide little relief; more than half end up having the diseased tissue — and a deformity of the heel bone found in many IAT patients — removed surgically. Others "haven't actually gotten better from physical therapy; they just get to some state where they can just live with the pain," Buckley noted.

By better understanding the causes and mechanics of the disease, Buckley and his collaborators hope to find effective physical therapies and other conservative, non surgical approaches that might relieve or reverse the symptoms.

Though surgery works fairly well, Buckley said, most patients would prefer to avoid the costs, risks, and potential complications.

"There are a number of directions that we're taking, but we've already had some interesting findings that are providing some clues to potential ways forward for really developing effective conservative care for IAT patients," Buckley said.


Do you have an interesting photo or other image that helps illustrate your research? We would like to showcase it. Send a high resolution jpg or other version, along with a description of what it shows, to bmarcotte@ur.rochester.edu.
---
Study shows salivary glands replenish without stem cells
University researchers have shown that — just like the liver and pancreas — it appears the salivary glands are maintained without the support of a stem cell pool. This important insight could lead to new therapies for cancer survivors and patients with Sjogren's syndrome, an immune system disorder that causes dry mouth and dry eyes, reports the Research@URMC blog.

Catherine Ovitt, Associate Professor of Biomedical Genetics and the Center for Oral Biology, led the investigation, which is reported in the journal Developmental Cell. Postdoctoral fellow Marit Aure is the first author.

Ovitt's lab used a technique called genetic labeling to directly trace cells in the salivary glands. Contrary to the widely held view that stem cells are necessary for replacing secretory cells, they were able to clearly demonstrate that secretory cells can duplicate and expand, even after injury.

Radiation treatment to the head and neck induces DNA damage and targets the secretory cells, often shutting off their ability to proliferate. The resulting loss of salivary gland function is common and leads to severe, irreversible dry mouth and oral infections.

Click here to read the study.

---
Worth pondering: Why capital campaigns and private philanthropy matter
Stephen Dewhurst, Vice Dean for Research at the School of Medicine and Dentistry and Associate Vice President for Health Sciences Research, writes in his blog at the Rochester Democrat and Chronicle:

"Biomedical research at our nation's leading research universities and teaching hospitals is largely funded by grant awards from the National Institutes of Health (NIH), as well as by internal University funds that make up the difference between the real cost of that research and what the NIH is willing — or able — to pay for it. In recent years, that gap has been growing as the NIH budget has shrunk.

"Harold Varmus, the outgoing Director of the National Cancer Institute (NCI) — one of the largest and most important components of the NIH — recently noted that "adjusting for inflation", the budget of the NCI is now "about 25 percent below where we were in 2003." That's a scary prospect for cancer patients. It's also scary for young scientists hoping to start their careers, and for the colleges and universities that sustain our nation's not-for-profit biomedical research mission.

"According to a recent report from the Association of American Medical Colleges (AAMC) and the Huron Consulting Group, the average U.S. medical school currently invests an additional $0.53 for every dollar of research support that it receives — which amounts to an average investment of $111 million per year, from each medical school. This is one of the reasons why university endowments and capital campaigns matter so much, and why private philanthropy is so important to academic research. Without that support, institutions like the University of Rochester simply could not sustain the world class research that they do."

---
Workshop will inform faculty about Fulbright programs
Peter VanDerwater, Director of Outreach for the Fulbright Scholar Program, will lead a workshop for faculty interested in Fulbright programs from 3-5:30 p.m. May 5 in The Meliora, Frederick Douglass Building. The workshop will culminate with a panel of University faculty who are Fulbright alumni and will be followed by a reception for all attendees honoring the University's Fulbright alumni.

The event is open; to reserve a space, please email global@rochester.edu.

The event is sponsored by the Office for Global Engagement in conjunction with the AS&E Dean's Office.

---
Applied sciences to be showcased at CEIS event
The University Technology Showcase, sponsored by the Center for Emerging and Innovative Sciences from 1-5 p.m. Thursday April 16 at the DoubleTree Hotel, 1111 Jefferson Ave., will feature applied research in optics, imaging, and photonics; energy and materials; biomedical technology; and IT at the University of Rochester and Rochester Institute of Technology.

Principal investigators for these projects will be on hand at a poster session.

Featured speakers will be Barry Silverstein, Senior Director of Technology at IMAX Corporation, and Robert Duffy, President and CEO of the Rochester Business Alliance.

The event is free and open to the public. For more information contact melissa.higgins@rochester.edu.

---
Applications sought for Cancer Research Program Grants
The implicit goal of these awards, offered by the James P. Wilmot Cancer Institute, is to bring established or new research projects to a level of competitiveness at the federal funding level. Up to $100,000 of funding may be requested for one year.

Preference will be given to team proposals with a high potential for multiple future R01-type grants or P01-type grants.

The award will be based on scientific merit and innovation. Participating investigators may be involved in a maximum of two applications. Single or dual PI mechanisms are allowed.

This is a stream-lined process. Proposals should use Arial font and a font size of 11 point, 1-inch margins, single-spaced type and consist of:

1. Proposed Research — 5-page maximum (Abstract, Hypothesis, Specific Aims, Background and Significance, and Plan of Research, excluding references)
2. Budget (Faculty salaries and travel are not allowed)
3. Biosketches in NIH format (old or new format)
4. Other Support

Applications are due on June 1, 2015. Applications should be submitted electronically to Pam Iadarola, who can also be contacted for more information.

---
Technology Development Fund seeks pre-prosposals
This UR Ventures fund, which helps UR researchers get their innovations ready for the marketplace, provides awards ranging from $40,000 to $100,000 to support projects of approximately one year in duration.

Faculty, staff, or students are encouraged to submit pre-proposals for the spring 2015 round of awards by May 1 to Omar Bakht.

A submitted invention disclosure to UR Ventures is required for an application. Click here for more details about applying.

---
Introducing a new faculty member
Matthew N. McCall (see April 17 calendar event below) has joined the Department of Biostatistics and Computational Biology as an assistant professor. His research interests are in statistical genomics, systems biology, and bioinformatics. He is focusing on: 1. developing methods to estimate gene regulatory networks involved in cancer from perturbation experiments, 2. tackling within-subject genomic heterogeneity, focusing on predicting recurrence of hepatocellular carcinoma after liver transplantation, 3. developing methods for preprocessing and analysis of genomic data, and 4. examining the effect of cellular composition on tissue-level gene expression. "Cancer progression has been shown to produce drastic changes in genetic networks critical to normal cellular function," McCall notes. "Some oncogenic mutations produce self-sustaining alterations in the network structure such that removal of the original mutation does not restore normal cellular function. This suggests that identifying the original oncogenic mutation may not be sufficient for a targeted intervention; rather, a detailed understanding of the gene regulatory networks present in both normal and malignant cells may be necessary." He received his PhD in Biostatistics from Johns Hopkins Bloomberg School of Public Health in 2010.

---
Congratulations to . . .
Robert Dworkin, Professor of Anesthesiology, who has received the 2015 Mitchell B. Max Award for Neuropathic Pain from the American Academy of Neurology for his outstanding contributions to research in the field. Dworkin is the first non-neurologist to receive the award. Dworkin's most notable achievements include his efforts to improve the methods used to evaluate and approve new, safe, and effective treatments for the more than 100 million Americans who report having chronic pain. Very few truly new therapies have been approved by the FDA in the past 10 years. Dworkin directs the Analgesic, Anesthetic, and Addiction Clinical Trial Translations, Innovations, Opportunities, and Networks (ACTTION) public-private partnership with the FDA to address this lack of new therapies and accelerate the development of more effective and safer pain treatments. Read more . . .

---
University research in the news
Keith Nehrke, Associate Professor of Medicine (Nephrology) and Paul S. Brookes, Associate Professor of Anesthesiology, have received a $2.5 million, four-year grant from the National Heart, Lung, and Blood Institute to collaborate on understanding a mechanism by which cells respond to stress, in hopes of finding a drug target to reduce the damage caused by heart attacks. They will begin by studying a stress surveillance mechanism in a roundworm called C. elegans. Surprisingly, there are many similarities in how worms and mammals deal with stress. Key to securing the grant was Salvador Peña, an M.D./Ph.D. student in Nehrke's lab, who received a Ruth L. Kirschstein National Research Service Award from the National Institute for General Medical Sciences in 2014 to study the stress surveillance mechanism in worms. Read more . . .

Researchers used a supercomputer cluster at the University to help identify a new genetic mutation at the heart of a severe and potentially deadly seizure disorder found in infants and young children. The finding, reported in the American Journal of Human Genetics, may help scientists unravel the complex biological mechanism behind these diseases. "These findings allow us to open up what was, up to this point, a 'black box' and more fully understand the biological pathways associated with these disorders and why some individuals do not respond to treatment," said Alex Paciorkowski, Assistant Professor of Neurology and lead author of the study. The study focuses on a severe form of seizure disorders — early myoclonic encephalopathy, Ohtahara syndrome, and infantile spasms — collectively referred to as developmental epilepsies. The supercomputer cluster allowed the scientists to sift through enormous sets of genetic information quickly and more efficiently. Once the mutation was identified, the researchers worked with neurobiologists in the lab of Marc Halterman, Associate Professor of Neurology in the Center for Neural Development and Disease, and were able to identify the downstream impact of the mutation. Read more . . .

---
Mark your calendar
Today: 4th Annual Medical Scientist Research Symposium. "Stem Cells in Silence, Action and Cancer," keynote address by Elaine Fuchs, Rockefeller University. Student poster session and oral presentations. 1-4:30 p.m., Class of '62 Auditorium and Flaum Atrium.

Today: Community reception and book signing for The Plight of Invisibility, which addresses the educational challenges confronted by Latina/o students in Rochester's public schools. 6 to 8:30 p.m., Barnes & Noble at University of Rochester, 1305 Mt. Hope Ave. Read more . . .

April 15: Celebration of the Seward Project, 3 to 5 p.m. in the Digital Humanities Center. Keynote address by Beth Luey, Past President of the Association for Documentary Editing, and presentations by students involved in the project. Read more . . .

April 16: University Technology Showcase of UR and RIT applied research projects, sponsored by Center for Emerging and Innovative Sciences, 1-5 p.m., DoubleTree Hotel, 1111 Jefferson Ave.

April 17: "RNA and the New Genetics: From Bench to Therapeutics," the 17th Annual Marvin J. Hoffman Lecture by Lynne E. Maquat, Director of the Center for RNA Biology. Noon-1 p.m., Class of 1962 Auditorium. Complimentary boxed lunch provided. RSVP by April 8 to 585-273-5937 or apullen@admin.rochester.edu

April 17: "Incorporating Uncertainty in the Estimation of Gene Regulatory Networks," by Matthew McCall, Department of Biostatistics and Computational Biology, and "Self-Training for Syntactic Parsing," by Adam Purtee, Department of Computer Science. Center for Intergrated Research Computing Symposium. 11:30 a.m. to 1 p.m., URMC 2-6408 (K-207 Auditorium).

April 20: "Ice Melt, Sea Level Rise and Superstorms: Evidence from Paleoclimate Data, Climate Modeling, and Modern Observations that 2°C Global Warming is Dangerous," presented by James Hansen, Earth Institute at Columbia University. Center for Earth and Envivonment seminar series. 4-5 p.m., Lander Auditorium, Hutchison Hall. Reception to follow.

April 20: Deadline to apply to Cohort I of the National Science Foundation (NSF) I-Corps Site program, which provides entrepreneurial training and grants of $1,000 to $3,000 to enable teams to transition their technical ideas into the marketplace. Send to natalie.antal@rochester.edu.

April 20: AS&E workshop on applying for the NSF Faculty Early Career Development (CAREER) Program. 9 to 11 a.m., Gamble Room of Rush Rhees Library. RSVP by April 14, 2015. For additional information please contact assistant deans Debra Haring or Cindy Gary.

April 20: Initial applications due for Environmental Health Sciences Center (EHSC) Pilot Projects. Click here for more information.

April 26: Deadline to apply for Falling Walls Lab competition, to be held May 19 at Sloan Auditorium. Any grad student, post-doc, scientist or early career faculty member, born on or after Nov. 8, 1980, is eligible. Apply here. Questions? Contact fallingwallsrochester@rochester.edu.

April 29: "Copyrights and Commercialization: Patient Outcome Measure Development," presented by Chad Heatwole and Scott Catlin as part of the Good Advice: Case Studies in Clinical Research, Regulation, and the Law series. Noon to 1 p.m., Helen Wood Hall Auditorium (1w-304).

May 1: Deadline for pre-proposals for University Technology Development Fund. Click here for more details about applying.

May 5: Fulbright Faculty Workshop with Peter VanDerwater, Director of Outreach for the Fulbright Scholar Program, 3-5:30 p.m., The Meliora, Frederick DOuglass Building. Includes panel of University Fulbright alumni. To reserve a space, email global@rochester.edu.

---
Please send suggestions and comments to Bob Marcotte. You can see back issues of Research Connections, an index of people and departments linked to those issues, and a chronological listing of PhD dissertation defenses since April 2014, by discipline.