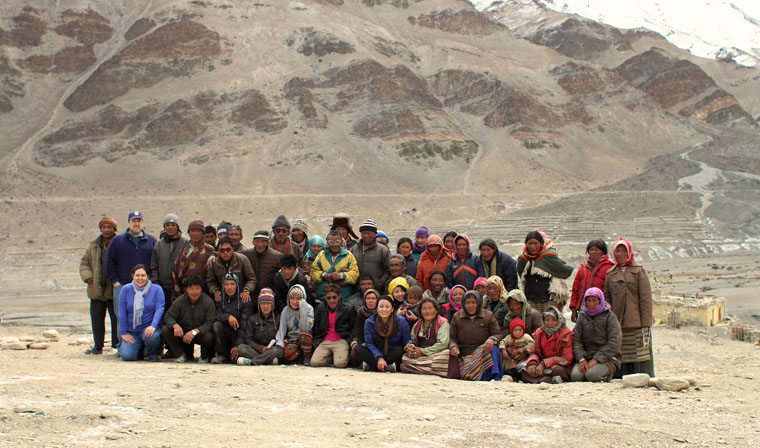 This community photo, taken in the Changtang nomadic region more than 15,000 feet above sea level in the Indian Himalayas, includes Timothy Dye, Professor of Obstetrics and Gynecology, his research collaborators from the University of Hawaii, representatives from the Central Tibetan Administration's Health Department, and the Changtang villagers the team visited to assess the understanding and impact of hepatitis B among Tibetan refugees, and to devise a plan to detect, treat, and prevent the disease.
Images of research
University of Rochester research often has a global reach.

And there is no better example of that than the work Timothy Dye, Professor of Obstetrics and Gynecology, is conducting in India with colleagues to assess hepatitis B among Tibetan refugees. The project, funded by the Hershey Family Foundation, is being conducted in cooperation with the Central Tibetan Administration's Health Department and the University of Hawaii.

By the end of this year, Dye will have made three trips to the Ladakh district -- in the northern Himalayas where the borders of Pakistan, India and China converge -- as part of an effort to help Tibetan authorities come up with a strategy to detect, treat and prevent the disease.

That's about a 17,000-mile round trip each time. But a lot is at stake. Many populations throughout Asia, in general, are known to be at a higher risk of hepatitis B, but assessing its impact among Tibetan refugees is especially important, Dye explained.

"Tibetans are scattered throughout the region in isolated camps that don't have a lot of resources, in a very harsh environment to live," said Dye, who is working with two collaborators from the University of Hawaii. Refugees sometimes have an unclear understanding of hepatitis B, which is transmitted by a virus. Those who have the disease are often unable to afford expensive antiviral medications and opt instead for more accessible Tibetan medicines that seem to help manage symptoms.

Dye and his colleagues are careful to respect Tibetan culture and beliefs in their work. "When you work with any population, just telling them to do this or that doesn't change anything," Dye said. "Any change in beliefs and practices has to be done within a culture's own world view, within the challenges and the resources they face."

So, after gaining necessary governmental approvals during an initial trip in February and ethical approvals from the appropriate sources, Dye and his collaborators returned in May. They conducted a qualitative community assessment, employing classical anthropological field methods to get a better idea of how Tibetans themselves perceive the disease, how they treat it, and how they respond to those who suffer from the disease. The findings will help their Tibetan Health Department colleagues craft a strategy that takes into account cultural beliefs and practices, and will thus have a better chance of being accepted.

Next: How to avoid being "the best show in town."


Do you have an interesting photo or other image that helps illustrate your research? We would like to showcase it. Send a high resolution jpg or other version, along with a description of what it shows, to bmarcotte@ur.rochester.edu.
---
Promising Projects: Improved imaging could shed light on how molecule heals neurons
(This is the second in a series taking a closer look at projects funded under 2014 University Research Awards, previously known as Provost Multidisciplinary Awards, which provide seed money for innovative research projects that are likely to attract external support when sufficiently developed.)

Todd D. Krauss, Chair and Professor of Chemistry and Professor of Optics, and Harris A. Gelbard, Professor and Director, Center for Neural Development and Disease, and Professor of Neurology, of Pediatrics, and of Microbiology and Immunology, are recipients of a 2014 University Research Award for their project, "Localization of Proteins in the Synapse using Super-Resolution Optical Imaging of Quantum Dots."

"This research simply would not happen without the University Research Award," Krauss explained. "What we are trying to do is develop new optical imaging techniques for studying live neurons with a resolution ten times better than what is normally achievable using optical methods. We will use this improved resolution to understand how a newly discovered molecular compound can 'heal' a neuron synapse, and thus possibly someday stop or even reverse neurological decay associated with HIV infection."

"This same powerful technique will gives new insights into how HIV, which infects microglia that prey on synapses, does this on a protein level," Gelbard noted.

"This work involves two very different research laboratories and one simply does not have the resources to get a high-risk/ high reward project like this off the ground without some initial investment," Krauss added. "We are grateful for the URA for that initial investment and with any luck we will have the data we need after a year to apply for major funding for the project from the NIH."

Here's an overview of the project from the researchers:

HIV-1 associated neurocognitive disorders (HAND), describes a collection of diseases that affect 50 percent of people living with human immunodeficiency virus type 1 (HIV-1). HAND is characterized by destruction of specialized structures called synapses that mediate communication between neurons and promote normal neurologic function. Recently, Gelbard developed new classes of small molecules (URMC-099) that remarkably seem to restore normal synaptic function in diseased neurons. Critical to discovering how URMC-099 is able to "heal" the synapse is the ability to image receptor proteins in the synapse that could be possible binding sites for URMC-099 at the nanometer scale. However, standard imaging techniques either do not have the required resolution or are incompatible with a biological environment.

We propose a high risk, high reward approach to overcome this limitation based on nanotechnology. In particular, we will use small inorganic nanoparticles called colloidal semiconductor quantum dots as fluorescent tags, combined with novel ultra-high-resolution imaging microscopy techniques, to determine the structural location of individual signaling proteins in the synapse of a neuron with a resolution of under 20-nm.

Our approach is straightforward: antibodies to the signaling proteins will be attached to the quantum dots chemically, allowing for direct labeling of the protein of interest with the highly fluorescent nanoparticle. Statistical "blinking" in the fluorescence intensity of individual quantum dots combined with novel imaging processing methods allows for the localization of the quantum dots to a precision 10 times better than what is possible with conventional far-field diffraction limited imaging microscopy. Images of the locations of neurotransmitter proteins in the synapse coupled to signaling proteins will be used to determine possible binding sites for the compound URMC-099.

Our hypothesis is that URMC-099 will decrease the number and possibly distribution of quantum dot-labeled PSD-95-MLK3 complexes bound to these signaling proteins when exposed to chemical stimuli that cause inflammation, versus when no chemical stimuli are applied. The experiments detailed above will provide ample preliminary data to apply for R21 funding to a NeuroAIDS (NAED) or nanotechnology (NANO) study section to advance the use of quantum dots for localization of synaptic proteins in models of HIV-1 in the nervous system.

(University Research Award proposals are evaluated on whether the projects promise to solve a problem of intellectual or scientific importance, are well-designed and feasible, offer opportunity for involvement of students, and clearly show how outcomes should lead to external funding. Proposals are also evaluated on whether applicants are qualified to see the project to a successful conclusion and whether the budget request is appropriate. Click here to learn more.)

---
Learn more about limited submissions
Some sponsors limit the number of nominations or proposals that the University may submit to a particular program. The guidelines for these programs require the University to screen applications to determine which applications will be submitted. Click here for a list. For questions or to submit applications, contact or email: Catherine Muzytchuk (URMC), Cindy Gary (Hajim), or Debra Haring (ASE).

---
CTSI opens applications for KL2 program . . .
The KL2 Mentored Career Development program provides two years of support for new investigators interested in a career in clinical or translational research. The goal of the program is to help faculty become independent researchers, and thereby foster the discipline of clinical and translational research at the University of Rochester Medical Center. Letters of intent are due on Friday, Sept. 26, 2014 by 5 p.m. Click here to view detailed information about the KL2 program and to view the full RFA.


. . . and for novel biostatistical and epidemiologic methods pilot projects
The Clinical and Translational Science Institute (CTSI) requests applications for Novel Biostatistical and Epidemiologic Methods pilot projects. The principal goal of this program is to stimulate the development of novel methods to overcome identified limitations and enhance research validity and accuracy, scope or speed. The maximum award is $35,000 for a one-- or two-year period. Initial abstracts are due by Sept. 15 at 5 p.m. Click here to read more about the NBEM program and to view the RFA.

---
Introducing a new faculty member
Dustin Trail has been appointed an assistant professor in the Department of Earth and Environmental Science. He is a high-temperature experimental geochemist whose research is mainly laboratory-based and seeks to understand: 1. the evolution of planetary magmas through time; 2. the conditions of early Earth and implications for the inception of the biosphere; 3. secular changes in the oxidation state of magmas and fluids, and the connection between the chemical state of the crust and mantle; and 4. non-traditional mechanisms of isotope fractionation. Much of his work involves designing and executing high pressure/temperature laboratory experiments that synthesize rocks and minerals under conditions appropriate to our planet, the Moon, and other "rocky" planets in our solar system. Trail earned his PhD in geology from Rensselaer Polytechnic Institute in 2010, and was a Postdoctoral Research Associate in the Center for Astrobiology there before coming to the University of Rochester.

---
In the news
Nina Schor, the William H. Eilinger Chair of Pediatrics, followed a hunch about a brain receptor -- resulting in a new mouse model that may give researchers a new avenue for testing drugs for autism. Nature Publishing Groups' Translational Psychiatry published the study online this week. Read more here about the work done by Schor and her co-authors, Louis T. Lotta, Jr., Katherine Conrad, and Deborah Cory-Slechta, Professor of Environmental Medicine.

In the hopes of advancing treatments for psoriatic arthritis, or even preventing it, researchers at UR Medicine are now studying a specific molecule on the surface of the cells that lead to the crippling condition. The research, led by Chris Ritchlin, Chief of the Department of Allergy/Immunology, and Rheumatology, is supported by a 2-year, $250,000 incubator grant from the Clinical and Translational Science Institute (CTSI), which began on July 1. "If we can identify targets that we can inhibit, we can block the formation of these bone-resorbing cells," said Ritchlin. "We can develop new medications to stop bone-resorbing diseases like arthritis, osteoporosis, metastatic cancer." Minsoo Kim, Associate Professor of Microbiology and Immunology, and Brendan Boyce, Professor of Pathology and Laboratory Medicine, are co-principal investigators. Read more in Sean Dobbins' article at CTSI stories.

Military troops take doxycycline to prevent infections and malaria, and teenagers use it to treat acne. Wilmot Cancer Institute scientists are also testing it for the treatment of lymphoma. Carla Casulo, Assistant Professor of Medicine (Hematology/Oncology), is leading the clinical trial, which opened in March. The study is based on basic laboratory science conducted by Jiyong Zhao, Associate Professor of Biomedical Genetics, who has shown that doxycycline can stop lymphoma cells from dividing, or slow the rate of division. Read more at the Research@URMC blog.

---
Mark your calendar
Today: Deadline for Fulbright Core applications for Academic Year 2015-2016. Click here for a searchable database of all programs and here for past and upcoming webinars about programs and the application process.

Aug. 4: Deadline for proposals for the first disabilities studies cluster symposium, "Complicating Normalcy: Disability, Technology, and Society in the 21st Century," which will be held Nov. 14. Click here to learn more.

Aug. 11: Deadline at noon for applications for Center for Community Health Mini-Grants. You can find a link to the RFA here.

Sept. 1: Applications due for pilot grants for aging research, offered by The Rochester Aging Research Center and the Office for Aging Research and Health Services. Send to to Daina_Bullwinkel@URMC.Rochester.edu. Contact Dirk Bohmann, Yeates Conwell, or Vera Gorbunova with questions. NOTE: New funding for projects that are related to HIV and aging has become available from the Center for AIDS Research. See the updated request for applications.

Sept. 2: Deadline to submit abstracts for Clinical and Translational Science Institute's Pilot Awards program, its Incubator program and for SMD Scientific Advisory Committee (SAC) "superpilot" awards.

Sept. 15: Deadline for initial abstracts for CTSI Novel Biostatistical and Epidemiologic Methods pilot projects. Click here to learn more.

Sept. 26: Deadline for letters of intent for CTSI KL2 Mentored Career Development program proposals, which provide two years of support for new investigators interested in a career in clinical or translational research. Click here for more information.

---
Please send suggestions and comments to Bob Marcotte. To see back issues, click here.