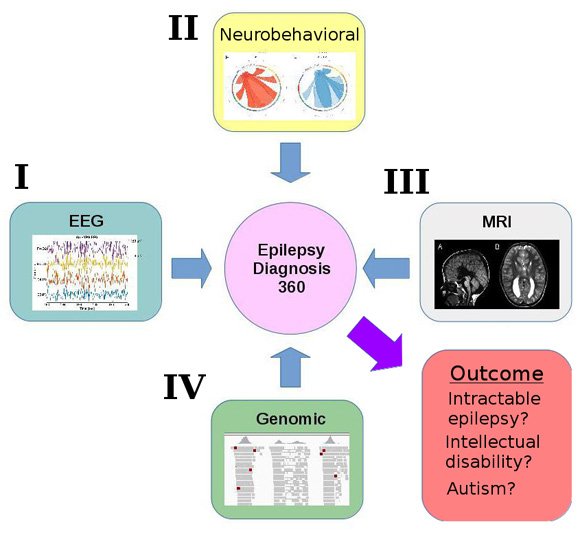 This illustration, from the lab of Alex Paciorkowski, assistant professor of neurology, shows the key components that he and Gonzalo Mateos, assistant professor of electrical and computer engineering, will draw on to develop software predicting which treatments are likely to have the best outcomes for epilepsy patients. They are one of three teams to receive pilot funding from the Goergen Institute for Data Science.
Health analytics pilot projects funded
by Goergen Institute for Data Science
Three teams of researchers at the University of Rochester will analyze health data in novel ways as part of an effort
to improve treatment of patients who are in intensive care or who suffer from epilepsy or mental disorders
.
The teams are recipients of pilot funding from the University's
Goergen Institute for Data Science
. The institute has identified health analytics —
leveraging large sets of clinical, genomic, and lifestyle data to predict individual health outcomes
— as one of its top priorities.
"These projects each address a key scientific question, and involve an innovative approach or new technology, an exciting cross-campus multidisciplinary collaboration, and a potential for follow-on funding," said
Scott Steele
, deputy director of the institute.
The projects involve:
1.
Identifying major depression and bipolar disorders
. Principal investigators
Jiebo Luo
, associate professor of computer science, and
Wendi Cross
, associate professor of psychiatry, will develop
a prototype system to monitor patients during interviews with therapists
. The system brings together
video, algorithms for tracking and interpreting body motions and body language, and facial expression recognition software
to capture emotions.
2.
Predicting the treatments that are likely to have the best outcomes for epilepsy patients
. Principal investigators
Alexander Paciorkowski
, assistant professor of neurology (see also "Congratulations" below), and
Gonzalo Mateos
, assistant professor of electrical and computer engineering, will develop
software that can make the predictions by analyzing a patient's EEG readings, brain MRI imaging, neurobehavioral assessments and genomic data
. The researchers will test and train their model using similar datasets from research subjects with known epilepsy outcomes.
3.
Predicting adverse events among intensive care patients
. Principal investigators
Mina Attin
, assistant professor of nursing, and
Zhiyao Duan
, assistant professor of electrical and computer engineering, will develop
a deep neural network — employing a type of machine learning used to model complex data — to discover ECG patterns
that predict whether patients are at risk of cardiac arrest, prolonged length of stay, and readmission within 30 days.
Proposals for the $25,000 to $50,000 pilot awards — the first issued by the institute — were solicited to address opportunities and challenges identified at a Health Data retreat in March involving nearly 50 University researchers and administrators.
"We saw this as an opportunity to support the use of data science approaches to improve health, while also driving new data science collaborations across the University," Steele said. Collaborations in health analytics, in particular, are facilitated by the close proximity of the University's Medical Center to its River Campus, where the Hajim School of Engineering and Applied Sciences and the School of Arts and Sciences are located.
The Goergen Institute for Data Science, through its New York State Center of Excellence in Data Science,
also provides targeted funding to University faculty members and students
for projects that relate to health analytics and the institute's two other priorities: cognitive science and artificial intelligence, and computational methods, tools, and infrastructure. Click
here
to read more about the CoE Distinguished Researchers and Scholars.
Do you have an interesting photo or other image that helps illustrate your research? We would like to showcase it. Send a high resolution jpg or other version, along with a description of what it shows, to bmarcotte@ur.rochester.edu.
---
Grant funds computational simulations
to enhance strength of nanoporous metals
Nanoporous metals — arranged in networks of interconnected pores and ligaments a few nanometers to several microns in size — are
excellent candidates for a variety of high-tech applications
, such as catalysts for fuel cells, air and gas filters, biosensors and actuators.
The open cell structure and the high surface-to-volume ratio of these networks make them particularly conducive to catalytic activity and to heat dissipation.
The challenge is designing nanoporous metal networks that can withstand the various deformations
, or strains, they will be subjected to without cracking or fracturing.
Niaz Abdolrahim
, assistant professor of mechanical engineering, has been awarded — on her first try — a $350,000 grant from the National Science Foundation in pursuit of that goal. The funding will enable her and two PhD students to
use computer simulations to develop predictive models and deformation maps
that will guide the creation of
nanoporous metals with enhanced ductility (pliability) and strength
. Read more
here
.
---
UR Ventures: Contract research organizations
can help advance drug development
Life sciences breakthroughs at basic research universities
often stop at the point of defining a biological mechanism or potential drug target
, reports the
UR Ventures Technology Review
. This is usually too early in the discovery process to catch the interest of potential biotech/pharma industry partners.
A competent drug development program is often the missing step
needed to bridge this gap. When a technology is stuck at this point, there are typically four options:
1. The inventor(s) could work with colleagues at other institutions to perform the drug screening. However, due to limited resources and experience, this could result in inefficient progress.
2.
UR Ventures
, the University's technology transfer office, could license the discovery to a startup company. However, the pre-drug candidate stage is often too early to attract enough investments to advance the project.
3. The project could be abandonned due to lack of in-house resources.
4. Or, to help promising technologies get closer to the finish line, resarchers could work with a Contract Research Organization (CRO) on a pay-for-services basis.
For example, UR Ventures put the laboratory of
Richard Phipps
, the Wright Family Research Professor of Environmental Medicine, in touch with
Albany Molecular Research, Inc.
, a CRO that UR Ventures has entered into a relationship with. Phipps, who has been investigating a
novel pathway to inhibit scar formation
, needed access to medicinal chemistry expertise and resources to design new and more potent anti-scarring compounds.
AMRI, based in Albany, New York, is
an NIH-designated CRO that possesses the infrastructure and expertise to work with researchers to identify desirable lead chemical compounds
. It is working with the Phipps lab on potential novel compounds with better specificity and efficacy.
"These services are not without cost, however, and it is not always possible for research laboratories to raise enough discretionary funds to pay for drug discovery," the
Review
article notes. "We encourage researchers in this situation to apply to the
Technology Development Fund
."
---
Congratulations to . . .
Ehsan Hoque
, assistant professor of computer science, who has been
named one of this year's "innovators under 35" by the editors of MIT Technology Review
. The honor has previously gone to the likes of Larry Page and Sergey Brin, the cofounders of Google; Mark Zuckerberg, the cofounder of Facebook; and Jonathan Ive, the chief designer of Apple. Hoque, who is also an assistant professor of electrical and computer engineering and an assistant director for research outreach at the University's Goergen Institute for Data Science, is being
recognized for his cutting-edge work in human-computer interaction
. He applies a computational lens to understand and model the ambiguity that language, facial expressions, gestures, and intonation introduce in human communication. In addition to expanding the understanding of human behavior,
Hoque has developed systems that allow individuals to practice and receive feedback on social skills in a repeatable, objective, and respectful way; help musicians practice singing vowels; and provide live feedback to public speakers while they're engaged with audiences
. Read more
here
.
Alexander R. Paciorkowski
, assistant professor of neurology, who
will receive the Derek Denny-Brown Young Neurological Scholar Award
from the American Neurological Society. It is
ANA's highest and most prestigious award
, recognizing neurologists and neuroscientists in the first 10 years of their careers for outstanding basic and clinical scientific advances toward the prevention, diagnosis, treatment, and cure of neurological diseases.
Paciorkowski's research, which focuses on early life epilepsies, has shed new light on mechanisms of a severe form of seizure disorders
collectively referred to as developmental epilepsies. Specifically, Paciorkowski has
identified a mutation in a gene called salt-inducible kinase 1 (SIK1)
, previously unidentified with the disease, which researchers believe
plays a role in a chain reaction of gene and protein interactions in neurons that contribute to seizures
. Read more
here
.
---
Introducing a new faculty member . . .
Daniel Bergstralh
joins the Department of Biology as an assistant professor after doing postdoctoral work at the University of North Carolina and the University of Cambridge. Using multiple model systems, Bergstralh
explores the biology of epithelia, the most common type of tissue in the human body
. Specifically, his lab is interested in how epithelial cells divide and in how they adhere to one another.
By exploring the relationship between division and adhesion, the lab aims to understand how epithelial tissues are built during development and maintained over the lifespan of the organism.
In addition to his postdoctoral appointment at Cambridge, he held a Marshall Sherfield Fellowship, a Marie Sklodowska-Curie (European Commission) Fellowship, and a Research Fellowship at Clare Hall College. He received his PhD from the University of North Carolina.
---
CTSI pilot funding: biostatistical, epidemiologic methods
The University's Clinical and Translational Science Institute is requesting applications from investigators for Novel Biostatistical and Epidemiologic Methods (NBEM) pilot projects.
A maximum of $35,000 will be awarded for a one-year period
. The principal goal of this program is to stimulate the development of biostatistical and epidemiologic methods that help overcome specifically identified limitations and significantly enhance the validity and accuracy, scope, or speed of clinical or translational research.
Multidisciplinary research is strongly encouraged. Initial abstracts are due by 5 p.m., Sept. 26.
Click
here
for the full RFA.
---
PhD dissertation defenses
Kyra Singh
, Statistics, "Variable Selection Methods for Model-Based Clustering: Procedures for Functional Data and Bayesian Inference." 1 p.m., Aug. 26, 2016. Saunders Research Building, Room 1416. Advisor: Tanzy Love.
Jun Li
, Mechanical Engineering, "Laser-Plasma Interactions and Hot Electron Generation in Inertial Confinement Fusion." 2 p.m., Aug. 29, 2016. Hopeman 224. Advisor: Chuang Ren.
Casey Crisman-Cox
, Political Science, "Three Essays on Interactions between Governments and Rebels." 2 p.m., Aug. 30, 2016. Harkness 112. Advisor: Henk Goemans.
Zhuan Chen
, Computer Science, "System Support for Data-Intensive Sensing in the Field." 10 a.m., Sept. 2, 2016. Computer Studies Building, Room 703. Advisor: Kai Shen.
Donald Hebert
, Statistics, "Global Tests for Multiple Outcomes in Randomized Trials." 9 a.m., Sept. 9, 2016. Saunders Research Building, Room 1412. Advisor: Mike McDermott.
---
Mark your calendar
Sept. 1:
Deadline to apply for pilot funding in support of a major initiative by the Del Monte Institute for Neuroscience to launch an Intellectual and Developmental Disabilities Research Center. Read more
here
.
Sept. 7:
Reception in honor of Nick Vamivakas, recipient of 2016 Leonard Mandel Faculty Fellow Award, hosted by Department of Physics and Astronomy. 5-6 p.m., 271 Bausch and Lomb.
Sept. 8:
Graduate Research Fellowship Program workshop for potential applicants, including writing tips and a guest panel of former winners and faculty advisers. 4-6 p.m., Hawkins-Carlson Room, Rush Rhees Library. RSVP by completing this
form
.
Sept. 22-24:
Department of Neurology 50th anniversary celebration, including gala banquet, department updates, and poster and platform presentations showcasing research by current faculty, alumni, fellows, and residents. Read more
here
.
Sept. 26:
5 p.m. deadline to submit initial abstracts for pilot awards from the Clinical and Translational Science Institute in three categories:
Incubator Program
,
investigator-initiated and UNYTE
, and
novel biostatistical and epidemiologic methods
.
Sept. 29:
Identifiying journals for publication; avoiding predatory publishers. Noon to 1 p.m., Miner Classroom 1. Sign up
here
.
Oct. 21:
5 p.m. deadline to apply for Program of Excellence Awards of up to $50,000 each from Center for AIDS Research, for collaborative projects involving co-PIs from the School of Nursing and from the School of Medicine and Dentistry. Click here for the
full pilot announcement
.
Please send suggestions and comments to Bob Marcotte. You can see back issues of Research Connections, an index of people and departments linked to those issues, and a chronological listing of PhD dissertation defenses since April 2014, by discipline.