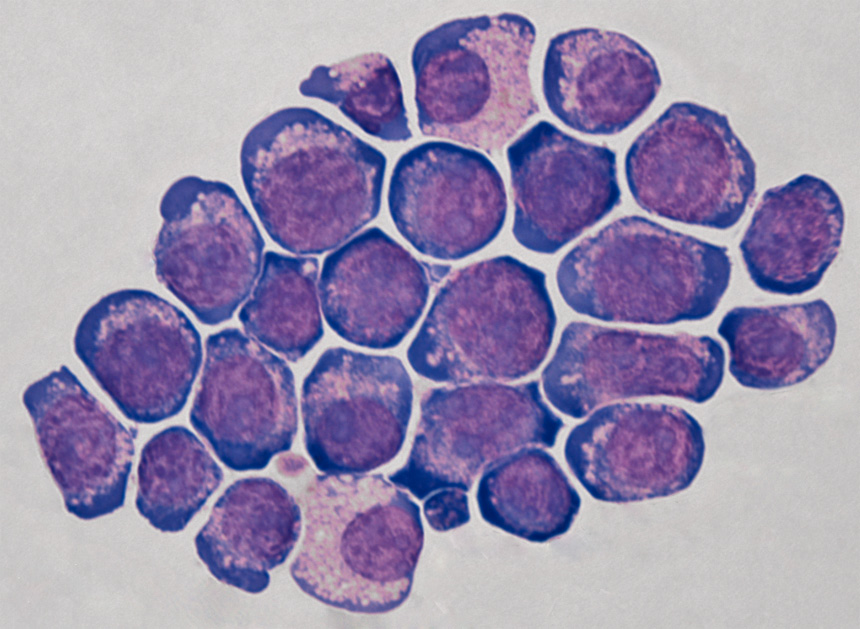 Images of research
Could it be possible to produce human blood artificially? The increasing need for blood transfusions in the U.S., coupled with persistent bottlenecks in donated blood supplies, has fueled an intensified interest in the development of ex vivo methods of producing human red blood cells. The various stages of differentiation that occur in the formation of mature blood cells offer tantalizing possibilities to researchers. For example, this image, from the lab of Jim Palis, Professor of Pediatrics, Hematology/Oncology, shows erythroid precursor cells that form in mice during an early stage of blood cell development. Palis has discovered that these precursor cells can proliferate for months in culture and yet maintain their potential to rapidly become mature red cells. Further study will help researchers develop the ability to grow extensively self-renewing human red blood cell precursors. Palis, along with co-PIs Michael Bulger, Associate Professor of Pediatrics and of Biochemistry and Biophysics, and Richard Waugh, Professor and Chair of Biomedical Engineering, and Professor of Biochemistry and Biophysics and of Pharmacology and Physiology, received a CTSI 2013 Incubator Program Award to investigate the possibility of artificially generating human blood. They will collaborate with Laura Calvi, Professor of Medicine, of Pharamacology and Physiology, and of Neurosurgery and Alan Smrcka, the Louis C. Lasagna Professor in Experimental Therapeutics (Department of Pharmacology and Physiology) and Professor of Biochemistry and Biophysics. Waugh and Palis will give a presentation as part of the "Crossing Elmwood" seminar series at 12:15 p.m., April 1 at Helen Wood Hall Auditorium (1w-304). They will discuss "When Erythrocyte Biology and Mechanics Collide."


Do you have an interesting photo or other image that helps illustrate your research? We would like to showcase it. Send a high resolution jpg or other version, along with a description of what it shows, to bmarcotte@ur.rochester.edu.
---
Musicology scores a "coup" in latest issue of JAMS
The Journal of the American Musicological Society (JAMS), published three times a year, is considered the flagship journal of the field. Being published in it is considered a significant career achievement.

Three Eastman School musicologists share that distinction in the latest issue of JAMS, contributing two of the four articles and one of the four book reviews.

"This almost never happens and is, I believe, a real coup for our Department and School, further making the case within our field that Eastman is a place for top-flight musicological study," said Roger Freitas, Chair of the Department of Musicology.

Michael Anderson, Assistant Professor of Musicology, in his essay "The One Who Comes After Me, John the Baptist, Christian Time and Symbolic Musical Techniques," outlines how John the Baptist is included among the Christian figures and concepts that late medieval and Renaissance composers inscribed in their music as part of a culture of symbolic representation.

Melina Esse, Associate Professor of Musicology, in "Encountering the improvvisatrice in Italian Opera," suggests that the supposedly improvised solo song of the heroine of Giovanni Pacini's popular 1840 opera Saffo was the composer's attempt to represent the modern improvvisatrice -- female improviser of sung poetry -- thus placing Saffo in a broader context of 19th-century poetic improvisation and embodying an ideal of performance in which creation and execution were fused.

Ellen Koskoff, Professor of Ethnomusicology, reviews Musical Journeys in Sumatra by Margaret Kartomi, which provides an ethnographic record of vanishing musical genres, traditions, and practices that have become deeply compromised by the pressures of urbanization, rural poverty, and government policy on the world's sixth largest island.

---
Symposium examines "The Trouble with Post-Blackness"
President Barack Obama's election and re-election have seemingly heralded a new era in American race relations -- a "post-racial" age symbolized by a rising class of African Americans who have found fame and fortune. But what notions of race and identity are being problematically conserved, elided or ignored?

This is among the questions a distinguished national group of writers and scholars will address at a Humanities Project symposium on "The Trouble with Post-Blackness," to be held April 11 at the Hawkins-Carlson Room of Rush Rhees Library. Two dozen scholars will participate in panel discussions and lectures aimed at providing analytical focus to the sweeping implications of post-blackness and what it means to be "black" in the twenty-first century.

Essays delivered and discussed at the symposium will be published by Columbia University Press. Organizers view this as an opportunity to collaborate with the Douglass Leadership House, an academic living center that helps members learn or improve leadership skills through the examination of leadership models from the black experience.

For more information about "The Trouble with Post-Blackness," contact Stephanie Li, Associate Professor in the Department of English.

---
Rochester offers unique setting for pediatric research
Robert Haggerty, former Chair of Pediatrics from 1964 to 1974, engaged in a lifelong effort to promote the health of children and adolescents by establishing more effective integrated services and policies.

Continuing with this legacy, Rochester offers a unique opportunity for University researchers to directly partner with the community to investigate novel programs to improve the health of children, notes Jill Halterman, Professor of Pediatrics. "Because of these unique partnerships, we can develop, implement and test clinical programs in Rochester -- and the community beyond -- in a way you don't hear about in many other places," she noted. "Our work in the community spans many topic areas including immunization delivery, asthma, adolescent health, obesity, child development, and mental health. Research studies are funded by multiple sources including the NIH, AHRQ, CDC, and local foundations."

For example:

Halterman's research program for childhood asthma, funded by the NIH, represents a successful community collaboration that has significantly improved symptom control and reduced harmful exposures among children with asthma. It serves as a model for improved asthma care in urban communities. Through a unique, long-standing collaboration with the Rochester city school district, the program has reached many high-risk children and developed innovative methods to improve the delivery of preventive care. Over more than a decade of research, the program has enrolled hundreds of children and families in multiple clinical trials in the community and has collaborated with almost all of the schools in the city of Rochester.

Tristram Smith, Professor of Pediatrics, focuses his research program on the development and testing of new community-based interventions for children with autism spectrum disorders (ASD). In fact, with funding from HRSA, NIH, and private foundations, the University has one of the largest research programs for individuals with Autism Spectrum Disorders in the nation. Studies include school partnerships that test behavioral interventions for young children with autism to improve academic and psychological outcomes; preschool-based interventions that teach communication skills to the children, and interventions that help parents manage challenging behaviors such as tantrums.

Kenneth McConnochie, Professor of Pediatrics, has partnered with community organizations to enhance access to care within the primary care medical home using telemedicine. Telemedicine allows clinicians to assess and treat patients remotely using secure, web-based information technology. It enables children with both acute and chronic problems to be seen by a healthcare provider while the child remains at school or child care, the parent remains at work and the provider remains at their usual workplace. This model of care has been used in Rochester to provide over 14,000 visits for children and has contributed to fewer child absences due to illness, and a decrease in emergency department visits. It now serves all schools in the Rochester city school district as well as child care and child development centers with mobile telemedicine units. Research has demonstrated this care model to be well accepted by both parents and providers, and to be an effective, efficient means of enhancing equity in access to care.

It helps that "Rochester is a structured, relatively contained area that allows you to reach out and make a difference," Halterman noted. "In pediatrics there's really one system of care for children." And, as a medium-sized city, Rochester "is not so big that that you can't get a handle on the population," Halterman added.

In any event, it is clear that community-based research will continue to have a top priority -- and not only in Pediatrics. As the Medical Center's strategic plan notes: "our mission of improving the health and quality of life for our patients, families and community remains paramount to our success . . . As all academic medical centers grapple with changes in clinical reimbursements, those institutions that can keep their community healthy will benefit financially."

Read more about research in the Department of Pediatrics here.

---
"Nurturing Inquiry" exhibit can be viewed through Feb. 28
A recurring theme among students who are doing research for the first time is the thrill of using fragile historical manuscripts. "This is different from seeing a JPEG," says Abby Glogower, a co-curator of the "Nurturing Inquiry" exhibit that can be seen through Feb. 28 at the Department of Rare Books and Special Collections in Rush Rhees Library. "You're holding a letter that Frederick Douglass wrote to his friend asking her to buy his freedom," Glogower explains. "And you can hold it? That's amazing."

From letters, illustrations, and luncheon menus, to books, brochures and buttons, these resources have led curious minds down converging and often diverging paths of exploration. The exhibit highlights scholars from across disciplines, colleges, and countries in celebration of the journey of research. It unearths the challenges and rewards involved in navigating the research process, while showcasing an assortment of rare and specialized materials. The exhibit is on view Monday through Friday from 9 a.m. to 5 p.m.

---
Introducing a new faculty member
Gillian Soles has joined the Department of Orthopaedics as an assistant professor specializing in the surgical treatment of orthopaedic trauma and fractures, periacetabular osteotomy, and anterior approach total hip replacement. Soles has authored several papers and book chapters and her research interests include clinical outcomes following pelvic and acetabular fractures, and long term results of periacetabular osteotomy. Soles earned her medical degree from Tufts University School of Medicine. She completed her orthopaedic surgery residency at Boston Medical Center. Following her residency, she completed a fellowship in Orthopaedic Trauma at UC Davis Medical Center. Soles then completed a second fellowship with Dr. Joel Matta at the Hip and Pelvis Institute at St. John's Health Center in pelvic and acetabular fracture reconstruction, periacetabular osteotomy, and anterior approach total hip replacement.

---
Congratulations to . . .
Mary Ann Mavrinac, Vice Provost and Andrew H. and Janet Dayton Neilly Dean of River Campus Libraries, who has been selected for the 2014 Lifetime Achievement Award from the Ontario College and University Library Association. The award recognizes Mavrinac's outstanding contributions to academic library development in Ontario, with a focus on her exceptional achievements in planning and implementing a library program that serves as a model to others. The award also acknowledges outstanding research and publication in areas of academic libraries, as well as service to library committees and organizations.

---
Researchers in the news
Researchers at the University of Rochester, Johns Hopkins University, and six other academic medical centers have found that a high dose of a common antidepressant drug (citalopram) significantly reduced agitation in Alzheimer's patients. However, given potentially concerning side effects of citalopram, researchers say further investigation is needed to determine whether a smaller dose will be as effective.

Some pregnant women may not need to gain as much weight as others, especially when they are expecting twins, according to a study of 550 obese women who delivered twins between 2004 and 2012. The study's authors include five members of the Maternal-Fetal Medicine division in the Department of Obstetrics and Gynecology. Although the study did not extend beyond delivery to the postpartum phase, the authors say it stands to reason that if obese women gain the recommended amount of weight then they are left with even more weight than they started the pregnancy with.

The breast cancer drug tamoxifen appears to kill a fungus associated with a deadly brain infection that afflicts HIV/AIDS patients, according to a University of Rochester study in mBio, the journal of the American Society for Microbiology. The findings point to an example of Rochester researchers looking to repurpose older drugs by discovering new applications for secondary properties of the drug. "This work sets the stage for additional animal studies to see if tamoxifen can be used as a drug in people and will allow us to design new drugs related to tamoxifen that are better antifungals," says Damian Krysan, Associate Professor of Pediatrics and of Microbiology and Immunology, an author on the study.

---
Mark your calendar

Today: Center for Integrated Research Computing (CIRC) symposium. Hongyu Miao, Assistant Professor of Biostatistics and Computational Biology, will describe details of improvements in methods for identifying gene regulatory relationships and the application of this work to influenza. Shule Li, a graduate student in Physics and Astronomy, will feature results from simulations on star formations. 11:30 a.m. to 1 p.m., URMC 2-6408 (K-207 Auditorium). Pizza and soda will be served during the event.

Feb. 27: Deadline to apply for Iberdrola USA Foundation Scholarships for students who will be engaged in master's level, energy-related studies next school year. Targeted for students at UR and University of Maine. Click here to learn more.

Feb. 27: "Data Management Plan Workshop: Using the DMPTool," noon, Carlson Library, Room 310. The River Campus Libraries is hosting a workshop on how to use the DMPTool to write an NSF data management plan. For more information and to RSVP, click here.

March 5: CTSI Town Hall Meeting, 4-5 p.m., Saunders Research Building. Topics will include UR Connected, new i2b2 features, the Research Coordinator Development Initiative, and new directions for the CTSI.

March 6-7: Grant Writing and Proposal Development Presentation, Society of Research Administrators International, Tampa, Fla. Learn more.

March 13: "Ethics in Research: Consent Quandaries," 2014 CTSI Symposium, 8 a.m., Helen Wood Hall Auditorium. This symposium will address quandaries in research consent where there are likely to be gaps in knowledge or controversies about the best approach. The topics that will address these gaps include new tools for research consent, methods to address consent comprehension, the unique aspects of consent in settings like special populations, high-risk settings, community participatory research and comparative effectiveness research, and the special challenges of training community partners to obtain consent and conduct research. Register here.

March 15: Deadline to apply for Bioinformatics Pilot Awards. Click here to find the RFA.

March 18-20: 8th Pre-Award Research Administration Conference, National Council of University Research Administrators, San Francisco. Learn more.

March 21-22: The 59th annual Rochester Ophthalmology Conference aims to help ophthalmologists, optometrists, and allied health care professionals update their practices by incorporating evidenced-based therapies, surgical techniques, and scientific insights. Flaum Atrium at the School of Medicine and Dentistry. Registration and more information is available online.

---
Please send suggestions and comments to Bob Marcotte.. To see back issues, click here.