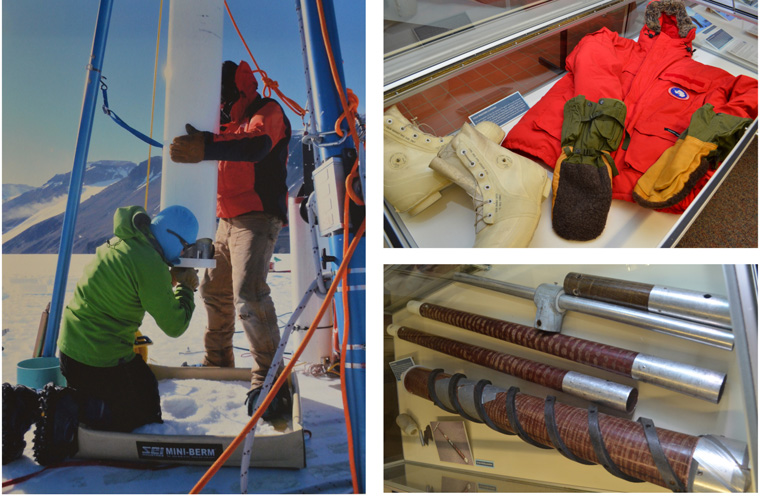 Carlson Library displays the work of University scientists
Vasilii Petrenko, Assistant Professor in the Department of Earth and Environmental Sciences, braves temperatures as cold as -50 Centigrade to study ancient ice samples in Antarctica in hopes of helping to predict future climate change. "Those who prefer a slightly warmer climate can view materials related to his research in Carlson Library," notes a recent issue of Tower Talk, the newsletter of the River Campus Libraries. " 'Taylor Glacier: Researching the Earth's Climate', is the first in a new series of exhibitions showcasing the work of University scientists."

Located on the lower floor, at the base of the stairs leading from the lobby, the display is a reminder that University scientists literally travel the globe to conduct research -- and sometimes brave extreme conditions to do so.

The exhibit includes the "Big Red" parka and "bunny boots" at upper right, which are standard-issue outerwear for scientists living and working in Antarctica, the newsletter notes. These extreme cold weather essentials are distributed by the United States Antarctic Program (USAP) and allow researchers to work outside in temperatures as low as minus-50 degrees Celsius. The parka and boots are on loan to the University from the USAP.

Ice core drills are used to collect samples from glaciers. At Taylor Glacier, Petrenko's group typically uses a two-meter barrel with multiple fiberglass extensions and an electric power-drive. The drill on view at lower right is an older, hand-powered model on loan to the University from the Ice Drilling Development Office.

PhD student Michael Dyonisius, who helped prepare the display, is shown in one of the display's photos, drilling on a windy day with Mike Jayred of the Ice Drilling and Development Organization.

You can read more about Petrenko's research here and follow his blog. The display will be shown through April 15.


Carlson would like to display your research
Is your lab pursuing research you'd like to display at Carlson Library? Contact Zari Kamarei at zari.kamarei@rochester.edu or Travis Johansen at tjohansen@library.rochester.edu. Submissions are welcome from faculty in engineering and applied sciences, and in the natural and physical sciences.


Do you have an interesting photo or other image that helps illustrate your research? We would like to showcase it. Send a high resolution jpg or other version, along with a description of what it shows, to bmarcotte@ur.rochester.edu.
---
Two UR teams compete in NIH Neuro Startup Challenge
This is the last day to show support for two University of Rochester teams participating in the NIH Neuro Startup Challenge, in which more than 70 teams of 568 university students and entrepreneurs are competing to commercialize 16 inventions conceived and developed at the National Institutes of Health.

The UR Motion Correction team is using an external camera and software suite to record head movements by patients undergoing MRI, then correct for the motion, reducing the incidence of blurred images that conservatively cost $150 million a year in rescans in the United States alone. Team members are Wanaruk Chaimayo, a postdoctoral research associate in dermatology; Anas Zainul Abidin, a graduate student in imaging science; Nicholas Mastrosimone, a business and biochemistry student; and James McGrath, Professor of Biomedical Engineering. Their elevator pitch can be seen on video and voted on here.

Several neuroscience graduate students and clinicians have formed the VasoMark team to improve the early detection of glioblastoma, the most common and lethal cancer of the central nervous system, by detecting the patented biomarker ATIA in combination with tumor-specific vasculature markers. Members are Jennifer Stripay, Matthew Cavanaugh, Christina Cloninger, Ryan Dawes, Berkeley Fahrenthold, Rebecca Lowery and Heather Natola, all PhD students; Jonathan Stone, neurosurgery resident; Bill Rader, president and CEO of Raland Therapeutics; Holly Hillberg of Hillberg Consulting; and Marc Halterman, Associate Professor of Neurology. Their pictch can be seen on video and voted on here.

Winners of the elevator speech will move on to develop 10-page business plans and deliver a live, 20-minute pitch to a panel of judges; winners of that phase will receive $2,500 and proceed to actual start up. For a look at all the teams, click here.

---
Learn new programming languages, computing skills at CIRC 'boot camp'
Would you like to learn how to program? Or learn a new programming language? Or pick up essential technical computing skills to help with your research projects or course work?

The Center for Integrated Research Computing (CIRC) will host a 6-week program to help students, postdocs, research staff, and faculty do just that, at no charge. Each language or topic is taught in an individual module designed for beginners, covering basic information so participants can then move on to self-learning tutorials or other more advanced coursework.

Each module consists of 1.5-hour lectures over 4 days, integrated with existing student class schedules for convenience. Exercises will be assigned between each lecture, so each attendee has time to work independently on programming tasks. Participants are expected to attend each lecture. Participants may sign up for one or more modules (i.e. languages to learn).

Modules are offered in Perl, Fortran, Linux, C, Bash Shell Scripting, Stata, SAS, MySQL, Python, R, MATLAB and Mathematica.

The modules will be taught in the HSCCI VISTA Collaboratory on the first floor of Carlson Library on various dates from Jan. 26 through March 5. Space is limited, so register early here.

---
$5 million gift will support center for bioethics
University alumnus Paul M. Schyve, a senior advisor for Healthcare Improvement at The Joint Commission, has committed $5 million to the University to support the study and practice of bioethics in health care and research.

"Breakthroughs in areas such as stem cell research, assisted reproduction, genomics, and neurocognitive science are rapidly changing the way we are born, live, and die. Patients, families, providers, and policymakers are facing difficult and confusing decisions, fraught with moral and ethical implications," says Stephanie Brown Clark, Director of UR Medicine's Division of Medical Humanities and Bioethics. "This gift will help us further develop informed and thoughtful approaches to these kinds of concerns."

Using the funds, the University will establish the Paul M. Schyve, M.D. Center for Bioethics to advance bioethical training and education throughout the region; help professionals, patients, and families make bioethical decisions; and enhance community understanding of bioethical issues. The center will unite programs across the entire University through the creation of a bioethics counsel. Read more . . .

---
U.S. losing ground to Asia and Europe in medical research
If trends continue, the United States will relinquish its leadership in medical innovation in the coming decade, concludes an analysis in the Journal of the American Medical Association that includes two University neurologists as co-authors.

"U.S. medical research remains the primary global source of new discoveries, drugs, medical devices, and clinical procedures," said co-author Ray Dorsey, Professor of Neurology. "However, a decade of unprecedented growth in research activity has been followed by a decade of steady decline which now leaves open the possibility that other nations could assume global leadership given their increasing investment in biomedical research."

Among the findings:

1. U.S. spending on medical R&D has declined in real terms by 13 percent since 2004.

2. Research funding, particularly by the private sector, has shifted to later stages of development and away from basic science. Guided primarily by the desire of companies to realize short-term economic benefits, private sector spending on phase 3 clinical trials -- large studies in people that often represent the final step before regulatory approval -- grew by 36 percent between 2004 and 2012.

3. Industry spending is also now the largest component of U.S. medical R&D, increasing from 46 percent in 2004 to 58 percent in 2012.

4. Diseases that represent more than 80 percent of all U.S. deaths receive less than half of the funding from the National Institutes of Health.

5. Health services -- which study topics such as access to care, cost, quality of care, and efforts to promote well-being -- represent only 0.3 percent of U.S. research expenditures.

"The low levels of investment in health services research represent a missed opportunity to improve many aspects of health, especially the burden of chronic illness, aging populations, and the need for more effective ways to deliver care," said Dorsey.

"Clearly the pace of scientific discovery has outstripped the capacity of current financial and organizational models to support the opportunities afforded," added University neurology resident Benjamin George, a co-author of the study. "This analysis underscores the need for the U.S. to find new sources to support biomedical and health services research if we wish to remain the world's leader in medical innovation." Read more . . .

---
Wilmot Cancer Institute prepares for the next era
Precision medicine -- based on analyzing the underlying genetic and biological underpinnings of each patient's disease -- is a leading focus of research at Wilmot Cancer Institute and other centers in the United States, Robin Flanigan reports in the current issue of Rochester Review.

Examples include testing for patients with chronic lymphocytic leukemia to identify mutations to a particular gene that prevent standard chemotherapy from working, and building molecular profiles of lung cancer tumors to see if patients can be better matched with targeted therapies through clinical trials.

And in treating breast cancer, accurate measurement of specific genes has become an important factor in new treatments for many patients.

Read more here about how the WIlmot Cancer Institute is preparing for the next era in the fight against cancer.

---
University study on Alzheimer's agitation makes top list for 2014
The American Academy of Neurology (AAN), the world's largest professional association of neurologists, has included a UR Medicine study among its picks for the most revolutionary research of 2014. The study, which originally appeared in the Journal of the American Medical Association (JAMA), found that a high dose of a common antidepressant drug (citalopram) significantly reduced agitation in Alzheimer's disease patients and helped alleviate caregiver distress.

"The citalopram study produced a drop of hope in a field that has seen a sea of negative study results," said Anton P. Porsteinsson, Professor of Psychiatry and lead author of the citalopram study. "It is an honor to have our efforts recognized by Neurology Today, and it will inspire us as we continue this important work." Read more . . .

---
Warner professor articulates new approach to clinical supervision
Douglas Guiffrida, Associate Professor of Counseling and Human Development at the Warner School, recently published Constructive Clinical Supervision in Counseling and Psychotherapy (Routledge, January 2015), in which the author articulates a novel approach to clinical supervision that integrates constructivist ideas of human growth and change with several diverse theories of psychotherapy.

The ideas are applicable to supervision ocurring in a wide range of settings, including schools, mental health clinics and medical facilities. Read more here . . .

---
Paper: Consumption inequality is keeping pace with income inequality
Income inequality has gone up substantially over the past 30-plus years, but most research based on the Consumer Expenditure Survey suggests that consumption inequality has increased by only about a third as much.

Mark Bils, Professor of Economics, and collaborator Mark Aguiar, a former UR professor now at Princeton, challenge that in a recent paper that focuses not on how much spending households report in total, but on how they report spending across different categories of goods -- specifically luxuries versus necessities.

Their conclusion: higher-income households shifted their spending much more toward luxuries than did lower-income households, requiring a sizable increase in consumption inequality over the past 30 years. In fact, the rise in consumption inequality mirrored the rise in U.S. income equality over those years.

Bils talks about the research in this Rochester Review interview.

---
Basics of IP: A good invention may be staring you in the face
(This is one in a series of articles about the importance of intellectual property and its commercialization to the University and its researchers. It is based on a current UR Ventures lecture series, "Intellectual Property and Commercializing Technology" being offered by the office of the AS&E Dean for Research. The next presentation, "Assessing the Market Opportunity of New Technologies," will be at noon, Jan. 20, in the Gowen Room of WIlson Commons. Lunch provided. RSVP to melissa.napolitano@rochester.edu)

An obscure theoretician suddenly has a "light bulb" idea that changes the world. Harried technicians, locked in a room, work around the clock to come up with the breakthrough they need to launch a new product line. Is this what invention is all about?

No. In fact, the vast majority of useful, valuable inventions result from the "regular work that people are doing in their everyday projects -- not from people sitting around in a room brainstorming new ideas," says Reid Cunningham, IP attorney for UR Ventures, the office that helps University researchers apply for patents and license their innovations.

Moreover, the vast majority of these inventions are not revolutionary ideas, but are more incremental in nature. Most improve upon what came before. Even Edison's longer-burning light bulbs, for example, advanced earlier versions.

"If you are in a lab you will, as a regular part of your work, encounter problems and difficulties. Every time you overcome a problem, there's an opportunity for an invention," Cunningham explained. "Sit down once a month and look back on where you have come in your research. Look at what you've done that was different from what came before. Inventions are the delta, the change that occurred between what came before and what you're doing now."

Even the alternative solution(s) you come up with, but decide against, could be valuable. Maybe they're too expensive now, or dependent on imperfect technology, but that could change as technology improves or costs come down. "Maybe this year it doesn't make sense, but five years from now it might be the perfect solution when technology catches up," Cunningham said.

Other potential, patentable inventions result from:

1. Any new feature or function that makes an existing device or process faster, more cost effective, or more efficient. If you are synthesizing material in a lab, for example, and find a way to increase the yield rate from 20 to 40 percent, the process you came up with for doing so "would certainly be something to look at in terms of an invention."

2. Taking something that already exists and using it in a new environment. Inkjet printers, for example, were designed to lay precise amounts of material on a substrate -- initially ink on paper. But now they are also used to put pharmaceuticals onto an edible substrate -- so people can take precise dosages of medication. That discovery of a new use for an existing technology -- in a new environment -- is also patentable.

Cunningham says one of the best parts of his job is sitting down with researchers, listening to what they are doing, and helping them to identify the "deltas" in their day-to-day work. Contact him at reid.cunningham@rochester.edu if you have "deltas" you would like to share with him.

Next: What constitutes a good invention?

---
Q&i service now available at Carlson Library
A new semester is underway, and that means new papers and projects. The River Campus Libraries can help! The "Questions and Information," or "Q&i" service offered at Rush Rhees Library is now also available at Carlson Library. Q&i staff members are available seven days a week to help you with circulation, course reserves, navigating the stacks, interlibrary loan, reference questions, and more. Librarians offer enhanced, individualized support for research, both in-person and virtually. Q&i desks are located on the first floor of Rush Rhees and on the plaza floor of Carlson.

---
Introducing a new faculty member
Thomas Howard has joined the Departments of Electrical and Computer Engineering and Computer Science as an assistant professor with a secondary appointment in Biomedical Engineering. He comes to the University after serving as a research scientist at MIT's Robust Robotics Group. His research spans artificial intelligence, robotics, and human-robot interaction. He has applied his research on planetary rovers, autonomous automobiles, mobile manipulators, robotic torsos, and unmanned aerial vehicles. A University of Rochester engineering alumnus (B.S., Electrical and Computer Engineering, Mechanical Engineering '04), Howard earned a Ph.D. (2009) in robotics from Carnegie Mellon University.

---
University research in the news
Complications involving the brain's unique waste removal system -- the existence of which has only recently been brought to light -- may thwart efforts to identify biomarkers that detect traumatic brain injury (TBI). That is because proteins that are triggered by brain damage are prevented from reaching the blood system in levels necessary for a precise diagnosis. Maiken Nedergaard, Professor of Neurosurgery and Co-director of the University's Center for Translational Neuromedicine, led a team of University researchers who tested the blood of mice with TBI for three proteins considered strong candidates for a blood-based biomarker for TBI. They found that even small alterations can impair the ability of the glymphatic system to remove waste and that treatments to prevent the brain from swelling after injury can also impair clearance of waste. Moreover, people under observation in hospitals for TBI are often subjected to frequent evaluations that disrupt their sleep, or in other cases are given sedatives to induce sleep. Because the glymphatic system primarily functions while we sleep, these variations in clinical care can skew protein levels found in the blood. Read more here.

Researchers at the University Medical Center are testing a new oral vaccine to prevent infection with HIV, the virus that causes AIDS. The vaccine is unique because it is given as a pill, unlike most HIV vaccines tested to date that have been given as shots. John J. Treanor, Professor of Medicine and Chief of Infectious Diseases at Strong Memorial Hospital is leading the study with support from Michael C. Keefer, Professor of Medicine and Director of the University's NIH-supported HIV Vaccine Trials Unit, who has more than 20 years of experience in the preventive HIV vaccine field. They will monitor how people's immune systems respond to the vaccine and if the vaccine causes any symptoms. Read more . . .

---
PhD dissertation defense
Guangze Jin, Biochemistry and Biophysics, "Characterization of PIN-domain Toxin-antitoxins VapBC from Mycobacterium tuberculosis." 10 a.m., Jan. 22, 2015, Neuman Room (1-6823). Advisor: J. Scott Butler.

---
Mark your calendar
Jan. 20: "Assessing the Market Opportunity of New Technologies," part of UR Ventures lecture series, "Intellectual Property and Commercializing Technology." Noon, Gowen Room of WIlson Commons. Lunch provided. RSVP to melissa.napolitano@rochester.edu

Jan. 21: Drug Supply for Clinical Trials: Contractual Issues with Drug Supply, presented by Cornelia Kamp, Director, Clinical Materials Services Unit (CMSU) and Pat Bolger, CMSU Director Clinical & Business Affairs. Part of the series, Good Advice: Case Studies in Clinical Research, Regulation, and the Law. Noon, Helen Wood Hall Auditorium (1w-304).

Jan. 30: Deadline for submitting information sheets for students to participate in the 2nd annual "America's Got Regulatory Science Talent" competition. Click here for more information. Questions? Contact Scott.Steele@rochester.edu

Jan. 30: Deadline to apply for Drug Discovery Pilot Awards to help drug discovery projects at the Medical Center overcome specific hurdles standing in the way of future research, funding, and commercialization. Click here for more information about submission criteria and guidelines.

Feb. 2: Applications due for PumpPrimer II funding to support AS&E innovative and high-risk projects that need proof of concept and/or pilot funding to get off the ground. Read more . . .

Feb. 2: Applications due for University Research Awards to support new research with a high probability of leveraging future external funding. Applications are due via email to Vini Falciano.

Feb. 20: Applications due from new investigators for pilot project funding from the University's Core Center for Musculoskeletal Biology and Medicine. Click here for the full RFA.

---
Please send suggestions and comments to Bob Marcotte. You can see back issues of Research Connections, an index of people and departments mentioned in those back issues that links to those issues, and a chronological listing of PhD dissertation defenses since April 2014, by discipline.