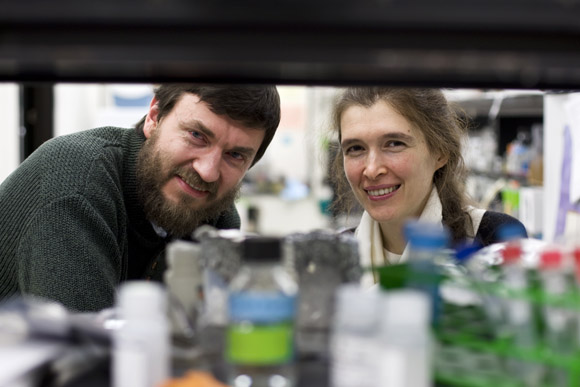 "We cannot do everything," says Vera Gorbunova, the Doris Johns Cherry Professor of Biology, shown above with Andrei Seluanov, Associate Professor of Biology. Gorbunova is the PI for a $9.5 million National Institute on Aging grant that enabled her and Seluanov to reach out to collaborators at the Albert Einstein College of Medicine and Harvard University to explore the factors responsible for longevity in various rodent species, with the goal of developing treatments to improve the aging process in people.
'There were bigger issues to explore'
(This is part of a series identifying faculty leaders who have assembled teams to pursue large research awards or other projects, and explaining their approach and motivation in building a team.)
By any yardstick, University biologists
Vera Gorbunova
and
Andrei Seluanov
were doing quite well on their own as researchers.
They made headlines when they identified the chemical that triggers an anti-cancer response in the naked mole rat and attributed the rodent's longevity to a process that results in nearly-perfect protein synthesis. (
Read more . . .
)
They received grants. They received prestigious awards.
But there's only so much that two investigators — even ones as highly skilled as Gorbunova and Seluanov — can accomplish on their own.
"We cannot do everything. There were bigger questions, and we wanted to involve other people in addressing them, in order to expand the research in several directions," Gobunova explained.
"Somebody else may be an expert in a certain technique, and you can provide that laboratory with your reagents and achieve insights that could not be done by yourself because you're not using those tools.
This is the way to get the bigger picture. This is the primary reason to expand the program, to achieve a broader understanding of things.
"
That was one reason Gorbunova pursued a large program grant with collaborators from two other institutions.
"Also there's a very pragmatic reason in terms of funding," added Gorbunova, who is the PI for the $9.5 million
grant
received in 2014 from the National Institute on Aging at NIH. The project is exploring the factors responsible for longevity in various rodent species, with the goal of developing treatments to improve the aging process in people. The other collaborators are Jan Vijg, Chair of Genetics at the Albert Einstein College of Medicine, and Vadim Gladyshev, Professor of Medicine at Harvard University.
"Those large program grants are only available for this kind of project, so you are kind of stimulated to think broadly and think of who you would like to have on your team to be successful," Gorbunova said.
Vijg, whose work has focused on genomic instability and its relationship with aging, is analyzing the role of mutations in short- and long-lived species, and, more specifically, the impact of DNA repair efficiency. Gladyshev is using his expertise in computational and experimental approaches to examine gene expression patterns across a variety of rodent tissues in order to understand the factors responsible for longer life spans.
Through her participation in NIH workshops and review panels, Gorbunova had
established a rapport with program directors there who were familiar with her interest in pursuing the project, and helped her refine the submission
.
"For program project like this,
the key is that the team — what it can achieve together — has to be greater than the sum of the parts
. That's what they always use as basis for review," Gorbunova explained.
Her advice to faculty members interested in leading a multi-investigator project like this:
1. In choosing collaborators, first think scientifically about the unique strengths they can bring to the project, and how this will move it forward. "That is key. There has to be a common theme that each one will be aligned with. The other consideration is that they have to be people you can work with."
2. Be a good organizer. For example, convince your collaborators to write their sections of the application soon enough so everybody can read each other's work and comment.
"The next step, once you've got the funding, is to to keep the project going — keeping lines of communication open and the team working together," Gorbunova said.
So far, so good.
"We just had our first external advisory board meeting in October," Gorbunova related. "I was very nervous before that, because I thought we were not making as much progress as I would like. But after everyone came to Rochester and made their presentations, it actually looked very impressive."
Next: "'Surround yourself with good people, then let them do their thing," suggests David Topham, who leads or co-leads three major projects.
Do you have an interesting photo or other image that helps illustrate your research? We would like to showcase it. Send a high resolution jpg or other version, along with a description of what it shows, to bmarcotte@ur.rochester.edu.
---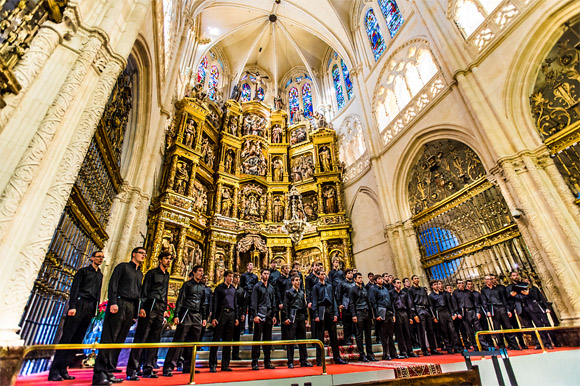 The history of the Notre Dame Glee Club, shown performing above, is recorded in a new book written by Michael Alan Anderson, an Eastman School musicologist.
Eastman faculty member helps celebrate a glee club that changed his life
As an award-winning scholar of fourteenth through sixteenth century sacred music,
Michael Alan Anderson
is
accustomed to writing about topics for which there are no living witnesses
. Nobody to call up or email to confirm when and why a particular musical convention came into favor, for instance.
What a relief, then, when Anderson was able to correspond regularly with people who participated in the Notre Dame Glee Club, the subject of his latest book.
"
Having access to living subjects who can tell you what they remember is quite amazing
," said Anderson, an Associate Professor of Musicology at the Eastman School of Music. "What a fascinating way to do research, instead of having to sort through sources and fragments from several centuries ago, hoping that someone wrote something down that will answer your questions!"
The Singing Irish: The History of the Notre Dame Glee Club
(University of Notre Dame Press, 2015), which chronicles the history of one of the oldest choruses in the United States, came out last fall. "Although it has the appearance of a high-end coffee table book, I assure you it was quite a research project," said Anderson, who
sorted through more than 1,200 articles (fortunately many of which he found online) and talked to scores of Notre Dame Glee Club alumni
to write the narrative.
In fact, he set up an email list of willing Glee Club alums whose participation in the group dated from the 1950s to the present. To help confirm when a relatively recent Glee Club tradition began, he would sent out an email and almost instantly hear back from alums who either could, or could not remember participating in that tradition — thereby helping Anderson pin down exact dates or at least narrower time frames for events and customs.
So why did Anderson wander so far out of his normal orbit of research to take on this project?
His participation in the Glee Club as a Notre Dame business major in the mid 1990s was an important turning point for him
, Anderson explained. Fond as he was of singing, "when I stepped into the choir room as a wide-eyed freshman, and saw some of the music put in front of me, it changed my life. It was exposure to a new kind of music I was not ready for, a whole new world of sound," Anderson said.
And no, he is not referring to the Notre Dame Victory March.
"Some of the medieval and Renaissance music he (Glee Club director Daniel Stowe) exposed me to is music I now write about."
After graduating with a major in business and a second major in music, Anderson worked at an advertising agency in Chicago for five years, even as "the music part continued to burn inside me." Finally, he took the plunge, enrolling in the University of Chicago's graduate program in musicology.
When Anderson attended a Glee Club reunion in 2012, and the conversation turned to a good way to celebrate the club's upcoming centennial,
he decided to "give something back" by helping with the book.
Except, as Anderson discovered in his research, 2015 isn't really the Notre Dame Glee Club's centennial after all. "I found citations to the glee club on again and off again well before 1915," Anderson said. In essence, that "debunked" the centennial angle, but did not deter Anderson from finishing a long overdue history of one of America's most celebrated choral groups.
---
Interaction between organ and voice is topic of 2016 EROI Festival
The 2016
Eastman Rochester Organ Initiative Festival
will explore historical, conceptual, and practical aspects of the interaction between organ and voice from Oct. 26 through 28 at the Eastman School of Music.
Titled "Breath for Singing: The Organ and the Human Voice," the festival also
features the premiere performance of a new hymn commissioned for the conference
, with text by Yale theologian and poet Thomas Troeger and music by internationally recognized composer Nico Muhly.
Through lectures, demonstrations, master classes, and performances,
leading organists and musicologists will examine the roles of the organ in supporting congregational singing and in alternating with the choir (schola cantorum or Kantorei) in religious communities
. In addition to looking at congregational song from a historical perspective — examining repertories of chant, chorales, metrical psalms, and hymns — sessions will
explore the cognitive and psychological benefits of group singing
.
Read more . . .
---
Pilot funds available for Infection and Immunity Program
The Infection and Immunity: From Molecules to Populations (IIMP)
program
has funds to support a limited number of pilot projects to promote new collaborations between basic science research laboratories and population science investigators.
Projects are intended to
transform research approaches in all Medical Center PhD programs by having predoctoral students incorporate both laboratory and population training in their dissertation research
. Applicants may request a maximum of $7,500 for the duration of one year.
The deadline for submitting initial applications is Feb. 29.
Read more. . .
---
Andrus Fellowship accepting applications
The University's Center for Community Health, which conducts research and develops and implements programs that address the health of our community, is once again offering the E. Cowles Andrus Summer Fellowship for Community Health Improvement to a qualified student.
The fellowship
offers medical students, and occasionally exceptional public health master's students, the opportunity to plan and conduct projects to improve the health of the community
.
The deadline for applications is Jan. 31
, 2016. Click
here
for the application materials.
---
Dean's Teaching Fellowship Program calls for applicants
The Office for Faculty Development announces a call for applications for the 2016–2018 Dean's Teaching Fellowship Program.
The program, which is open to junior and mid-career faculty members committed to academic careers, is designed to
further the development of a core group of master educators, promote the careers of MD and PhD faculty in medical and dental education, and support educational innovations and research at the School of Medicine and Dentistry
.
For additional information about the program, click
here
. Email completed application by the submission deadline of Monday, Feb. 1, 2016 to
Karen_Grabowski@urmc.rochester.edu
---
New NIH requirements for research grant applications
The NIH has begun a new initiative designed to improve the rigor of experimental design in research, and to increase the reproducibility of scientific experiments.
Investigators will be required to explicitly discuss and address three areas in the Research Plan and add an attachment addressing "Authentication of Key Biological and/or Chemical Resources."
These changes will be explicitly included in the new Study Section proposal review and scoring criteria for grants submitted on or after Jan. 25, 2016. For more information, watch this
video
from the NIH and consult the CTSI Grant Writing Resources
webpage
.
---
Kiosk highlights research studies
To raise awareness of the importance of research studies, the Clinical and Translational Science Institute is hosting a volunteer registration kiosk for
ResearchMatch
. The kiosk is available at Café 601 in the Medical Center through mid-February. To learn about research studies at the University, visit
RocHealthResearch.urmc.edu
.
---
Introducing a new faculty member
Martha Susiarjo
has joined the Department of Environmental Medicine as an assistant professor, and is a member of the Environmental Health Sciences Center. Susiarjo investigates the
underlying mechanisms of the developmental origin of health and disease
, focusing on how epigenetic mechanisms mediate gene-environment interaction. Her laboratory
uses imprinted genes as epigenetic markers to test the effect of environmental exposure on DNA methylation regulation on fetal and placental development
. Additional, she is also interested in
elucidating the role of environmental exposure on maternal health during pregnancy and the potential beneficial role of nutritional supplementation
. Her research is supported by an R00 grant from the NIEHS. Her lab employs bisulfite sequencing analysis, mouse genetics and embryology, molecular biology, and next generation sequencing. She received her PhD in Genetics from Case Western Reserve University School of Medicine in 2007 and completed her postdoctoral fellowship at the Perelman School of Medicine at the University of Pennsylvania.
---
Congratulations to . . .
Kristin Doughty
, Assistant Professor of Anthropology, and
Pablo Sierra
, Assistant Professor of History, who are among the
inaugural fellows of the Humanities Center
. Doughty, author of a forthcoming book,
Remediation in Rwanda
, will use her time at the center to work on a new project titled "Threats to Power: Cultural Politics of Energy and Unity in Post-Genocide Rwanda." Sierra will complete his first book:
Urban Slavery in Colonial Mexico: Puebla de Los Angeles, 1531-1700
. Three external candidates were also chosen:
Edward Klorman
, Assistant Professor of Music Theory and Viola, Queens College;
Adam Morris
, a Postdoctoral Fellow who comes to Rochester from Stanford; and
Genevieve Yue
, Assistant Professor of Screen and New Media Studies, Department of Culture and Media, Eugene Lang College, The New School.
Read more . . .
Robert Boyd
, Professor of Optics, who has been named
this year's recipient of the Arthur L. Schawlow Prize in Laser Science by the American Physical Society
(APS). The award recognizes outstanding contributions to basic research that use lasers to advance knowledge of the fundamental physical properties of materials and their interaction with light. Boyd is honored for "fundamental contributions to the field of nonlinear optics, including the development of approaches for controlling the velocity of light, of quantum imaging methods, and of composite nonlinear optical materials."
---
PhD dissertation defense
Alina Ainbinder
, Pharmacology, "Structural and Functional Impact of Mitochondrial Ca2+ Signaling in Skeletal Muscle." 11 a.m., Jan. 26, 2016, K207 (2-6408). Advisor: Robert Dirksen.
---
Mark your calendar
Today:
Applications due for Center for AIDS Research/Clinical Trials Unit Pilot funding. Click
here
for the RFP.
Jan. 29:
Deadline for Environmental Health Sciences Pilot Projects. Click
here
for more information.
Jan. 31:
Deadline to apply for the E. Cowles Andrus Summer Fellowship for Community Health Improvement, which give medical students, and occasionally exceptional public health master's students, the opportunity to plan and conduct projects to improve the health of the community. Click
here
for the application materials.
Feb. 1:
Deadline to apply for University Research Awards. The Request for Proposal and a simplified application are available
here
. Questions about the awards and completed applications should be directed to Adele Coelho at
adele.coelho@rochester.edu
.
Feb. 1:
Deadline to apply for AS&E Pump Primer II awards, which help researchers develop data in order to seek extramural funding for "bold new research directions." Guidelines for the award are available at
Rochester.edu/college/pumpprimer
.
Feb. 1:
Deadline to apply for the 2016–2018 Dean's Teaching Fellowship Program to further develop a core group of master educators, promote the careers of MD and PhD faculty in medical and dental education, and support educational innovations and research at the School of Medicine and Dentistry. Read more
here
. Email completed applications to
Karen_Grabowski@urmc.rochester.edu
Feb. 29:
Deadline to file initial applications for pilot project funding from the Infection and Immunity: From Molecules to Populations (IIMP) program.
Read more. . .
---
Please send suggestions and comments to Bob Marcotte. You can see back issues of Research Connections, an index of people and departments linked to those issues, and a chronological listing of PhD dissertation defenses since April 2014, by discipline.