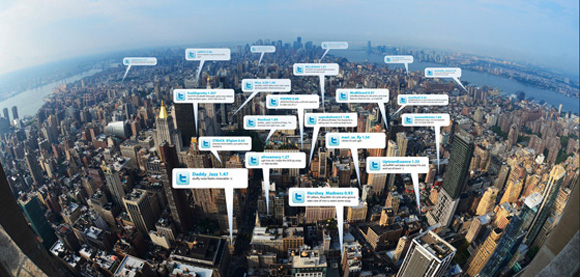 Professors Henry Kautz and Vincent Silenzio and postdoctoral fellow Adam Sadilek used Twitter to predict the spread of flu in New York City.
"Inconsequential" tweets a boon for researchers
"just setting up my twttr," social media entrepreneur Jack Dorsey typed into a website. Ten years later, Twitter is the place where much of the world "talks to itself" in 140 characters or less.
Twitter, whose first appearance in the public eye is credited to a July 15, 2006, news story, has become fertile ground for researchers
interested in tracking social, cultural and political trends, including topics such as disease outbreaks, the dynamics of political campaigns and consumer preferences.
Using machine learning, natural language processing and other data science techniques
, researchers leverage Twitter's 300 million followers and the hundreds of millions of tweets they post each day as a kind of
distributed sensor network
, where each person observes and reports on some aspect of the world, says
Henry Kautz
, the Robin and Tim Wentworth Director of the Goergen Institute for Data Science at the University of Rochester.
"Each report is very noisy, but the aggregate results can be reliable," Kautz says. "The approach can be used for health, environmental protection, public safety and many other applications."
For example, at the University of Rochester:
• Kautz and his team have used Twitter
to reliably identify and track people with symptoms of
flu
and
food poisoning
, offering a much quicker way for health officials to respond to disease outbreaks and even to forecast when and if a specific individual will fall ill. His team has also used Twitter to
analyze patterns of alcohol consumption
.
•
Jiebo Luo
, associate professor of computer science, and his team have
tracked the Twitter followers of Donald Trump, Hillary Clinton, Bernie Sanders and other presidential candidates
since September to better understand the dynamics of the campaign. In one paper, for example, they found that
Trump followers responded more favorably when he "bashed" Democrats
rather than Republicans. And after Trump stated that "the only thing (Hillary Clinton's) got going is the woman's card," the researchers found that
women were more likely to follow Clinton and less likely to "unfollow" her
.
• Luo and his students have also used Twitter to correlate the various language styles and interests people express in tweets to their different occupations, and
to predict people's jobs accordingly
.
•
Huaxia Rui
, an assistant professor at the Simon School of Business, and his colleagues, have shown how
business managers can glean important clues about the popularity of their products and even forecast future sales
through careful analysis of Twitter traffic. They also discovered that
airlines are most likely to respond to customers who complain via Twitter
if they have a larger following
.
Dorsey and his cofounders chose the name "twitter" because it described "a short inconsequential burst of information."
And yet, Twitter is anything but "inconsequential" in terms of data science research and its applications.
For example,
the Las Vegas Health Department recently field tested the nEmesis app
developed by Kautz and his team to connect food-poisoning-related tweets to restaurants. The researchers found that the tweet-based system led to citations for health violations in 15 percent of inspections, compared to 9 percent using the traditional random system, resulting in an estimated
9,000 fewer food poisoning incidents and 557 fewer hospitalizations
during the course of the
study
.
Click
here
to read more about data science at the University of Rochester.
Do you have an interesting photo or other image that helps illustrate your research? We would like to showcase it. Send a high resolution jpg or other version, along with a description of what it shows, to bmarcotte@ur.rochester.edu.
---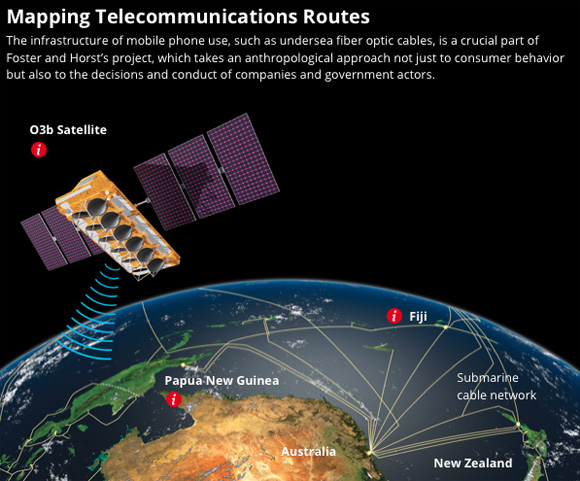 Anthropologist studies mobile phone use in South Pacific
When
Robert Foster
, the Richard L. Turner Professor of Humanities and professor of anthropology, went to Papua New Guinea in 2010, he found a familiar place transformed.
Everywhere he turned, people had mobile phones.
He'd begun visiting the southern Pacific island country in the 1980s, when he was working on his doctorate at the University of Chicago. Then, telephones were scarce, with long lines at payphones and locks on the rotary phones in government offices.
"Something had happened — and it happened really quickly. It was just in your face, the change was so dramatic," Foster says. He wanted to know why, and how, and what it means for the culture of Papua New Guinea, or PNG, Kathleen McGarvey writes in the current issue of
Rochester Review
.
Foster is now in the
second year of a three-year research project
with Heather Horst, an anthropologist at Royal Melbourne Institute of Technology University in Australia,
investigating the moral and cultural economy of the mobile phone in PNG and Fiji
.
"Like most anthropologists, we're concerned with what people do with new things and how they reconcile them to old ways of doing things and preexisting cultural values," Foster says. "But unlike a lot of anthropologists, we're very interested in the companies and how they operate."
Read more
here
.
---
First collaborative genomics pilot awards announced
The Medical Center and the State University of New York at the University of Buffalo have awarded collaborative pilots awards to research teams with dual investigators — one from each institution — who are interested in understanding the genetic basis of diseases.
Both the Medical Center and SUNY UB have strengths in
bioinformatics, high performance computing, basic and translational genomics
, including NIH funded Clinical and Translational Science Awards.
To accelerate collaboration between the two institutions, the
Collaborative Genomics Pilot Funding Program
provides
one year of seed funding
to proposals that show
promise of making rapid progress over the next year
and of
building upon established strengths at both institutions
. The overall goal of this pilot funding is to
help researchers obtain further federal or foundation funding
and to take advantage of opportunities for regional collaboration across NY state.
The two projects selected for funding are:
Epigenetics profiling of Exacerbation Susceptibility in Chronic Obstructive Pulmonary Disease
:
Patricia Sime
, chief of pulmonary diseases and critical care, and the C. Jane Davis and C. Robert Davis Distinguished Professor in Pulmonary Medicine, and
Sanjay Sethi
, professor and chief of pulmonary, critical care and sleep medicine, University at Buffalo, SUNY.
The Role of CCR2 Blockade in Patients with Locally Advanced Pancreas Cancer
:
David C. Linehan
, the Seymour I. Schwartz Professor of Surgery and chair of surgery, and
Scott A. Gerber
, assistant professor of surgery, both at URMC, and
Joseph Barbi
, assistant professor of oncology, Roswell Park Cancer Institute.
Linehan receives Pancreatic Cancer Action Network award
The national Pancreatic Cancer Action Network has granted its most competitive award, for $2 million, to
David C. Linehan
, director of clinical operations at the Wilmot Cancer Institute and chair of surgery, to support a
large, multicenter clinical trial testing an immunotherapy in patients with metastatic pancreatic cancer
, reports the
Research@URMC
blog.
Linehan recently published data in
The Lancet Oncology
demonstrating that
an experimental immune-stimulating drug
(a pill) developed by Pfizer Inc. known as PF-04136309,
plus a three-drug chemotherapy regimen, stopped or slowed tumor growth
in the majority of 47 patients with locally advanced pancreas cancer who participated in a phase 1b trial. The PANCAN grant will
fund a larger, randomized, phase 2 study
, to further test the drug in patients whose disease has spread and whose life expectancy is six to 12 months.
Linehan investigates the environment around cancer cells, known as the "tumor microenvironment." When pancreatic cancer develops,
a protein recruits cells to the tumor microenvironment and acts to protect cancer cells
from being destroyed by the body's own healthy immune system. The experimental new drug
blocks the signals of this protein, and galvanizes the immune system
so that it can attack cancer.
Linehan is working with co-principal investigator
Brian Wolpin
of the Dana-Farber Cancer Institute.
---
PI oversight: Write a study protocol you can comply with
(This is part of a series of articles to help principal investigators understand their role in ensuring that human subject protection requirements are met in their studies.)
High quality, compliant research begins with a clear, well-written and thoughtful study protocol.
Remember, investigators: Your protocol must not only address specific criteria, including what study procedures will be conducted, but must also be feasible to complete.
Don't forget to evaluate the logistics of complying with all aspects of a protocol
to ensure compliance!
To avoid "shooting yourself in the foot" and ensure that you'll be able to comply with your protocol once it's been approved, investigators should:
1)
Obtain input up front from the study team members
you'll rely on to accomplish specific portions of a protocol. They can best evaluate the ability to achieve protocol compliance within their area of expertise.
2)
Don't leave items open for interpretation
. Ideally, your study protocol should be written with enough detail so that any individual could carry out the procedures.
3)
Avoid inconsistencies
that can lead to non-compliance. Protocols should be reviewed prior to IRB submission by several members of the study team with the specific intent of identifying and addressing inconsistencies.
4)
Avoid 'mad scientist' protocol.
Building too many objectives, sub-studies and measures into a project increases the chances of problems with protocol compliance, subject withdrawals, and data quality. Keep the study focused on what needs to be completed in order to accomplish the study objectives.
5)
Have an uninvolved colleague review the protocol
prior to IRB submission. A colleague can provide a "fresh set of eyes" and provide an objective review of a study protocol.
The Office for Human Subject Protection provides a
free Study Start-Up Consultation service
to further assist study teams in achieving compliance. Additional information concerning this service is available on the OHSP
website
.
---
Congratulations to . . .
Nick Vamivakas
, associate professor of quantum optics and quantum physics and of physics and astronomy, who is the
second recipient of the Mandel Faculty Fellow Award
. The award is given every two years by the Department of Physics and Astronomy in honor of the late
Leonard Mandel
, a longtime University physicist and pioneer of quantum optics. The award includes a grant of $25,000 to support the research of young faculty members whose interests are in quantum optics and atomic, molecular and optical physics — the same areas that Mandel championed. Read more
here
.
---
Workshop, "Physical Models of Biological Systems," is Aug. 2
"
Physical Models of Biological Systems
," a workshop aimed at
fostering research collaboration across multiple University of Rochester departments
, will be held from noon to 5:30 p.m. Aug. 2, starting with lunch in Hopeman 224 and continuing with talks in Bausch and Lomb 106.
Six researchers will give invited talks. There will also be time for other researchers to present "sound bites" — two-minute research overviews to spur conversation.
The invited speakers are:
•
James McGrath
: Building better tissue models on silicon chips.
•
Jong-Hoon Nam
: Micro-fluid domains in the inner ear.
•
Patrick Oakes
: Elastic or Viscous? Modeling cellular mechanics.
•
Alice Quillen
: A geometric view of the locomotion of vibrating elastic bodies.
•
Jessica Shang
: Applications of fluid mechanics to single ventricle palliation.
•
Michael Welte
: As the fat flies: Protein dynamics in fruit fly embryos.
To contribute a sound bite or sign up to attend, email
Douglas Kelley
or
Alice Quillen
. The event is sponsored by the departments of Physics & Astronomy and Mechanical Engineering.
---
Fulbright Awards available for faculty, administrators
The Fulbright U.S. Scholar Program offers more than 500 awards in teaching, research or combination teaching/research awards for the 2017–18 academic year.
The application deadline for most awards is August 1.
U.S. citizenship is required. For other eligibility requirements and detailed award descriptions, visit the program
website
.
---
PhD dissertation defense
Azure Hansen
, Physics, "Topological Spin Textures in Spinor Bose-Einstein Condensates Generated by Stimulated Raman Interactions." 1 p.m., July 15, 2016. Bausch and Lomb 106. Advisor: Nicholas Bigelow.
Chintan Jayantilal Pandya
, Health Services Research and Policy, "The Effect of State Medicaid pay-for-performance on Racial/Ethnic Disparities in Quality of Care and Financial Performance in Nursing Homes." 1 p.m., July 18, 2016. Helen Wood Hall 1W502. Advisor: Yue Li.
Annada Rajbhandary
, Chemistry, "Investigating the Relationship Between Structure and Self-Assembling Behavior of Fmoc-Protected Phenylalanine Derivatives." 1 p.m., July 21,2016. 473 Hutchison Hall. Adviser: Bradley Nilsson.
Jennifer Stripay
, Neuroscience, "Targeting a network of cancer control nodes through rescue of c-Cbl: A novel therapeutic approach in GBM." 10 a.m., July 25, 2016. Aud K-307 (3-6408). Advisor: Mark Noble.
---
Mark your calendar
Today:
Deadline to file initial applications for Environmental Health Sciences Center meritorious pilot projects. Read more
here
.
Aug. 1:
Deadline for faculty and administrators to apply for Fulbright U.S. Scholar awards for 2017-18. Click
here
.
Aug. 2:
"Physical Models of Biological Systems," a workshop aimed at fostering research collaboration across multiple University of Rochester departments. Noon to 5:30 p.m. Lunch in Hopeman 224 and talks in Bausch and Lomb 106. Read more
here
.
---
Please send suggestions and comments to Bob Marcotte. You can see back issues of Research Connections, an index of people and departments linked to those issues, and a chronological listing of PhD dissertation defenses since April 2014, by discipline.