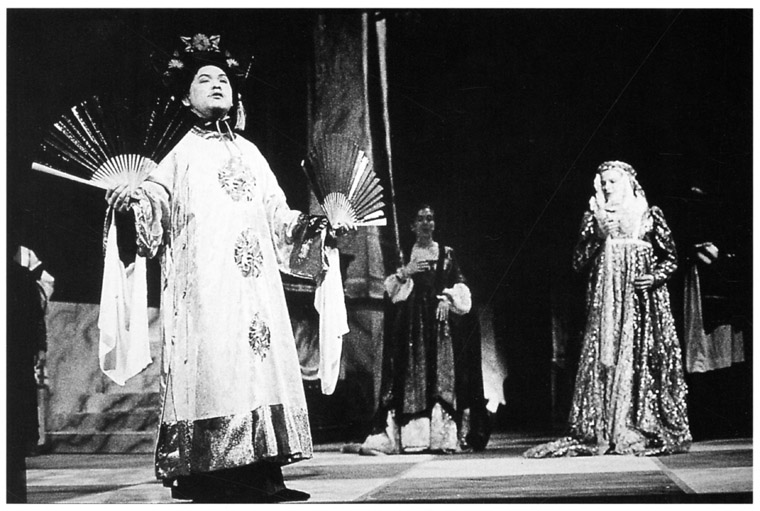 In Kapsberger's Apotheosis or Consecration of Saints Ignatius [of Loyola] and Francis Xavier, a sacred opera composed in 1621, singers representing eight lands (plus Rome) arrive and sing of their relationship to Christian belief and to the Jesuit missionary efforts of the two saints. In the first modern performance at Boston College in 1991, shown above, countertenor Randall K. Wong represents China. The staging was much less elaborate than at the premiere 370 years earlier. Also, whereas the high vocal parts were originally taken by castrati and choirboys, in 1991 they were assigned entirely to male singers, now including countertenors rather than castrati. The dancers, unlike in 1621, included both women and men. (By permission of the Jesuit Institute, Boston College.)


Locke explores images of world culture in western music
As Europeans explored distant lands and settled new continents from the 1500s to around 1800, their impressions of foreign cultures were reflected in the performing arts, notably those involving music. Depictions of Middle Eastern harem women, Incan priests, fortune-telling Gypsies (Roma), and other inhabitants of exotic locales often reveal a mixture of attraction to the group or region being portrayed but also some envy or fear.

In his just-published book Music and the Exotic from the Renaissance to Mozart, Ralph P. Locke, Professor of Musicology at the Eastman School, explores how peoples who were considered different from "us" (Europeans) were characterized in popular songs, instrumental works, oratorios, ballets, and operas. The book serves as a prequel to his much-acclaimed 2009 book Musical Exoticism: Images and Reflections.

Locke's new study offers insights into musical masterworks by Cavalli, Lully, Purcell, Bach, Handel, Vivaldi, Rameau, Gluck, Mozart, and others. It demonstrates how composers and their artistic collaborators, including librettists and choreographers, conveyed the multiple meanings that ethnic and cultural Otherness held at the time.

"Music allowed Westerners to comment on peoples who lived far away: in the Americas, Persia, even China," said Locke. "In the process, composers often gave glimpses — whether consciously or not — into the values of their own society. Many court ballets, oratorios, and operas were based on tales involving distant locales and their peoples. This enabled a work to comment, directly or indirectly, on current-day political developments."

For example, the published libretto of a Vivaldi sacred opera Juditha triumphans (1716, based on the biblical tale of Judith murdering Holofernes) explained that the work was meant to support Venice's decades-long war against the Ottoman sultan, Locke noted. (The work's subtitle, somewhat startling today, is "sacred military oratorio in these times of war.")

The Beggar's Opera (1728), an enormously successful play-with-music, echoed debates then current about the trans-Atlantic slave trade and the harshness of labor on Caribbean plantations. And, later in the eighteenth century, three great operas by Mozart — The Abduction from the Seraglio, Così fan tutte, and The Magic Flute —play on stereotypes then current of Turkish harem guards, Albanians, and sub-Saharan Africans.

"These and other works gain in complexity when one considers them in connection to social and cultural developments of the day," Locke said. "In the process, they also may come to seem less quaint and more relevant to us and to today's concerns and struggles, which often have some connection or parallel to those of the past."

Read more here. An ebook version is also available.


Do you have an interesting photo or other image that helps illustrate your research? We would like to showcase it. Send a high resolution jpg or other version, along with a description of what it shows, to bmarcotte@ur.rochester.edu.
---
Study is first to look at family stress as factor in early childhood cavities
The University's Eastman Institute for Oral Health has been awarded a $3.5 million grant that, for the first time, will scientifically explore how family functioning, stress, and parenting behaviors may lead to Early Childhood Caries (ECC, or, cavities), a significant public health problem that disproportionately affects children living in poverty.

The grant is funded by the National Institute for Dental and Craniofacial Research, part of the National Institutes of Health. Tooth decay is the single most common chronic childhood disease — more common than asthma, obesity, and diabetes. ECC is painful and negatively affects speech, eating and nutrition, sleeping, learning, and overall quality of life.

"From an oral biology perspective, we fully understand what factors lead to ECC," explained Dorota Kopycka-Kedzierawski, Associate Professor of Dentistry and the principal investigator of the project. "But despite the many attempts worldwide to prevent ECC, particularly over the past few decades, we're not making substantial progress in reducing Early Childhood Caries. In fact, there is a distressing tendency for recurrence following treatment."

This novel, inter-disciplinary study will follow more than 200 children ages 1 to 3 who are at a high risk for ECC, but are initially cavity-free, for two years. Children will be examined for cavities every six months and the study will include assessment of nutritional, social, and behavioral influences on the risk of developing ECC. Read more . . .

---
Mayer-Proschel lab investigates HHV-6 and chronic demyelination
Human herpes virus 6 (HHV-6) is large, it is found in almost 100 percent of the population, and it does something unique among human herpes viruses: It can integrate into the genomic DNA of a host cell.

And if that host happens to be a human germ cell, that person's children could end up carrying latent HHV-6 DNA in every cell of their body. That includes the oligodendrocyte precursor cells (or OPCs, a type of glial cell) that migrate to the site of damaged brain tissue, then differentiate into oligodendrocytes that repair the myelin sheath critical to brain function. In other words, in persons whose germ cells have been affected — estimated at one percent of the population — the entire pool of precursor cells could be impaired.

Does this create an additional risk factor for multiple sclerosis and other disorders that involve chronic demyelination?

The lab of Margot Mayer-Proschel, Associate Professor of Biomedical Genetics, in collaboration with infectious disease physician David Mock and Christoph Proschel, Associate Professor of Biomedical Genetics, is finding evidence that it does.

At a recent Rochester Stem Cell & Regenerative Medicine Symposium, Mayer-Proschel explained that oligodendrocyte precursor cells with integrated HHV-6 take a long time to develop in tissue cultures. So her lab found a shortcut. HHV-6 expresses a protein called U94 that is thought to facilitate and maintain its integration in a host genome.

When her lab transfected OPCs in tissue cultures so that they express U94, not only the migration of those cells, but also their differentiation into oligodendrocytes was impaired.

"That was pretty astounding to us that one viral protein could actually have an affect on this glial population that would potentially impair them from participating in effective repair," Mayer-Proschel said.

Similarly infected OPC's were then transplanted into experimentally induced demyelinating lesions in mice. Preliminary data shows U94 caused similar limitations in the ability of OPCs to migrate, though the affect on their ability to differentiate was less pronounced.

Even so, even a "little bit (of impact) in real life means a lot," Mayer-Proschel noted, "because all of the oligodendrocytes you are going to get for rest of your life are set up by the age of 5. So if you have even a little impairment of something that needs to last an entire lifetime, that could be very prominent."

Mayer-Proschel is concerned that people with latent HHV-6 integrated in their pool of glial cells will be less able to respond when "secondary insults" cause damage to myelin sheathing. This could contribute to development of multiple sclerosis and other demyelinating disease. "Could it be that having a virus like this is another vulnerability factor no one has bothered to look at?" Mayer-Proschel asked.

Her lab is also studying whether expression of U94 can serve as a biomarker for disease progression, and to monitor response to medications. Tissue transplants should be routinely screened for U94 expression, she added.

---
Postdoctoral program for deaf and hard-of-hearing scholars seeks applicants
Applications are now being accepted for the new postdoctoral research training program in biomedical and behavioral sciences for deaf and hard-of-hearing scholars at the University. The program includes an opportunity to develop critical academic skills through mentored teaching assignments at Rochester Institute of Technology (RIT) and the National Technical Institute for the Deaf (NTID). This research postdoctoral experience emphasizes teaching scholars "how to teach" and design new courses at RIT/NTID in full-inclusion classroom settings for undergraduate students. Click here to read more about this new program.

---
URMC leads study of heart drug
Researchers at the Medical Center are leading an international study testing a new drug for patients with an inherited heart rhythm disorder called Long QT syndrome 3 (LQT3). The drug is designed to treat a specific glitch in the heart's electrical system that's caused by a genetic mutation found in patients with this rare disorder.

The phase III clinical trial puts precision medicine — a treatment approach that takes into account individual variability in genes and other characteristics — to the test in the field of cardiology. Spencer Z. Rosero, Associate Professor of Medicine (Cardiology) and Director of the Hereditary Arrhythmias Clinic at Strong Memorial Hospital, who treats LQT3 patients from all over the country, says that there are electrical switches throughout our body that play a key role in many activities of daily living like eating, sleeping, walking and brain activity. The new drug, called GS-6615, only targets the dysfunctional electrical switches in the heart: the hope is that sparing all of the other electrical switches in the body will minimize side effects. Read more here.

---
Projects support global health with technology, data science
Medical Center researchers have commenced two projects to improve maternal and mental health in low- and middle-income countries by harnessing information technology and social media.

The first, led by Eric Caine, Professor and Chair of the Department of Psychiatry, will train researchers from Vietnam, Cambodia, Laos, Myanmar, the Philippines, and Mongolia to use mobile technology and social media to discern when populations are under mental stress. Caine's group, which includes Vincent Silenzio, Co-director of the Laboratory of Informatics and Network Computational Studies, will train four researchers annually at the Medical Center.

The training program will focus on the use of mobile technology and big data to improve mental health; one potential application would be a program that scours Twitter for certain key words that signal a population is under more mental stress than usual.

The second project is led by Timothy Dye, Professor of Obstetrics and Gynecology and Director of Biomedical Informatics at the university's Clinical and Translational Science Institute, and Deborah Ossip, Professor of Public Health Sciences and Oncology. Their project, called MundoComm, will train teams from Costa Rica, the Dominican Republic, Bolivia, and Honduras to use information and communication technologies to address in-country maternal health problems.

Their program will provide online and in-country training on the use of information communication technology to help improve the health of women in pregnancy. Community-based field teams will use this training to develop and field test maternal health projects, while receiving mentorship from the MundoComm team.

The projects are each supported by three-year $300,000 grants from the Global Health Research and Research Training eCapacity Initiative from the National Institutes of Health's Fogarty International Center. Read more...

---
Study finds that nursing home care for minorities improves
A Medical Center study of nursing homes has found that, while disparities continue to exist, the quality of care in homes with higher concentrations of racial and ethnic minority residents has improved and that the progress appears to be linked to increases in Medicaid payments.

"Racial and ethnic disparities in quality of care have long been documented in nursing homes," said Yue Li, Associate Professor in the Department of Public Health Sciences and lead author of the study, which was published in the journal Health Affairs. "This study shows that recent regulatory, financial, and market driven changes have resulted in an improvement not only in homes with higher numbers of minorities, but across the board." Read more...

---
Introducing a new faculty member
Gourab Ghoshal joins the Department of Physics and Astronomy as an assistant professor after serving as a research scientist at Harvard University's Department of Earth and Planetary Sciences. Trained as a statistical physicist, Ghoshal works in the field of complex systems. His research interests are in the theory and applications of complex networks as well as non-equilibrium statistical physics, game theory, econophysics, dynamical systems and the origins of life. He is the editor of a book on complex networks (published by Springer) and his work has been published in Nature, Science and Physical Review Letters. He did his doctoral thesis at the University of Michigan, Ann Arbor (Ph.D. in Physics, 2009), during which he attended the prestigious Complex Systems summer school at the Santa Fe Institute, NM, and the Theoretical Physics School at Les Houches near Chamonix in France. Following his PhD, he was a postdoctoral scientist jointly at Northeastern University and Harvard Medical School as well as a visiting scientist at the Media Lab, MIT.

---
Mark your calendar
Aug. 3: Applications due for the Fulbright U.S. Scholar Program, which provides approximately 800 teaching and/or research grants to U.S. faculty and experienced professionals in a wide variety of academic and professional fields. Click here to view a University of Rochester workshop on the program. Questions? Contact global@rochester.edu. Apply directly to the Fulbright program.

Aug. 3: Deadline for AS&E PumpPrimerII awards, which are designed to help innovative, high-risk projects develop proof of concept and/or pilot data in order to secure extramural funding. Arts and Sciences faculty can learn more from Debra Haring; Engineering faculty should contact Cynthia Gary.

Aug. 5: Free workshop on how to apply for Horizon 2020 research funding from the European Union. 8:30 a.m. to noon at the Washington Hilton Hotel, Washington D.C. Sponsored by BILAT USA 2.0. Registration is required here.

---
Please send suggestions and comments to Bob Marcotte. You can see back issues of Research Connections, an index of people and departments linked to those issues, and a chronological listing of PhD dissertation defenses since April 2014, by discipline.