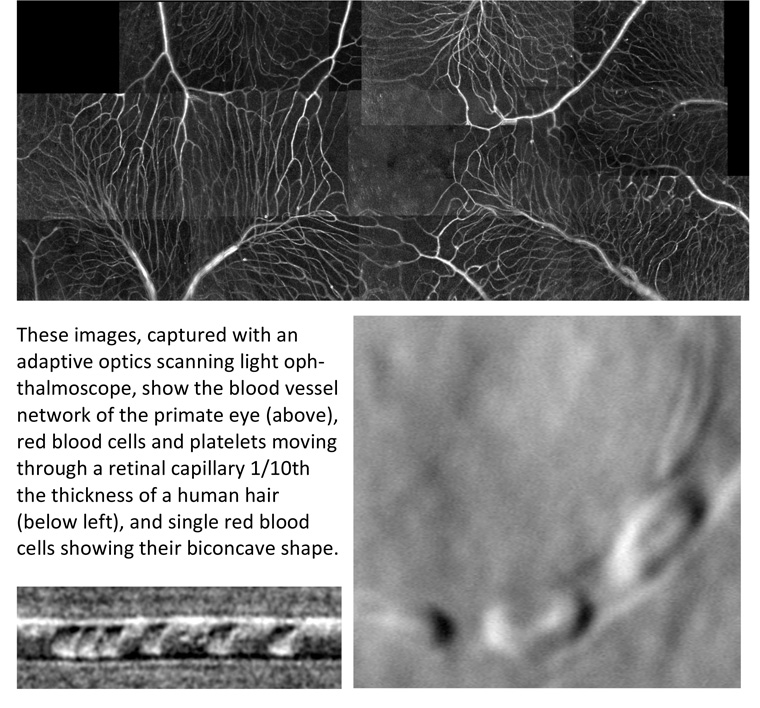 The eye may offer a noninvasive alternative to drawing blood
(This is one in a series of articles on ideas presented at the recent Falling Walls competition.)

Most people cringe when their blood is drawn by a needle and syringe for testing. They bear it anyway because of the "diagnostic potential in a single drop of blood," says Jesse Schallek, Assistant Professor of Ophthalmology.

But what if, instead of drawing the blood, we could instead "leave the blood cells inside the body where they naturally reside, and study them inside living tissue?" Schallek asked at the recent Falling Walls competition.

What if at least some blood tests could be as noninvasive as an eye exam?

Schallek, in fact, proposes doing just that.

The neural cells that line the back of our eyes are supported by a dense network of capillaries that circulate blood to deliver nourishment and remove waste.

Schallek's lab, in collaboration with colleagues at the Flaum Eye Institute, the Center for Visual Science, and The Institute of Optics, uses a specialized camera called an Adaptive Optics Scanning Light Ophthalmoscope (AOSLO) — which can correct for small imperfections of the optics of the eye — to obtain images of retinal blood vessels that are ten-times thinner than a human hair. Videos can even capture the movement of single blood cells flowing within this network.

"We have learned interesting tricks from using adaptive optics," Schallek said. "We can take snapshots of single red blood cells, showing their concave shape; we can combine adaptive optics with high temporal resolution to see a virtual fire hose of information from these tiny capillaries."

His lab is also evaluating different biomarkers — such as the interaction properties of light, including its spectra and light scatter — to evaluate cell size and differentiate which types of blood cells are present. This information may eventually provide a complete blood count (CBC) that examines ratios of red blood cells, white blood cells and platelets — all within the living body.

Schallek's work also uses new approaches to measure blood cell speed by tracking the velocity of cells over time. This information is of critical importance to identify vascular dysfunction of the eye, a leading cause of blindness in the developed world.

Schallek and his team are working collaboratively with the Departments of Ophthalmology and of Biomedical Engineering, the Institute of Optics, and the Center for Visual Science to refine this technique and begin measurements in human patients. Because the AOSLO approach is non-invasive and uses safe levels of light for measurement, Schallek's team is directly bringing their design from concept to deployment in a bench-to-bedside translational project this summer.

There are many targets to evaluate in patients. Among the earliest Schallek will identify are blood cells in patients with leukemia, sickle-cell anemia and those on blood thinners, all of which can change the ratios and properties of blood cells in the living body.


Do you have an interesting photo or other image that helps illustrate your research? We would like to showcase it. Send a high resolution jpg or other version, along with a description of what it shows, to bmarcotte@ur.rochester.edu.
---
Bioinformatics consultant offers help 'anywhere in the life cycle of a project'
Jason Mendler, an Assistant Professor at the Wilmot Cancer Institute, is interested in the molecular drivers of chemotherapy refractory acute myeloid leukemia (AML). With help from the University's Genomics Research Center, he has done RNA sequencing of primitive hematopoietic cells from both healthy donors and AML patients.

When he needed help in refining his analysis of this data, he turned to Helene McMurray, Assistant Professor of Biomedical Genetics and head of the Bioinformatics Consulting and Education Service of the Edward G. Miner Library. He is not the only researcher who has done so.

A year ago, just after she was hired by Miner Library, McMurray averaged one consult a week. Now she's been meeting with two to three research groups a week — and she's eager to expand her "practice" even more.

"I've been amazed by the demand; it's really clear that this is needed," McMurray said.

Informatics involves analyzing large quantities of data to identify patterns and trends. McMurray applies informatics in support of basic and translational science at the Medical Center. She assists researchers investigating topics that range from the health of populations, to in-depth analyses of biological systems in order to better understand, for instance, the development of heart disease or the genetic factors involved in cancer.

"We're willing to help people anywhere in the life cycle of a project, from conception through publication," McMurray said.

That could include directing researchers new to the field to a computer program or web-based software tool; helping them find, generate or analyze data sets; or engaging them with new collaborators, McMurray said.

"Many of the faculty who come in to talk to me are busy with other activities. If they're clinicians, they're seeing patients; if they're researchers they're writing grants or supervising students. They wear a lot of hats already," McMurray said. "They don't necessarily want to learn a new computer language, so they may just want to understand how to better interface with people who know how to do those things."

She also helps investigators who are already skilled in informatics, have lots of data in hand, but "have hit the wall for one reason or another. They need someone with a fresh set of eyes just to help them get unstuck."

After receiving her PhD in Microbiology and Immunology from the University in 2003, McMurray did postdoctoral work with Prof. Hartmut "Hucky" Land, studying how genes work together to control cancer. This was her first immersion in genomics and informatics. Since 2009 she has been an assistant professor of Biomedical Genetics here.

The opening for a bioinformatics consultant at the Miner seemed "like a good fit," given her experience in the field and her interest in teaching, McMurray said. "The data doesn't scare me. I have knowledge of a lot of different ways to analyze data, but at the same time I know a lot of biology. So when I look at the biological aspects of a project, they also make sense to me."

Mendler has met with McMurray and with student Sam Moore, who is also assisting Mendler, four times so far. He is well pleased with the advice he has received.

"They've been very helpful and available," Mendler said. "Their help has enabled me to generate a very exciting, novel hypothesis about the basis of chemotherapy refractoriness in AML. I expect this to result in high impact papers and successful grant applications in the years to come." Click here to learn more.

---
Deadline nears for faculty Fulbright Scholar applications
The core Fulbright U.S. Scholar Program provides approximately 800 teaching and/or research grants to U.S. faculty and experienced professionals in a wide variety of academic and professional fields. Grants are available in over 125 countries worldwide.

Applications are due Aug. 3.

Click here to view a University of Rochester workshop on the program, including a presentation by Peter VanDerwater, Director of Outreach for the Fulbright Scholar Program, and a panel discussion by University faculty members who have received these scholarships.

Questions? Contact global@rochester.edu. Apply directly to the Fulbright program.

---
How the Bionutrition Core can help investigators
The Bionutrition Core of the Clinical Research Center helps investigators plan, develop, implement, and evaluate the nutrition component of clinical research protocols. Services include, but are not limited to, consultation during protocol development for nutrition components, literature reviews related to nutrition methodologies, research diet design and menu development, nutrition intake and physical activity assessments and more. Click here for a list of services and for more information about the Bionutrition Core.

---
Introducing a new faculty member
Narayana Kocherlakota, President of the Federal Reserve Bank of Minneapolis and a leading scholar of monetary and financial economics, has been appointed as the inaugural Lionel W. McKenzie Professor of Economics at the University. His appointment is effective Jan. 1, 2016. Previously, he held professorships at Northwestern University, the University of Iowa, Stanford University, and at the University of Minnesota, where he also served as the chair of the economics department. Kocherlakota has published more than 30 theoretical and empirical articles in academic journals on work that focuses on monetary economics and financial economics. In 2010, Princeton University Press published his book, The New Dynamic Public Finance, and in 2012 he was named one of the top 100 Global Thinkers by Foreign Policy magazine. Read more . . .

---
Congratulations to . . .
Lisa Benison, a graduate student in Biomedical Engineering, who was named a 2015 recipient of an Engineeing World Health Summer Institute Scholarship. With funding from the scholarship, she and other selected students will travel to Tanzania to use or repair medical products in the field, working in hospitals and clinics. The award is sponsored by MedTech Association, a member-based trade association for bioscience and medical technology companies in New York.

---
University research in the news
New data suggests that telemedicine for older adults in independent and assisted living facilities decreases emergency room use and is a big hit among patients and families. Manish Shah, Associate Professor and Associate Chair for Research in the Department of Emergency Medicine, recently presented findings from a study that involved 1,500 older people and evaluated more than 500 telemedicine encounters. Results showed that telemedicine eliminated nearly one in five ER visits. Read more . . .

If one purpose of palliative care is to prevent suffering, then communication about what matters most to the patient is critical. A new study is the first to empirically confirm that conversations about goals are taking place, as they should be. The team of Robert Gramling, Associate Professor of Family Medicine, directly observed and analyzed 71 audio-recorded palliative care conversations with hospitalized patients. They found that seven out of 10 conversations included at least one goal expression about length or quality of life, with a focus on social roles, relationships and the best location to live or die. Read more . . .

Scientists at the School of Medicine and Dentistry hope to help in the search for new and effective treatments for Fragile X syndrome, a genetic condition that causes a range of developmental problems and is highly associated with autism spectrum disorder. Scientists in the laboratory of Lynne Maquat, Professor of Biochemistry and Biophysics, found that nonsense-mediated mRNA decay (NMD) — a cellular quality-control mechanism that plays a role in both healthy and disease states — is overactive in Fragile X patients. Maquat and Research Assistant Professor Tatsuaki Kurosaki believe that further study of NMD in Fragile X syndrome will provide new insights into the cause of the disease and aid in the development of previously unforeseen and effective treatment strategies. Fortunately, there are already several drugs on the market that have been shown to dampen NMD that could be repurposed to treat individuals with Fragile X. Read more . . .

---
PhD dissertation defenses and public lecture
Tian Chen, Biostatistics, "A New Class of Functional Response Models for Robust Regression Analysis." 10 a.m., June 24, 2015, SRB 1402 Welk Conference Room. Advisor: Xin Tu.

Chinmay Surve, Biochemistry, "Stimulation of Neutrophil Migration through the Dynamic Regulation of Signaling by the Heterotrimeric G Proteins ai and bg Subunits." 11 a.m., June 24, 2015, Upper Auditorium (3-7619). Advisor: Alan Smrcka.

Gilad Rabinovitch, Music Theory, "Tracing Galant Threads: Gjerdingen's Schemata and the Evolution of Musical Form, 1730-1780." 10 a.m., June 24, 2015, Room ESM 305. Advisor: Matthew Brown.

Yuhong Yao, Optics, "Ytterbium Fiber Laser Driven, Multi-Wavelength Femtosecond Optical System Operating in the Ultraviolet, Visible, Near-Infrared and Mid-Infrared." 1 p.m., July 2, 2015, Goergen 101. Advisor: Wayne Knox.

---
Mark your calendar
June 22: Deadline to submit proposals for awards of up to $30,000 from the Center for Emerging and Innovative Sciences, which promotes technology transfer from universities to New York companies in the fields of electronic imaging, bio-imaging and sensing, nano-electronic design and other emerging technologies. Proposals must be sent to Cathy Adams. See the CEIS website for forms.

June 22: 5th annual University of Rochester Stem Cell & Regenerative Medicine Symposium,10:00 a.m. to 4:30 p.m., Class of '62 auditorium. Read more here.

Aug. 3: Deadline for AS&E PumpPrimerII awards, which are designed to help innovative, high-risk projects develop proof of concept and/or pilot data in order to secure extramural funding. Arts and Sciences faculty can learn more from Debra Haring; Engineering faculty should contact Cynthia Gary.

---
Please send suggestions and comments to Bob Marcotte. You can see back issues of Research Connections, an index of people and departments linked to those issues, and a chronological listing of PhD dissertation defenses since April 2014, by discipline.