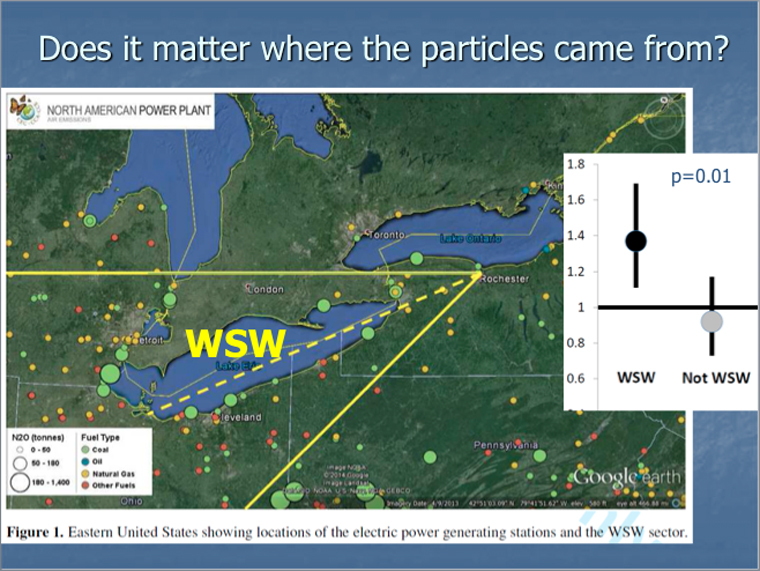 This power point slide, from a recent presentation by Assoc. Prof. David Rich and Prof. Mark Utell, shows wind direction associated with higher risk of heart attacks in Rochester. Colored dots are industrial sites and power plants, sized according to amount of emissions.
Ultrafine airborne particles are a major focus of University research
Southwesterly winds blowing in off Lake Erie can dump mountains of snow on neighboring Buffalo.

And the airborne particles they carry may cause a higher risk of heart attacks here in Rochester — moreso than the particles blown in from any other direction, according to preliminary findings of University researchers.

Why? It is unknown, but emissions from large cities, industrial facilities, and power plants in this region are potential candidates.

"Rochester researchers have several recently completed and ongoing studies looking at the mechanisms by which air particles may be causing these problems, studies examining what kind of particles or air pollution mixtures are most important, and studies looking at how to protect people from these pollution mediated health events," David Rich, Associate Professor of Public Health Sciences and Environmental Medicine, explained at a recent seminar sponsored by the Center for Energy and the Environment.

Forty years ago, the health affects of air pollution were thought to be primarily limited to the lungs, primarily affecting people with pre-existing lung problems.

Major pollution episodes, like the "London Fog" of December 1952, which claimed as many as 5,000 excess deaths, received most of the attention. Very little attention was paid to airborne particles, which were considered to be a nuisance, but were "not thought to have any toxicity," explained Mark Utell, Professor of Medicine and Environmental Medicine, who also spoke at the seminar.

That began to change when the federal Environmental Protection Agency, in accordance with the Clean Air Act, began setting ambient air standards for several common air pollutants, including particulate matter, which is a complex mixture of extremely small particles and liquid droplets. Particle pollution can include a number of components, including acids (such as nitrates and sulfates), organic chemicals, metals, and soil or dust particles.

Another turning point came with the 1992 publication of a study by Harvard researchers who compared daily air pollution levels with mortality rates in Philadelphia from 1973 to 1980. They found that the risk of death increased by 7 percent for every 50 microgram per cubic meter increase in total suspended particulate concentration.

Another study in eastern Massachusetts linked increases in airborne particles to an increased risk of heart attacks among people living in eastern Massachusetts.

"This really revolutionized the thinking about the risks posed by particles," Utell noted.

Increasingly, the focus is on tiny particles — including particles less than 2.5 micrometers, and particles smaller than 100 nanometers in diameter (ultrafine particles).

Next: UR researchers have been leaders in studying the health effects of ultrafine particles. Some examples of their work.


Do you have an interesting photo or other image that helps illustrate your research? We would like to showcase it. Send a high resolution jpg or other version, along with a description of what it shows, to bmarcotte@ur.rochester.edu.
---
University researchers invited to compete for spot at Falling Walls conference
The University invites its young researchers, scholars and entrepreneurs to summarize their ground breaking ideas in three minutes, at a competition to determine who will qualify for the Falling Walls conference in Berlin, Germany, this November.

The annual conference, which commemorates the fall of the Berlin Wall, addresses "which walls will fall next?" by highlighting the latest research, innovations and scientific findings from around the world.

University of Rochester masters students, PhD candidates, post-docs, scientists, entrepreneurs and early career faculty members born after Nov. 8, 1980 are urged to apply by April 26 for a preliminary Falling Walls Lab competition to be held on May 19 at Sloan Auditorium. The winner, picked by a nine-member jury that includes business leaders, University leaders and faculty members, will directly qualify for the Nov. 8 Falling Walls Lab Finale in Berlin, with costs of travel and accommodations covered. The Berlin trip also includes a ticket to attend the Nov. 9 Falling Walls Conference where prominent scientists from around the world present their research. Three winners from the Lab Finale will also be asked to present at the conference.

Questions? Contact fallingwallsrochester@rochester.edu.

---
App could help track a disease like Ebola before it is out of control
Solomon Abiola, a research associate in the Medical Center, recently received a $130,000 grant from the National Science Foundation to develop a smartphone app that can track the symptoms of a population in real time — so that resources could be directed to people and places before an outbreak of Ebola or other contagious disease got out of control.

As Sean Dobbins reports at the CTSI Stories blog, the app works like this: A cellphone user living in a region with a dangerous epidemic downloads the program. Every morning, the app sends the person a series of questions about how they are feeling and prompts them to seek help if certain criteria are met.

"So a big component for Ebola was your temperature," said Abiola. "The app could ask 'Do you have a fever?' and if you answered that your fever was 103, it would tell you to come in and get screened. That way you can get in front of a health care worker instead of waiting, which might cause you to spread your disease to your family or anyone else you encounter."

Abiola, who leaves for Nigeria to begin implementing his idea in the next month, is collaborating with Henry Kautz, Director of the Institute for Data Science, and Ray Dorsey, Director of the Center for Human Experimental Therapeutics, on the grant. Read more . . .

---
Stewart Weaver explores the compulsion to explore
"A true explorer," writes Stewart Weaver, Professor of History, is a traveler who seeks a discovery."

In his 140-page, Exploration: A Very Short Introduction — part of Oxford University Press's well-known series — Weaver chronicles journeys of discovery from the pre-historic trek of humans across the land bridge over the Bering Strait some 12,000 years ago to the mid-20th century deep sea voyages of Jacques-Yves Cousteau.

Exploration typically grows out of the cultural exchange of goods and ideas when two populations meet, explains Weaver. Native peoples, who often serve as unsung guides, are essential to success. According to Weaver, these individuals embody "what exploration is often fundamentally about: mediation, intercession, cultural negotiation and sometimes, even, symbiosis."

This millennia-long record of travel provides a reminder of the extreme hardships involved in venturing into the unknown. For example, during the numerous 19th century attempts to find the fabled Northwest Passage through the Canadian Artic, John Franklin's ship became stuck in the ice, condemning the expedition's 24 officers and 105 men to a slow death from scurvy, starvation, and exposure. The conditions the crew and others like them endured as they "over-wintered, sick and starving, in these dark and frozen wastes defy description," writes Weaver.

So what drives humans to such lengths? For Weaver, the answer lies in human nature. "For all the different forms it takes in different historical periods, for all the worthy and unworthy motives that lie behind it, exploration — travel for the sake of discovery and adventure — is, it seems, a human compulsion, a human obsession even (as the paleontologist Maeve Leakey says); it is a defining element of a distinctly human identity, and it will never rest at any frontier, whether terrestrial or extra-terrestrial." Read more. . .

---
Warner team documents discontent with teacher performance exam
Teacher candidates in both Washington and New York — and particularly in the latter — felt unprepared during the first year of edTPA, a new performance assessment for initial teacher certification, according to a study by Warner School Teaching and Curriculum faculty members Asst. Prof. Kevin Meuwissen and Assoc. Prof. Jeffrey Choppin.

Their study represents one of the first attempts to document teaching candidates' perspectives of and experiences with edTPA.

The Rochester researchers surveyed more than 100 undergraduate and graduate students who completed the edTPA assessment at 10 different universities/colleges across both states. Only half reported having a good understanding of the assessment, its criteria, and its aims during its initial year of high-stakes use in these two states.

Developed by Stanford University and the American Association of Colleges for Teacher Education (AACTE), the edTPA assessment aims to improve student outcomes by quantifying the success of teacher preparation programs. The edTPA centerpiece is a portfolio submitted by teacher candidates that addresses planning, instruction, assessment, and includes lesson plans, student work samples, videos of candidates teaching, teacher feedback, and commentaries explaining and contextualizing their submissions.

"Many of the candidates' concerns about edTPA were not necessarily linked to components of the assessment, but rather the rapid implementation process, which created stress and confusion," said Meuwissen. "In New York especially, the concerns of the candidates participating in the study also reflected some of the antagonism between the state education department and their teacher education institutions. It is important that relationships are strengthened across different levels of policy and practice in order to make this beneficial for students preparing for successful teaching careers." Read more . . .

---
Zand gives example of how systems analysis can improve patient care
In a recent interview with Sean Dobbins at the CTSI Stories blog, Martin Zand, new Co-director of CTSI, gives this example of how systems analysis, using many of the same mathematical methods used in data mining, can be used to improve patient care.

"One of our projects is looking at patients who go to the ICU, then get better and recover and are discharged to a medical floor, but then come back to the ICU because they've gotten sicker again. People who have that kind of pattern have a rather high chance of dying during their hospitalization. So we took some of the same methods used to look at patterns of gene expression and applied them to the hospital admission and transfer data, and, lo and behold, two things popped out.

"The first was that we could graphically identify the patterns of who was returning to the ICU. They were a small fraction of those admissions, but accounted for a very large portion of our cost per patient. We are now using informatics to ask what medical conditions they had, what was going on right before they went back to the ICU. We want to put together a risk profile, an early warning system, that would tell us 'This person has a high probability of ending up back in the ICU.' Then we can try to change the outcome. That's exciting, because we may have a chance to use data to save lives.

"The second, really amazing thing, was that we were able to create a map — a flux diagram — of all the transfers within the hospital between the different floors and units. That kind of diagram is used in basic science to look at how organisms metabolize things by looking at all the nutrients and chemicals that go into a system, and how they're shunted to various chemical reactions and come out as products. It's also the same mathematics that FedEx uses to figure out how many planes they need and how much they need to load in each one, and so on. So with this map of the hospital, one project we're working on now is to say 'OK, we've got flu season here, and we're going to overload this part of the hospital. What other parts are going to get stressed, and how could we creatively move patients around to provide better care, shorter ER stay times, and better outcomes?' The beauty of these approaches is they look at things as systems. It's not just one part. Everything is connected to everyone else.

"This type of science, systems analysis, is very exciting right now, and we have a chance to see the world as a connected network using these tools. We are collaborating with the Institute for Data Science at the University of Rochester, and Rochester is exactly the place where we can do this work." Read more . . .

---
Researchers use in vitro model to study vulvodynia
David Foster, Professor Emeritus of Obstetrics and Gynecology, and a research team headed by co-lead investigator Richard P. Phipps, Professor of Environmental Medicine, have used an in vitro model for the first time to study vulvodynia — an enigmatic condition that triggers unexplained pain at the opening of the vagina. They've found that sufferers have a much stronger immune response to infection-causing yeasts compared to women without the disease.

They believe that this overblown response leads to increased inflammation that promotes pain upon contact, like when having sex, inserting a tampon or wearing tight-fitting pants.

Foster and Phipps hope that exploring the cellular signaling mechanisms of the immune response will identify potential drug candidates that may turn into new treatment options for this devastating condition, which strains relationships and hinders or completely eliminates the ability to conceive because couples can't have sex.

The research, published in the journal Pain, was funded by the Eunice Kennedy Shriver National Institute of Child Health and Human Development at the National Institutes of Health. Foster and Phipps worked closely with Constantine G. Haidaris, Associate Professor of Microbiology and Immunology; Adrienne D. Bonham, Clinical Associate Professor of Obstetrics and Gynecology; and Christopher J. Stodgell, Research Associate Professor of Obstetrics and Gynecology. Read more at the Research@URMC blog.

---
Hospitals responsible for only a quarter of C. diff infections
A new study led by scientists at the Centers for Disease Control and Prevention, with support and data from researchers at the University of Rochester Medical Center, estimates that Clostridium difficile or C. diff caused almost half a million infections in the United States in 2011.

C. diff, a bacterial infection that can cause life-threatening diarrhea, is most often associated with hospitals. But, this latest analysis estimates that only a quarter of health care-associated cases (cases in which an individual had some interaction with a health care facility) occurred in the hospital, suggesting that the majority arose in other settings, such as nursing homes or following a doctor's visit.

Study author Ghinwa Dumyati, Associate Professor of Medicine and Director of the Communicable Diseases Surveillance and Prevention Program at URMC's Center for Community Health, says that taking antibiotics is the most important risk factor for developing C. diff. Antibiotics are life-saving medications, but, in the process of wiping out disease-causing bacteria, they also eliminate beneficial bacteria that are normally present in the gut and protect against infection. This gives organisms like C. diff an open playing field in which to replicate.

"If we are going to prevent this infection we have to take a broad approach by targeting antibiotic use in the hospital, in long-term care facilities and in doctor's offices and other outpatient care settings," said Dumyati, who treats patients at UR Medicine's Strong Memorial Hospital. "Though a vaccine is in development and fecal transplants are showing some promise in treating C. diff infection, we can't wait for these to come to fruition; we need to address the problem now and the best way to do that is by improving the appropriate use of antibiotics." Read more . . .

---
Offline word of mouth influences TV viewing most, researchers report
While social media, especially Twitter, can benefit a television show in real-time, offline word-of-mouth is more influential in getting a new viewer to watch a new program, thus increasing a show's ratings, according to research by Mitchell Lovett, Associate Professor of Marketing at the Simon Business School, and Renana Peres, Associate Professor of Marketing from The Jerusalem School of Business Administration at the Hebrew University of Jerusalem.

Their results show that for repeaters (individuals who watch the same program regularly) and infrequents (individuals who do not view the same show regularly) offline word-of-mouth is the strongest form of communication that influences their television viewing. For infrequents, social media communications are actually more influential than promotions for shows, whereas for repeaters the opposite is true.

The study was comprised of 1,665 respondents between the ages of 15 and 54, who used a mobile app to report any time they saw, heard, or communicated something about primetime television shows over the course of 21 or more days. The data set contains 78,310 diary entries for approximately 1,596 shows from September 2013 through October 2013. Read more . . .

---
Workshop offers database design basics for non-technical researchers
Is your data organized? Whether you work with survey data, text, spatial or numeric data, storing your data in a relational database can help you manage your work better.

An introductory session from noon to 1 p.m., Thursday, March 12, in the Rush Rhees Training Room will explain the basics of database design, how to effectively organize and store research data and plan for efficient analysis.

This workshop is geared toward scholars with no prior experience designing or using databases. Space is limited; please rsvp to kathleen.fear@rochester.edu.

---
Introducing a new faculty member
Nadine Grimm has joined the Department of Linguistics as a senior lecturer. She will head up the department's new MA program in Language Documentation and Description. Grimm's other research interests include fieldwork, phonology, morphology, African languages (in particular Bantu languages), language contact, languages of hunting and gathering societies, numeral systems, and language of perception. Her training is in African Linguistics at the Institute for Asian and African Studies at Humboldt University in Berlin. Her dissertation work focuses on documenting the Gyeli language, spoken by Bagyeli hunter-gatherers in Cameroon, where she has spent time doing primary language documentation.

---
Congratulations to . . .
Corey Hoffman, a predoctoral student at the Medical Center, who was the winner of the second annual "America's Got Regulatory Science Talent" student competition held at the Clinical and Translational Science Institute. Hoffman will soon travel to Maryland to speak with the Food and Drug Administration about his project, which proposes creating a database from all clinical trials identifying genetic biomarkers of disease, in order to avoid redundancies in future trials and serve as a reference point. Read more . . .

Joshua Dubler, Assistant Professor of Religion, who has been awarded a 2015 Collaborative Research Fellowship from the American Council of Learned Societies to study connections between religion and mass incarceration. Read more...

Deborah J. Ossip, Professor of Public Health Sciences and Oncology, who has been elected 2016 President of the Society for Research on Nicotine and Tobacco (SRNT). The international society coordinates and advances research related to nicotine and tobacco from molecular to societal levels, and it publishes the journal Nicotine & Tobacco Research. Read more . . .

---
Phd dissertation defenses
Ah Rah Kim, Biomedical Genetics, "Regulation of Erythroid Self-Renewal." 1 p.m., March 9, 2015, K-307. Advisor: James Palis.

Timothy Rutkowski, Biomedical Genetics, "The Role of the Notch Target Genes, Hes1 and Hes5, in Mesenchymal Progenitor Cell Differentiation and Chondrocyte Hypertrophy." 9 a.m., March 12, 2015, 2-6424 Whipple Auditorium. Advisor: Matthew Hilton.

Qiuyu Zhu, Physiology, "The Role of STXBP5, VAMP8, and SNAP23 in Endothelial Exocytosis." 9:30 a.m., March 12, 2015, 1-7619 Adolph (Lower) Auditorium. Advisor: Charles Lowenstein.

Tristan Marriner Nicholson, Pathology, "Estrogen Receptor-alpha is a Key Mediator and Therapeutic Target in Benign Prostatic Hyperplasia." 9 a.m., March 16, 2015, 3-6208 K-307. Advisor: William Ricke.

Gregory Savich, Optics, "Analysis and Suppression of Dark Currents in Mid-Wave Infrared Photodetectors." 2 p.m., March 25, Goergen 101. Advisor: Gary Wicks.

---
Mark your calendar
March 11: Human Impacts on Earth: How Sustainability and Astrobiology can Illuminate the future of Earth's Technological Civilization. Adam Frank, Professor of Physics and Astronomy. 6:30 p.m., Sloan Auditorium, Goergen Hall. Registration requested to attend in person or to view simulcast webinar.

April 20: AS&E workshop on applying for the NSF Faculty Early Career Development (CAREER) Program. 9 to 11 a.m., Gamble Room of Rush Rhees Library. RSVP by April 14, 2015. For additional information please contact assistant deans Debra Haring or Cindy Gary.

April 26: Deadline to apply for Falling Walls Lab competition, to be held May 19 at Sloan Auditorium. Any grad student, post-doc, scientist or early career faculty member, born on or after Nov. 8, 1980, is eligible. Apply here . Questions? Contact fallingwallsrochester@rochester.edu.

---
Please send suggestions and comments to Bob Marcotte. You can see back issues of Research Connections, an index of people and departments linked to those issues, and a chronological listing of PhD dissertation defenses since April 2014, by discipline.