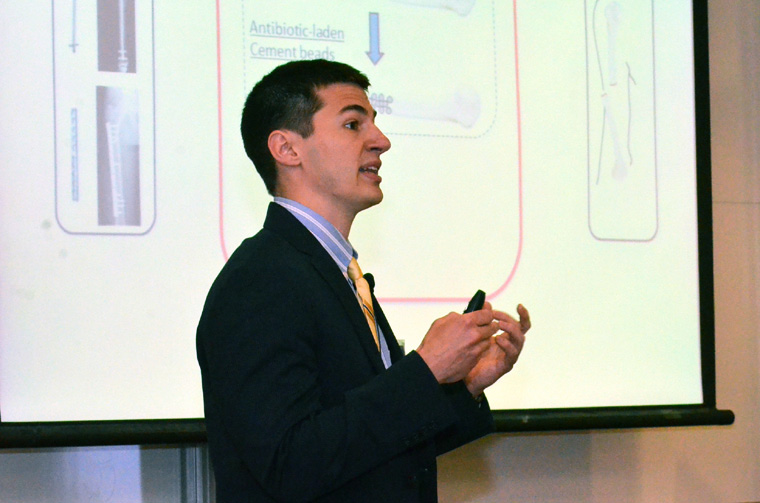 Ryan Trombetta, a PhD student in Biomedical Engineering, gives his 'pitch' at the University's first Falling Walls competition in Sloan Auditorium on Tuesday.
Bound for Berlin!
When the results of the University's first Falling Walls competition were announced on Tuesday, there were "high fives" all around for Ryan Trombetta.

Trombetta, a second year PhD student in the lab of Hani Awad, Professor of Biomedical Engineering and Investigator in the Center for Musculoskeletal Research, won first place, a check for $500, and an expenses-paid trip to the Falling Walls conference and competition finale in Berlin, Germany, this fall. The conference commemorates the fall of the Berlin Wall by giving young entrepreneurs and inventors from around the world the opportunity to express ideas that will "break down the walls" and remove barriers to progress in science and society.

Trombetta's winning pitch described how 3D-printed bone grafts containing antibiotics and biofilm dispersal agents could simplify and improve the treatment of osteomyelitis, a bacterial bone infection that can develop as a result of fractures.

"I am very excited to represent the University of Rochester in Berlin for the Falling Walls Lab Finale," Trombetta said. "I am going to do everything that I can to do my best in the Finale and to show the world the groundbreaking research we do here at the University."

The competition was open to any University student, researcher or faculty member 35 years old or younger. Twenty-seven researchers responded, and were each allowed three minutes and three slides to pitch their ideas to a panel of University faculty and supporters.

Hannah Stoveken, a PhD student in the lab of Gregory Tall, Associate Professor of Pharmacology and Physiology, took second place and $300. Jesse Schallek, Assistant Professor of Ophthalmology, came in third and received $200.

Honorable mention went to Solomon Abiola, a Research Associate at the Medical Center; Matthew Cavanaugh, a graduate student in the lab of Krystel Huxlin, Professor of Ophthalmology; and to Yelena Lerman, a graduate student working with Minsoo Kim, Associate Professor of Microbiology and Immunology.

A livestream of the competition can be found here. Upcoming issues of Research Connections will take a closer look at ideas presented at the competition.


Do you have an interesting photo or other image that helps illustrate your research? We would like to showcase it. Send a high resolution jpg or other version, along with a description of what it shows, to bmarcotte@ur.rochester.edu.
---
Summer reading programs work best when kids choose the books
A study, conducted in kindergarten, first-, and second-grade classrooms in the Rochester City School District, showed that students who were allowed to choose their own summer reading saw lower levels of literacy loss over the summer months.

Erin T. Kelly, the study's lead researcher and a fourth-year resident in the Medicine-Pediatrics program, conducted her initial study in 2013. She arranged a book fair for 18 second-graders, who were allowed to select 13 books to bring home with them for the summer. When that class showed improvement over a control group that had their books selected for them, she expanded the project to several classes in 2014. She also measured for differences based on what portion of books the students were allowed to select themselves.

More than 75 percent of students who were allowed to select at least some of their books maintained or improved their reading levels, compared to a one-month literacy loss seen in previous studies. No significant difference was seen in students who picked all of their own books, compared with a group that selected only some.

Starting this summer, the Rochester City School District is now offering choice to all of its K-2 students, and the findings could prove valuable for other districts with low-income students as well, said Kelly. Previous studies have shown that the summer slide in literacy accounts for roughly 80 percent of the reading achievement gap between more and less economically advantaged children.

Carol Anne St. George, Assistant Professor of Teaching and Curriculum in the Warner School, helped to implement the study. Read more here.

---
Researchers will use optogenetics to study reactive oxygen species
Most dietary advice includes a plug for lots of antioxidant-rich fruits and vegetables like blueberries, spinach and sweet potatoes. So why have so many antioxidant-based therapies failed in clinical trials?

Over the next five years, Andrew Wojtovich, a Research Assistant Professor in Medicine (Nephrology Division), aims to find out with a $1.7 million National Institutes of Health grant.

Antioxidants protect the body from reactive oxygen species — a type of free radical that contributes to diseases like atherosclerosis and stroke. However, research suggests that small amounts of reactive oxygen species can be beneficial and are necessary for many cellular functions, like being able to respond to different types of stress.

So understanding the protective versus the damaging effects of reactive oxygen species could be the key to developing a safe and effective antioxidant therapy.

Wojtovich will study a new system to examine when and where reactive oxygen species are produced and precisely how they influence cells. This new approach uses the principles of optogenetics — a combination of genetics and optics that allows scientists to control particular events within specific cells.

Wojtovich and Thomas Foster, Professor of Imaging Sciences and Biomedical Engineering and a co-investigator on the new grant, will study the effects of reactive oxygen species in the roundworm C. elegans, an organism that has many similarities to mammals.

"We already know that small amounts of reactive oxygen species can extend lifespan in worms and facilitate wound healing in both worm and mammalian nerve cells, which is counterintuitive since they also contribute to age-related damage and neurodegenerative disorders like Alzheimer's and Parkinson's disease," said Wojtovich. "This award will support our ultimate goal of directing future antioxidant therapies to eliminate detrimental and spare beneficial reactive oxygen species." Read more . . .

---
Study challenges assumptions about investment growth
Contrary to widely held assumptions, investment growth has little to do with changes in market volatility or interest rates. In fact, according to new research from Simon Business School, the investment decline following the 2008 financial crisis was not unusual given the drop in gross domestic product (GDP) and corporate profits at the end of 2008.

The findings from the study cast doubt on Federal Reserve policies that claim by reducing interest rates, more investment will be fueled and thereby lift all economic boats. The study's conclusions challenge both conventional wisdom and formal theoretical models.

"We found little evidence that unusual conditions in credit markets lead to a large drop in investment over and above what would be expected given changes in the real economy," said Jerold Warner, Professor of Finance and Business Administration and a co-author of the study. "This lack of a link between aggregate investment and interest rates is particularly interesting and shines a light on important macroeconomic and policy implications."

Warner and his co-authors S.P. Kothari of the Massachusetts Institute of Technology and Jonathan Lewellen of the Tuck School of Business at Dartmouth College studied aggregate corporate investment by U.S. firms from 1952 to 2010. Using quarterly financial information from public companies, they looked at the total amount of capital investment by all firms under a variety of economic conditions. Read more . . .

---
Rochester physicists contribute to calibration of Large Hadron Collider
Precise measurements reported in a paper that two Rochester physicists contributed to will help researchers at CERN calibrate the Large Hadron Collider, which will operate at even higher energies than were possible before.

Arie Bodek, Professor of Physics; Research Associate Jiyeon Han, and their colleagues used data gathered by the Compact Muon Solenoid detectors on the LHC particle accelerator at CERN to analyze the decay of a Z boson into two muons, a heavier cousin to the electron.

Scientist Don Lincoln discusses the paper at Fermilab Today.

---
People with similar views tend to mirror each other's speech patterns
People with similar views tend to more closely mirror, or align, each other's speech patterns, according to a new study. In addition, people who are better at compromising align more closely.

"Few people are aware that they alter their word pronunciation, speech rate, and even the structure of their sentences during conversation," explained Florian Jaeger, Associate Professor of Brain and Cognitive Sciences and coauthor of the study, which was recently published in Language Variation and Change. "What we have found is that the degree to which speakers align is socially mediated."

Kodi Weatherholtz, a post-doctoral researcher in Jaeger's lab, is lead author of the study. "Our social judgments about others and our general attitude toward conflict are affecting even the most automatic and subconscious aspects of how we express ourselves with language," Weatherholtz said.

To test the social effects of how greatly we mimic each other's speech patterns, the researchers devised an experiment in which participants first listened to ideologically charged messages with a set sentence structure. After listening to the diatribes they were asked to describe some simple illustrations showing characters performing simple actions, such as a waitress giving a banana to a monk.

Most participants subconsciously aligned their descriptions with the sentence structure presented in the listening phase of the experiment. But, how closely the participants aligned with the speaker varied based on how much they agreed with the speaker's views (as assessed in a post-experimental interview). Those who shared views with the speaker altered their speech to more closely match the sentence pattern used by the speaker.

Read more . . .

---
Dried Blood Spot Lab available to any University investigator
A fee-for-service laboratory in the School of Nursing specializes in the usage of Dried Blood Spot (DBS) technology for the evaluation of biomarkers. It can be used by any investigator at the University for a variety of biomarkers such as glycated hemoglobin A1c, C-reactive protein, and cholesterol. To learn more about the lab, contact the Research Help Desk at researchhelp@urmc.rochester.edu.

---
Introducing a new faculty member
Truptesh Kothari has joined the Department of Medicine, Gastroenterology/Hepatology as an assistant professor and as Director of the Developmental Endoscopy Laboratory at the University (DELUR). His various research interests include fistula closure, per oral endoscopy myotomy (POEM), endoscopic submucosal dissection (ESD) and new device innovation. He earned his medical degree at M.R. Medical College in Karnataka, India, and received his master's degree in clinical sciences from the University of Texas Medical Branch in Galveston, Texas. He comes to the University after completing a fellowship in endoscopy at Fox Chase Cancer Center at Temple University.

---
Mark your calendar
May 28: "Hitting the Accelerator: Health Research Innovation through Data Science," sponsored by the UNYTE Translational Research Network. 11 a.m. to 3:15 p.m. in the Helen Wood Hall Auditorium (1W-304). Details and registration are available here.

June 1: Applications due for Cancer Research Program Grants of up to $100,000 for one year. Applications should be submitted electronically to Pam Iadarola, who can also be contacted for more information.

June 4-5: 2015 Symposium on Immune Modeling in the Big Data Era. Registration ends today.

June 10: 7th Annual Study Coordinators Organization for Research and Education (SCORE) Half-Day Seminar, focusing on promoting and improving the clinical research experience for those who actively coordinate health research. 7:30 a.m. to 12:30 p.m., Helen Wood Hall Auditorium, 1W304. To register on-line, click here by June 3. Questions? Contact SCORE@urmc.rochester.edu.

June 15: 1st Annual Rochester Global Health Symposium, 8 a.m. to 5 p.m., Saunders Research Building Atrium. Convenes researchers, students, and practitioners from all sectors of global health to exchange ideas about how to conduct, share, and translate innovative health promotion in low-resource settings. Click here for agenda and registration.

---
Please send suggestions and comments to Bob Marcotte. You can see back issues of Research Connections, an index of people and departments linked to those issues, and a chronological listing of PhD dissertation defenses since April 2014, by discipline.