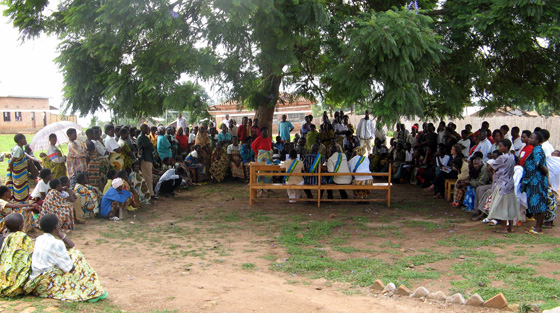 This photo shows a gacaca court in session in Rwanda in 2007.
Despite flaws, Rwanda's courts tell us much
about living in the aftermath of genocide
(This is the first of two parts looking at the research of the Humanities Center's first resident fellows, Kristin Doughty of the Department of Anthropology and Pablo Sierra of the Department of History. The fellowship program is supported by Jay Last '51.)
Imagine that one day each week, businesses, government offices — indeed, everything but the schools — are closed in the Town of Brighton, NY.
All townspeople are required to gather at the Twelve Corners gazebo to hear and debate evidence presented against their fellow citizens in
a grassroots court where there are no lawyers, only a locally chosen judge whose rulings are based not on statutory but customary law
.
This is how Rwanda has attempted to
address — and rebuild from — the massive genocide
that began in that country in 1994, when the Hutu-controlled government launched a wave of bloody attacks primarily against the minority Tutsi population.
"When Rwanda put the
gacaca
courts in place,
everybody wanted it to be the right answer
," says
Kristin Doughty
, Assistant Professor of Anthropology, whose first book,
Remediation in Rwanda
, was just published by the University of Pennsylvania Press. "This was nationally controlled and culturally relevant. It looked like a textbook perfect solution."
It wasn't, for a variety of reasons. For example,
the jurisdiction of the these courts extended only to genocide cases that had occurred by the end of 1994
— before the Rwandan Patriotic Front, the military arm of the Tutsi minority, gained the upper hand and allegedly launched its own reprisals after taking control of the country.
Many of the Hutus tried in these courts were released to resume their lives based solely on a confession and time served.
"That's the complexity of Rwanda," Doughty says.
After spending 18 months in Rwanda, attending the courts and interviewing those who participated in them, Doughty found that,
for all their flaws, these grassroots forums have served a valuable purpose
.
Precisely because they are so "localized and deep-rooted, and conducted in the landscape where the violence occurred," Doughty argues, "they were relevant to people; people were using them to their advantage." As a result, the three legal forums she examined — the
gacaca
(genocide) courts, similarly structured mediation committees for ordinary offenses, and a university legal aid clinic — "were spaces where
it was possible to see, as if through a window, how complicated it is to work through the details of living in the aftermath of genocide
."
(Next: In Rwanda, where the perpetrators and survivors of genocide must live side by side, "justice" is not just about who killed who, but sorting through conflicting land claims, restoring stolen property — in short working through the "messy process" of trying to rebuild relationships.)
Do you have an interesting photo or other image that helps illustrate your research? We would like to showcase it. Send a high resolution jpg or other version, along with a description of what it shows, to bmarcotte@ur.rochester.edu.
---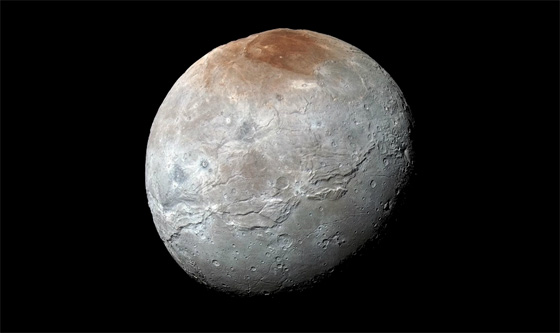 NASA's New Horizons captured this high-resolution enhanced color view of Pluto's moon Charon, showing the crack on the icy moon. It was taken just before closest approach on July 14, 2015. The image combines blue, red and infrared images and the colors are processed to best highlight the variation of surface properties across Charon.
New model could explain cracks on icy moons
A new model developed by University of Rochester researchers could offer a new explanation as to how cracks formed on icy moons, such as Pluto's Charon.
Until now, it was thought that the cracks were the result of geodynamical processes, such as plate tectonics, but the models run by
Alice Quillen
, Professor of Physics and Astronomy, and her collaborators
suggest that a close encounter with another body might have been the cause
.
Astronomers have long known that the craters visible on moons were caused by the impact of other bodies billions of years ago. But
for every crash and graze, there would have been many more close encounters
. By devising and running a new computer model, Quillen has now shown that
the tidal pull exerted by another, similar object could be strong enough to crack the surface of such icy moons
. Quillen also thinks that "it might even offer a possible explanation for the crack on Mars, but that's much harder to model."
Read more . . .
---
Intelligence may be driven by demands of raising offspring
A new study suggests that human intelligence may have evolved in response to the demands of caring for infants.
Steven Piantadosi
and
Celeste Kidd
, Assistant Professors in Brain and Cognitive Sciences,
developed a novel evolutionary model in which the progression of high levels of intelligence may be driven by the demands of raising offspring
. Their meta-analysis study is available online in the
Proceedings of the National Academy of Sciences' Early Edition
.
"Human infants are born far more immature than the infants of other species. For example, giraffe calves are able to stand-up, walk around, and even flee from predators within hours of their births. By comparison, human infants cannot even support their own heads," said Kidd.
"Our theory is that
there is a kind of self-reinforcing cycle where big brains lead to very premature offspring and premature offspring lead to parents having to have big brains.
What our
formal modeling work
shows is that those dynamics can result in
runaway pressure for extremely intelligent parents and extremely premature offspring
," said Piantadosi.
Read more . . .
---
Grant funds novel gene therapy for acute respiratory distress
David Dean
, Professor of Pediatrics and Neonatology, has received a $3 million grant to explore
a novel method of gene therapy delivery that could greatly benefit patients with acute respiratory distress syndrome
(ARDS).
The syndrome, which occurs after trauma such as an injury or pneumonia,
causes alveoli (tiny air sacs in the lungs) to take on too much water and prevents the lungs from efficiently processing oxygen
. It affects about 150,000 people each year, and there is no cure — about 40 percent of people who are diagnosed die as a result.
Dean's approach attempts to
influence the affected alveoli from the inside out by using gene therapy
to communicate with the cells' nuclei and decision-making centers. Using a carefully-devised DNA compound, the treatment compels lung cells to release their extra water, allowing them to function properly again.
Using a process called electroporation, Dean delivers a measured shock of electricity
that causes the cells in a target area to briefly open, allowing DNA inside.
Electroporation is a burgeoning science in the field of gene therapy and there is minimal literature on its use across the chest and lungs. The grant, from the National Institutes of Health, will allow Dean to continue to test its safety and efficacy.
"Our research has generated very encouraging results thus far," said Dean. "If it continues to show promise, our next step will be a clinical trial."
Read more . . .
---
Congratulations to . . .
Laura Ackerman Smoller
, Professor of History, who was
awarded the La Corónica International Book Award
at the International Congress of Medieval Studies annual conference earlier this month. In her award-winning book,
The Saint and the Chopped-Up Baby: The Cult of Vincent Ferrer in Medieval and Early Modern Europe
(Cornell University Press), Smoller
examines the canonization and cult of the Valencian friar Vincent Ferrer, a fiery apocalyptic preacher
who died in 1419 and was canonized in 1455. Smoller traces the long and sometimes contentious process of establishing a stable image of a new saint. She analyzes tales about the holy friar as a
means of exploring the religious lives of medieval and early modern Christians
, discovering that canonization inquests, hagiography, liturgical sources, art, and devotional materials reveal as much about their creators — and their assertions of political, social, and spiritual status — as they do about Vincent Ferrer.
Read more . . .
Roger Freitas
, Associate Professor and Chair of Musicology at the Eastman School of Music, has been
elected a director-at-large of the American Musicological Society
for a two-year term beginning this fall. The society
advances scholarship in the various fields of music through research, learning, and teaching
. It is governed by a membership-elected board of directors that consists of six directors-at-large and five officers.
Read more . . .
---
University researchers in the news
University researchers suggest that
children raised in poverty may have been mistakenly labeled as "maladapted" for what appears to be a lack of self-control
. The new study finds that
what looks like selfishness may actually be beneficial behavior that's based on a child's environmental context
— that is to say, from being raised in
a resource-poor environment
. In the classic 1970s "marshmallow tests," preschoolers were given a choice to take a single marshmallow immediately, or to wait several minutes and earn two of the puffy treats as a reward. Children who displayed an apparent lack of self-control — demonstrated by taking the single treat — were deemed "maladapted." Follow-up studies found that children who are raised in poverty are far less likely to postpone such sweet temptations than their economically better-off counterparts. "What looks like impulsiveness may actually be an adaptive strategy—kids who are brought up in homes with limited resources have learned it's advantageous to seize the moment," said
Melissa Sturge-Apple
, Associate Professor of Psychology and Clinical Researcher at the University's Mt. Hope Family Center. Read more
here
to learn how Sturge-Apple and her colleagues used measurements of the vagal tone of preschoolers as part of their study.
Using the same mathematical framework as the Rochester Cloak, PhD student
Joseph Choi
and
John Howell
, Professor of Physics, have been able to
use flat screen displays to extend the range of angles that can be hidden from view
. Their method lays out how cloaks of arbitrary shapes, that work from multiple viewpoints, may be practically realized in the near future
using commercially available digital devices
. They have shown a proof-of-concept demonstration for such a setup, which is still much lower resolution than the nearly perfect imaging achieved by the Rochester Cloak lenses. But with increasingly higher resolution displays becoming available, the "digital integral cloak" they describe in their new
Optica
paper will continue to improve.
Read more . . .
Student-athletes who get a concussion often return to school within a week but
still have significant problems in the classroom
and cannot perform at a normal academic level, according to a new study which suggests the
need for accommodations and return-to-learn guidelines following a concussion
. Published in the
American Journal of Public Health
, the research was conducted by
Erin Wasserman
, a former doctoral candidate in epidemiology in the Department of Public Health Sciences who is now a postdoctoral research trainee at the Matthew Gfeller Sport-Related Traumatic Brain Injury Center at the University of North Carolina-Chapel Hill.
The research is believed to be the first of its kind
, comparing academic problems among 70 students following a diagnosed concussion versus academic problems among 108 students who suffered other sports-related injuries to arms or legs, such as an ankle sprain. Investigators used telephone surveys to assess each patient's schoolwork —the ability to concentrate and take tests or quizzes, for example —one week after injury and again one month after the injury occurred.
Read more . . .
---
PhD dissertation defenses
Bharti Patel
, Pharmacology, "Heterotrimeric G-Protein α Subunit Chaperone Ric-8A as a Novel Target for Cancer Therapeutics." 9 a.m., May 27, 2016. Adolph Aud, 1-7619. Advisor: Gregory G. Tall.
Sivan Salzman
, Materials Science, "Optimal Magnetorheological Fluid for Finishing of Chemical-Vapor-Deposited Zinc Sulfide." 9 a.m., June 1, 2016. 224 Hopeman. Advisor: John Lambropoulos.
---
Mark your calendar
May 31:
Applications due for Goergen Institute for Data Science pilot awards in Health Data Analytics. Click
here
to read the full RFA.
June 7:
SCORE Half-day Seminar for research personnel. Click
here
to learn more.
June 24:
Deadline is 5 p.m. for applications for Center for AIDS Research pilot awards in
Focused Topic Areas
and in
General HIV/AIDS
. Contact Laura Enders at
Laura_Enders@urmc.rochester.edu
or (585)273-2939.
July 1:
Deadline to submit applications for AS&E
PumpPrimer II awards
. Faculty in Arts & Science should refer questions to
Debra Haring
and those in Engineering to
Cindy Gary
.
---
Please send suggestions and comments to Bob Marcotte. You can see back issues of Research Connections, an index of people and departments linked to those issues, and a chronological listing of PhD dissertation defenses since April 2014, by discipline.