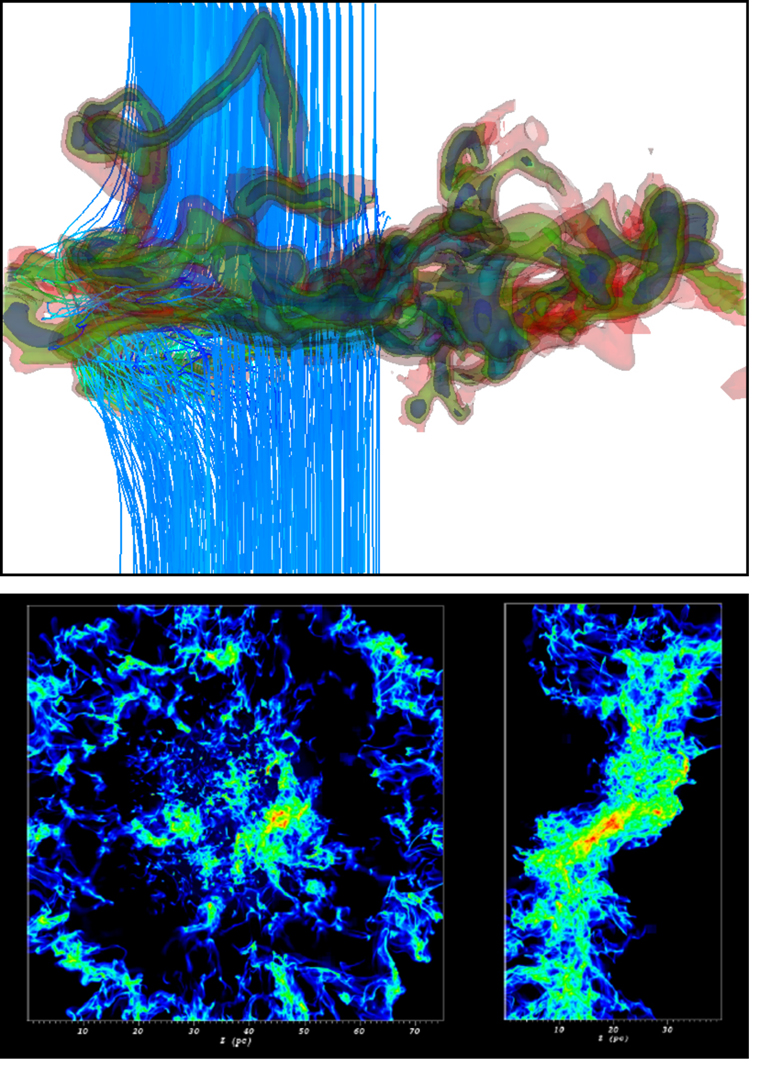 These images are from "A Vista Collaboratory Display of Molecular Clouds and Star Formation," by Physics PhD student Erica Kaminski, one of three winning submissions to the data visualization contest sponsored by the Health Sciences Center for Computational Innovation. The other winners are Jim Baker, graduate student in Physics, for "Evaluating the effectiveness of virus detection devices," a project featured in Research Connections in the Aug. 8 issue, and Michael Jarvis, Associate Professor of History, for "3D modeling of archaeology fieldwork," featured in last week's issue.
'Beautiful, intricate, and ever-changing'
"Simulated molecular clouds are beautiful, intricate, and ever-changing -- properties that make them ideal candidates for high-powered visualization," wrote Erica Kaminski, a PhD student in the Department of Physics and Astronomy, when she submitted these winning images to the data visualization contest sponsored by the Health Sciences Center for Computational Innovation (HSCCI). The contest helped showcase the capabilities of the new VISTA Collaboratory in Carlson Library -- and in this case the Center for Integrated Research Computing's Blue Gene/Q system, called Blue Streak, which consists of 1,024 nodes,16 TB of RAM, and 400 TB of storage.

A molecular cloud (or stellar nursery if star formation is occurring within it) is a type of interstellar cloud whose density and size permit the formation of molecules, most commonly molecular hydrogen -- in contrast to other interstellar areas that contain predominantly ionized gas.

"Using Blue Streak, we have just completed a set of high resolution (2000∧3 cells) adaptive mesh refinement simulations to study how these stellar nurseries form," Kaminski explains. "The simulations are of two large scale streams of gas (~120 light years in diameter) colliding in a 3-dimensional box, under the influence of magnetic fields, gravity, and various thermal processes. Over the 20 million years inside of the simulation box, fluid instabilities form that produce long dense filaments in the gas -- structures that behave like and bear striking resemblance to the molecular clouds we find in nature."

To illustrate the complex network of structures formed in these simulations, two example images from the recent work are shown above. The top image shows a 3D density contour plot of the collision region at 10 million years, with magnetic field lines overlaid on only half of the plot for simplicity. By this time, dense coherent structures are forming out of the flow, as can be seen from the color variation of the various shells -- density increases from red to green to blue to magenta in color.

"These structures are undergoing gravitational collapse, dragging magnetic field lines down with them," Kaminski notes. "This leads to a highly tangled field that is not only beautiful to behold, but can also reveal a great deal about the role magnetic fields play in molecular cloud evolution. The relationship between magnetic fields and star formation is a current popular area of research, and studying the field morphology using high resolution simulations such as these can provide important clues in addressing this link."

Column density maps of the data are shown in the bottom image, which depict number density integrated along a given line of sight through the simulation box. In this way the 3D data is projected onto a 2D surface, which mimics the way observational astronomers 'see' structure on the plane of the sky. The left CDM is a 'down-the-barrel' perspective of the colliding flows, while the CDM on the right is a perpendicular view. Here, density increases with color, going from black to red, and reaching densities high enough in the red regions for star formation to occur. "The structures that form in these flows are highly turbulent and filamentary, properties akin to the molecular clouds we observe in local star forming regions," Kaminski notes. This snapshot was taken 20 million years into the simulation.


Do you have an interesting photo or other image that helps illustrate your research? We would like to showcase it. Send a high resolution jpg or other version, along with a description of what it shows, to bmarcotte@ur.rochester.edu.
---
Willis examines the 'Poitier Effect'
There is a tense scene in director Lee Daniels' 2013 movie The Butler, a historical drama about an African-American who served in the White House during the Civil Rights era.

The butler and his militant young son engage in a shouting match over a popular movie of the time, In the Heat of the Night, starring Sidney Poitier.

As Sharon Willis, Professor of Art History and Visual and Cultural Studies, relates in her forthcoming book, The Poitier Effect (University of Minnesota Press), the son "erupts in a rage, shouting epithets and calling Poitier an 'Uncle Tom,' accusing him of providing precisely the black man that white people want to see." The butler "rails back at his son, asserting that Poitier's characters accomplish a progressive mission in displaying black dignity and achievement . . .

"These antagonists quite precisely describe the Poitier effect and the conflicted ways it registered for different -- and sometimes for the same -- audiences."

The "Poitier effect," which Willis' book traces through cinema and television from the civil rights era to our own, is a wishful vision of racial reconciliation and reciprocal respect epitomized in Poitier's roles as the "picture perfect black man" -- whether he is helping German nuns build a chapel (The Lilies of the Field) or overcoming the prejudices of a redneck sheriff (In the Heat of the Night) or recalcitrant students (To Sir with Love).

The Poitier effect represents a dream of achieving racial reconciliation and equality without any substantive change to the white world -- a notion that continues to reassert itself, Willis notes, in such recent melodramas as The Long Walk Home, Pleasantville, Far from Heaven and The Help.

"Interestingly, Poitier re-surfaces in the popular press, and popular discourse, as people begin to try to establish the racial 'meaning' of Obama's presidency," Willis said in an interview. "As a figure, for white people, I think he anticipates an ideal of 'post-raciality' -- what went by the name of 'colorblindness' in the 1960s.

"Linking Obama to the idea of racial reconciliation that Poitier embodied for his period, I think, only perpetuates wishful fantasies that we've put race behind us. Of course, where the Poitier figure continues to offer white audiences a reassuring image of a black man who is conciliatory toward, and understanding of them, for black audiences, he continues to appear more ambivalent. For them, he seems to waver between being an aspirational figure of dignity and respectability and a figure of -- even extreme -- compromise and accommodation."

And so a major goal of her book, Willis said, is to show how the Poitier effect, complicated by contemporary ideas about feminism, sexuality and privilege, continues to inform our collective memory, as well as our visions of post-racial society.

(Willis is co-editor of Camera Obscura and is the author of High Contrast: Race and Gender in Contemporary Hollywood Film, Marguerite Duras: Writing on the Body, and many essays on contemporary cinema.)

---
8,870 studies, 65,000 data sets at your fingertip
While obtaining her masters and PhD degrees in data curation at the University of Michigan, Kathleen Fear had the privilege of working with -- and for -- one of the nation's oldest, largest archives of social and behavioral science studies and data sets.

The Inter-university Consortium for Political and Social Research (ICPSR) is "near and dear to my heart," said Fear, now Data Librarian with the River Campus Libraries. And she wants to make sure investigators here are aware of the treasure trove of data -- and associated services -- that ICPSR makes available to them as a result of UR's membership in the consortium.

ICPSR, created in 1962, is a repository for studies and related data in more than 40 disciplines as diverse as behavioral sciences, history, public health, political science, business administration, aging and foreign policy. "Their goal is to help social scientists do more and better research through data sharing, education and outreach, and good data management and curation, which ensures that the data produced by social scientists stay relevant and meaningful over the long term, doesn't just fade away, and is available for additional research," Fear explained at a recent information session at Carlson Library.

For example, popular downloads from the ICPSR archive include the National Longitudinal Study of Adolescent Health, the National Survey on Drug Use and Health, National Prisoner Statistics, and the American National Election Study.

The data -- much of which has been vetted by ICPSR staffers for consistency -- can be used for original research, secondary analysis and replication, and as foundational material in grant proposals; ICPSR can also serve as the archive for an investigator's own data, to help meet data sharing requirements of funding agencies and publications.

ICPSR data "is also useful for studying and teaching quantitative methods,' Fear added. "These are really nice data sets to let students get their hands dirty with data, which is a really important part of learning."

ICPSR allows searches by topic, series, geography, investigator and special categories, and also by thematic data collections -- such as the National Addiction & HIV Data Archive Program and the Center for Population Research in LGBT Health. The search can be further narrowed to specific study variables, and will compare variables across multiple studies.

"When you download the data, you are getting a whole data package, not just a broad data file," she added. Researchers can access a study's questionnaire, for example, information about the responses, an overall description of the study and, best of all, a bibliography of known published and unpublished works that resulted from analyses of the study's data.

"ICPSR recognizes how important an understanding of the publications is to understanding the data. There is so much context about data, and how it's used, and what the pitfalls are, and what the conversation is about the data, and it exists only in the papers," Fear said. "So this is a way to pull the data and the discussion together."

"This is great," said one attendee at the info session. "We should do a better job of advertising this --not that we want to inundate you with researchers trying to get ahold of this stuff."

"I would welcome an influx of people," Fear responded. "It's a fantastic resource, and we pay for it, so let's use it."

For more information, contact Fear at kathleen.fear@rochester.edu Click here for slides and a voice recording from the info session.

---
Basics of IP: Some do's and don'ts involving patents
(This is one in a series of articles about the importance of intellectual property and its commercialization to the University and its researchers. It is based on a current UR Ventures lecture series, "Intellectual Property and Commercializing Technology" offered by the office of the AS&E Dean for Research. The next presentation, "How to Find Inventions, What Makes a Good Invention, and How to Find Prior Art," will be at noon Dec. 9 in the Gowen Room at Wilson Commons, lunch provided.)

At a time of dwindling research funding from outside sources, the disclosure and patenting of new technologies and other innovations discovered by UR faculty and students is more important than ever.

"We have to be ready to self fund more of our work to support our labs and the graduate students who come through them, and to support the overall university," explains Reid Cunningham, IP attorney with UR Ventures. "To let our technology go out the door is a wasted asset. It puts us at an enormous disadvantage. It makes it harder for us to continue as a well-funded research University." Licensing revenue supports the university, the departments and labs, and the individual inventors.

Given that the University shares with its faculty the royalties that ensue, there is a strong incentive for faculty to work closely with the UR to help ensure that invention disclosures and patent applications are accurate and complete, he added.

UR Ventures is the office that helps University researchers apply for patents and license their innovations. Reid encourages faculty involved in this process to:

1. Read over the draft patent application closely. "You have to advocate for your application. If you don't like what's written there, if you think it is wrong or incorrect, help us correct it. You are an important part of the quality control. It really depends on you as an inventor to put your time and energy in; we get much better cases when you do."

2. But also trust Reid and others who are familiar with patent law to navigate the sometimes quirky language and formalities involved in a patent filing.

3. Be sure to disclose any "prior art" -- any publicly available information that might be relevant to a patent's claims of originality -- that you are aware of. As the inventor (as does everyone else involved in the patenting process) you have a positive obligation to the U.S. Patent and Trademark Office to disclose material prior art. Failure to do so can invalidate the patent. "From a practical standpoint, if we don't disclose it now, and you get a patent, and if it goes to litigation, the 10 hours that the patent examiner spent searching through prior art will be multiplied 100 times, a thousand times, by the other litigants. Believe me, whatever you think you've hidden will show up. Better to have it up front now."

4. Be sure anyone who contributed to one or more of the claims in your patent is listed as co-inventor. "I can't tell you how many times in my previous work life I've had people come to me and say, 'We were working with this guy, but he left the company. Take his name off.' You can't do that. That invalidates the patent."

It doesn't matter if a co-inventor contributed to only one of a hundred claims listed in your patent; that co-inventor has an undivided interest, equal to all the other inventors.

(Next: UR Ventures takes a new approach.)

---
New PhD program bridges bench research and population health
A new track in the PhD program in Translational Biomedical Science -- Infection and Immunity: From Molecules to Populations (IIMP) -- will develop scholars who are adept with both bench research and population health. The goal is to provide a shorter path between basic science advances and health improvements for the community at large.

"We have a strong pipeline for basic scientists, and we train many physicians and doctoral students in population health science," said Nancy M. Bennett, Co-director of the University's Clinical and Translational Science Institute, where the new program will be housed. "But the great scientists of tomorrow are going to have to do both, and to participate on teams including scientists at both ends of the spectrum of research."

The new PhD track is supported by $2.5 million from the Burroughs Wellcome Fund. The university was selected by the fund from dozens of applicants in part due to the university's history in infection and immunity. URMC researchers have previously expanded on bench research to develop vaccines that prevent childhood meningitis, pneumonia, and human papillomavirus infection. Read more . . .

---
Introducing a new faculty member
Peter Christensen, who has joined the Department of Art and Art History as an assistant professor, researches modern architectural and environmental history, particularly of Germany, Central Europe and the Islamic Middle East, with a focus on their transactional contexts. His theoretical and historiographic interests center on the intellectual origins and manifestations of geopolitical and multiculturalist thought since the nineteenth century. He explores critical applications of the digital humanities in his research and teaching. His current book project examines the cultural aspects of the German construction of the Ottoman railway network, spanning 1868 to 1919. Christensen served as Wissenschaftlicher Mitarbeiter at the Technische Universität München (2012-2014) and Curatorial Assistant in the Department of Architecture and Design at the Museum of Modern Art (2005-2008). He received his PhD from Harvard University in 2014.

---
Congratulations to . . .
Andrei Seluanov, Assistant Professor of Biology, and Vera Gorbunova, Professor of Biology, who were presented the annual Davey Award at the 19th Annual Scientific Symposium sponsored by the Wilmot Cancer Institute for their groundbreaking work in studying the cancer-resistant naked mole rat.

---
In the news
Rob Clark, Senior Vice President for Research, and Stephen Dewhurst, Vice Dean for Research at the School of Medicine and Dentistry, express concerns about U.S. competitiveness and innovation in the face of static research funding, in an article in City Newspaper. Read more . . .

A study of Major League Baseball statistics by University researchers shows that concussed players may not be fully recovered when they're cleared to return to the batting lineup. The study looked at MLB players who suffered a concussion between 2007 and 2013. Researchers found that during their first two weeks back, the concussed players' batting performances were significantly worse than another group of players who were rusty because of being away for paternity or bereavement leave during the same period. Lead author Erin Wasserman, an epidemiology doctoral student in the Department of Public Health Sciences, presented the data at the 142nd annual meeting of the American Public Health Association. Read more . . .

A new study led by Jennifer Nayak, Assistant Professor of Pediatrics, and Andrea Sant, Professor of Microbiology and Immunology, strongly supports vaccinating individuals against bird flu viruses before a possible pandemic. They found that individuals who received a vaccine against the H5N1 bird flu virus didn't produce much of an immune response at first, but when they were vaccinated a second time their bodies produced an army of T-helper cells -- a type of white blood cell that fights infection. The findings, published in the Journal of Infectious Diseases, suggest that priming the body ahead of a possible pandemic is a smart move. Read more . . .

---
PhD dissertation defenses
Henry Hung Li Chung, Biomedical Engineering, "Engineered Microenvironment for Quantitative Studies of Neutrophil Migration." 8:30 a.m., Dec. 2, 101 Goergen Hall. Advisor: Richard Waugh.

Steven Jacob, Chemistry, "1. 1,6 Conjugate Addition Initiated Cyclization Reactions of Dienyl Diketones 2. Development of a Scalable, Divergent Synthetic Route to (-)-Rocaglamide." 11 a.m., Dec. 4, 473 Hutchison Hall. Advisor: Alison Frontier.

Yossof Exhaq, Physics and Astronomy, "Search for New Physics in All-hadronic Events with AlphaT in 8 TeV Data with CMS." 12:30 p.m., Dec. 5, Bausch & Lomb 480. Advisor: Aran Garcia-Bellido.

Sarilyn Rose Ivancic, Mechanical Engineering, "Numerical Evaluation of the Dynamic Response of Masonry Heritage Structures." 8:30 a.m., Dec. 10, Hopeman Conference Room 224. Advisor: Renato Perucchio.

Karla P. Mercado, Biomedical Engineering, "Developing High-Frequency Quantitative Ultrasound Techniques to Characterize Three-Dimensional Engineered Tissues." 8:30 a.m., Dec. 11, Goergen 101. Advisor: Diane Dalecki.

---
Mark your calendar
Today: Data Visualization, Large and Small. Workshop will cover data visualization geared towards complex biological data sets generated by different profiling technologies. Strategies for incorporating a large amount of information into a small space, and how presentation choices could bias the message. Practical demonstrations will use MATLAB. 10 a.m. to noon. Nesbit Computer Room (G-7545).

Today: The Center for Integrated Research Computing (CIRC) symposium, 11:30 a.m. to 1 p.m., Computer Studies Building (CSB) 209. Pierre-Alexandre Gourdain from the Department of Physics and Astronomy will describe how computing and laboratory experiments help improve our understanding of the universe. Jason Myers from the University's Genomics Research Center will discuss a Perl-based tool for processing miRNA RNA-seq data. Pizza and soda will be served.

Today: Venom evolution and function in parasitoid wasps. Department of Biology Donut Talk. Presented by Mrinalini, Biology postdoc. 3-4 p.m., Hutchison 316.

Nov. 25: Bone-targeted drug delivery. Presented by Danielle Benoit, Assistant Professor of Biomedical Engineering and Chemical Engineering. CTSI Seminar Series. Noon to 1 p.m., Helen Wood Hall Auditorium (1w-304).

Dec. 9: How to Find Inventions, What Makes a Good Invention, and How to Find Prior Art. Reid Cunningham, IP attorney, UR Ventures. Noon to 1 p.m., Gowen Room, Wilson Commons. RSVP to Melissa.napolitano@rochester.edu

Dec. 10: Celebration of Authorship, featuring printed and electronic books, edited volumes and texts, as well as published compositions and recordings produced by University faculty and staff from all fields. 3:30 to 5:30 p.m., Hawkins Carlson Room in Rush Rhees Library. Click here for more information.

---
Next issue: Dec. 5
Due to the Thanksgiving holiday, there will be no issue of Research Connecctions next week.

---
Please send suggestions and comments to Bob Marcotte. To see back issues, click here.