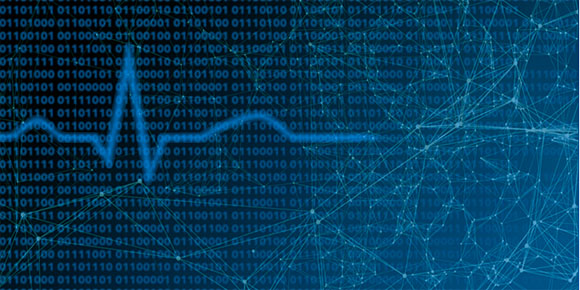 'Unconference' stirs the pot of health care data
The
RocHD3: Rochester Healthcare Deep Data Dive
on November 12 is neither a hackathon nor a conference. The informal gathering of health care data enthusiasts is an "unconference" where
attendees set the agenda and determine discussion topics
at the beginning of the event.
RocHD3 is purposefully devoid of rules — except one. "The Rule of Mobility" gives attendees the freedom to move between discussion sessions freely. If the session on health care network development is not grabbing you, move on over to the mobile data technology session. Want to sit in on concurrent sessions about predictive analytics and sensor data analytics? Feel free to bounce between them.
"This event is really about getting data scientists, health care professionals, and students together and stirring the pot," says event organizer
Robert White
, program manager for the Rochester Center for Health Informatics.
The day-long event affords ample time for
health care practitioners, nurses, technicianss, data experts, health policy makers, tech developers, innovators, industry professionals, and students to network and share ideas
. The hope is to
build connections
between academic and business partners that
may give rise to sustained collaborations
.
Despite the event title, attendees
won't be digging into data as much as coming up with new scientific questions and devising ways to use data to answer them
. The "deep dive" is about exploring the structure, uses, and issues in health care data analysis in depth. White says it's also a great way "to get students thinking about how they might apply what they're learning."
The event is
free for students and professionals
— including validated parking, door prizes, and a T-shirt.
Registration is required and will close November 4
. Register
here
.
The event is hosted by the Rochester Center for Health Informatics (RCHI), the Goergen Institute for Data Science, and the Clinical and Translational Science Institute.
Do you have an interesting photo or other image that helps illustrate your research? We would like to showcase it. Send a high resolution jpg or other version, along with a description of what it shows, to Bob Marcotte .
---
Patent issued for computer-based evaluation of cataract procedures
A U.S. patent has been awarded for a computer-based method developed at the University for evaluating ophthalmology residents as they practice cataract surgery procedures. Researchers say it provides more timely feedback than manual grading of wet lab videos by faculty members.
The patent is the result of a collaboration between
Jiebo Luo
, associate professor of computer science;
Yousuf Khalifa
, former associate professor of ophthalmology now at Emory University, and
Junhuan Zhu
, former PhD candidate in computer science.
The computer-based evaluation is used
in conjunction with a synthetic cornea and cataract device
that mimics human anatomy and
allows trainees to practice all the steps of cataract surgery
as part of their transition to the operating room.
For example, during the capsulorrhexis step — in which a round, concentric hole is made in the anterior capsule of the cataract using a bent needle and forceps — the computer-based evaluation uses
computer vision techniques to measure and grade the duration of the step, the spatial features of the hole, and motion stability
during the procedure.
"Comparisons of expert graders to the computer vision-based approach have demonstrated the accuracy and consistency of the computerized technique," according to the
patent
abstract.
---
Grants support further exploration of brain's waste disposal system
The lab of
Maiken Nedergaard
, the Frank P. Smith Professor of Neurosurgery and codirector of the Center for Translational Neuromedicine, has received
more than $4.5 million in new grants
to further understand
how small vessel disease and traumatic brain injury can give rise to cognitive and behavioral problems
. The funding underscores the important role the brain's waste disposal system may play in a range of neurological disorders.
Nedergaard and her colleagues first unveiled the brain's unique method of removing waste — dubbed the glymphatic system — in a paper in
Science Translational Medicine
in 2012. Since that time, the team has shown that the glymphatic system works primarily while we sleep, could be a key player in diseases like Alzheimer's, and is disrupted after traumatic brain injury.
The two new grants — $3.8 million from the National Institute of Neurological Disorders and Stroke (NINDS) and $769,000 from the Department of Defense — bring the total funding received by Nedergaard's lab to study the glymphatic system to
$13.4 million since 2012
.
The NINDS grant will
explore the role of the glymphatic system in small vessel disease (SVD)
. The brain's blood supply is delivered via a complex web of micro-vessels. Interrupted blood flow in these vessels can cause mini-strokes that often go undetected but nevertheless damage nearby brain tissue. A form of dementia can result as the mini-strokes accumulate over time.
The Department of Defense grant will examine
what occurs when the glymphatic system is disrupted
, with particular application to the
treatment of servicemen and women who experience cognitive difficulties after traumatic brain injury
. Read more
here
.
---
Grant funds ongoing evaluations of new vaccines
A 5-year, $5 million grant from the Centers for Disease Control and Prevention (CDC) will enable the University's Division of Pediatric Infectious Diseases to continue
evaluating the impact of new vaccines and new vaccine policies for children with respiratory and intestinal infections
. This is the fourth time that the Medical Center has received funding to continue its research as part of the CDC's New Vaccine Surveillance Network (NVSN).
"We were able to receive this highly competitive award because of the
recognized excellence of the work our research team performs
, as well as the
support of the families and children who participate in our research studies even during a stressful time of their illness
," said
Geoffrey A. Weinberg
, professor of pediatrics at Golisano Children's Hospital and the NVSN's primary investigator locally.
Since the inception of the NVSN in 2000, the Rochester NVSN has conducted active, population-based surveillance for hospitalizations associated with acute respiratory infection or gastroenteritis caused by a number of viruses under study, including
influenza, parainfluenza, RSV, rotavirus, and norovirus
— each of which have new pediatric preventative vaccines available now or in clinical development. The funding will allow this groundbreaking research to continue. Read more
here
.
---
Simon study sheds light on sharing feedback with employees
"While it may seem like sharing all feedback with employees is ideal,
the optimal design of well-managed communication is only partially transparent
," says
Dmitry Orlov
, assistant professor at the Simon Business School. "If information indicating a negative performance is disclosed, the worker knows he has done poorly, and offering incentives for hitting certain performance measurements can be interpreted as punishment."
Orlov is author of "Optimal Design of Internal Disclosure," which explores the design of performance evaluations and internal communication within organizations. The research determined that
messages related to good performance are shared more frequently
with employees than messages associated with bad performances.
Within organizations that use pay for performance incentives,
disclosing positive performances leads to higher productivity
and a better allocation of resources and effort. However,
bad performance messaging causes less information sharing in later evaluation periods
, making it difficult to motivate employees in the future. This can leave employees discouraged and on the hunt for a new job, all the while paying less attention to their current job.
The research builds on the principal-agent model, where performance pay is needed to motivate employees. The findings help employers understand rational biases in performance evaluations, and how information impacts decision-making.
---
Congratulations to . . .
Jill Halterman
, professor of pediatrics and chief of the Division of General Pediatrics, who has been
appointed senior associate dean for clinical research
at the Medical Center, beginning January 1. In addition to supporting community-based research and thinking about health on a broad, population level, Halterman also hopes to create a research environment where young investigators can thrive, and feels strongly about ensuring that the proper mentorship and support is available to researchers early in their careers. Read more
here
.
---
Introducing a new faculty member . . .
Edmund Lalor
joins the Departments of Biomedical Engineering and Neuroscience as an associate professor. Lalor's research centers on
how the human brain selects and encodes information from the many signals sensed in everyday life
. Combining innovative experimental design with sophisticated signal processing, he has made important contributions to
understanding how neural signatures of natural speech processing reflect the encoding of specific speech features
and how that processing is
affected by attention and visual input
. He also has developed
novel methods for decoding brain signals for use in brain-computer interfaces
and for investigating the specificity of sensory processing deficits in psychiatric and developmental disorders. He received his PhD from University College Dublin. Most recently he was an assistant professor at Trinity College Dublin. Prior to that, he was a postdoctoral research associate at University College London, Trinity College Dublin, and the Nathan Kline Institute for Psychiatric Research.
---
MIT expert to discuss liquid metal batteries for storing electricity for grids
The
Center for Energy & Environment
will host the inaugural
Alternative Energy & Fluid Mixing seminar
at 7 p.m. Thursday, October 20, in Goergen 101. In a presentation intended for a general audience,
Donald R. Sadoway
, the John F. Elliott Professor of Materials Chemistry in the Department of Materials Science and Engineering at MIT, will
describe his work leading the development of liquid metal batteries, a new technology for storing large amounts of energy on electrical grids
. The seminar series is financially supported by the National Science Foundation and co-sponsored by
Mothers Out Front
, a local nonprofit. All are welcome. Sadoway will also give a scientific talk at 1:30 p.m., Friday, October 21, in Hopeman 224. For more information about either talk, contact
Jennifer Steward
.
---
Symposium focuses on new Pathways Discovery core
"Pathways Discovery Resource High-Throughput Screening Mini-Symposium," sponsored by the Center for AIDS Research from 1 to 3:30 p.m. October 24, will feature guest speaker
Sara Cherry
, University of Pennsylvania School of Medicine. She will discuss "Using functional genomics to reveal new targets for antiviral therapeutics."
The symposium, which will be held in CEL 2-7536, will
focus on the new University core facility for Pathways Discovery
. Featured presentations will include:
1. "Identification and targeting host genes that modulates viral replication,"
Jian Zhu
, assistant professor of microbiology and immunology.
2. "Unbiased drug discovery and drug repurposing in the treatment of lysosomal storage disorders,"
Chris Folts
, postdoctoral associate in biomedical genetics.
3. "Targeting the myofibroblast with small molecules,"
Eric Small
, assistant professor of medicine, Aab Cardiovascular Research Institute.
View the flyer at the Center for AIDS Research
Events page
for more information.
---
Fellowships bring humanities into public realm
Any University graduate student with a
humanities-oriented proposal
is eligible to apply for
Graduate Student Public Humanities Fellowships
, cosponsored by a statewide consortium of Humanities Centers and the New York Council for the Humanities, with funding from the Andrew W. Mellon Foundation.
The fellowships sponsor projects that bring humanities scholarship into the public realm by:
1. Encouraging emerging humanities scholars to conceive of their work in relation to the public sphere.
2. Developing scholars' skills for doing public work.
3. Strengthening the public humanities community in New York State.
Fellows develop a plan to implement a public humanities project and work with community partners.
Fellowships carry a stipend of $8,000
and involve attendance at an orientation and two workshops run by the New York Council for the Humanities.
For more information and to apply, click
here
.
The deadline for applications is February 17, 2017.
---
Applicants sought for Incubator Program
Incubator Program awards of up to
$125,000 per year for each of two years
foster extramurally funded, nationally recognized interdisciplinary research
collaborations in biomedical research
that have the
potential to generate new strategic directions
for the School of Medicine and Dentistry and the University.
The school's Scientific Advisory Committee has announced the 2016 request for applications. Proposals should include two or more sub-projects linked by a scientific theme, with faculty PIs for each project. The award is for projects beginning July 1, 2017.
Initial abstracts are due November 14
. Click
here
for more details. Contact
Anne Reed
for more information.
---
New policies on clinical trials explained at CTSI blog
Newly expanded legal policies from the U.S. Department of Health and Human Services and National Institutes of Health affect
registering and reporting results of clnical trials
as well as funding and training. The new policies
will apply to many clinical trials that were not previously under any formal obligations
. An
article
at the CTSI Stories blog outlines the changes.
A town hall meeting will be held noon to 1 p.m., October 27, Class of '62 Auditorium (Medical Center, G-9425)
to clarify details of the policies and answer any questions.
---
PhD dissertation defenses
Madeline Sofia
, Microbiology and Immunology, "Coordinated Regulation of Virulence, Motility, Biofilm and Stress Response Phenotypes in Type Three Secretion System Positive Vibrio cholerae." 2 p.m., Oct. 13, 2016. K-307 (3-6408). Advisor: Michelle Dziejman.
Molly Jaynes
, Translational Biomedical Science, "Motor Sequence Performance and Pattern Awareness: Impact of Dystonia." 9 a.m., Oct. 10, 2016. Helen Wood Hall Auditorium (1W-304). Advisor: Jonathan Mink.
---
Mark your calendar
Oct. 10:
5 p.m. deadline to indicate intent to apply for the CTSI Career Development Program (KL2 Scholars Program). Email
Katie Libby
. Click
here
for the full RFA. Full applications are due Nov. 11.
Oct. 11-13:
"Symposium on Maladaptive Behaviors: Why We Make Bad Choices." Memorial Art Gallery. Keynote speaker: Trevor Robbins, head of pscyhology at Cambridge University. More than two dozen distinguished U.S. and international experts. Sponsored by the School of Medicine, the Ernest J. Del Monte Institute for Neuroscience, and the Silvio O. Conte Center. Click
here
to learn more.
Oct. 13:
Phelps Colloquium: Stephen Uebbing, professor of educational leadership at the Warner School, presents "East Rising: An Intervention in a Struggling Urban School." 4 p.m., Eisenberg Rotunda. For more information or to RSVP, contact Adele Coelho at 273-2571 or at
adele.coelho@rochester.edu
. Register online
here
.
Oct. 13:
"FDA Inspections: Real Experiences and Lessons Learned." A panel of presenters will discuss how to prepare for an FDA inspection, with descriptions of real-life research experiences and aspects of medical device inspections. Sponsored by Study Coordinators Organization for Research and Education (SCORE). Noon to 1 p.m., Medical Center Room 2-7520. Feel free to bring lunch.
Oct. 17:
Preproposals due for Technology Development Fund awards. Click
here
for details.
Oct. 19:
"Dramas of Otherness: 'First Contact' Tourism in New Guinea," by Rupert Stasch, University of Cambridge. Lewis Henry Morgan Lecture. 7 p.m., Lander Auditorium, Hutchison Hall. Sponsored by Department of Anthropology and cosponsored by the Humanities Project. For more information, call (585) 275-8614 or email
c.fishgold@rochester.edu
.
Oct. 20-21:
Donald R. Sadoway of MIT discusses his work on liquid metal batteries, a new technology for storing large amounts of energy on electrical grids. Presentation for general audience at 7 p.m., Oct. 20, Goergen 101. Scientific talk at 1:30 p.m., Oct. 21, in Hopeman 224. All are welcome. For more information about either talk, contact
Jennifer Steward
. Hosted by Center for Energy & Environment.
Oct. 21:
5 p.m. deadline to apply for Program of Excellence Awards of up to $50,000 each from the Center for AIDS Research, for collaborative projects involving co-PIs from the School of Nursing and from the School of Medicine and Dentistry. Click here for the
full pilot announcement
.
Oct. 24:
"Pathways Discovery Resource High-Throughput Screening Mini-Symposium," sponsored by the Center for AIDS Research. Guest speaker Sara Cherry, University of Pennsylvania School of Medicine. 1 to 3:30 p.m., CEL 2-7536. View the flyer at the Center for AIDS Research
Events page
for more information.
Oct. 27:
CTSI town hall meeting on new federal requirements for clinical trials. Hosted by Carrie Dykes. Noon to 1 p.m. Class of '62 Auditorium (Medical Center, G-9425).
Oct. 31:
Applications due for awards from Health Sciences Center for Computational Innovation. Awards are for short-term, early-phase work by lab staff to allow investigators to translate their ideas into computer code or models, and to get new biocomputational and health­related scientific projects up and running. Click
here
to view the full RFA.
Nov. 1:
Deadline to apply for a CTSI Population Health Research Postdoctoral Fellowship. Click
here
for more information and application instructions.
Nov. 3:
Phelps Colloquium: Alexander Pena, instructor with Eastman Community Music School and director of ROCmusic, presents "Transforming our At-Risk Community through the Power of Music." 4 p.m., Max of Eastman Place. For more information or to RSVP, contact Adele Coelho at 273-2571 or at
adele.coelho@rochester.edu
.
Nov. 14:
Initial abstracts due for Incubator Program awards of up to $125,000 per year for each of two years to foster interdisciplinary research collaborations in biomedical research, through Scientific Advisory Commmittee of the School of Medicine and Dentistry. Click
here
for more details. Contact
Anne Reed
for more information.
Please send suggestions and comments to Bob Marcotte. You can see back issues of Research Connections, an index of people and departments linked to those issues, and a chronological listing of PhD dissertation defenses since April 2014, by discipline.