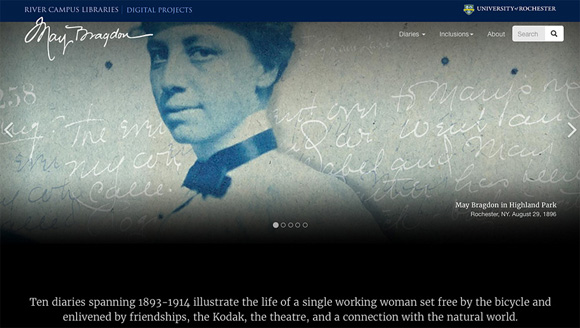 Diaries written by May Bragdon, sister of noted architect Claude Bragdon, have been put online by the River Campus Libraries.
May Bragdon's diaries – now online – reveal
much about women, Rochester at turn of 20th century
May Bragdon didn't have access to Facebook, Instagram, or Twitter, but the diaries she wrote from 1893 to 1914 include many of the same compelling visual elements — photos of May and her friends, for example, riding their bicycles in high puff sleeves, skirts and hats.
May, the sister of famed architect Claude Bragdon,
pasted photographs, newspaper clippings, theater programs, correspondence, and other "inclusions" on top of her diary entries
. As many as 14 items per page, and some 3,200 across the 10 volumes. Researchers literally had to lift the layers of overlapping material in order to read the writing underneath.
The diaries are a
richly revealing chronology of an "ordinary" woman's life at a time of major social change
— especially for women. "May was not politically active," says
Andrea Reithmayr
, a rare books and special collections librarian and curator of the Bragdon Family Papers. "However, through, for example, her descriptions of bicycle riding — in itself a liberating activity for women — or her accounts of gender inequality in the office, you can see the impact that Susan B. Anthony and others were having on so-called ordinary women." (Read more
here
.)
In order
to safely provide increased access to the fragile documents, it was important to put them online
. However,
translating the diaries' scrapbook-like construction to a flat screen posed immense challenges
for the team of University Libraries staff, led by Reithmayr, who have
published a transcribed and annotated digital edition
of the 10 volumes as a resource for women's history, most broadly, and for Rochester history in particular.
"
We had to do a lot of custom development
in order to retain the physical context of the diaries while also taking advantage of the digital environment." says
Adam Traub
, director of the Information Discovery Team, which is charged with developing tools and interfaces to expose the River Campus Library's resources to the University community and the outside world.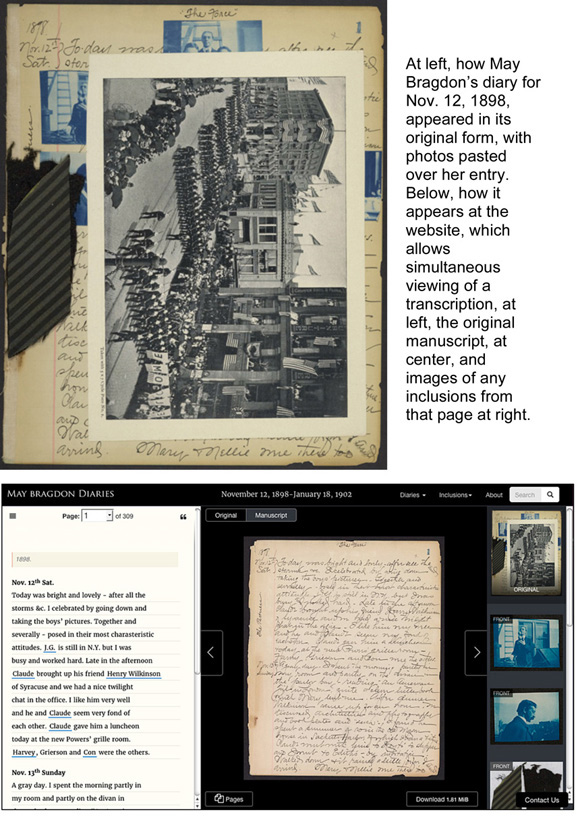 Even before the website was developed,
all 3,100 pages of the diaries first had to be imaged with the inclusions still attached
. The effort documented how the pages looked originally. Then, each of 3,200 inclusions was removed by a conservator and
the unobstructed pages of writing and all the attendant items were imaged separately
.
After transcription by a vendor,
a graduate student tagged people, places, dates, and things using standards of the Text Encoding Initiative (TEI)
, a consortium which collectively develops and maintains a standard for the representation of texts in digital form. More than 500 entities central to May's life were researched to provide background information to orient readers wherever they might join the narrative. This presented a whole new set of challenges: May had many friends who shared the same first name and who appear repeatedly in the diary without last names. Disambiguating one Edith, Charlotte, Mary, or Henry from another could only be done by a human being.
"Thank goodness there is only one Claude in May's circle!" Reithmayr joked.
The project, which
began with an anonymous donation in 2011, has taken five years to reach fruition
, during which team members have spent hundreds of hours immersed in what Reithmayr affectionately refers to as "May land."
"It was not possible for me or other members of the team to do all of the research that is possible with these diaries," she says. Nor did they want to. "What we wanted in the end was to be able to say 'Look at this amazing resource!'
We really hope that our faculty and students will be able to use these diaries in their teaching and learning
, to apply some of the research projects that we can imagine — and many that we can't."
To read the diaries, go to
https://maybragdon.lib.rochester.edu/
Readers are strongly encouraged to share their feedback. What avenues of research are you pursuing with the diaries? Can't find what you're looking for? Contact
andrear@library.rochester.edu
or just click "contact us" at the bottom of each page.
(Next: May, Diana and the emancipation that comes with "flying freely.")
Do you have an interesting photo or other image that helps illustrate your research? We would like to showcase it. Send a high resolution jpg or other version, along with a description of what it shows, to Bob Marcotte .
---
Neutrinos may be answer to particle physics puzzle
Energy in the early universe was transformed into equal parts of matter and antimatter. Barring anything else, those equal parts should have destroyed each other and left us with no matter with which to make stars and planets. So physicists reason that something must have broken the matter-antimatter symmetry in the early universe.
The puzzle of how the matter-antimatter symmetry was broken is one of the great questions that particle physicists are trying to answer
. Earlier this month, at an international conference on high energy physics,
Konosuke (Ko) Iwamoto
, a PhD student in physics, presented results from the Japan-based T2K neutrino experiment collaboration
suggesting that the matter-antimatter symmetry may have been broken by neutrinos
.
T2K's experiments show that neutrinos and antineutrinos behave differently. The imbalance may have disrupted the matter/antimatter balance. Though the results are not conclusive — there is a 1-in-20 chance that their results are a fluke — physicists are excited about the findings. Further data gathering from T2K and other experiments is underway.
Kevin McFarland
and
Steven Manly
, professors of physics, lead the Rochester neutrino group on T2K. Members of the collaboration recently shared the
2016 Breakthrough Prize in Fundamental Physics
"for the fundamental discovery and exploration of neutrino oscillations, revealing a new frontier beyond, and possibly far beyond, the standard model of particle physics." Read more
here
.
---
Obesity often overlooked by medical providers
Many medical providers fail to diagnose obesity in their patients and
miss an opportunity to identify an important component of long-term health
, according to a Medical Center study published in the
Journal of Community Health
.
Among patients whose body mass index (BMI) indicated obesity, providers diagnosed and documented obesity in less than a quarter of office visits with children, and less than half for adolescents and adults, researchers found. The study further found that
patients living in less educated communities were even less likely to receive an accurate diagnosis
.
"As a medical community, we can't effectively manage obesity until we are identifying it properly in our patients," says
Robert J. Fortuna
, assistant professor of medicine and one of the study's authors. "By not accurately diagnosing obesity, we are missing the opportunity to influence the trajectory of our patients' health over the course of their lives."
Using data from the National Center for Health Statistics,
researchers looked at records from 885,291,770 medical office visits for adults and children from 2006 to 2010
. Of the visits where a BMI measurement suggested obesity, the diagnosis of obesity was made in only 23.4 percent of children ages 5 to 12 years, and 39.7 percent of adolescents (ages 13 to 21 years). Rates of diagnosis were highest for young adults (ages 22 to 34) at 45.4 percent, and adults ages 35 to 64 at 43.9 percent. Adults age 65 and older were diagnosed as obese 39.6 percent of the time.
Obesity was more likely to be identified in females and in people who live in areas with a higher percentage of college-educated adults.
Read more
here
.
---
Study to explore how stress between parents affects parenting
Estimates suggest that 20 to 40 percent of parents who live together experience significant levels of distress in their relationships. And research shows that
when parents have difficulties in their relationship it affects parenting
. Mt. Hope Family Center researchers
Melissa Sturge-Apple
, associate professor of psychology, and
Patrick Davies
, professor of psychology, will
explore why that happens with a $2.9 million grant
from the National Institute of Child Health and Human Development. The grant will fund research to identify how conflict between parents spills over to influence interactions within the parent-child system.
"Conflict between partners is a normal occurrence in relationships, but conflicts that are overly aggressive, hostile, and prolonged make it more difficult for partners to be effective parents" says Sturge-Apple, who also serves as the dean of graduate studies in Arts, Sciences &amp. Engineering. "
If we can begin to understand why this happens, then we may have new avenues for interventions
helping families experiencing problems."
The investigation will be conducted at the Mt. Hope Family Center, which has a track record of supporting multifaceted longitudinal studies of high-risk families. The study will focus on parents and their three- to four-year-old children over a three-year period. According to Davies, "
Early childhood is a critical stage for understanding how couple relationship conflict trickles down to impact parenting
and ultimately family and child functioning."
---
Project aims to improve diversity in cancer clinical trials
Medical Center researchers are collaborating with researchers at Xavier University to improve diversity in cancer clinical trials. The group
hopes to enhance researchers' cultural competency while educating underrepresented populations about the importance of participating in clinical trials
.
Matthew Asare
, a research assistant professor, and
Charles Kamen
, an assistant professor, both members of the Department of Surgery's Cancer Control program, have
developed educational materials to help researchers better understand and engage underrepresented populations
. With a standardized curriculum and educational brochures they hope to
motivate clinical coordinators, who recruit clinical trial participants, to build relationships with the community and gain their trust
. Click
here
to read more about this collaborative project in the CTSI Stories blog.
---
Introducing a new faculty member . . .
Jaime Cardenas
has joined the Institute of Optics as an assistant professor. Cardenas will form a research group to
focus on next-generation photonic devices integrated on a chip using novel 2-D materials
. The group will work on
technological problems that prevent integrated photonics from becoming mainstream in consumer applications
and
enabling integrated photonics to enhance scientific discovery
in fields such as astronomy, biomedicine, sensing, and quantum communications. Prior to joining the University, Cardenas was a research scientist at Columbia University. He also worked in the Cornell Nanophotonics Group, beginning in 2007, with research in integrated photonics, silicon photonics, and materials for photonics. He received his PhD from the University of Alabama, Huntsville.
---
Symposium examines persistent, maladaptive behaviors
Registration is open for a three-day symposium on "Persistent, Maladaptive Behaviors: Why We Make Bad Choices," Oct. 11-13, at the Memorial Art Gallery.
More than two dozen
U.S. and international scientists
with a specific focus on the fundamental elements that drive basic research will be brought together
to provide potential opportunities for new therapeutic inventions for different psychiatric disorders including addiction
.
Keynote speaker will be Trevor Robbins
, head of pscyhology at Cambridge University.
The conference is sponsored by the School of Medicine, the Ernest J. Del Monte Institute for Neuroscience, and the Silvio O. Conte Center. For more details and to register please click
here
. Questions? Contact
victoria_dagostino@urmc.rochester.edu
---
Center for AIDS Research symposium is Sept. 30
"Community and Research Partnering to End the Epidemic," the 2016 Center for AIDS Research Scientific Symposium, will bring together scientists and community partners to share how they can collaborate to end the epidemic.
The symposium will be held from 8 a.m. to noon, Friday, Sept. 30, in the Class of '62 Auditorium. Click
here
for more information.
---
CTSI seeks candidates for population health postdoctoral fellowship
The Clinical and Translational Science Institute seeks candidates for a new Population Health Research Postdoctoral Fellowship. The position will
begin Jan. 1, 2017, and is fully funded for one year.
The program goal is
to produce a cadre of interdisciplinary researchers
, trained in team science and competency-based skills, who can
conceptualize research across the translational continuum
from basic research through population health.
Applications must be
received by Nov. 1
. Candidates are encouraged to apply early since a
decision may be made prior to the deadline if a strong candidate is identified
. Click
here
for more information and application instructions.
---
PhD dissertation defenses
Mohammad Razeghi Jahromi
, Electrical Engineering, "Stabilization of Networked Control Systems with Sparse Controller Networks." 10 a.m., Sept. 6, 2016. Computer Studies Building 426. Advisor: Mark Bocko.
Rabia Malik
, Political Science, "Electoral Incentives, Distributive Politics, and Tax Evasion in Pakistan." 2 p.m., Sept. 7, 2016. Harkness 113. Advisor: Gretchen Helmke.
Peter DiStefano
, Pharmacology, "Regulation of Endothelial Behavior and Vascular Function by Krev Interaction Trapped Protein 1 (KRIT1)." 11 a.m., Sept. 13, 2016. 2-6408 (K-207). Advisor: Angela Glading.
---
Mark your calendar
Sept. 7:
Reception in honor of Nick Vamivakas, recipient of 2016 Leonard Mandel Faculty Fellow Award, hosted by Department of Physics and Astronomy. 5-6 p.m., 271 Bausch and Lomb.
Sept. 8:
Graduate Research Fellowship Program workshop for potential applicants, including writing tips and a guest panel of former winners and faculty advisers. 4-6 p.m., Hawkins-Carlson Room, Rush Rhees Library. RSVP by completing this
form
.
Sept. 22-24:
Department of Neurology 50th anniversary celebration, including gala banquet, department updates, and poster and platform presentations showcasing research by current faculty, alumni, fellows, and residents. Read more
here
.
Sept. 26:
5 p.m. deadline to submit initial abstracts for pilot awards from the Clinical and Translational Science Institute in three categories:
Incubator Program
,
investigator-initiated and UNYTE
, and
novel biostatistical and epidemiologic methods
.
Sept. 29:
Identifiying journals for publication; avoiding predatory publishers. Noon to 1 p.m., Miner Classroom 1. Sign up
here
.
Sept. 30:
"Community and Research Partnering to End the Epidemic," the 2016 Center for AIDS Research Scientific Symposium, 8 a.m. to noon, Class of '62 Auditorium. Click
here
for more information.
Oct. 11-13
"Symposium on Maladaptive Behaviors: Why We Make Bad Choices." Memorial Art Gallery. Keynote speaker: Trevor Robbins, head of pscyhology at Cambridge University. More than two dozen distinguished U.S. and international experts. Sponsored by the School of Medicine, the Ernest J. Del Monte Institute for Neuroscience, and the Silvio O. Conte Center. Click
here
to learn more.
Oct. 21:
5 p.m. deadline to apply for Program of Excellence Awards of up to $50,000 each from Center for AIDS Research, for collaborative projects involving co-PIs from the School of Nursing and from the School of Medicine and Dentistry. Click here for the
full pilot announcement
.
Nov. 1:
Deadline to apply for a CTSI Population Health Research Postdoctoral Fellowship. Click
here
for more information and application instructions.
Please send suggestions and comments to Bob Marcotte. You can see back issues of Research Connections, an index of people and departments linked to those issues, and a chronological listing of PhD dissertation defenses since April 2014, by discipline.