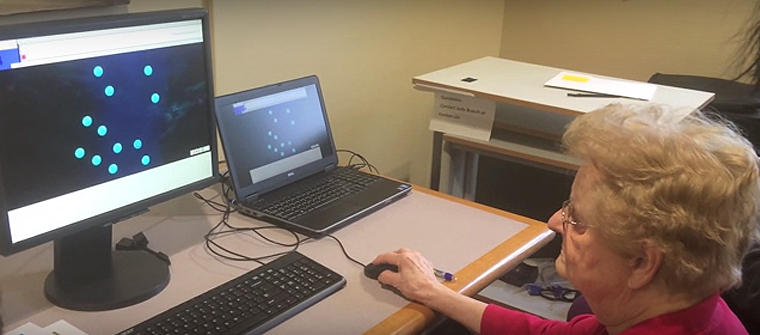 Click here to see a video in which Asst. Prof. Feng Lin describes one of the computer exercises that will be studied as a possible tool to counter cognitive decline and the development of dementia.
Can computer exercises help in battling cognitive decline and dementia?
"I'm passionate about this field of nursing research because the needs are very urgent due to our aging population," says Feng (Vankee) Lin, Assistant Professor at the School of Nursing and the Department of Psychiatry. "Computerized training could be a very promising tool that individuals and families can draw from in their fight against cognitive decline and the development of dementia."

Lin, who has received a $2 million National Institutes of Health grant, will lead a four-year study testing whether a computer-based program called vision-based speed of processing (VSOP) cognitive training can slow cognitive decline in adults at risk of developing Alzheimer's disease or other forms of dementia. VSOP cognitive training features a series of computer exercises that simulate real-world activities aimed at sharpening a person's attention and ability to process information.

Lin and her multidisciplinary team, including researchers from psychiatry, neurology, and brain and cognitive sciences, will test VSOP training in adults with mild cognitive impairment (MCI), who are more likely to develop Alzheimer's and other dementias.

Older adults with MCI are typically able to complete everyday activities, but might struggle with some independent living tasks, such as cooking or driving. Lin hopes to determine whether VSOP training could be a viable clinical tool in slowing or reversing the progression of disease for adults with MCI.

"Computerizing training can be done safely and is enjoyable, cost-effective, and flexible for patients with MCI. With this research, we will be able to shed much-needed light on whether this type of training works to improve processing speed and attention, whether that leads to sustainable change in brain function and structure, and how that impacts the broad cognitive and functional health of the brain," Lin says.

For the study, Lin and her research team are currently recruiting adults aged 60 years or older who have been clinically diagnosed with MCI. Learn more at CogTlab.com.


Do you have an interesting photo or other image that helps illustrate your research? We would like to showcase it. Send a high resolution jpg or other version, along with a description of what it shows, to bmarcotte@ur.rochester.edu.
---
Researcher examines how affinity spaces motivate teen writers
Laura, a high school senior, is passionate about writing. Her passion doesn't always get fueled in the classroom, but does on fanfiction.net, an affinity website where like-minded writers can share and critique the new chapters they've written for such popular characters and shows as Harry Potter, Breaking Bad and The Hunger Games.

For Jayne Lammers, an Assistant Professor of Teaching and Curriculum in the Warner School, Laura's example raises some important questions: What is it about these affinity spaces that motivates teens to write? And what can teachers of English learn from these sites and the teens who gravitate to them, in order to motivate young writers in their classrooms?

Lammers has studied participation in online affinity spaces for the last eight years. With doctoral candidate Valerie Marsh, for example, she has closely monitored Laura's writing at fanfiction.net — dating back to when Laura was in middle school — as an in-depth case study of one individual's use of an affinity space. The findings will appear in the next issue of the Journal of Adolescent & Adult Literacy.

With collaborators from other universities, Lammers has cast a wider net in an attempt to understand the appeal of these sites. With Sandra Abrams of St. John's University, for example, Lammers is developing a "theory of belongingness" to describe the aspects of socialization or membership that are as important in drawing young people to the sites as the actual affinity, be it writing or another interest.

With fellow researchers Alecia Magnifico (University of New Hampshire) and Jen Scott Curwood (University of Sydney), she did a linguistic analysis of the 118 reviews two young writers received from their peers after posting stories at fanfiction.net and figment.com. The reviews ranged from one word in length to 338.

Bottom line: "There's not a lot of substantive feedback in these reviews," Lammers said. "Very few identified a specific problem with the writing." In their article appearing in the current issue of Literacy, she and her co-authors argue that "the commonality of relatively thin praise under the guise of 'reviewing' in spaces like figment.com and fanfiction.net suggests that teachers' expertise is deeply needed in the difficult task of developing students' skills in writing, peer review and critique."

Despite not appearing to provide rich writing feedback, fanfiction sites do offer:

1. Easy online access to the sites, which in turn provide access to different readers and types of feedback.
2. Anonymity, which allows young writers to take greater risks than they might otherwise.
3. Established genre conventions, which means young writers don't have to put a lot of thought into creating new characters or backstory development.

Lammers and her collaborators would like to use the tools of data science to mine larger sets of data to analyze how young writers use fanfiction.net and other online affinity spaces, and how this might inform the writing instruction in traditional classrooms.

In the meantime, she and Marsh recommend that English teachers:

1. Use a student interest inventory to help students connect to networked writing spaces, such as blogs or online writing forums.
2. Design instruction that helps students become aware of the expectations and conventions within their networked writing space.
3. Help students recognize how technology connects writers with a social audience — and how this can empower young people interested in advocating for change.
4. Encourage students to use online venues as an optional way to share their classroom writing.

"Classroom literacy instruction must continue to evolve beyond a focus on 'college and career readiness,'" Lammers and Marsh write in their forthcoming article for the Journal of Adolescent & Adult Literacy. "Tapping into students' interests and connecting them to networked publics serves as but one way to make classroom writing instruction more relevant to students' lives."

---
Grant funds study of partnership with East
Joanne Larson, the Michael W. Scandling Professor of Education at the Warner School, has been awarded a $50,000 grant to study the early stages of the University's collaborative effort to help revitalize Rochester's historic East High School.

The award from the Spencer Foundation will support Larson's work in examining the role of literacy in the first year of the East Educational Partnership Organization (EPO) transformation process. The study will uncover how larger structures of inequality influence the new partnership and its ability to transform education and social outcomes.

"We anticipate that this new university-school partnership has the potential to become a model for urban school reform, making it even more important to understand the challenges — like poverty, racial tensions, inequities, and deficit discourses about urban students and their families — that are impacting school participation and graduation rates in Rochester schools and schools across the nation," said Larson, the principal investigator on the study. "Our research will tell the story of this unique partnership — from beginning to end — with a focus on the critical first year of the transformation process."

Using an ethnographic approach that includes field notes, interviews, documents, and school demographic and achievement data, the study will allow Larson and her team to document how power relationships between students and their families, teachers, staff, and administrators develop and shift over the course of the urban school reform effort. Read more...

---
Introducing a new faculty member
Ronni Pavan recently joined the Department of Economics as an associate professor. His research focuses on labor economics and urban economics. In a series of papers, Pavan has documented the causes for the wage premium observed in large cities relative to small ones and has analyzed the impact of city size on income inequality. In a separate line of work, Pavan has been studying the interplay of human capital, in particular its acquisition through education and income. Pavan has published a number of articles in top journals and is an associate editor for the European Economic Review. Pavan is a fellow with the Rimini Center for Economic Analysis in Italy, serves on the program committee for Royal Economic Society meetings, and has been invited to give presentations around the world. Pavan earned his MA and PhD from the University of Chicago in 2002 and 2005, respectively. Pavan was a faculty member at the Department of Economics here from 2005 to 2013, at which time he left to join Royal Holloway, University of London.

---
UR research in the news
U.S. Patent No. 8,642,660 — "Method for altering the lifespan of a eukaryotic organisms," by David Goldfarb, Professor of Biology — is the most-cited discovery to emerge from academic research in recent years, according to an analysis performed by Reuters and its sister company Thomson Reuters IP & Science. The patent centers on a single-celled yeast strain closely related to the microbes used in brewing and baking, and could one day lead to treatments for Parkinson's and Alzheimer's, slow down aging, or even extend life expectancy, Reuters reports. As part of its ranking of the World's Most Innovative Universities, Reuters looked at tens of thousands of patents filed by researchers at global universities, and counted every time a filing cited other patents as prior art. The results showed more scientists who say Goldfarb's research influenced their work more than any other recent discovery — 108 citations since the patent was initially filed on Nov. 17, 2010. Read more . . .

James J. Kobie, an Assistant Professor of Medicine, Infectious Diseases, has received $3.1 million in two grants from the National Institutes of Health to test novel approaches to prevent HIV, the virus that causes AIDS. For example, most vaccines spur the body to produce T cells — immune cells that attack foreign invaders like viruses. However, HIV directly infects these helper T cells. Stimulating the body to produce additional T cells could create more targets for the virus. Kobie's vaccine approach focuses on a different type of immune cell: B cells, which produce antibodies that latch onto intruders, inhibit their ability to function and mark them for destruction. Typically, B cells rely on T cells to help them make antibodies. Kobie thinks that prodding B cells to produce antibodies without T cell help will encourage the body to reject the HIV virus while avoiding the creation of excessive T cells that the virus thrives on. The NIH awarded $2.7 million for this research, which will be led by Kobie and conducted by his laboratory in partnership with scientists from the Oregon Health and Science University. Kobie's second NIH grant, for $400,000, will take advantage of research already underway at the University's HIV Vaccine Trials Network site, and will involve testing HIV-specific antibodies in tissue from the mouth and rectum, where the HIV virus typically enters the body. Read more . . .

Extremely premature babies considered to be on the cusp of viability are much more likely to survive and evade illness today than they were 20 years ago, likely due to improvements in medical treatments for these babies and their mothers, according to a study published in the Journal of the American Medical Association. The study, conducted between 1993 and 2012, included nearly 1,100 infants from Rochester, Buffalo and surrounding areas. It found increases in survival rates of infants born 23 or 24 weeks into a pregnancy. While babies born at this early stage of pregnancy still have many health problems after birth, babies born as little as a one week later (between 25 and 28 weeks) experienced a decrease in several illnesses that typically occur in extremely premature infants. The continuing improvement in survival among the least mature infants may be due, in part, to the significant increase in the use of corticosteroids to speed up lung development in the fetuses of mothers at risk of delivering early. "We have come a long way, but still have a journey ahead of us," says Carl D'Angio, a study author and Professor of Pediatrics and Medical Humanities & Bioethics. Though the numbers are improving, infants born before 27 weeks of pregnancy who survive without major illness are still the minority. D'Angio, who treats premature infants at Golisano Children's Hospital, is the principal investigator of a combined University of Rochester-University at Buffalo research site that enrolled patients in the study. Read more. . .

---
Congratulations to . . .
Duncan Moore, the Rudolf and Hilda Kingslake Professor in Optical Engineering Science, who has received the 2014 Leadership Award from Rochester Regional Photonics Cluster for working with fellow members and the community to promote the Rochester region's optics, photonics and imaging industry.

---
PhD dissertation defenses
Ravi Patel, Electrical Engineering, "Memristive Circuits for On-Chip Memories." 12:30 p.m., Oct. 1, 2015, Computer Studies Building 426. Advisor: Eby Friedman.

Yang Zhao, Chemistry, "Nickel-Catalyzed Reductive Coupling of Epoxides and Aziridines." 12:30 p.m., Oct. 2, 2015, 473 Hutchison. Advisor: Daniel Weix.

Jeremy Wolcott, Physics, "Measurement of the Charged-Current Quasi-Elastic Cross-Section for Electron Neutrinos on a Hydrocarbon Target." 9 a.m., Oct. 9, 2015, Meliora 366. Advisor: Steven Manly.

---
Mark your calendar
Sept. 29: Working with FDA to better understand generic drug equivalence, Michael Berg, Professor of Neurology. CTSI seminar series. Noon to 1 p.m., Helen Wood Hall Auditorium (1W-304).

Sept. 30: Industry Consulting: Part One, Karl Kieburtz, CTSI director. Noon to 1 p.m., Helen Wood Hall Auditorium (1-304). Part of the series on Good Advice: Case Studies in Clinical Research, Regulation, and the Law.

Oct. 2: Applications due for a $30,000 award and a $15,000 award from the Lung Biology Strategic Plan for a high-risk project related to lung biology or disease or a nanosight technology-focused project using NS300 technology. Email Richard Phipps or Rebecca Trautman for more information. Click here to see the full RFP.

Oct. 13: "The Promise and Pitfalls of Biomedical Prevention," Sarit Golub, Professor of Psychology at the City University of New York, Hunter College HIV/AIDS Research Team. Sponsored by The Center for AIDS Research (CFAR). 3-3:50 p.m., Helen Wood Hall Auditorium. Reception/mixer to follow with food, beverages, and live music; please RSVP to attend the Mixer: Laura Enders

Oct. 15: Applications due no later than 5 p.m. for CFAR RNA Pilot Announcement. Click here for details.

Oct. 15-16: NIH Regional Seminar on Program Funding and Grants Administration, San Diego, CA. Click here for more information and registration.

Oct. 16: Pre-proposals due for Technology Development Fund awards of up to $1000,000 to advance projects to a commercial endpoint. A submitted invention disclosure to UR Ventures is required for an application. Pre-proposals can be submitted to Omar Bakht. Read more...

Oct. 20: Industry Consulting: The Contract, Karl Keiburtz and Karen Rabinowitz, Noon to 1 p.m., Helen Wood Hall Auditorium, 1w304. Part of CTSI Skill-Building Workshop series on Good Advice: Case Studies in Clinical Research, Regulation, and the Law.

Oct. 21: Industry Consulting: Part Two. Karl Keiburtz and Karen Rabinowitz, Noon to 1 p.m., Helen Wood Hall Auditorium, 1w304. Part of CTSI Skill-Building Workshop series on Good Advice: Case Studies in Clinical Research, Regulation, and the Law.

Oct. 22: Applications due no later than 5 p.m. for CFAR Major Collaborative Pilot Announcement. Click here for details.

Oct. 26: The tension between hybridization and reproductive isolation, Daniel Garrigan, Assistant Professor of Biology. Department of Biology Donut Talk. Noon to 1 p.m., Lander Auditorium - Hutchison 140.

Oct. 30: Applications due no later than 5 p.m. for CFAR Joint Funding Opportunity in HIV/AIDS through SMD, SON and Program Of Excellence. Click here for details.

Nov. 2: Initial abstracts due for applications for funding from Medical Center Incubator Program. Details and application instructions are available here.

---
Please send suggestions and comments to Bob Marcotte. You can see back issues of Research Connections, an index of people and departments linked to those issues, and a chronological listing of PhD dissertation defenses since April 2014, by discipline.