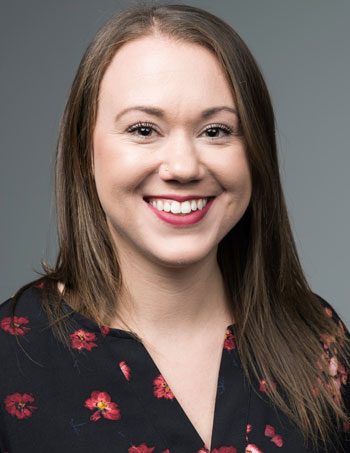 If you're among the many visitors, students, faculty, and staff that stop by the first floor of Wallis Hall, you'll likely run into one of the friendliest employees at the University of Rochester: Chelsea Rybak.
Rybak is a Senior Admissions Counselor in the Office of Undergraduate Admissions. Rybak started at the University in 2017 as a Graduate Program Coordinator in the Department of Biomedical Genetics at the medical center. She's been a member of the board of Emerging Leaders since 2019.
The most rewarding part of Rybak's current position in Admissions is helping students and their families navigate the college process and providing guidance and encouragement to make their college decisions. As a first-generation college student herself, she didn't always understand her options and didn't know where to turn for answers. She now helps others plot a path through this important time in their lives.
Rybak notes that she also especially appreciates when students she met during the recruitment process enroll and then find success at Rochester and beyond.
When she's not working, Rybak is happiest in the company of her cuddly Rhodesian Ridgeback Watson and her husband. The whole family enjoys playing strategy-based board games and ultimate frisbee together in their spare time.