Beyond Words: Kenneth Patchen's Vibrant Designs Fuse Poetry and Image
On Sept. 22, the University of Rochester opens the largest ever exhibition of the graphic art of Kenneth Patchen, the controversial 20th century poet-painter who pioneered the anti-novel, concrete poetry, poetry-jazz, and picture-poems.
Held during the centennial of Patchen's birth, the exhibit presents a striking collection of more than 200 painted books, silk-screen broadsides, picture poems, paintings, photographs and inscribed first editions. The show pays tribute to a prolific artist whose work gained widespread attention and whose readings of poetry accompanied with jazz were a phenomenon in the 1950s.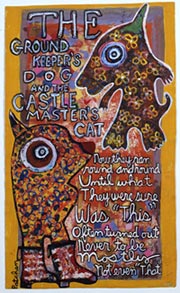 PHOTO GALLERY: An Astonished Eye: The Art of Kenneth Patchen
"Patchen blurred the boundary between print and art," says exhibit curator Richard Peek, director of Rare Books and Special Collections at the University of Rochester. Though first and foremost a poet, he adopted the idea of the "total artist," extending his creative process to include printing, book binding, and design, says Peek. Whether in text or image, Patchen's work was infused with a "strong moral voice driven by a wild imagination," Peek says.
Infuriating to critics and largely ignored by academics, Patchen nevertheless has been lauded as "the best poet American literary expressionism can show" by Poet Laureate James Dickey and as "all that a poet should represent" by novelist and painter Henry Miller. His boosters, including James Laughlin, Kenneth Rexroth, and E.E. Cummings, "would constitute a Who's Who in 20th century American letters," writes Peek in the catalog to the show.
Patchen writings, published from the 1930s until his death in 1972, have been labeled as Romantic, Proletarian, Socialist, Surrealist, Dadaist, and Beat, but his work ultimately defies categorization. Of his dozens of books, the anti-war novel The Journal of Albion, completed just as the United States would enter World War II, is considered a landmark of experimental literature and has remained in print ever since.
As a visual artist, Patchen is remembered for his ambitious experiments with typography and collage, his painted books, abstract paintings, painted poems, and drawings.
His pioneering "poetry-jazz," in which he fit his free-form verse with the fusion of West Coast "cool" and East Coast "hot" jazz, attracted a solid following in the 1950s. As a performing artist, he toured widely, if briefly, and recorded with jazz greats Ally Ferguson, Alan Neil, and Charlie Mingus. His poetry has inspired new works from more than 40 composers, including Eastman School of Music graduate John Hollenbeck, '90, '91 (MA), whose new CD based on Patchen's poetry, What Is the Beautiful?, was commissioned for the exhibit. (Listen to a tract from the CD: http://www.cuneiformrecords.com/realaudio/Claudia_Job.mp3)
Patchen's was an unconventional life, one committed to art, social justice, pacifism, and to his wife and muse Miriam, to whom he dedicated all of his books and love poems. But it also was marred by a back injury at age 26, complications of which eventually left him bedridden and poverty-stricken during the last dozen years of his life.
It was during this painful period that co-curator Jonathan Clark, then a teenager and neighbor in Palo Alto, came to know and form a lasting relationship with the artist and his wife. Since then, Clark, himself an artisan printer, has worked to preserve the Patchen legacy, helping to establish the Patchen archive at the University of California at Santa Cruz and providing much of the material for this exhibit from his private collection.
On Sept. 22, Clark will open the show with a talk titled "Extending the Medium of Words: The Graphic Art of Kenneth Patchen". Part of the Neilly Lecture Series, the event is scheduled for 7:30 p.m. in the Hawkins-Carlson Room of Rush Rhees Library. A reception will follow.
The exhibit is located in Rare Books and Special Collections in Rush Rhees Library on the University's River Campus. Hours are Monday through Friday 9 a.m. to 5 p.m. and Saturday 11 a.m. to 3 p.m. The exhibit runs through Jan. 5, 2012. For questions, call: (585) 275-4477.