From University of Rochester Undergrad to Korean Reality TV Star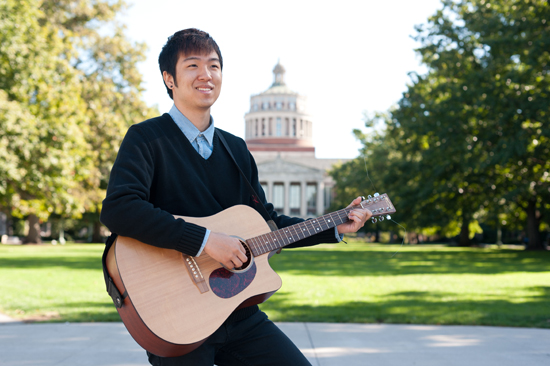 Rochester Student to Appear on American Idol-style Competition
This fall, University of Rochester student Brian Shin '15 will head to Korea to compete on KPop Star, an American Idol-style reality television competition. Chosen from a pool of nearly 400 people during auditions in New York City, Shin charmed producers with acoustic guitar renditions of Cold Play's Viva La Vida and Psy's Gangnam Style.
After making it past the first round of auditions in New York, producers from the hit reality TV show traveled to the University to capture a slice of Shin's life on campus. While here, they shot footage of a student flash mob dancing to Gangnam Style in front of Rush Rhees Library. Liking what they saw, producers granted Shin with an invitation to compete on the show.
Video: UR Gangnam Style Flash Mob
"The auditions were the most nerve-racking experience of my life," Shin recalls, noting he received the call from producers while on the bus back to Rochester. "I was excited and honored that the producers wanted to film at my campus."
Like many reality competition shows, KPop Star includes a panel of judges ready to critique or praise contestants. But unlike American shows that include celebrity panelists, KPop Star chooses judges that are executives from Korea's three largest record labels, SM, YG, and JYP. Contestants sing or dance, hoping to land a coveted contract with one of the labels. In the show's first season, contests were drawn only from Korea, but this year, the show held auditions in New York City, Los Angeles, London, and Sydney, among other major cities around the world. Shin will head to Korea in October for filming.
Shin, a native of Temecula, Calif., is studying international relations and Asian studies at Rochester. In addition to his interests in music, he is a member of the 2015 Class Council, Korean American Students Association, and Liberty in North Korea student organization.