Nancy Fried Foster Awarded the Messinger Award For Research on Library Culture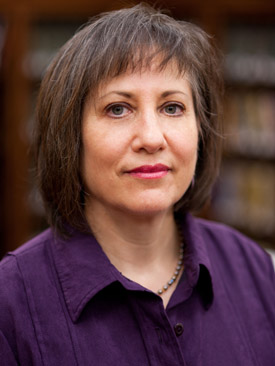 For nearly a decade Nancy Fried Foster's anthropological studies of library culture have helped the University of Rochester and other institutions in the United States and abroad better understand and serve their library patrons. In recognition of her innovative methods and influence, Foster will receive the Martin E. Messinger Libraries Recognition Award for 2012. The annual award, created and funded by University life trustee Martin Messinger '49 in 2007, includes a $5,000 prize.
"Because of Nancy, librarians have a deeper understanding of how students and faculty think about and do their academic work and how they want to use the library," explains longtime colleague Judi Briden, digital librarian for public services. That knowledge, says Briden, has "become part of our culture."
Those contributions and her service to librarians and patrons alike are "above and beyond what is expected of libraries staff," adds Mary Ann Mavrinac, Vice Provost and Andrew H. and Janet Dayton Neilly Dean of River Campus Libraries.
As director of anthropological research for River Campus Libraries, Foster has focused on how people use the library and perform research. She is particularly interested in how patrons use information technology both in and out of the library. In 2005, Foster helped to establish UR Research, a customized online repository that allows faculty members, researchers, and graduate students to create personalized researcher pages and post work online. Foster also is part of the leadership team for Rochester's eXtensible Catalog (XC), an open source, user-centered software that connects library users to greater resources.
Foster's groundbreaking application of ethnographic tools to study how students access information at the library led to the 2007 book Studying Students: The Undergraduate Research Project at the University of Rochester, co-edited by former Rochester library dean Susan Gibbons. The book has become a bestseller in the library world and more than 50 university libraries in the United States, Europe, Africa, and the Middle East have adopted the research methods outlined in the book.
"Even though librarians have a lot of contact with students, they often don't have the kind of very fine-grained and specific information that we were able to collect," says Foster, who was the first library staff member to be employed as an anthropologist. "The library here took a chance on bringing an anthropologist in. No one else had ever done it. They gave me a great opportunity and that makes my heart sing."
Foster has been invited to share these methods with other institutions through workshop and talks. Recently, she traveled to Prague, Beirut, and Dubai to give workshops on participatory design of software and spaces for the Council on Library and Information Resources and the American International Consortium of Academic Libraries. In participatory design, designers, developers, and users collaborate from the earliest stages of conception through to the implementation of websites and other technology.
Foster holds a doctorate in anthropology from Columbia University, a diploma in social anthropology from Oxford University, a master's in anthropology and education from Columbia and a bachelor's in medieval studies from Barnard College. Before joining the library in 2003, Foster conducted research in small indigenous communities in Brazil and Papua New Guinea as well as in educational, commercial, and not-for-profit organizations in the United States and England.
The annual Messinger Award honors contributions that advance the educational mission of the library or the library profession. Previous Messinger Awardees include Judi Briden, digital librarian for public services (2011); Cynthia Carlton, department head for River Campus Libraries Applications Group (2010); and Ann Marshall, subject librarian for political science (2009).
A longtime supporter of the libraries, Martin E. Messinger provided support for the 1998 restoration of the periodical reading room and the creation of two graduate student study rooms in 2010. Messinger and his wife Joan funded the building containing the Eastman Community Music School in 2005, which is dedicated in the memory of Messinger's mother, Anne Waltuck Messinger. The Messinger family also is a generous supporter of the Center for Jewish Studies and the Debate Union.
This release was written by Caitlin Mack '12 (T5).