EVENT: Anthony Center and Wegmans LPGA Host "Conversation with Champions"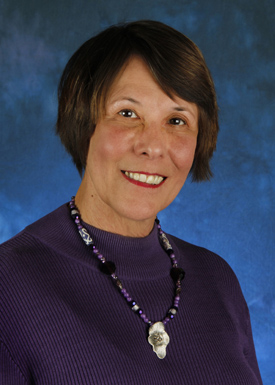 Community Volunteer Alyce Van Patten to Receive Nora Bredes Leadership Award
It was the dream of 13 women who wanted to play professional golf that led to the creation of the Ladies Professional Golf Association (LPGA). More than 60 years later, the latest generation of female golfers discuss what it takes to pursue your dreams in the field of competitive sports on Wednesday, June 5, at the 2013 Conversations with Champions event during the Wegmans LPGA Championship.
Presented by the University of Rochester's Susan B. Anthony Center for Women's Leadership and the Wegmans LPGA Championship, the annual luncheon and panel discussion features LPGA pros Morgan Pressel, Lexi Thompson, Lydia Ko, Nicole Castrale, and is moderated by Gail Graham.
At this year's event, Anthony Center director Catherine Cerulli will present community volunteer Alyce Van Patten with the Nora Bredes Leadership Award. Named in memory of the Anthony Center's former director, who passed away in 2011 after a long battle with breast cancer, the award recognizes a Rochester woman whose career, leadership, and wisdom continue to realize women's full social, political, and economic equality.
"Through her many leadership activities, Alyce provides guidance not through her words but her actions," said Cerulli. "By so generously giving her time and talent to our community and acting as a mentor to young women, she inspires others to do the same."
Throughout her 36-year career, Van Patten held multiple management positions at Xerox and ViaHealth and Affiliates. Since her retirement from corporate America, she has been tireless in her work with various community organizations.
This includes serving as president for the Zonta Rochester Foundation; president, Friendship Children's Center; PALS mentor for Breast Cancer Coalition of Rochester; board member, Women's Foundation of Genesee Valley; and co-founder of the Rochester Women's Giving Circle. In addition to these contributions she is currently board secretary for Safe Journey/Stand up Guys and a board member of the Women's Coffee Connection.
"My life would seem empty if I didn't volunteer," said Van Patten. "It's like the quote 'I choose to live life by choice not by chance'—and I choose to live it by volunteering for agencies that help women and girls."
Van Patten also is no stranger to the Wegmans LPGA Championship, having served as co-chair for player housing and registration, and as a volunteer at the event for the past 20 years. She recently was recognized by the Rochester Women's Network as a "W" award honoree for her work in the community on behalf of women.
"It brings me inner peace and joy to help someone less fortunate, and I am able to do this through my time," said Van Patten, who began her career as a medical secretary after earning a bachelor's degree in economics and management from Alfred University and a master's degree in management from Nazareth College. She currently lives in Rochester and lists her two daughters and seven grandchildren as her greatest accomplishments as well as her unofficial role as an advisor to young career women. "By mentoring you help others gain insight into the proper path to follow. And more likely than not it is an informal path that no one woman can navigate alone."
Doors open for the 2013 Conversations with Champions at 11:30 a.m. on Wednesday, June 5, inside the Summit FCU Pavilion at Locust Hill Country Club in Pittsford. Tickets, which are $50 and include admission to the tournament for the day and can be purchased online at www.wegmanslpga.org. For reservations or more information, contact the tournament office at 585.427.7100 or the Anthony Center at 585.275.8799. Proceeds from the tournament benefit the United Way's Graduation is the Goal, an effort to help children at risk of dropping out of school.