Aaron Hughes Presents Inaugural Lecture as Bernstein Professor of Jewish Studies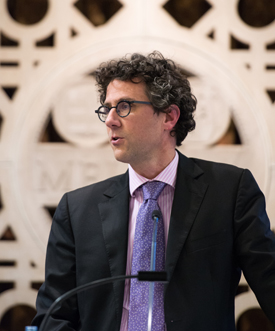 Professor Aaron Hughes, who assumed his new role as the Philip S. Bernstein Professor of Jewish Studies at the University of Rochester on July 1, described the evolution of Jewish studies at his inaugural lecture on Wednesday, Oct. 30. Hughes, a scholar of Jewish and Islamic studies, joined the faculty in the Department of Religion and Classics in fall 2012.
The Bernstein Professorship was created in 1974 by friends of Rabbi Bernstein to recognize his contributions to the local community as well as his eminence as a scholar and world leader. Bernstein served as the spiritual leader of Temple B'rith Kodesh in Rochester for nearly 50 years and played a key role in advising U.S. Army Commanders in Europe, helping to resettle European Jews after World War II.
"The Philip S. Bernstein Professorship of Jewish Studies has a notable history," said Joel Seligman, University of Rochester President. "The first holder of the Bernstein Professorship, Rabbi Abraham Karp, was appointed in 1976, when Jewish studies was gaining a foothold as an academic field. Karp, one of the foremost authorities on American Jewish history, served as Bernstein Chair until 1991. William Scott Green, who joined the faculty of what was then the program in religious studies in 1975 and later served as Dean of the College, was appointed to the Bernstein Chair after Karp's retirement. I am delighted that Aaron Hughes is the third distinguished scholar to hold this professorship."
In his lecture, Hughes defined the evolving role of a Jewish studies scholar and emphasized the distinction between religious and academic studies of Judaism. "Jewish studies then is not Jewish studies now," Hughes said. "This field of study has changed dramatically in the last 40 years—Jews are no longer considered the religious 'other'. I think its mission needs to be recast for the 21st century."
Hughes also applauded the Jewish studies curriculum at Rochester, which he says was developed largely thanks to his predecessors in the professorship, and noted that "Rabbi Bernstein would have been proud" of the advances that Rochester has made in the field. He explained that one of Bernstein's goals was to make Judaism accessible to both Jewish and non-Jewish students.
"Hughes does not see this role from the perspective of a rabbi or a religious leader, but rather as a scholar," said Larry Fine, Executive Director of the Jewish Federation of Greater Rochester, who was one of several Jewish community leaders to attend the lecture. "The university as a whole has a commitment to interfaith engagement, as well as academic studies. Based on his remarks, I expect that Hughes will encourage students to examine historical and contemporary texts and culture and also relate Jewish beliefs to their own personal belief systems."
Joanna Olmsted, dean of the School of Arts and Sciences, noted Hughes's excellence in teaching and the breadth of his scholarly contributions, including his two most recent books published this year, Muslim Identities (Columbia, 2013) and The Study of Judaism: Identity, Authenticity, Scholarship (SUNY, 2013).
"I think his energy and thoughtfulness has characterized his tenure here already," said Olmsted of Hughes. "We are delighted that Aaron has joined the faculty and has extended the history of excellence associated with the Bernstein Chair."
In the lecture's closing remarks, Edward Wierenga, chair of the Department of Religion and Classics, said "with Aaron here, a senior scholar with such broad interests, we are poised to make cutting edge contributions to scholarship, learning, and teaching encompassing 3,000 years of Jewish culture."
Hughes was educated at the University of Alberta, the Hebrew University of Jerusalem, and Oxford University. He received his Ph.D. in religious studies from Indiana University in Bloomington in 2000. Before he accepted the Bernstein Professorship at Rochester, he was the Gordon and Gretchen Gross Professor of Jewish Studies and associate director of the Institute of Jewish Thought and Heritage at the University of Buffalo.
Hughes will give a lecture titled 'Jewish Studies: At the Time of Rabbi Bernstein and Now,' during Shabbat service at Temple B'rith Kodesh in Rochester at 6 p.m. on Friday, Nov. 15.