EVENT: Todd Theatre Presents Tony Kushner's A Bright Room Called Day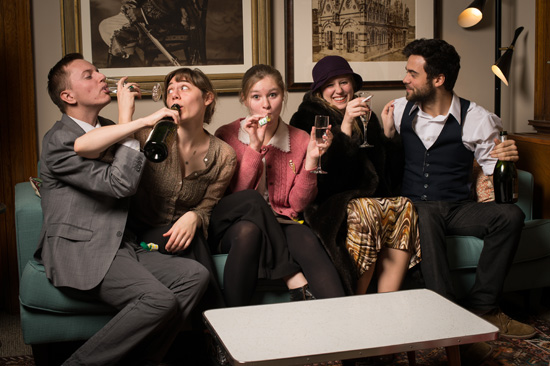 A Bright Room Called Day, written by Pulitzer Prize-winning Angels in America author Tony Kushner, opens at the University of Rochester International Theatre Program's Todd Theatre on Dec. 5. Directed by guest artist Lila Neugebauer, the play presents the story of a small circle of close friends in World War II-era Germany, whose playful banter leads to passionate disputes ignited by the rise of Hitler.
"A Bright Room Called Day served as a seminal work in Kushner's development as a playwright," said Nigel Maister, artistic director of the International Theatre Program. "He was driven to write the play during a period of personal grief and deep disagreement with the cultural politics of the Reagan Era. In an implicit warning against apathy, he dares the audience to question their level of political engagement."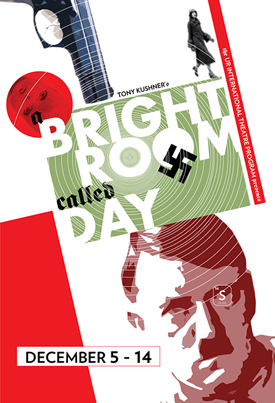 Within a one-bedroom apartment in Berlin, struggling actress Agnes Eggling and her bohemian group of close friends—comprised of several communists, a homosexual socialist, and a Trotskyite—celebrate, drink, argue, and transform as the political climate shifts around them. As the rules of their engagement with the surrounding world changes, the devil pays a visit to the apartment, forcing Agnes to acknowledge that the transient comforts of her life are burdened by the encroaching threat of evil.
Director Lila Neugebauer is the recipient of a prestigious 2013 Princess Grace Award and recently directed the world premiere of Lucas Hnath's Red Speedo (The Studio Theatre, D.C.). Other credits include Circle Mirror Transformation (Juilliard), The Valley of Fear (Williamstown Theatre Festival), and Troublemaker, or the Freakin Kick-A Adventures of Bradley Boatright (Berkley Repertory Theatre).
Stage design is by Andrew Boyce, a member of the Wingspace Design collective, whose credits include Dreams of Falling, Dreams of Flying (Atlantic Theatre Company), Buyer & Cellar (Barrow Street/Rattlestick) and Handed Otter (Playwrights Realm/Cherry Lane). Costume design is by Jessica Pabst, who received a 2013 Lucille Lortel Award for Best Costume Design for The Whale and was a 2012 Drama Desk Nominee for Outstanding Costume Design for She Kills Monsters. Lighting design is by Eric Southern, whose most recent work includes Play/Pause (Brooklyn Academy of Music, Next Wave Festival). Sound design and original music are by Brandon Wolcott, whose recent credits include Good Person of Szechewan (La Mama) and original music for Henry V (Two Rivers Shakespeare Festival). Video design is by Dave Tennent and Kate Freer. Tennent's credits include Bullet For Adolf (New World Stages) and La Ruta (Working Theater). Freer's credits include Around the World in 80 Days (The New Theater at 45th Street) and Cry for Peace: Voices from the Congo (La Mama, Undesirable Element Festival).
A Bright Room Called Day runs Thursday, Dec. 5—Saturday, Dec. 7 and Wednesday, Dec. 11— Saturday, Dec. 14. All shows begin at 8 p.m., except for a matinée performance at 3 p.m. on Saturday, Dec. 8 and an early curtain of 6 p.m. on Saturday, Dec. 14. Tickets are $7 for UR students; $10 for UR alumni, faculty and staff, and for seniors (55+); and $13 for the general public. All performances are held in Todd Theatre, located in the Todd Union building on the River Campus. Tickets may be purchased online at www.rochester.edu/theatre, or by calling 585.275.4088. Tickets may also be purchased up to an hour before each performance at the box office.