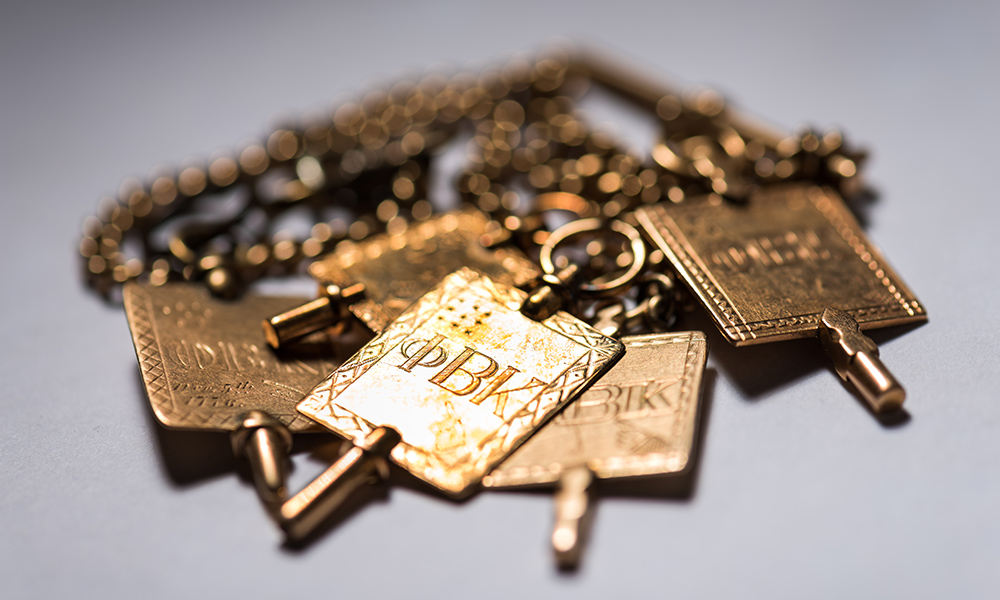 Ninety-four seniors and 13 juniors are the University of Rochester's latest members of Phi Beta Kappa, the nation's oldest and most prestigious academic honor society.
They will be formally inducted in a noon ceremony on Saturday, May 19 at the Larry and Cindy Bloch Alumni and Advancement Center, 300 East River Road. Wendi Heinzelman, dean of the Hajim School of Engineering, will be the keynote speaker.
Another 16 current seniors were inducted last spring as juniors.
Founded in 1776, Phi Beta Kappa invites for induction the most outstanding students at America's leading colleges and universities. Membership is by invitation only, and students are selected by faculty members who also are members of the society.
The University's Phi Beta Kappa chapter was founded in 1887. Members are chosen based on exceptional academic performance and a letter of recommendation from a faculty or staff member. New members are elected each spring by members of the Iota chapter at the recommendation of the nominating committee.
Particularly strong candidates are elected as juniors, the rest as seniors.
Here are the latest University members of Phi Beta Kappa: 
SENIORS
Scott Abrams
Sophie Aroesty
Emelyn Bashour
Brittany Bernstein
Madeline Blackburn
Cherish Blackman
Alexander Boyd
Sean Boylan
Abigail Bruce
Brian Caputo
Hayden Carder
Rachel Casper
Chen Chen
Yukun Chen
Rachel Clune
John Cole
Laura Cowie-Haskell
Jingran Cui
Erin Dacey
Perry Demarche
Luke Dengler
Olivia Denny
Laura Dirienzo
Aleksander Dombrowski
Emma Dudley
Jacob Erichson
Arlen Fan
Annamarie Forestiere
Rui Gao
Maria Geba
Jason Glanzman
Paige Gloster
Ryan Grimes
Meixiao Han
Jacqueline Heinzelmann
Jennifer Hennig
Janson Ho
Michael Holcomb
Talia Jaffe
Oleaser Johnson
Apolline Jungels
Haberly Kahn
Megan Kibler
Dabidhyowang Kim
Unni Kurumbail
Allison Laubach
Crystal Lee
Gayeon Lee
Jina Lee
Rachel Levy
David Lippman
Thomas Listopadzki
Zixiang Liu
Kunpeng Liu
Daria Lynch
Shir Maimon
Monica Masterson
Logan Meredith
Brandon Merkert
Cyrus Mevorach
Luke Meyerson
Akihiro Minami
Rebecca Mooney
Vivy Ngo
Lauren Oey
Melanie Ottino
Junwei Pan
Hannah Parker
Meghan Patrick
Reva Peer
Eric Pinsker-Smith
Cynthia Plant
Kenneth Plante
Shoshana Preuss
Merjema Purak
Andria Rabenold
Jordan Rabinowitz
Sakif Rahman
Meredith Reese
Ryan Rubenzahl
Benjamin Saltzman
Ava Sauer
Gillian Schwartz
Gabrielle Scullard
Rachel Shechter
Mihiraan Singh
Kyle Smith
David Soukup
Ivan Suminski
Mark Sweeney
Margaret Thurston
Yedan Tian
Rebecca Walton
Jinge Wang
Jean Weill
Clara Wolfe
Jean Wolfs
Carolyn Wu
Tianyu Wu
Fuya Xu
Or Yehezkely
Riva Yeo
Hanjiao Zhang
Haozhe Zhang
Ruoxue Zhang
Hetince Zhao
Junting Zhou
Wen Zhou
Ziyi Zhu

JUNIORS
Rachel Allison
Nikolas Angyal
Megan Betancourt
Marco Caiola
Melanie DeJong
Kiersten Flodman
Benjamin Goehring
Carley Haft
Amanda Hornick
Seung Hyun Kim
Allison Morningstar
Jacob Squicciarini
Xingyu Wang
Category: Campus Life