Phi Beta Kappa: Iota of New York

Iota of New York is the University of Rochester's chapter of the nation's oldest and most prestigious undergraduate honors organization, the Phi Beta Kappa Society. Founded in 1776, Phi Beta Kappa invites for induction the most outstanding students at America's leading colleges and universities. The society champions the liberal arts—the humanities, the social sciences, and the natural sciences—in higher education and in society at large. To learn more, please click on the links at left.
Please email us with any comments or questions you may have.
Spring Initiation Ceremony
Our initiation of new members is scheduled for 10:00 a.m. on Saturday, May 16, at the Larry & Cindy Bloch Alumni and Advancement Center at 300 East River Road. We would love to have you join us for this happy occasion! Please email us if you would like to attend.
Please note: the Initation Ceremony scheduled for May 16 has been postponed. We hope to reschedule for a later time.
---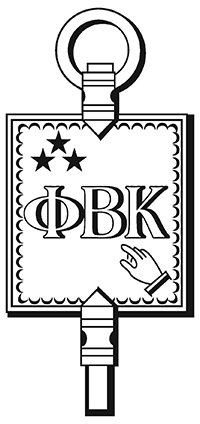 Φιλοσοφία Βίου Κυβερνήτης
Philosophia Biou Cybernētēs
Love of learning is the guide of life.