Calendar
3/23 to 4/3 Undergraduate program advising in the College.
4/6 Undergraduate registration begins.
4/7 Last day to declare S/F or withdraw from courses for undergraduates in Arts, Sciences, and Engineering.
4/21 Last date for first-semester freshmen and transfer students in the College to declare the S/F option.
4/30 Reading period (4/30 - 5/3) begins.
Events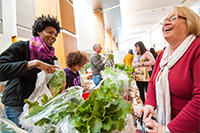 Think Spring
The University Events Calendar has highlighted a selection of events inspired to warm up your brain for spring.

More »