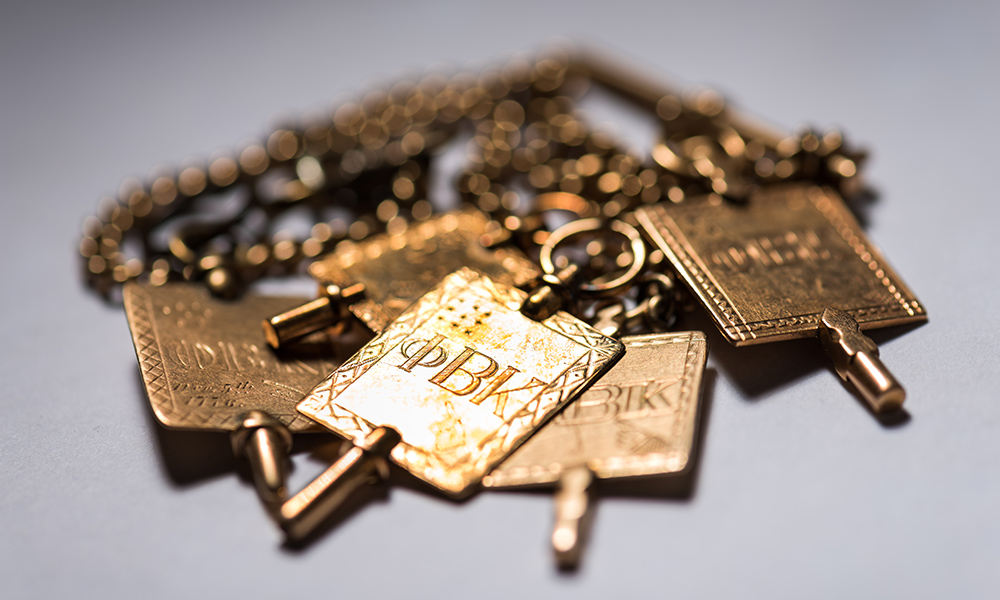 Fourteen University of Rochester sophomores were honored recently with the Suzanne J. O'Brien Book Award, which recognizes students who excelled academically and in leadership roles as first-year students in the College.
The winners were chosen by a committee of faculty and academic staff who are officers in the University's Iota Chapter of Phi Beta Kappa, which sponsors the award along with Arts, Sciences & Engineering.
"The Book Award provides the opportunity to celebrate students who excelled both in the classroom and in the greater campus community during their first year at Rochester," says Karen Berger, president of the Iota Chapter and an associate professor in the Department of Earth and Environmental Sciences. "These students, each of whom received letters of support from faculty or staff, embody the Phi Beta Kappa values of academic excellence, humanistic values, and engaged leadership."
The award was formerly called the Iota Book Award and was first presented in 2003. It was renamed for Suzanne O'Brien '59, a member of Phi Beta Kappa and a longtime director of the College Center for Advising Services, upon her retirement as associate dean of the College in 2016.
This year's recipients, with their hometowns and majors, are
Kyle Ang, Alhambra, California (digital media studies)
Olivia Banc, Briarcliff Manor, New York (English, theater)
Larissa Daruge, Orlando, Florida (political science)
Sofia Guarnieri, Sleepy Hollow, New York (biomedical engineering)
Dominick Harasimiuk, Keller, Texas (computer science, financial economics)
Lionel Imena-Kirenga, Arusha, Tanzania (mathematics, statistics)
Paul Irving, Penfield, New York (chemical engineering)
Karen Leap, Niskayuna, New York (mechanical engineering)
Alydia Meinecke, Lake George, New York (biology, dance)
Nathan Morse, Fairport, New York (mathematics, optics)
Anh-Tho Antoinette Thi Nguyen, Huntington Beach, California (anthropology)
Mary Panepento, Walworth, New York (biology)
Alexander Pavlicin, St. Paul, Minnesota (engineering science)
Emma Strawderman, Ithaca, New York (biological science: neuroscience)
Category: Campus Life