As another calendar year comes to a close, we're looking back at 2016 through the lens of University photographer J. Adam Fenster. He's selected his top shots from the past year and offers his insights on what makes Rochester such a special place to photograph.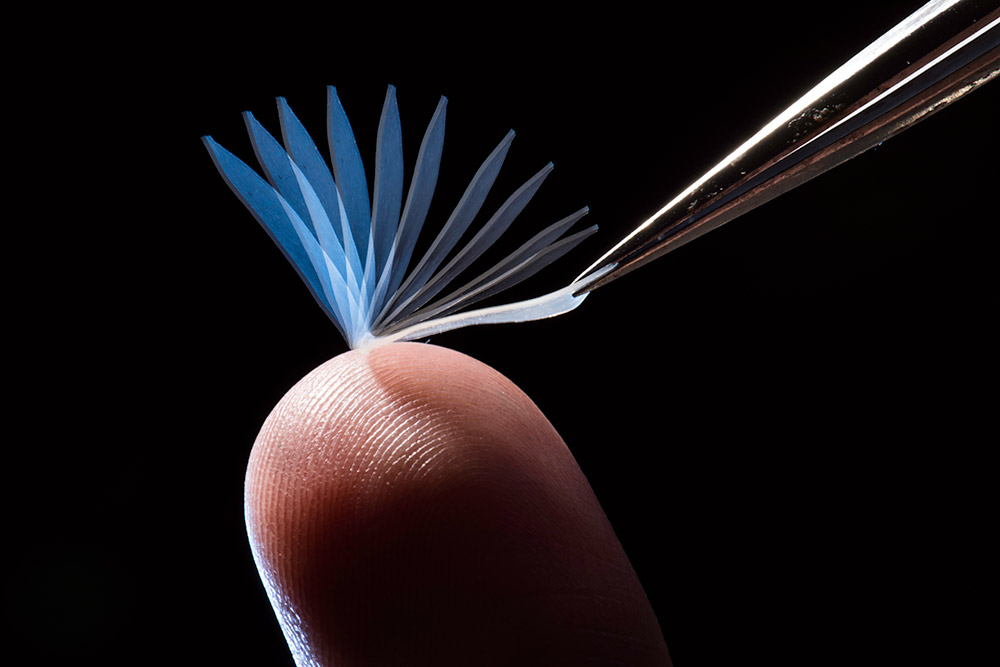 The heat is on
Fenster is regularly called upon to photograph research with a visual component. But he faced a challenge when asked to document a new type of polymer, one that changes shape when exposed to body heat alone.
Capturing an image of the translucent, heat-sensitive material, developed by Associate Professor of Chemical Engineering Mitchell Anthamatten and graduate student Yuan Meng, required four separate visits to Anthamatten's lab. After some trial and error, Fenster opted for multiple exposure photography to create a time lapse-like image of the polymer recoiling from the heat of Meng's middle finger, which was clamped down to ensure it remained perfectly still.
"We spent, maybe, four hours doing this," he recalls, "and this was the one image that came out right." The end result meets Fenster's standards for composition, color, and scientific accuracy, while also depicting an innovation that could have a variety of future applications, from artificial skin to self-fitting apparel.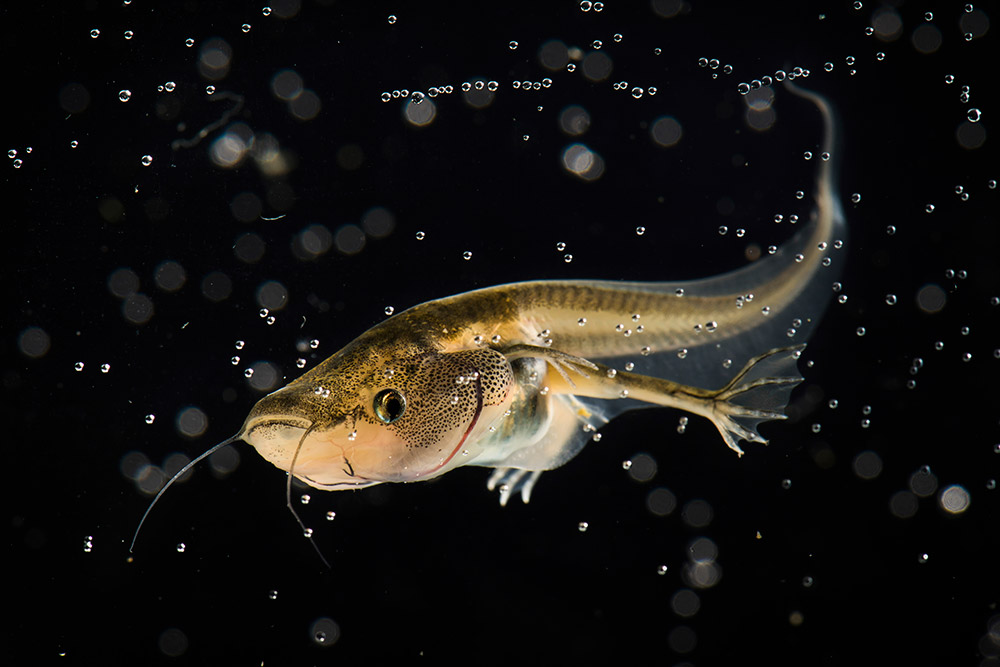 The photographer and the frog
What can frogs teach us about tumors? Quite a bit, according to Jacques Robert, professor of microbiology and immunology at the Medical Center. He uses African clawed frogs (Xenopus laevis), which have transparent skin as tadpoles, to study how tumors grow and spread.
To properly photograph X. laevis tadpoles, Fenster bought a brand new five-gallon aquarium, added the dark background, and set up a few lights. With hundreds of tadpoles in the tank, he waited patiently for one of the fingertip-sized creatures to assume the right pose. This macro photo (an extreme close-up) was shot at a high aperture, reports Fenster, and you can see the bubbles in the foreground and background, mimicking snowflakes.
It turns out that tadpoles, like polymers, can take hours to shoot. But for Fenster, it's a worthwhile effort, especially when a "collaboration results in an image that helps tell the researcher's story."
Lots of well-deserved hoopla
It's not every day that our Division III basketball team becomes a viral sensation. That's what happened after a video surfaced showing guard Sam Borst-Smith intentionally missing a free throw and then assisting a game-winning shot by teammate Mack Montague in overtime. Borst-Smith went on to win the State Farm Assist of the Year Award for this play.
Fenster admits he watched the video many times. "Immediately after they made that basket and won the game, they ran toward each other and did a bump. I saw that and thought, 'That's the photo I need to get of them.'"
Working with the players and coaches, Fenster set up the multiple-light shoot—one of his most complicated this past year—in the Palestra. He had Borst-Smith and Montague do the "run and bump" multiple times while the coaches threw basketballs in the background. "I don't often get the opportunity to put some fun and weirdness into the photos," he says. Luckily, the Yellowjackets were game—and the end result is a dynamic image that captures the spirit of teamwork.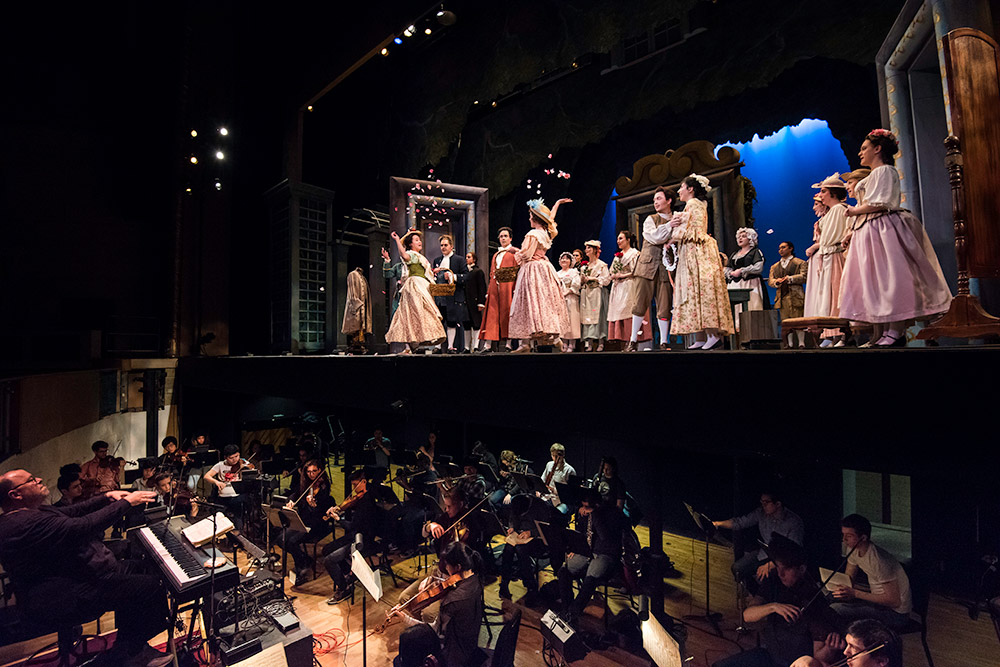 Unsung heroes
In April, the Eastman Opera Theatre presented Mozart's Le Nozze di Figaro (or The Marriage of Figaro) at Kodak Hall. Fenster was tasked with photographing the dress rehearsal. "As photographers, we've made lots of these stage photos," he reflects. "They're very easy to get because the lighting is always really good and the actors are hitting their marks." The result is a typically beautiful, if somewhat expected, photograph.
"What you don't often see are the unsung heroes of theater, and that's what I was going after in this photo." Mirroring the actors on stage are the musicians in the pit, who are heard, but rarely seen, by the audience. "All of these people are working together to help create that exact moment," notes Fenster. His photograph reveals how much work and precision go into creating a seemingly effortless theater performance.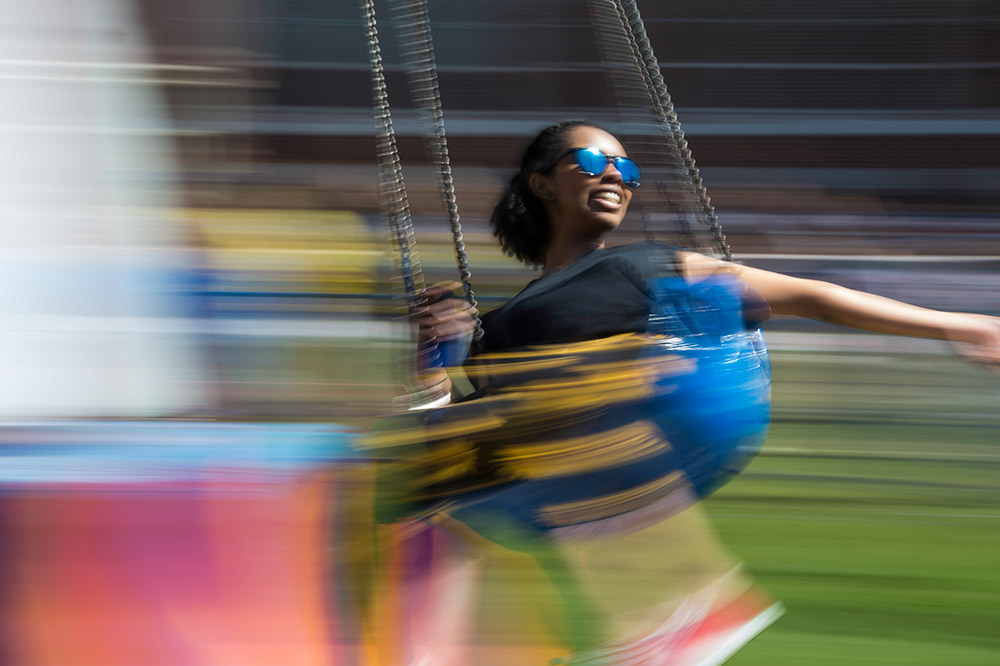 Swing time in springtime
"Dandelion Day is one of the few opportunities to photograph students tearing loose and having fun," says Fenster. Part of the annual Springfest Weekend, the Dandelion Day celebrations typically feature amusement park rides, festival food, and street performers.
Fenster's standout photo from this year's event was a panning shot of Aisha Mohamed '19 on the spinning chairs. For such shots, Fenster sets a slow shutter speed and then tries to track on his subject. "They're very low percentage shots, meaning you get a lot that don't work at all. But when it does work, you get a shot like this one, which features colors and swirls and the reflection in her sunglasses."
His one critique? "I just wish I hadn't cut off her hand in the photo."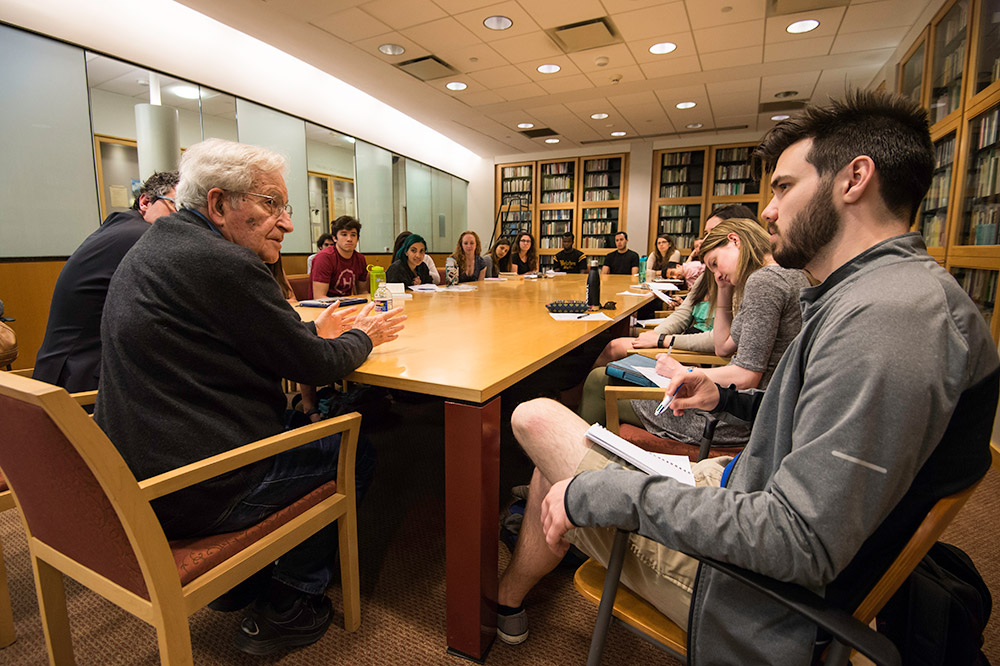 When Noam Chomsky came to Rochester
"Noam Chomsky is a legend. He's the closest thing to a rock star you can have in higher education," says Fenster. In April, the linguist, philosopher, political commentator, and activist met with Rochester students and faculty in his capacity as the University's Distinguished Visiting Humanist. "The best way to show that this is a whole class is to shoot it wide, while also getting close," Fenster explains.
He recalls also photographing Chomsky speaking at a podium, but prefers shots of public figures and intellectuals having one-on-one time with Rochester students. "Such opportunities are part of the reason why students go to college here."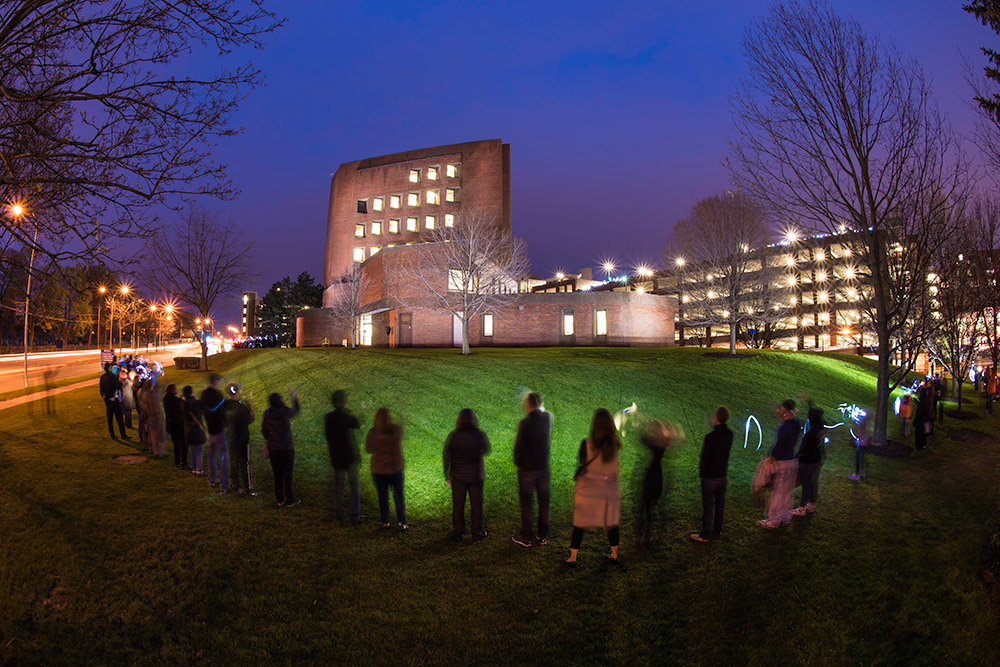 Happy anniversary
The RIT Big Shot—a nighttime community photography project—provided the inspiration for the Eastman Institute of Oral Health's 100th anniversary celebration photo. The goal was to get as many people as possible together at night with their flashlights and camera strobes aimed at the institute's building. About 300 people encircled the building for the shoot. "I didn't want to get a photo of just the building. Instead, I wanted to show the people involved collectively lighting this structure," says Fenster.
He photographed the scene from atop a picnic table using a tripod, long exposure, and high aperture. That setup created the starburst effects from the streetlights and parking garage, as well as the trails of light from passing cars, set against a backdrop of purple-blue twilight sky.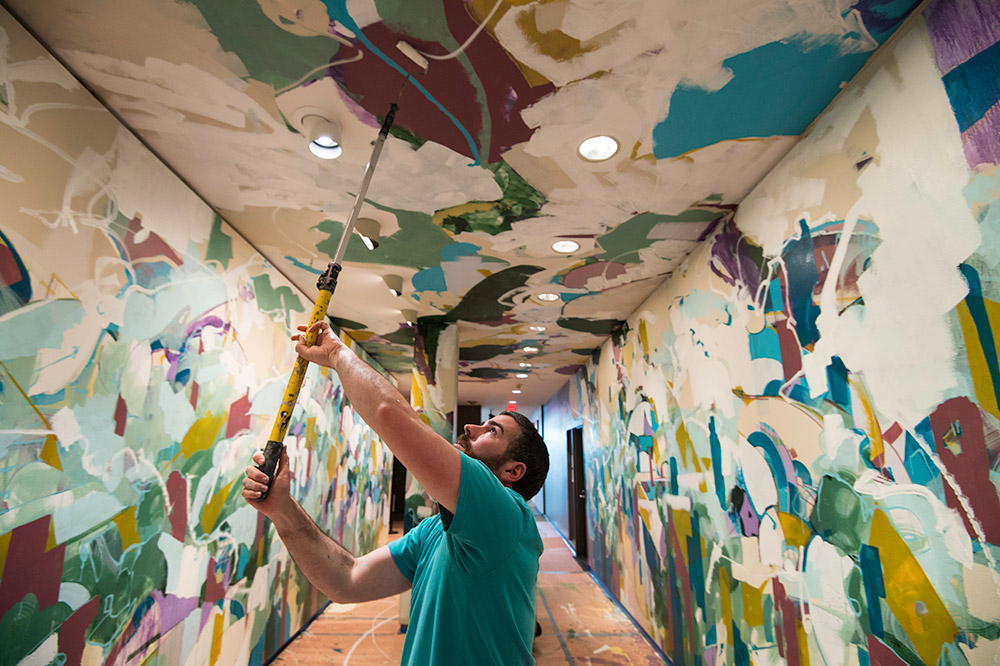 Mural, mural, on the wall…
As part of a project documenting murals and public art at University-affiliated spaces, Fenster photographed local WALL\THERAPY artist Nate Hodge painting Inhabited Space at the Memorial Art Gallery.
"They always say don't put your subject in the center of the photograph," says Fenster. But knowing the rules enables you to break them occasionally. The juxtaposition of Hodge's abstract painting with the space's converging lines and geometric shapes meant Fenster needed the artist to anchor the image. "And especially with a canvas this big, you have to photograph him in the process of making his art."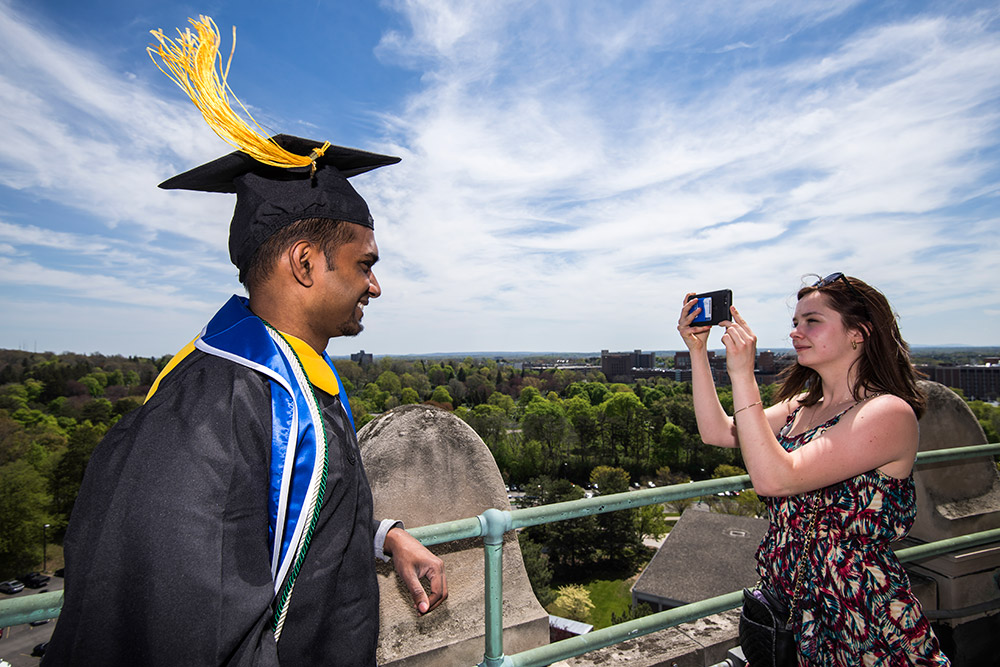 The sky's the limit
The Rush Rhees Library tower is open for tours during the week leading up to commencement. "A lot of your typical commencement shots are taken onstage or during the aftermath." Fenster hoped to photograph candid moments, too; so he joined some of the seniors taking their first or final tower tours before graduation.
"You have to use a flash to get this photo," he explains, "otherwise you don't get the blue sky or they turn into silhouettes. You also have to make sure to clear his head from the horizon." For Fenster, the windswept tassel is what makes the photo special, giving it a sense of whimsy. "If that tassel hadn't flown up, I probably wouldn't have filed this meta photo."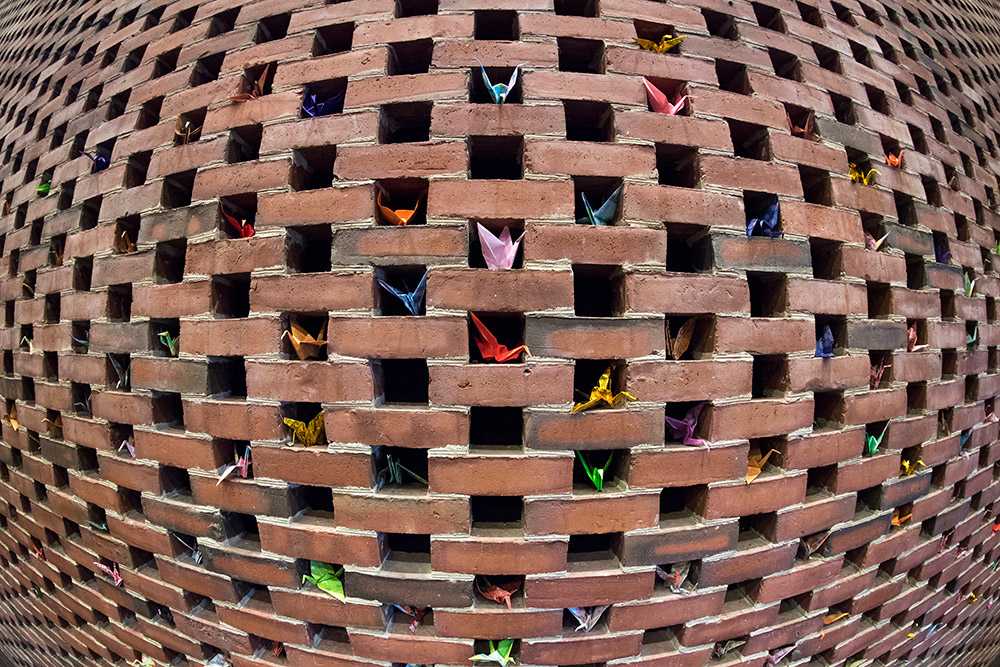 Colorful cranes
The University's Interfaith Chapel is regularly reserved for weddings, memorial services, and other events. Someone tipped Fenster off about a bevy of colorful paper cranes left tucked in the brick wall of the chapel after a weekend wedding. In Japanese culture, the crane is considered a symbol of happiness, good luck, and peace.
With a new camera in tow, Fenster went to check it out. "I took this with a 16 millimeter fish-eye lens very close to the bricks," he says. His aim was to showcase the overall geometric patterns—squares within a circle—as well as the individual cranes and colors. "I'm a huge fan of M. C. Escher, so that may have subconsciously informed this image."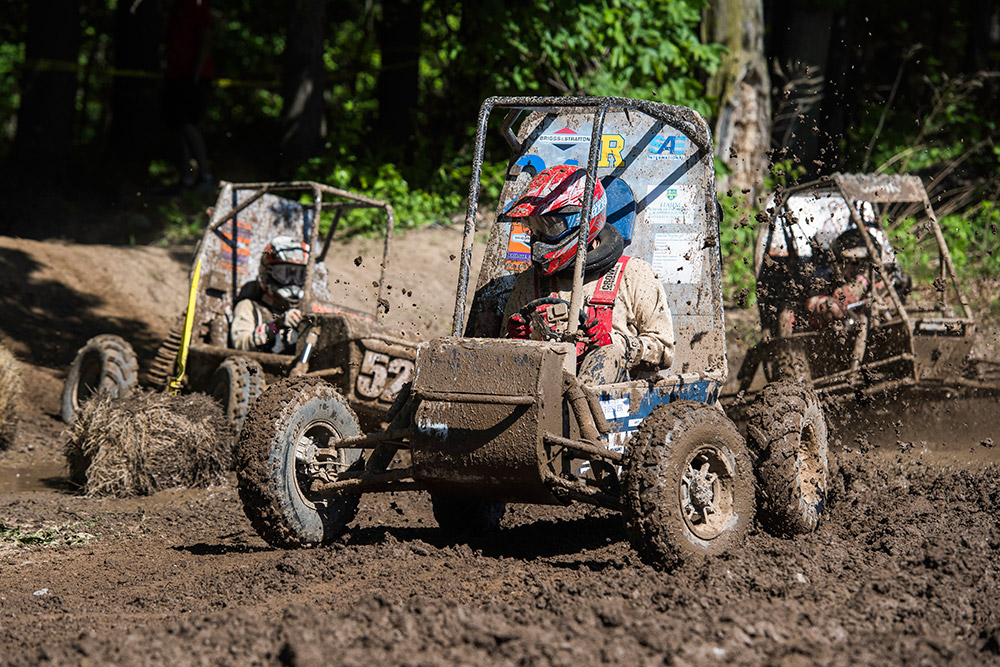 Mud life
"I've wanted to photograph a Baja race since I found out the University has its own team," says Fenster. In June, he got his chance when the University's Baja team participated in the annual Baja SAE competition, held this year in Palmyra, New York. The goal is for each team to design, build, and race their off-road vehicles on rough terrain.
Fenster spent a full day at the Hogback Hill Motocross site, where the competitors tested their mechanical engineering mettle as part of a four-hour endurance race. Initially relegated to the grandstands, he secured permission to shoot on the course. "You can imagine the liabilities and waivers involved."
He had originally envisioned a shot of the University's Baja vehicle flying through the air, but the team designed this year's model with sturdiness in mind. Then Fenster saw the mud. "I thought to myself, 'That's the photo.'" He used a long lens to compress the multiple elements into one frame, with a wide enough aperture to keep the background drivers out of focus. The resulting action shot spotlights the Rochester team before layers of mud made the vehicles nearly indistinguishable from one another.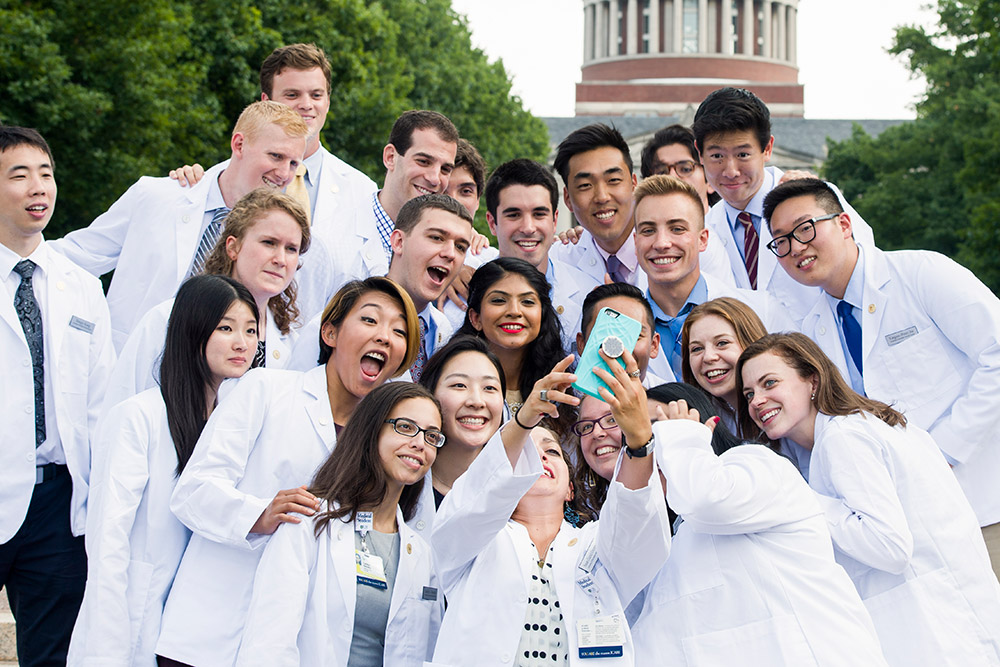 Physician, photograph thyself!
Each year, the School of Medicine and Dentistry holds the Dr. Robert L. and Lillian H. Brent White Coat Ceremony to welcome incoming medical students and mark the start of their journey to becoming physicians.
Fenster covered the ceremony, but was more excited to document the energy and enthusiasm of the students after the formalities ended. A group selfie in front of iconic Rush Rhees Library is practically de rigueur for Rochester students. Fenster's meta photo of that moment depicts "a lot of great faces and expressions. They're all fired up, like young Padawans."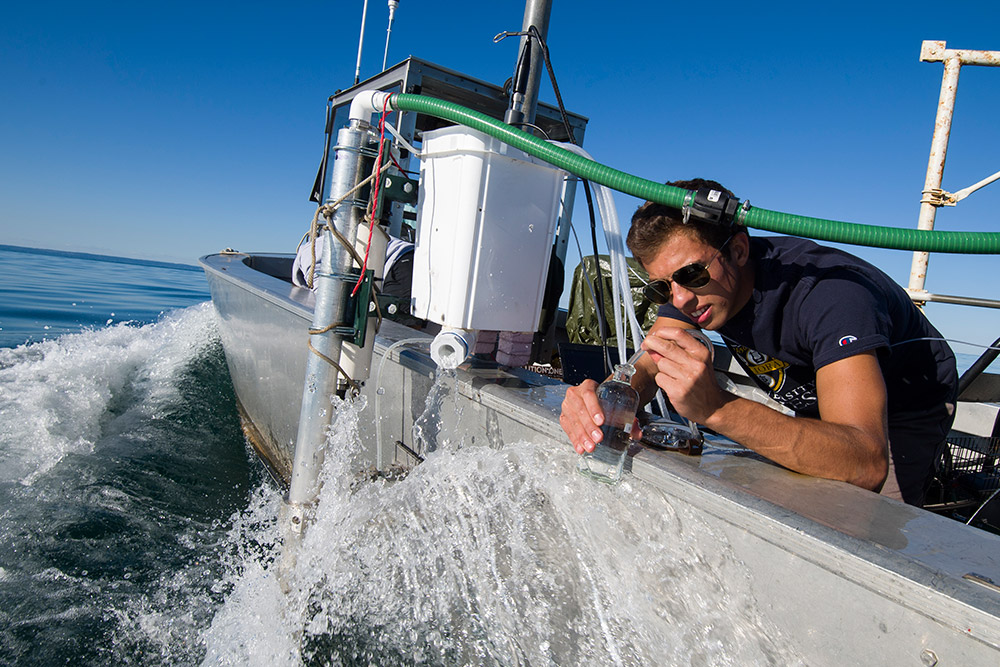 We're going to need a bigger boat
Freshwater environments are known sources of methane, a potent greenhouse gas that affects the atmosphere. The Great Lakes are the world's largest collection of freshwater—and they're located in the University's backyard, making them an ideal place for research of this kind.
John Kessler, associate professor of earth and environmental sciences, led a team of undergraduate students on a research trip to measure methane emissions on Lake Ontario. "Many of our professors do their field work in far-flung places. This project sounded interesting and had the added bonus of being local," Fenster says. He couldn't pass up a rare opportunity to go into the field with University scientists (even though it meant having to get his passport renewed).
He chose this photo as a standout because it "shows the whole story: They're going off into the horizon while our student is getting his sample and the equipment operates in the background." What the photo doesn't clearly convey is the small size of the boat. To get this shot, Fenster used a monopod (a kind of professional selfie stick) while sitting on the edge of the boat.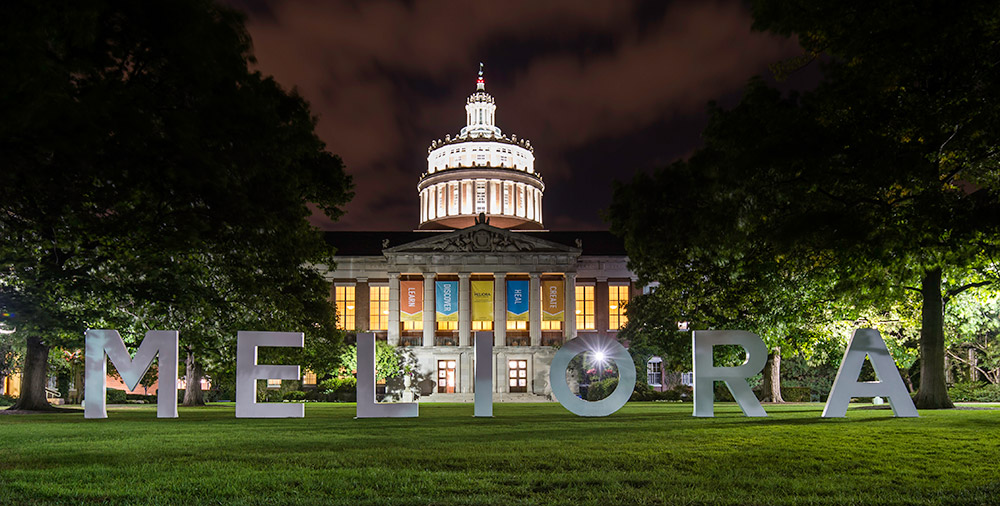 Ever better letters
"When was the last time you saw 'meliora' written out in giant letters on the quad?" Originally commissioned for the campaign kickoff, the letters were reused as part of this year's Meliora Weekend festivities—and they were a big hit with attendees!
On his way to cover Trevor Noah's sold-out appearance, Fenster noticed the Eastman Quad curiously devoid of people. Every other photo he'd taken of the letters had people on or near them, so "I put my camera on the meridian and set the long exposure," he recalls. Relying only on the available light, he managed to capture an iconic Meliora Weekend image.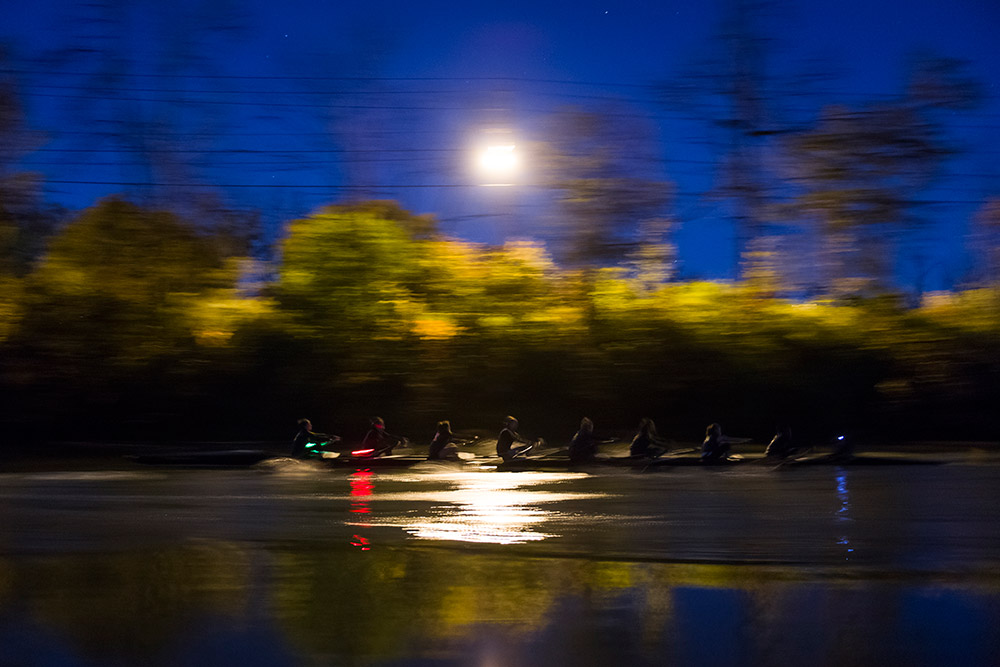 Rowing on the river
Photographing the crew team was on Fenster's bucket list. This early morning shot of the Yellowjacket women's team rowing on the Genesee River is reminiscent of an impressionist painting.
"I had no idea just how dark most of their late season practices are. I'd prepared myself for scenes of mist coming off the river, with streaks of early morning sunlight filtering through fall foliage, not pitch black. I had to make a few adjustments."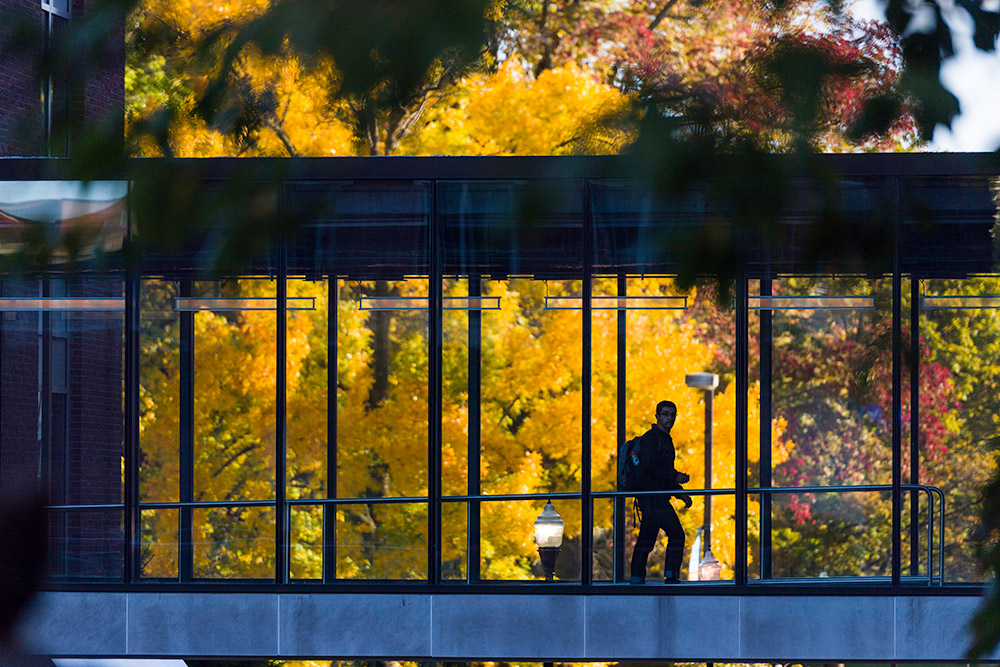 Walk this way
The new bridge between Frederick Douglass Hall and Rush Rhees Library is one of several completed renovation and construction projects from this past year. Fenster purposely wanted to make a photo featuring the bridge and autumnal colors, so he set up shop on the Eastman Quad and hoped for people to walk through the passageway. After much waiting, he managed to take this candid photo using a long lens. Although the subject appears to have a knowing look on his face, Fenster suspects he was unaware of being photographed.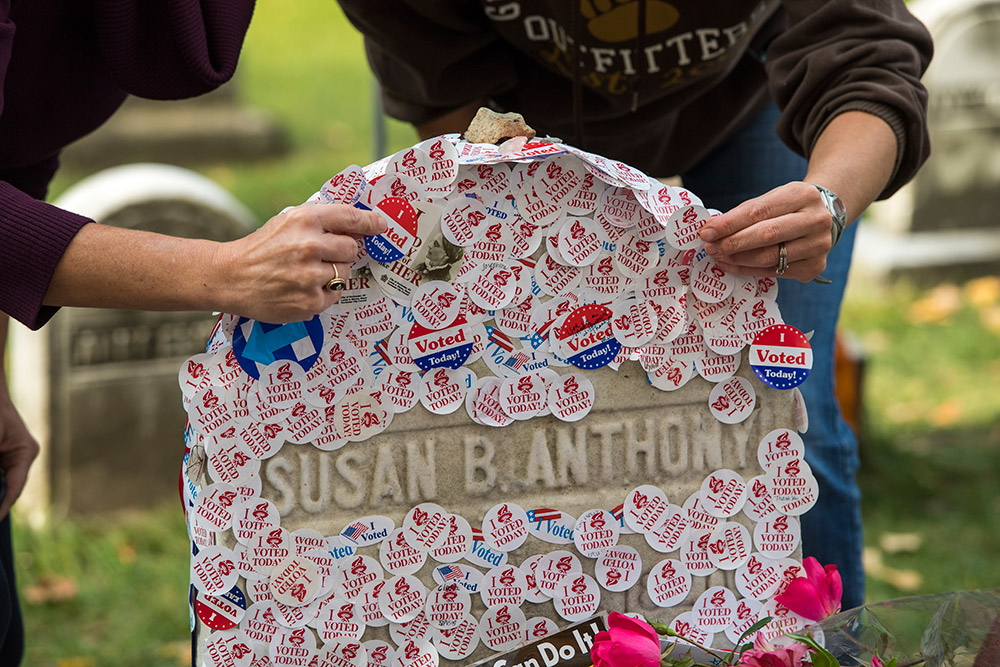 "I Voted Today Because of Women Like Her"
The 2016 U.S. presidential election was one of the biggest national news stories of the year in part because Hillary Rodham Clinton became the first female presidential candidate nominated by a major party. On Election Day, hundreds of people ("as many as 12,000," according to the Rochester Democrat and Chronicle) flocked to the grave of women's suffrage leader Susan B. Anthony, located in Mount Hope Cemetery.
Many of the visitors stood in long lines to add their "I Voted Today" stickers to Anthony's headstone. Fenster notes, "The University and the city of Rochester have a long-established affiliation with Susan B. Anthony, so this was a photo we had to get." Though Clinton ultimately lost the election to Donald Trump, Fenster's photo captures a historic day in Rochester.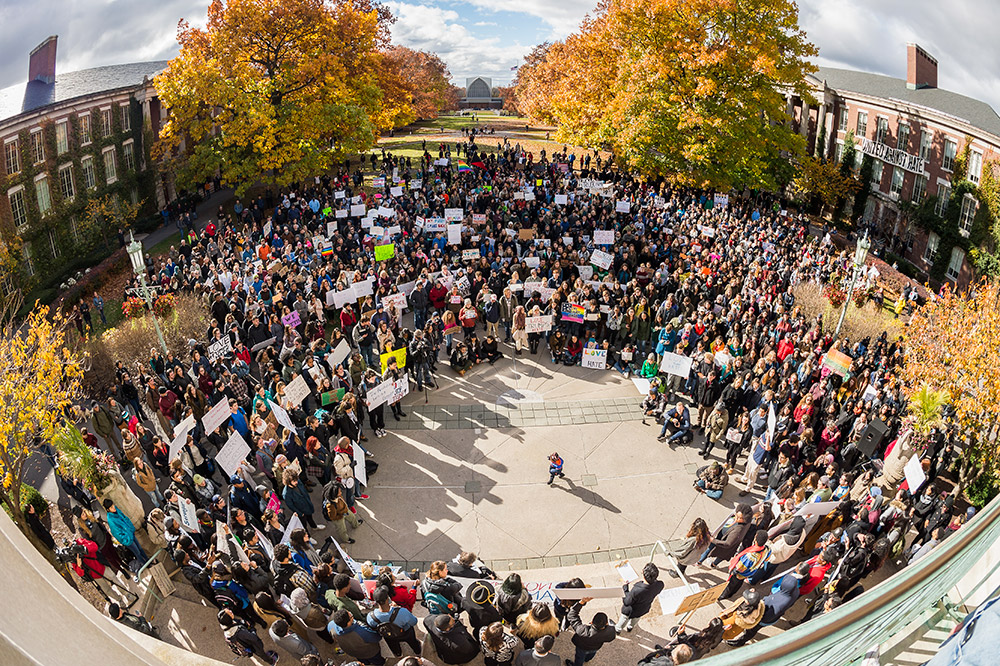 Different points of view
On the Friday following Election Day, University students organized a protest on the River Campus. The demonstration, in keeping with many others across the country, highlighted the participants' objections to President-elect Trump's statements on diversity, immigration, reproductive rights, and other issues.
"In many ways, this photo is a companion to the previous one," says Fenster, who tried to cover the demonstration from every conceivable angle. "It was a local reaction to a moment in national and world history, and this photo best encapsulated that." In the photo, the fish-eye lens helps show the scale of the event—the largest he's ever seen on campus—while the Interfaith Chapel on the horizon places it at the University's Eastman Quadrangle.
"Regardless of how you feel about the outcome of the election, it was important to document this as a moment in University history."
---
2016: Year in review
It's hard to capture all of 2016 in one list, so we didn't try. Instead, student writers Dani Douglass and Joy Bian surveyed their fellow River Campus students and compiled this list of the Top 10 Top 10 lists of 2016.
The year in music
How did the most played song's from the University's own WRUR stand up against the national Billboard charts for the year? Here is a hint: There is no one on the WRUR list named "Justin."
WRUR'S Top 10 Most Played Songs
"Burn the Witch" — Radiohead
"33 'God'" — Bon Iver
"You Don't Get Me High Anymore" — Phantogram
"TV Queen" — Wild Nothing
"Nobody Dies" — Thao & The Get Down Stay Down
"Whiteout" — Warpaint
"Fountain of Youth" — Local Natives
"Go! (feat. Mai Lan)" — M83
"Roma Fade" — Andrew Bird
"Bring My Baby Back" — Dr. Dog
Billboard's Top 10 Singles
"Love Yourself" — Justin Bieber
"Sorry" — Justin Bieber
"One Dance" — Drake (feat. WizKid & Kyla)
"Work" — Rihanna (feat. Drake)
"Stressed Out" — twenty one pilots
"Panda" — Desiigner
"Hello" — Adele
"Don't Let Me Down" — The Chainsmokers (feat. Daya)
"Can't Stop the Feeling!" — Justin Timberlake
"Closer" — The Chainsmokers (feat. Halsey)
---
The year in news
In a year filled with change and transition, we surveyed students across River Campus and asked them to name the the biggest news stories of the year. Some were of national and international significance, while others happened on campus. Here are the students' top 10 stories of 2016. (Compiled by Joy Bian '17.)
Presidential election
To no one's surprise, the presidential election was the overwhelming choice. Donald Trump defeated Hillary Clinton, and the Twitter search for the election surpassed 500,000 the next day.
Syrian refugee crisis
Syria's civil war has caused a humanitarian crisis. More than 11 million people have been killed or forced to flee from their homeland to seek safety in neighboring countries. More than 13.5 million people are still in need of humanitarian assistance.
Orlando nightclub shooting
Forty-nine people were killed and 53 were wounded by gunman Omar Mateen on June 12 at  a nightclub in Orlando, Florida. It's the biggest incident of violence against LGBT people in U.S. history.
Brexit
A referendum in June showed that 52 percent of votes were cast in favor of the United Kingdom's withdrawal from the European Union. The Brexit domino effect negatively affected financial conditions and the U.S. economy.
Black Lives Matter movement
The international activist movement Black Lives Matter launched numerous protests to demonstrate against the deaths  of  African-Americans by police.
Dakota pipeline protests
The #NoDAPL grassroots movement started in the spring due to the approval of the construction of Energy Transfer Partners' Dakota Access Pipeline.
Rio 2016 Olympic Games
Some of the greatest athletes in the world came to Rio de Janeiro, Brazil for two weeks in August to celebrate the 2016 Summer Olympics. The United States was the runaway winner, with 121 total medals.
"Not My America" protest
University students showed their displeasure with the election of Donald Trump by staging a protest in front of Rush Rhees Library on November 11.
We're Better Than THAT anti-racism campaign
Launched in the fall of 2015, the University's "We're better than THAT" anti-racism campaign continued to educate students, faculty, and staff to stop hate speech and racism in our community.
The construction of Wegmans Hall
Over Meliora Weekend, the University celebrated the dedication of the new Wegmans Hall—the future home for the Goergen Institute for Data Science.
Top University News Stories
Based on web traffic and social media activity, we've compiled a list of this year's most popular stories.
---
The year in books
Students still love our Harry Potter. Here are the top-selling books from Barnes & Noble.
Barnes & Noble's Top Selling Books
All the Gallant Men: An American Sailor's Firsthand Account of Pearl Harbor — Donald Stratton
Killing the Rising Sun: How America Vanquished World War II Japan — Bill O'Reily
Fantastic Beasts and Where to Find Them: The Original Screenplay — JK Rowling
Double Down (Diary of a Wimpy Kid Series #11) — Jeff Kinney
Harry Potter and the Cursed Child – Parts I & II — JK Rowling
The Whistler — John Grisham
The Undoing Project: A Friendship That Changed Our Minds — Michael Lewis
Born to Run — Bruce Springsteen
Harry Potter and the Chamber of Secrets: The Illustrated Edition — JK Rowling
Harry Potter Paperback Boxed Set, Books 1-7 — JK Rowling
---
The year in food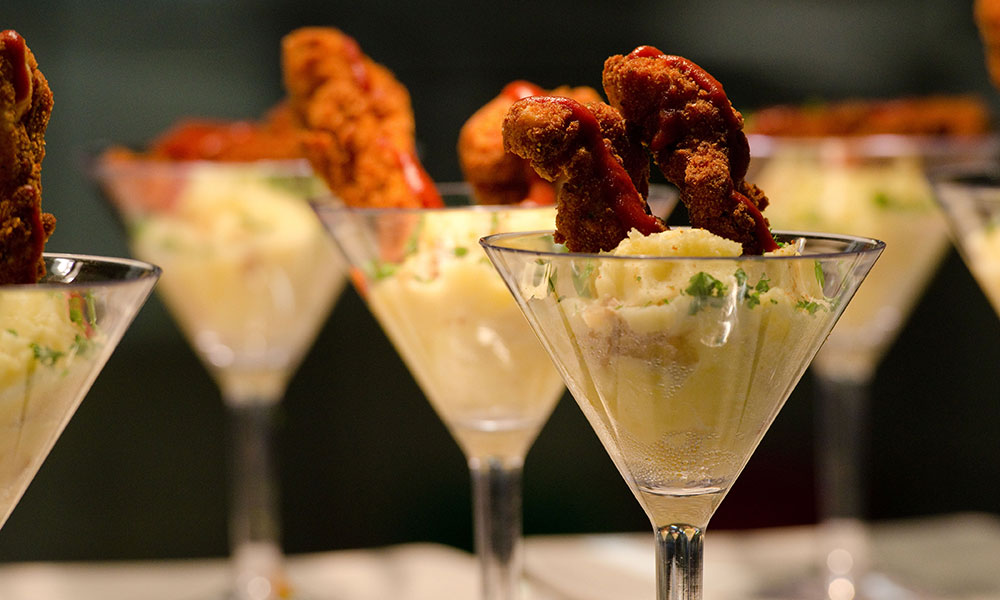 We asked students to rank their favorite dining halls and their favorite meals in each. (Compiled by Dani Douglass '17)
Most Popular Dining Halls
Wilson Commons
Douglass Commons
Danforth Hall
Note: Douglass and Wilson Commons were neck-and-neck following the opening of the renovated Douglass building.
Most Popular Meals at Wilson Commons
Personalized burrito bowls
Panda Express' orange chicken
Cheese pizza
Grilled chicken breast
Local burger
California Rollin' sushi rolls
Most Popular Meals at Danforth
Chicken wings
Indian food at the Mongolian Grill station
Most Popular Meals at Douglass
Kosher brisket
Made-to-order pasta
Noodle bowl and grain bowl at the Ramen Noodle station
Various flank steak dishes
Category: University News