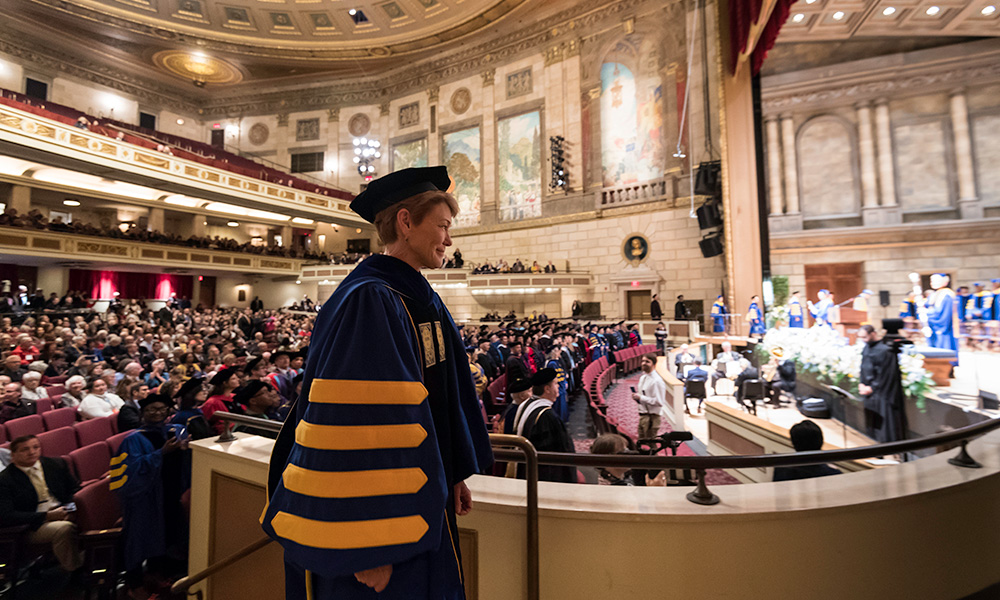 (University of Rochester photos / J. Adam Fenster)
In a ceremony filled with tradition, music, laughter, and optimism, Sarah C. Mangelsdorf was formally invested Friday afternoon as the University of Rochester's 11th president.
The ceremony took place at Kodak Hall at Eastman Theatre before about 2,000 people. Mangelsdorf is the first woman to lead the University.
The Inauguration of Sarah C. Mangelsdorf
Read more about the inaugural celebration.
In her speech, she promised to continue the University's commitment to research and inclusion, as well as its connection with the Greater Rochester community.
"The University of Rochester was built by the people of Rochester," she said. "We are not just a University in this community. We are a University of this community."
Among those in the audience were Mangelsdorf's husband, Karl Rosengren, a professor of brain and cognitive sciences and psychology at the University; their daughters, Julia and Emily Rosengren; and son-in-law, Richard Lee. US representative Joe Morelle also attended, along with University trustees, faculty, staff, students, alumni, and community leaders. The four living University presidents who preceded her—Dennis O'Brien, Thomas Jackson, Joel Seligman, and Richard Feldman—were seated on the stage.
Immediately preceding the investiture was a performance by the Ying Quartet, artists-in-residence at the Eastman School of Music, of The Pathway, composed by Emmy Award-winning Jeff Beal '85E specifically for Friday's ceremony.
Saxophonist Jamal Rossi, the Joan and Martin Messinger Dean of the Eastman School of Music, and pianist Toni-Marie Montgomery, dean of the Henry and Leigh Bienen School of Music at Northwestern University, also presented a musical highlight, performing a Rachmaninoff work known as Vocalise (Op. 34, No. 14).
Richard Handler '83, chair of the University's Board of Trustees, presented Mangelsdorf with three symbols of her authority as president: the original 1850 University charter, a University seal, and the four-foot long, 6.4-pound silver and mahogany University mace. The mace, introduced in 1935 at the inauguration of President Alan Valentine, is now engraved with Mangelsdorf's name joining those of past presidents.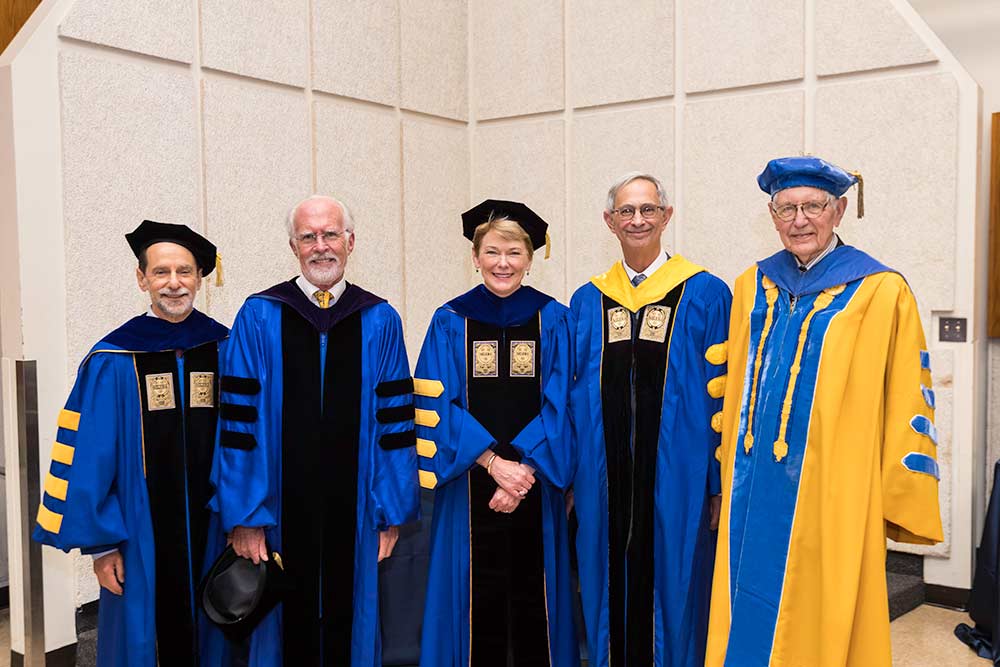 PRESIDENTIAL PORTRAIT: Sarah Mangelsdorf, center, poses with past University presidents, from left, Richard Feldman, Thomas Jackson, Joel Seligman, and Dennis O'Brien.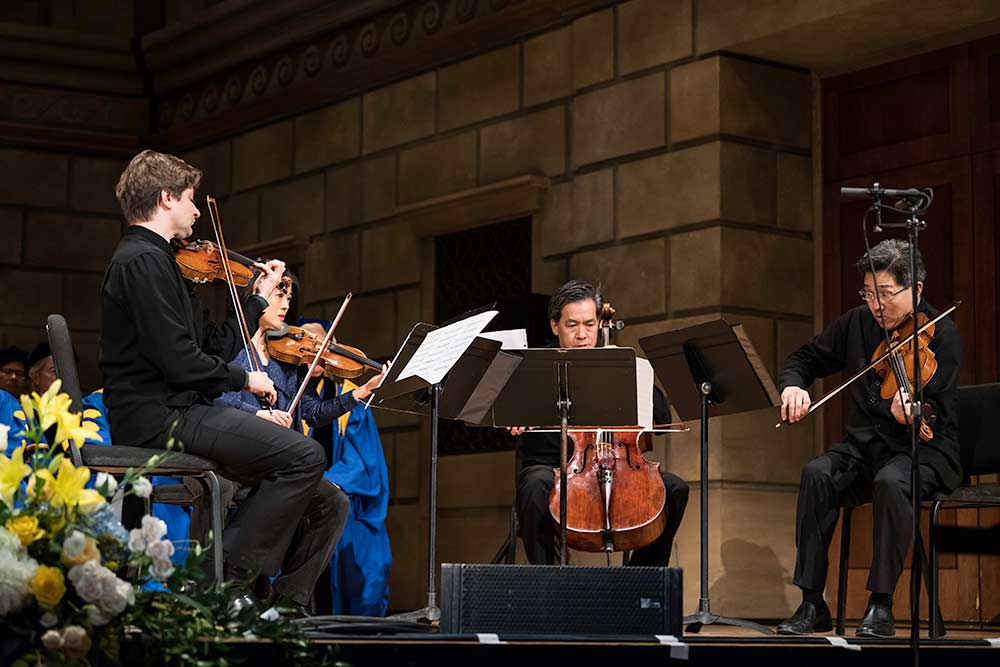 A MUSICAL PREMIERE: The Ying Quartet performs "The Pathway," composed by Jeff Beal '85E for the inauguration ceremony.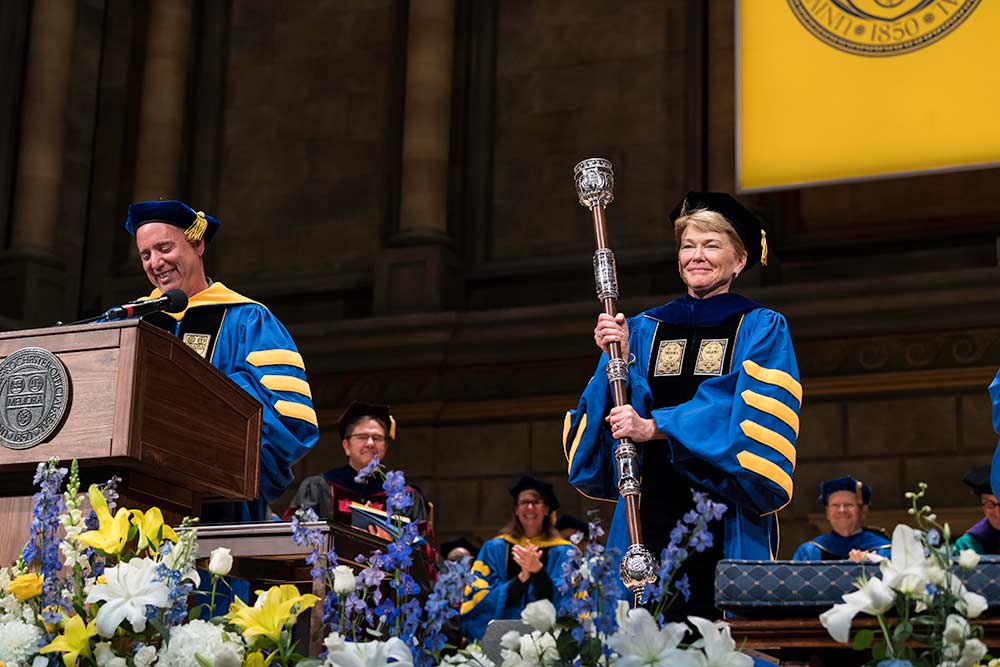 PASSING THE TORCH: Sarah Mangelsdorf is presented with the University mace during her formal investiture as president by Board of Trustees Chair Richard Handler '83.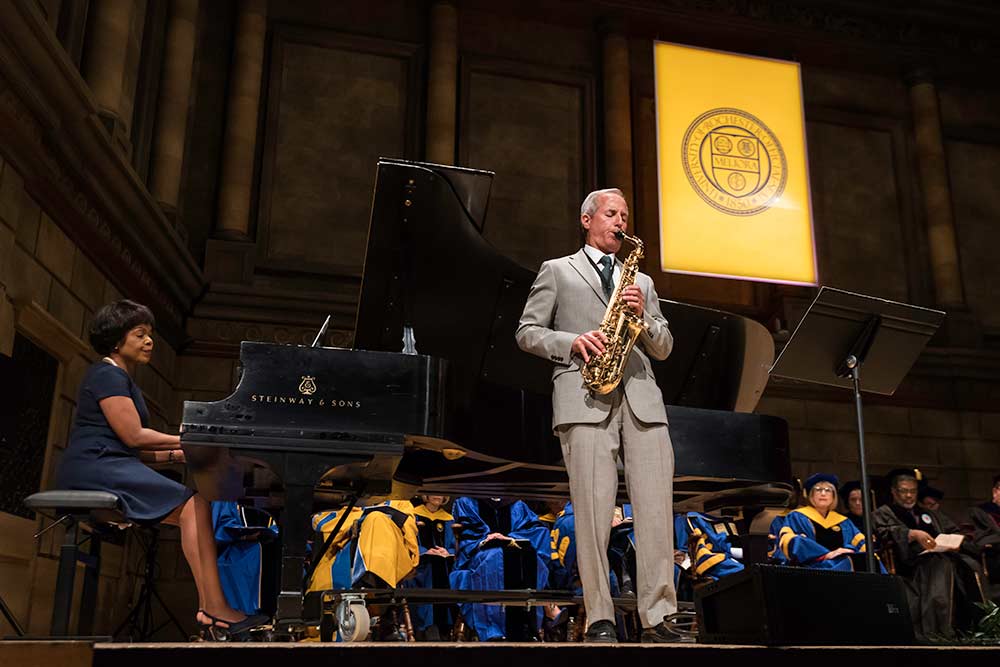 CELEBRATING IN SONG: Jamal Rossi, the Joan and Martin Messinger Dean of the Eastman School of Music, and pianist Toni-Marie Montgomery, dean of the Henry and Leigh Bienen School of Music at Northwestern University, perform a Rachmaninoff duet.
"I am honored to officially declare that you are the president of the University of Rochester," Handler told Mangelsdorf, drawing a standing ovation.
In her address, the new president said her "most important, most critical, and indeed the happiest responsibility" is the stewardship of the University.
"I stand before you as a university president," she said. "But I am also a professor, and the daughter, granddaughter, and spouse of professors. To me, there are few more important and enduring societal institutions than the university, especially those like the University of Rochester, where research, teaching, and engagement—with this city, this region, the nation, and the world—are of primary importance."
She said Rochester's focus on research places it among the country's most elite institutions of higher learning.
"As president, I will focus on supporting and sustaining research at every level," she said. "Because it is through the knowledge derived from research that we will fulfill our mission to make the world ever better."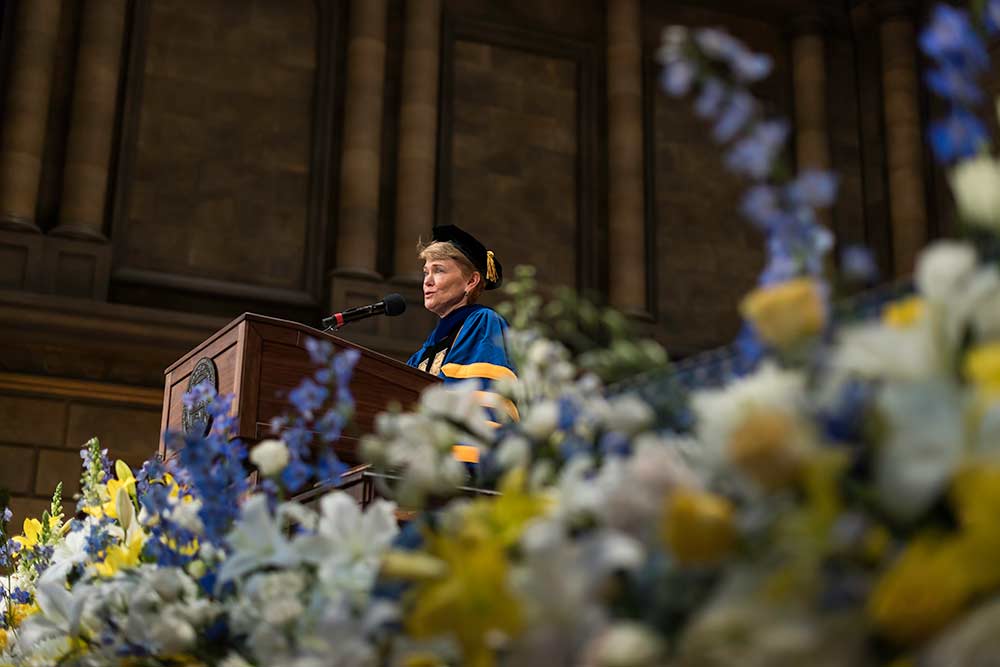 "NO GREATER PRIVILEGE OR RESPONSIBILITY" Sarah Mangelsdorf delivers her inaugural address.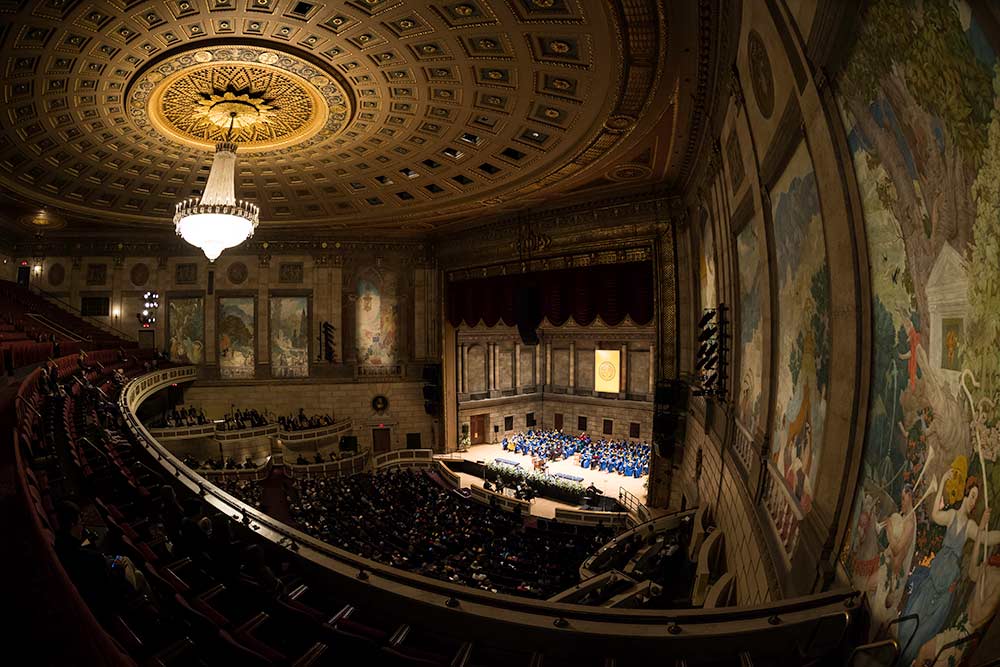 AN INAUGURAL SETTING: A crowd of more than 2,000 people gathered to celebrate the inauguration of the University's 11th president.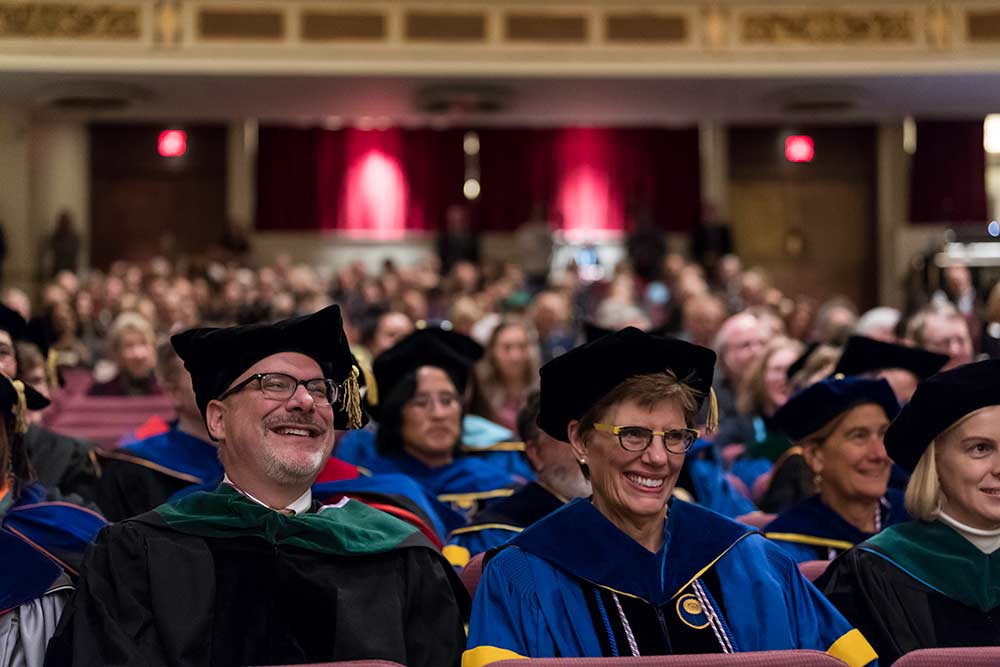 A MOMENT OF LEVITY: Audience members share a laugh during President Sarah Mangelsdorf's inaugural address.
Mangelsdorf, a developmental psychologist and most recently the provost at the University of Wisconsin-Madison, took office July 1 and has spent much of her first three months getting to know people in the University and Greater Rochester. "I'm thankful to be here, and I really appreciate how warmly I've been welcomed by everyone at the University and in the city of Rochester," she said to University community members at a Meliora Weekend barbecue on the River Campus before her inauguration.
In a ceremony filled with the pageantry of academia, Mangelsdorf was welcomed by members of the University and Rochester communities. The program included remarks by the Rev. Denise Yarbrough, director of religious and spiritual life; Anne Nofziger, a cochair of the University Advisory Committee for the Presidential Search and an associate professor of family medicine; Jamal Holtz '20, president of the Students' Association of the College; Ashley Campbell '09, '10W (MS), manager of user security and data integrity in the Office of Human Resources; Chunkit Fung, a cochair of the Faculty Senate and an associate professor in the Departments of Medicine and Public Health and at the Wilmot Cancer Institute; Wade Norwood '85, the CEO of Common Ground Health and an at-large member of the board of regents of the New York State Department of Education; and Cathy Minehan '68, a member of the University's Board of Trustees and a cochair of the Presidential Search Committee that selected Mangelsdorf.
Holtz said Mangelsdorf's engagement with students has been remarkable. "She shows up, she listens, and she's always willing to join you for a selfie," he said, acknowledging that Mangelsdorf is the first Rochester president to use social media. "Her values and her vision for this University line up with what the students on campus want and what the community wants. Her leadership has already inspired trust on campus and makes us optimistic."
Norwood, a longtime political and civic leader in the Rochester community, gave an emotional speech about his deep roots in the University. It's where he met his wife, Lisa Norwood '86, '95W (MS), assistant dean of the Hajim School of Engineering, and where two of their children have gone to school (one a member of the Class of 2013, another a senior in the College). All four children were born at Strong Memorial Hospital. Two daughters are buried at nearby Mount Hope Cemetery. His mother was a nurse at the Medical Center.
"It's more than just a college or a college community to me," he said. "It is literally a part of my family."
Norwood welcomed Mangelsdorf to that family, quoting the last stanza of the University's alma mater, The Genesee: "My prayer is that you, along your life's course, would grow stronger day by day."
Minehan reflected the celebratory mood in her remarks.
"Everybody has mentioned more than once, this is all about Meliora," Minehan told the audience. "But I have to say, it doesn't get much better than this."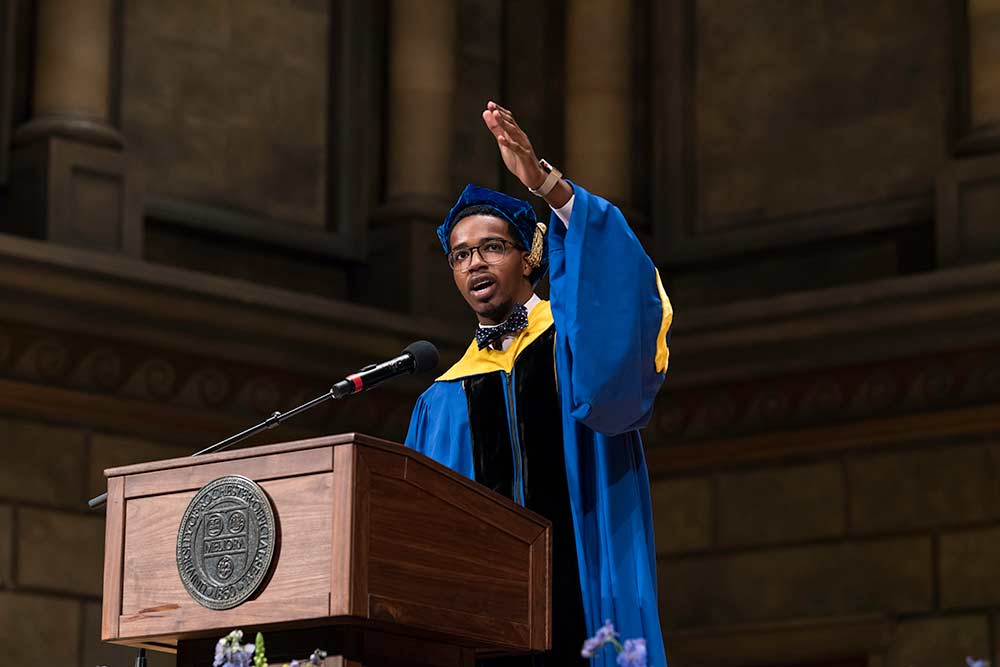 SPEAKING FOR STUDENTS: Students' Association President Jamal Holtz '20 acknowledges his classmates during his inauguration remarks.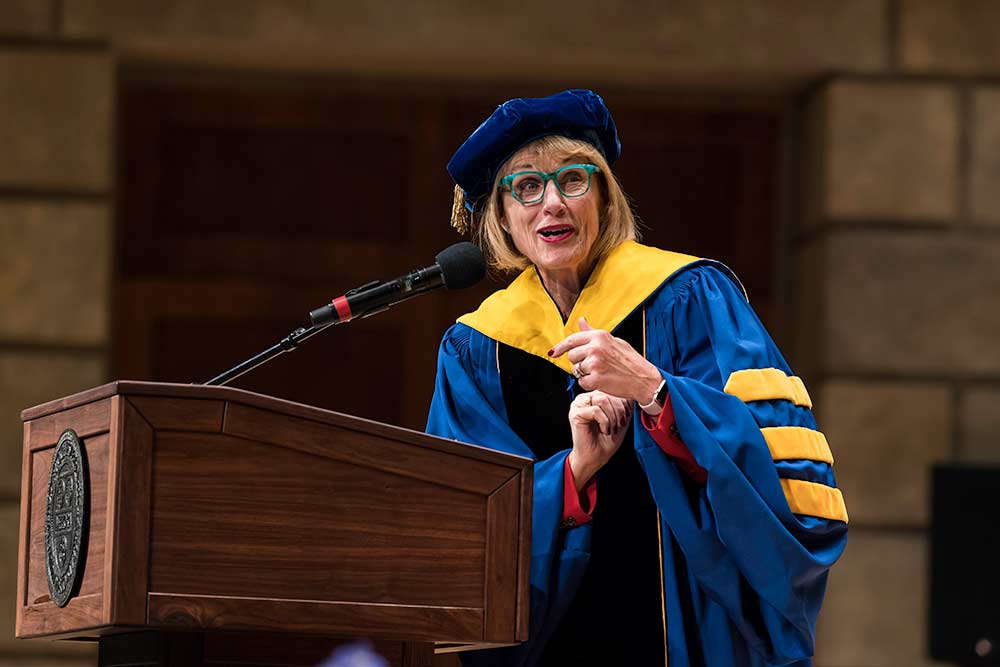 A SUCCESSFUL SEARCH: Cathy Minehan '68 recalls the process that brought Sarah Mangelsdorf to the University of Rochester as the institution's new president.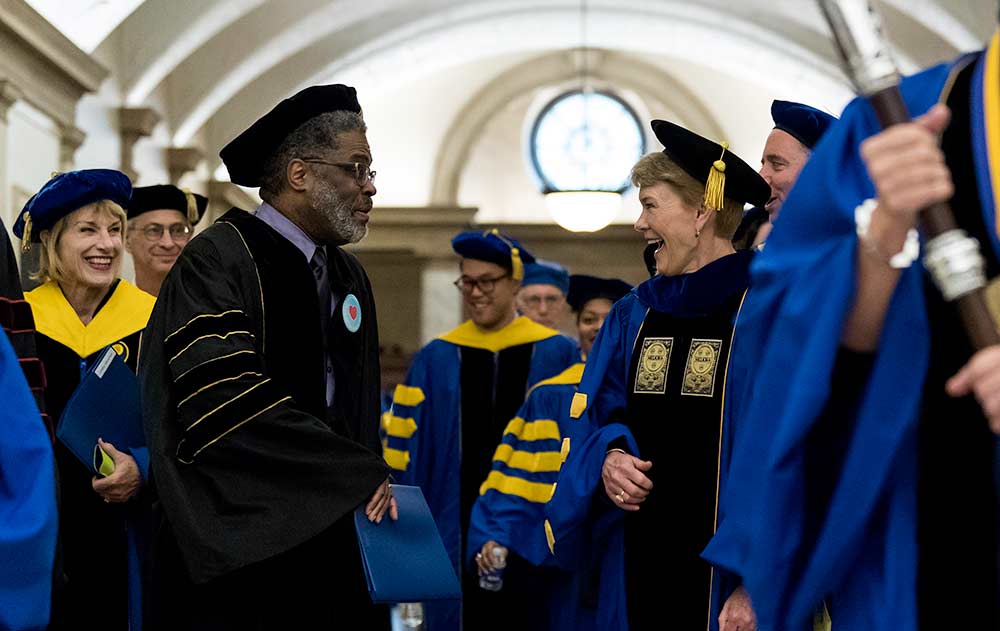 WARM WELCOME: Wade Norwood '85 and Sarah Mangelsdorf greet each other following the inauguration ceremony.
Category: University News