Each spring the University celebrates outstanding staff members for their significant and longstanding contributions.
The recipients of this year's staff awards will be recognized at an April 25 reception in Helen Wood Hall. Their names will also be inscribed on plaques in the Medical Center and in Wallis Hall on the River Campus.

(University of Rochester photos / J. Adam Fenster)
Witmer Award
The Witmer Award for Distinguished Service is presented to staff members whose careers have been characterized by outstanding and sustained contributions to the University.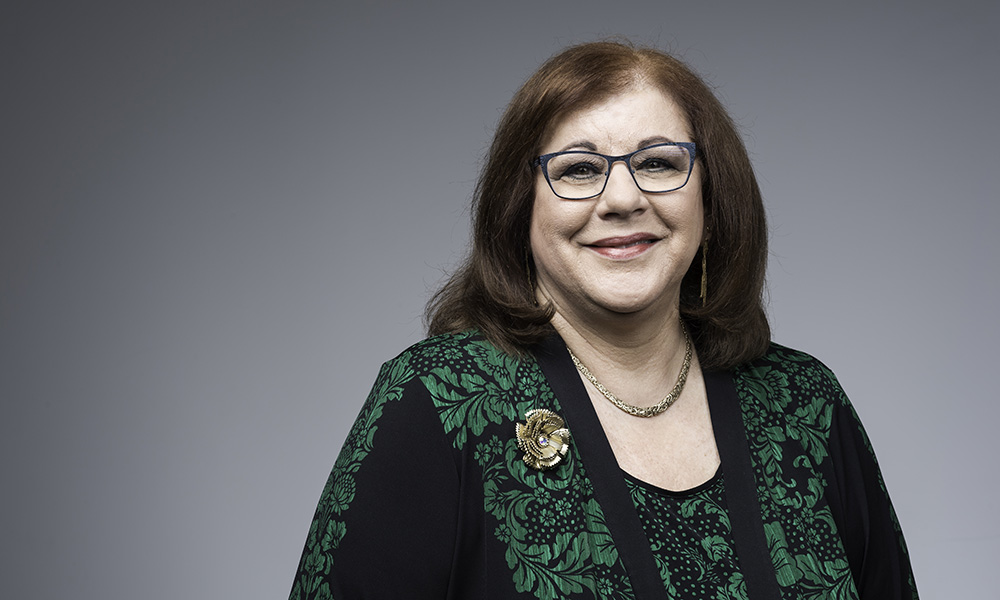 Debra (Debe) Andreacchi-Roth
Senior administrator/research program manager, Department of Pharmacology and Physiology
Since Debra Andreacchi-Roth began her career at the University in 1976, she has distinguished herself through her exceptional leadership, organizational skills, and mentorship, most recently in service to the Departments of Pharmacology and Physiology, and Anesthesiology and Perioperative Medicine.
As senior administrator and research program manager in the Department of Pharmacology and Physiology, Andreacchi-Roth promotes a goal-driven environment, fosters professional relationships across various departments, serves key institutional committees and special interest groups, and "works tirelessly to create a friendly and welcoming work environment that promotes teamwork, ICARE values, and commitment to a common purpose," wrote Robert Dirksen, the Lewis Pratt Ross Professor and Chair of the Department of Pharmacology and Physiology, in a letter of support. Lori White, an administrator in the department and member of the nominating team, said "I consider myself very fortunate to be under her leadership the past 27 years."
In 1996, Andreacchi-Roth orchestrated the merger of the pharmacology and physiology departments, combining two administrative offices, their resources, and workflows into a new and successful administrative structure. She initiated the Sponsored Research Business Center under the Department of Pharmacology and Physiology in 2001, to assume pre- and post-award management of research awards for the Department of Anesthesiology and Perioperative Medicine—a seamless transition due to her strong organizational and leadership skills.
In her current role, Andreacchi-Roth oversees the fiscal and operational activities in the Department of Pharmacology and Physiology and is responsible for all proposal submissions and grant post-award activities for the department and the business center. She is widely recognized for treating all researchers with the same level of dedication, energy, and skill.
"Debe is the single most important person providing support to the funded investigators in our department," wrote Laurent Glance, a professor and vice chair for research in the Department of Anesthesiology and Perioperative Medicine and professor in Public Health Sciences, in a letter of support. "She is the most hardworking and dedicated administrator I have ever worked with."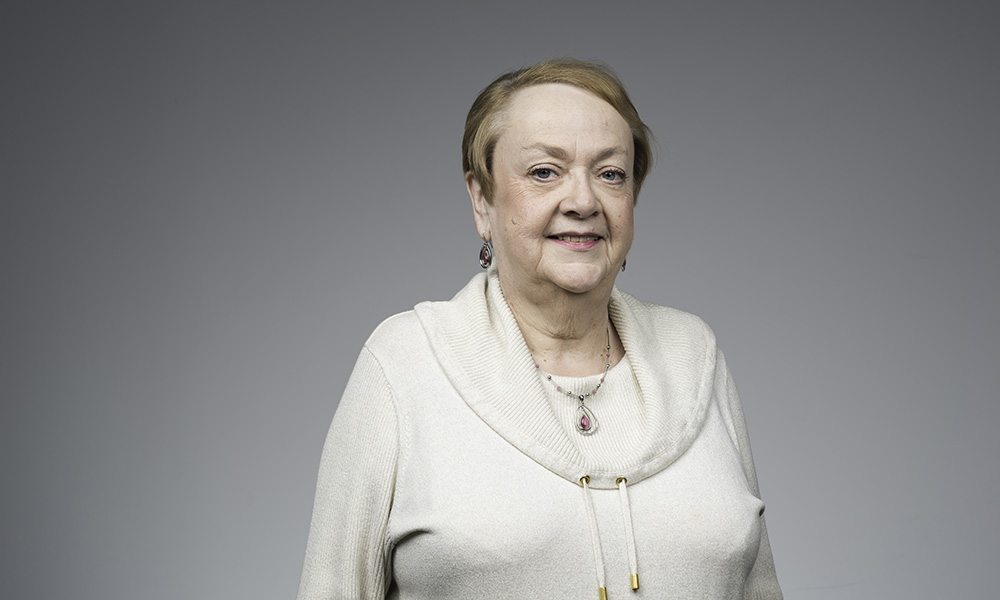 Nancy Specht
University registrar
Throughout her 19-year career at the University, and in her role as registrar, Nancy Specht has brought dedication, creative solutions, and empathy to every aspect of her work.
Her colleagues consistently praise her understanding of both the technical and human aspects of a problem, her dedication to prioritizing the needs of faculty and students, her guidance and mentorship to both colleagues and students, and her instrumental role in improving the efficiency and effectiveness of countless technological systems.
"Nancy's impact upon this institution has been abundant, consistent, compassionate, enduring, and tremendously positive," wrote Matthew Burns, dean of students, in a letter of support.
Specht shepherded multiple complex information systems from paper to online—including the major/minor declaration process; UR Student, the student-focused information system; and Campus Club Connection. She serves on numerous committees and groups, including the Center for Student Conflict Management, and cochaired a subcommittee for the Middle States Accreditation, leading the University to a successful reaccreditation and other accolades. Specht also cochaired Working Group 3, which was responsible for Student Admissions and Retention Student Support Services.
When organizing Specht's nomination, Anne-Marie Algier, associate dean of students, and Marcy Kraus, the Suzanne Jagel O'Brien Director of the College Center for Advising Services, said, "we were not surprised that our colleagues had experienced the same level of support, guidance, and joy from working with Nancy. She is truly a rare gem and represents the best of our institution."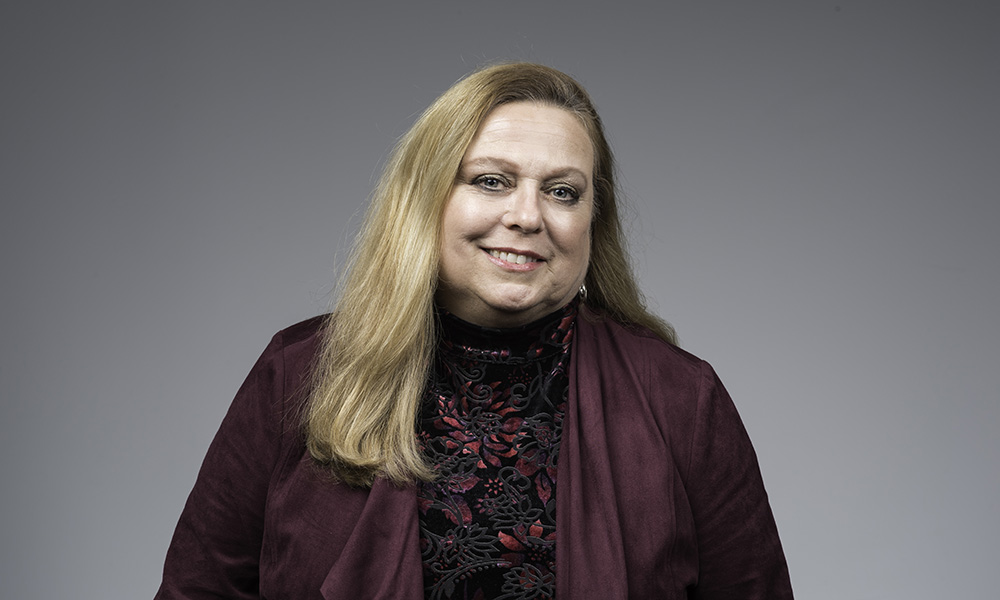 Constance (Connie) White
Regional operations director, Department of Imaging Sciences
Throughout her 34-year career with the Department of Imaging Sciences, Connie White has been recognized for the care, compassion, and a sense of humor she brings to her work.
White joined the University in 1985 as a nuclear medicine technologist and quickly advanced into leadership roles as a result of her work ethic, attention to staff needs, and patient-centered vision. In 1998, she became the senior administrator and operational director for Imaging Sciences, a position she held for 19 years. She now holds the title of regional administrator, a role created to lead the department's rapid growth.
Across her various roles, White has been a relentless advocate for both staff advancement and patient safety. Her accomplishments include implementing a career ladder for technologists; initiating a unified communication system, which has grown to a robust operation running 24 hours a day, seven days a week; designing and implementing a program to fund travel and conference expenses for technologists; helping develop the clinical counsel and patient safety office; and contributing to the design, planning, and creation of the new ambulatory imaging building.
"[Connie's] beliefs that patients should always come first and that compassionate care needs to be the priority have remained the driving force behind her work," wrote Jacqueline Beckerman, chief patient experience officer, and Kathleen Miller, senior director census management, in a letter supporting White's nomination. "[She] has inspired her fellow coworkers to follow in her footsteps, striving for excellence above all else."
White's advocacy extends into the Rochester area community through her work in the fight against the opioid epidemic in Ontario County and as a board member for a local hospice/comfort care home. In doing so, "she has always promoted the University's positive image," according to David Waldman, chair of the Department of Imaging Sciences.
Meliora Award
The Meliora Award recognizes staff members whose work performance and dedication during the preceding few years exemplify the University's motto, Meliora.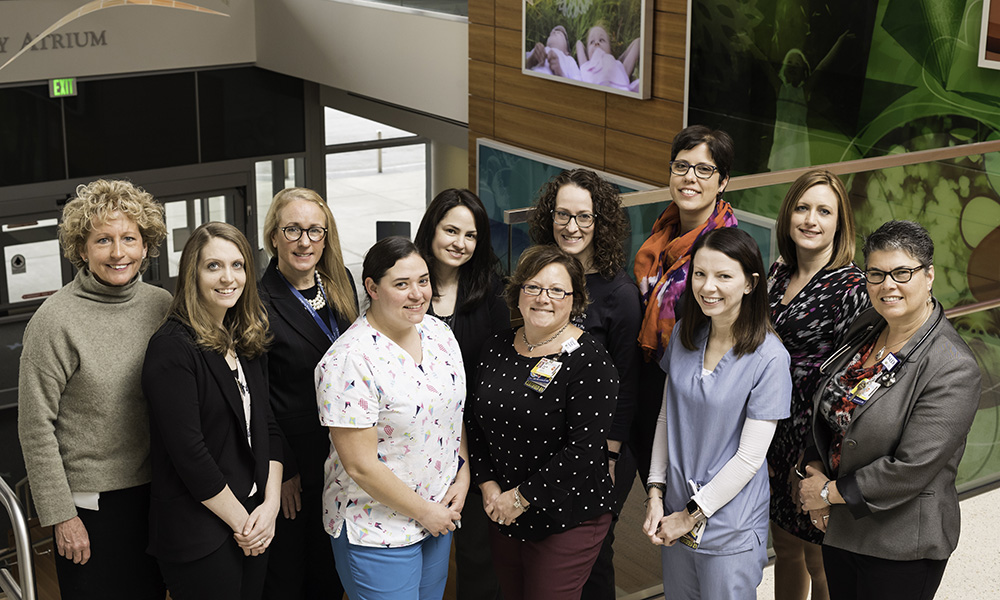 Golisano Children's Hospital 7 North Unit-Based Performance Program Team
7 North is an inpatient hospital unit that cares for some of the hospital's most vulnerable pediatric patients—those receiving treatment for childhood cancers.
At least one patient each year was acquiring central line-associated bloodstream infections, serious hospital-acquired infections that can be fatal for patients, particularly those who have compromised immune systems. In 2016 the team put measures into place to prevent patients from getting the infections. Since then, they have achieved more than three years without such an infection.
"Not only has the 7 North UPP team been able to achieve the impossible, but they have fostered a 'just-culture working environment' where there is collective responsibility without individual blame," wrote Lynne Brown, associate quality officer and director of infection prevention at Strong Memorial Hospital, in a letter supporting the team's nomination.
Led by Trish LaLonde, nurse manager, the team consists of nurses, physicians, environmental services staff, child-life specialists, social worker, family advisors, quality-improvement coaches, and infection prevention specialists. Members include Lauren Bruckner, Jan Schriefer, Amy Roth, Casey Calabria, Brenda Tesini, Renee Clark, Vicki Rounds, Jade Giesy, Jennifer Schaefer, Marie Deserto, Melissa Francisco, and Jenna Wagner, a parent advisor.
Team members addressed the problem from multiple angles. They worked closely with staff, patients, and families to improve the cleanliness of the patient-care environment; and used local and national resources to understand best practices to minimize the risk of introducing an infection.
"All of these efforts are set in the context of showing compassion to those whom the unit serves," wrote Pat Reagan Webster, associate quality officer, in her nomination letter. "Since patients may be hospitalized for an extended period of time, the entire team understands the need for patients and families to exercise control over their environment and items in their room. It is all a balance, but the 7 North staff and providers have been amazing at educating patients and families about the importance of room cleanliness without impacting their comfort in spending time in the hospital room."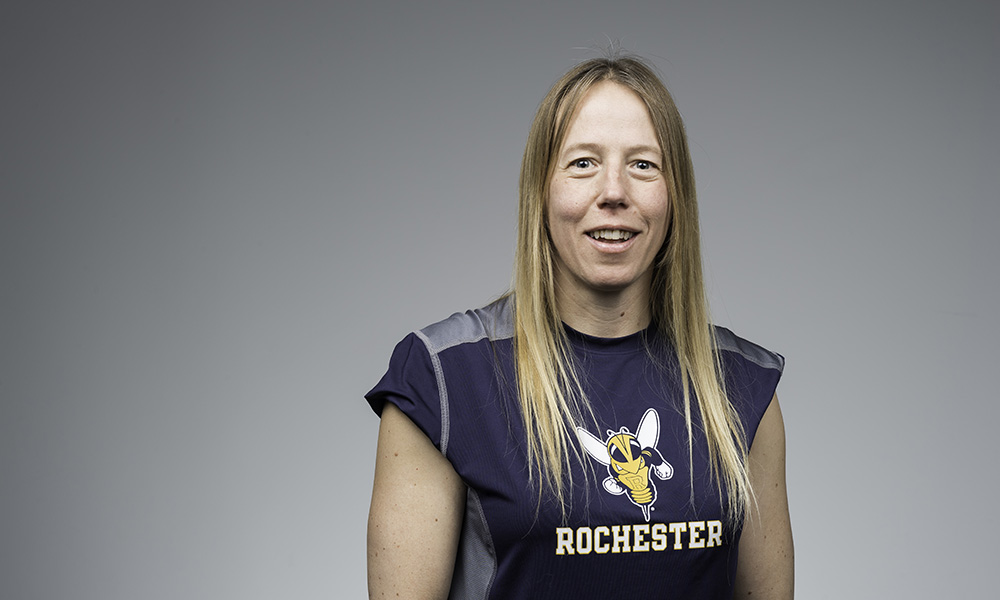 Hillary Lincourt
Senior analyst/programmer with University IT
Hillary Lincourt has a talent for telling stories with numbers.
Her creativity in developing data visualizations has provided insight into the information the University collects in its many systems and processes, driving decision making across the institution.
Among other accomplishments, Lincourt built a tool that allows the Medical Center's human resources division to efficiently access and sort data to support workforce planning and recruitment initiatives. She has used data to show trends in graduate student enrollment, graduation rates, and other factors that influence support models for graduate students. She has developed visualizations that communicate the trends and results of student enrollments and performance over time, and she has modernized the University's Factbook with Central Institutional Research and University Communications.
"Hillary has not only been able to help a vast number of University constituents understand their data, but she is more an ambassador for how good data—transformed and visualized in the right ways—can help the institution make better, quicker, and more insightful decisions," wrote Julie Meyers, the University's deputy chief information officer, in a letter supporting Lincourt's nomination. "She is helping to transform how the University looks at information."
In addition, she educates the people she serves about the visualization tools so that they have a better understanding of the process, according to Jeff Meteyer, manager of reporting and analytics for University IT. Lincourt has also mentored students, faculty, and members of the administration, as well as local high school students, in the use of the data visualization tools and data interpretation.
Those supporting Lincourt's nomination also cite her professionalism and ability to collaborate, as well as her initiative, innovation, and creativity.
"Hillary's personality and professional demeanor have helped set the tone for the group; her activities and support of University IT goals and values; and her passion for diversity and inclusion are evident in her communications with other workers," Meteyer adds.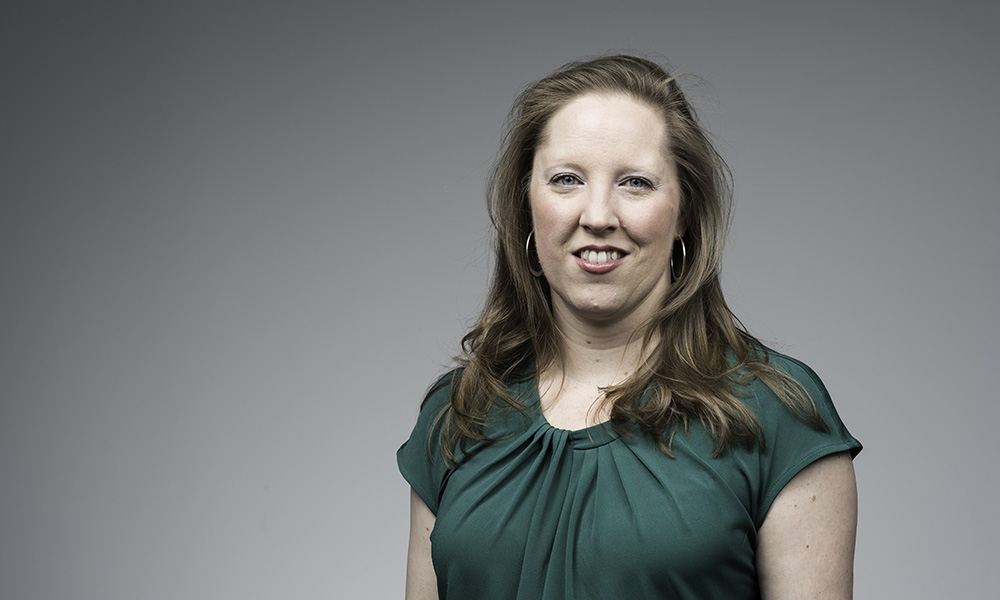 Brenna Rybak
Administrator, Department of Biology
As Department of Biology administrator, Brenna Rybak is responsible for many aspects of the department's day-to-day and long-term operations.
Colleagues say she's an innovative and creative problem solver and her level of service to faculty, staff, and students in the department consistently exceeds expectations. Rybak is considered a thoughtful advisor to many members of the department and has helped counsel them through a variety of issues and questions.
"Brenna is a star, a terrific asset to the department and the University, and is a joy to work with," wrote Michael Welte, chair of the Department of Biology, who nominated her for the award. "She communicates effectively in person and in writing, is an active listener, and a problem solver. She interacts well with all members of the department, has profound people skills, and is excellent at both managing conflict and encouraging people to do their best."
Rybak is essential to the department's faculty recruitment efforts, organizing and scheduling interviews and ensuring the process is carried out seamlessly. She also plays a critical role in training and mentoring new staff members.
"Her attention to detail and skill at managing interviews has been noted by many candidates, and it cannot be overlooked that the number of hires during Brenna's time has increased," wrote Gloria Culver, a professor of biology and dean of arts and sciences, in a letter supporting Rybak's nomination. "Brenna's work in this area has been so strong that other departments now use it as a model for organizing and communicating with candidates."
Colleagues applaud Rybak's vision and excellent judgment. She worked with the web team to completely redesign the department's website and continues to ensure that the site is kept up to date. She also volunteered to take responsibility for, and make improvements to, the department's newsletter, raising the department's visibility to alumni and others at the University.
Rybak has also made contributions outside of the department. She was an original member of the Arts, Sciences & Engineering Administrative Council and she serves on the Commission on Women and Gender Equity in Academia.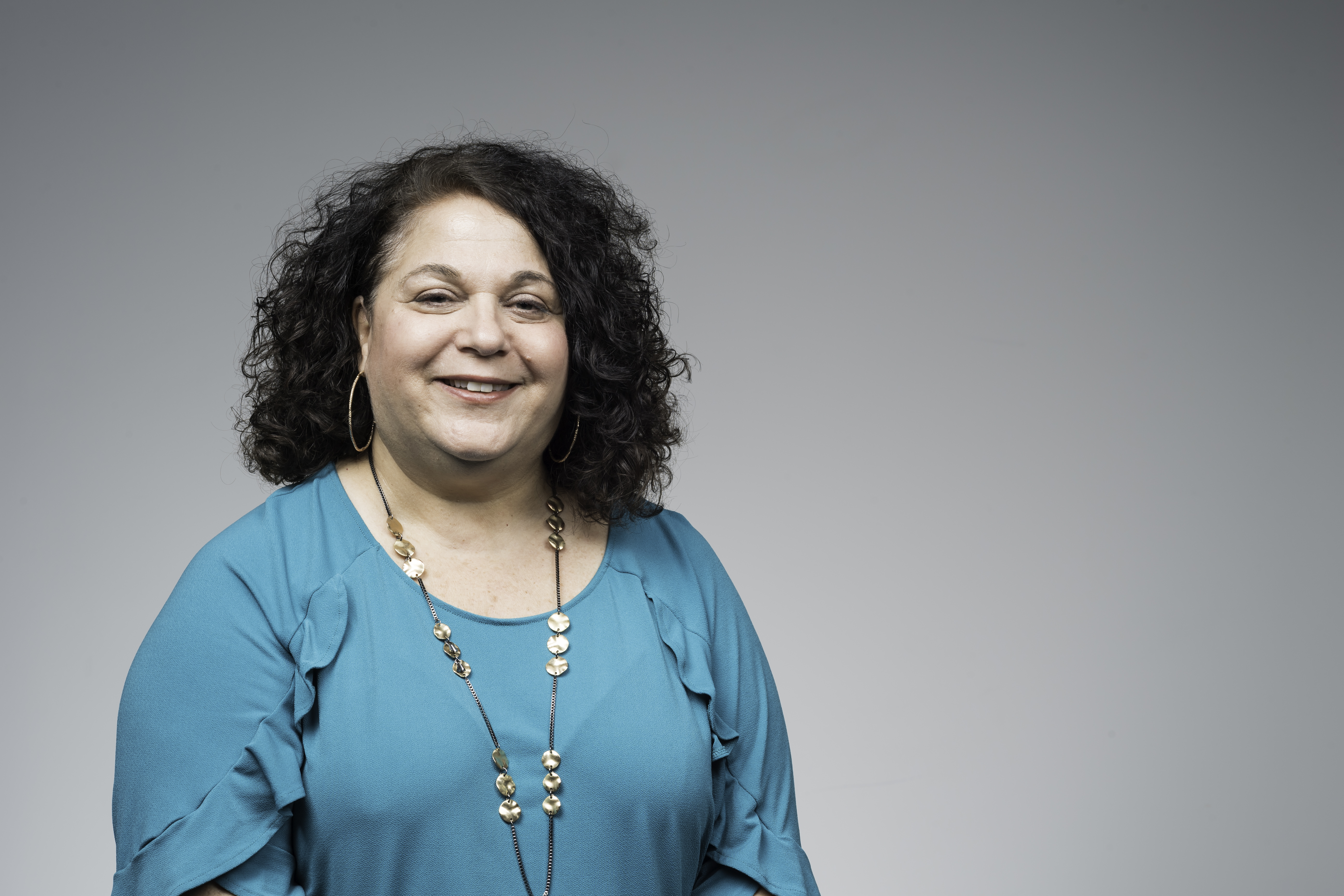 Vicki VanDeWalle
Director of process improvement and projects, Department of Pathology and Laboratory Medicine
In her role as director of process improvement and projects for Pathology and Laboratory Medicine, Vicki VanDeWalle leads many quality and patient-care initiatives for the rapidly growing UR Medicine Labs.
Among the large-scale projects and initiatives VanDeWalle has led is the relocation and consolidation of clinical laboratory operations to Bailey Road in West Henrietta—a project that will allow UR Medicine's clinical labs to thrive in a new, state-of-the-art facility.
"It takes a strong and focused leader to manage the details of a project this size, and Vicki has all the qualities to ensure every last detail of the transition is managed with great care and attention," wrote nominators Bethany Bushen, communications and marketing manager, and Jessica Wahl, project manager, with Pathology and Laboratory Medicine. "In many ways, she has become the face of this project. She has seen it evolve over the course of nearly a decade and works tirelessly to make the transition go smoothly."
Colleagues say her dedication and commitment to the project have been extraordinary.
"Vicki worked tirelessly to ensure all parties were included in the planning, designing, and coordinating of the new space to involve the majority of the laboratory operations," wrote Kelley Suskie, a program administrator with UR Medicine Labs. "Vicki handled this project with a respectful and inclusive tone."
During her 15 years with the University, VanDeWalle has been instrumental in a number of lab-related process improvement projects including the implementation of a tracking system and streamlined processing system for surgical pathology specimens, the building of a robust online laboratory test index, and improvements to the laboratory diagnostic testing algorithm.
VanDeWalle has black-belt certification in the Lean/Six Sigma, a method that relies on a collaborative team effort to improve performance by systematically removing waste and reducing variation. Under VanDeWalle's guidance, 17 members of Pathology and Laboratory Medicine have become Lean-certified, with hundreds more who have started on the path to certification.
Staff Community Service Award
The Staff Community Service Award honors a nonmanagement staff member whose commitment best exemplifies service to the University and the Greater Rochester community.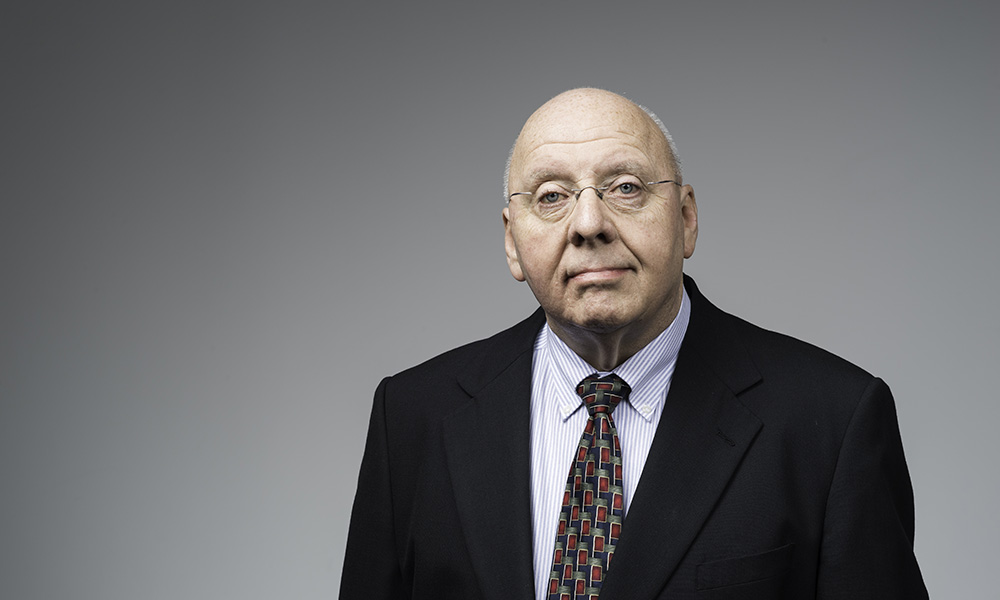 Dennis Carr
Answer Desk and ILL Specialist, Institute for Innovative Education: Miner Library
Dennis Carr is being recognized for his dedication to the Mount Hope Cemetery as a volunteer for more than 40 years.
Carr started his affiliation with Mount Hope Cemetery in the 1970s as a tour guide. In 1980, he cofounded the Friends of Mount Hope Cemetery, a nonprofit organization that promotes the cemetery as a cultural and educational resource and assists with the physical preservation and restoration of the historic site. Throughout the years, Carr has held many roles with the organization—president, vice president, and treasurer of the Board of Trustees; tour director; and tour committee chair.
Carr's greatest passion in his work with Mount Hope Cemetery—and what he's most known for—is giving tours. "It is impossible to be in the presence of Dennis without learning a fascinating story that will become an indelible part of our repertoire as tour guides, and enrich our lives as well," wrote Patricia Corcoran, vice president of the Friends of Mount Hope Cemetery, in a letter supporting Carr's nomination. "His curiosity is insatiable, and his creativity enriches our organization and the hundreds of people who come on our tours every season."
Carr has been involved in countless projects with Mount Hope Cemetery including the restoration of the 1872 gazebo, acquiring grant funding in support of the cemetery's landscape preservation, and establishing unique and well-attended theme tours.
"Dennis's long-standing devotion to the Friends of Mount Hope Cemetery and scale of his achievements are commendable. His exceptional personal commitment has directly elevated the profile and perception of the cemetery above and beyond fulfilling the mission of the organization he has cofounded," wrote nominators and Miner Library colleagues Susan Atkins, answer desk manager, and Jennifer Raynor, director. "Dennis is a role model, an inspiration, and truly exemplifies the essence of community service."
Category: University News