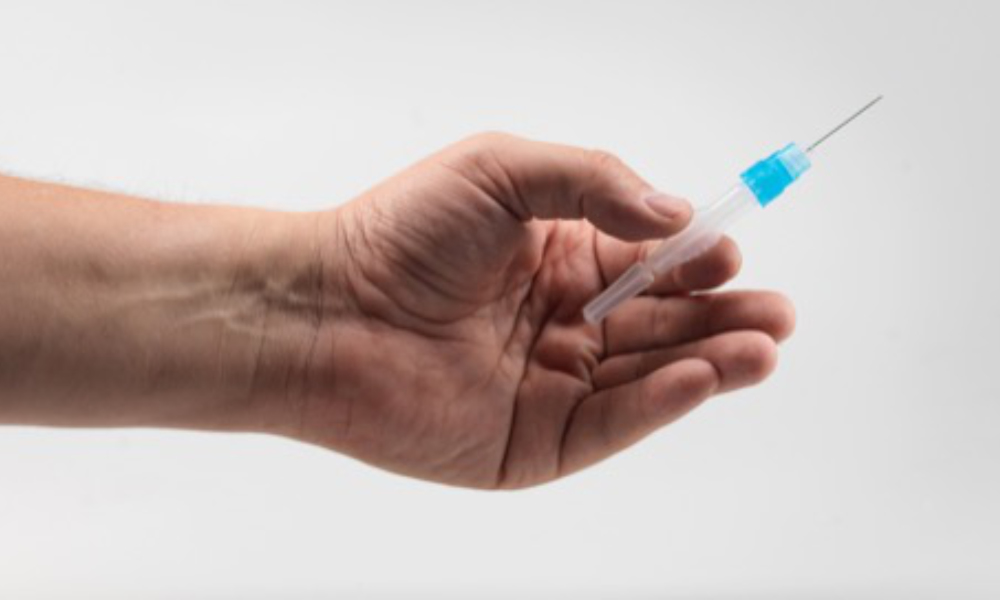 The medical technology company will support student design teams and a University-wide device design contest.
Helen Shammas wants to make healthcare more accessible in developing countries. Hana Kalčo is interested in medical device design. So is Chloe Jones, who plans to become a physician.
All three biomedical engineering seniors at the University of Rochester are excited to be teaming up with ApiJect Systems Corp. on their senior design project this year. The medical technology company creates sterile, non-reusable syringes for vaccines and medical injections. The goal is to prevent the premature deaths of an estimated 1.3 million people who receive medicine each year from syringes that are contaminated.
A $100,000 gift from Jay Walker, ApiJect's executive chairman, to the University's Department of Biomedical Engineering, will support medical device design projects for the department's senior undergraduates and master's students, new scholarships, and a Create-a-Thon medical device design contest for students University wide.
"What is really exciting is the opportunity this gives us to introduce health care engineering in global and low-resource environments throughout our curriculum, in partnership with a company that has this as their mission," says Diane Dalecki, the department chairperson and Kevin J. Parker Distinguished Professor in Biomedical Engineering.
An 'intense design' experience
ApiJect seeks to make it possible for governments and health care sectors worldwide to benefit from a new kind of sterile, non-reusable, prefilled injection format that will be economically efficient for any market.
As part of that effort, it has developed a prefilled injector that combines an aseptically filled Blow-Fill-Seal plastic container and a push and twist-on needle hub. The injector, based on an idea by ApiJect founder Marc Koska, is designed so it can be used only once. That's important because the World Health Organization (WHO) and the medical industry agree that there is no proper or acceptable way to clean a needle and syringe, due to microscopic amounts of blood that almost always are sucked backward into the syringe barrel when it is withdrawn from a patient's arm.
The student design team—made up of Jones, Shammas, Kalčo, Katelin Klaric, Abdullah Abuomar, and Ronald Lakony—will design improvements to the ApiJect injection system.
"I am excited to be putting into practice what we have learned as engineers in a real setting," Jones says. "As I enter the medical field myself, I hope to gain a better understanding of medical device development so that I will be able to identify challenges that could be solved with engineering in my own practice."
Shammas says the opportunity to work with ApiJect dovetails nicely with her interest in pursuing a career in accessibility engineering, "specifically when it comes to developing countries. This will bring me a step closer to learning more about navigating the World Health Organization requirements when designing devices while also keeping in mind requirements from the FDA."
The benefits of university-industry partnerships
The ApiJect/University of Rochester BME Partnership in Medical Device Design for Global Health will also be integrated into student training and design projects in the department's Center for Medical Technology and Innovation (CMTI) medical device design master's program.
The Create-a-Thon, to be held in the spring, "will be a few days of intense design that we hope will inspire student interest in medical device design and global health care engineering," Dalecki says. "Hopefully we'll have lots of 3D printers going, and many groups of students working together to solve these challenges."
Dalecki hopes positive results this year will lead to a long-standing partnership with ApiJect. Eventually the department would like to incorporate instructional modules on health care engineering in global and low-resource environments in classes that all undergraduates take, she says.
"Through our partnership with ApiJect, we'll be able to tap not just their technical expertise, which is going to be really valuable, especially for our medical device design and senior design students, but also ApiJect's expertise and perspective on working in global and-low resource environments and the networks they might have in different regions around the world," Dalecki says.
"Their mission is to make injectable medicine safe and available for everyone. Unfortunately, dirty syringes are too common in low- and middle-income countries," says Kalčo. Participating in the senior design project, she says, will help her become more familiar with medical device design and development. "Moreover, this project will allow me to understand the various global health organizations, their preference in injection technologies, as well as waste management practices and minimization of biohazard exposure."
---
Read more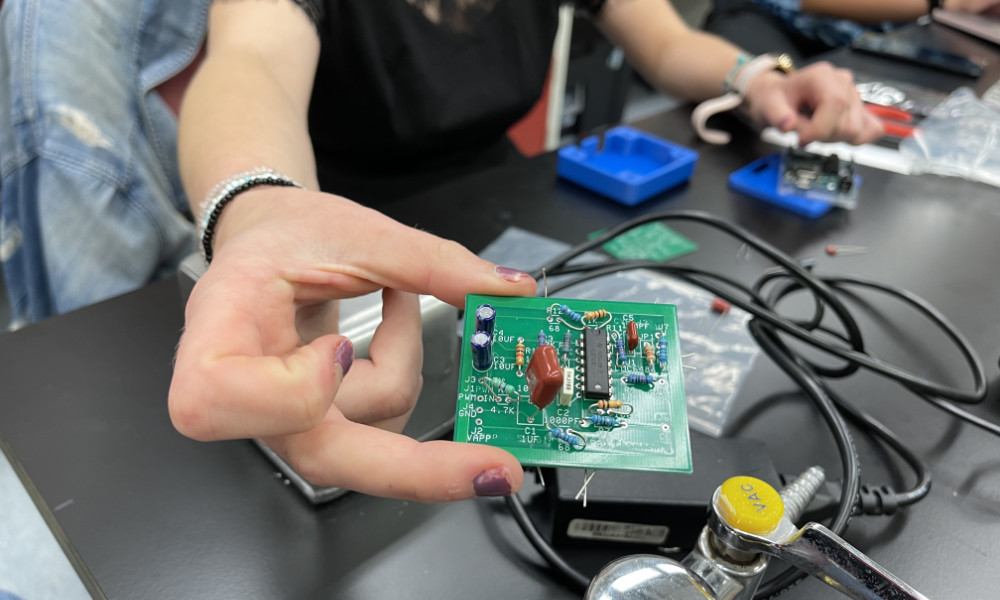 Rochester students' award-winning device instantly detects sepsis via sweat
Rochester undergraduates have developed a fast, noninvasive, affordable, and eco-friendly way to diagnose the life-threatening medical complication.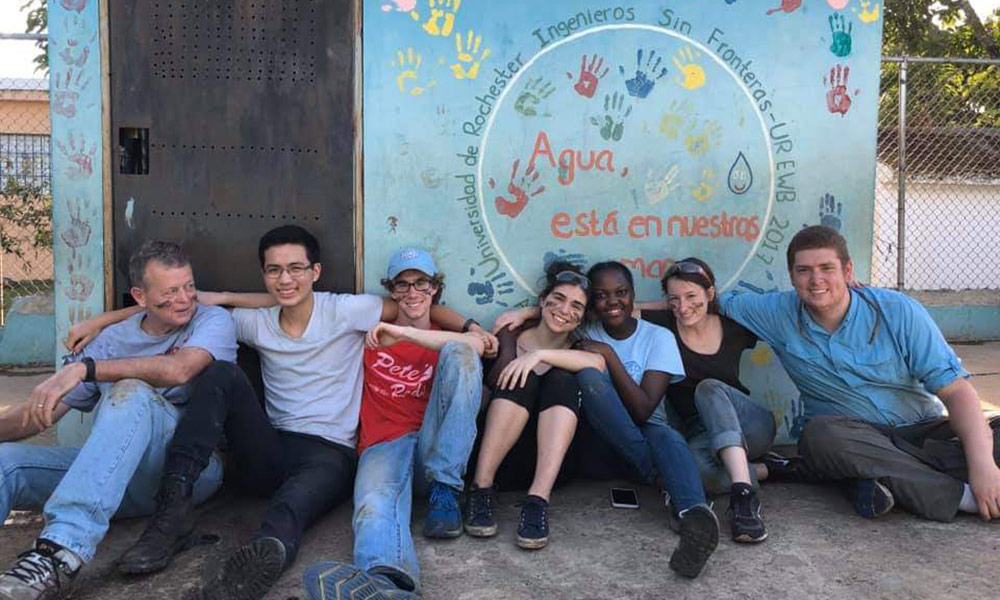 'All of our previous work would have gone to waste if we didn't address this'
Members of the University's chapter of Engineers Without Borders have been hard at work designing solutions to bring clean water to schools in the Dominican Republic.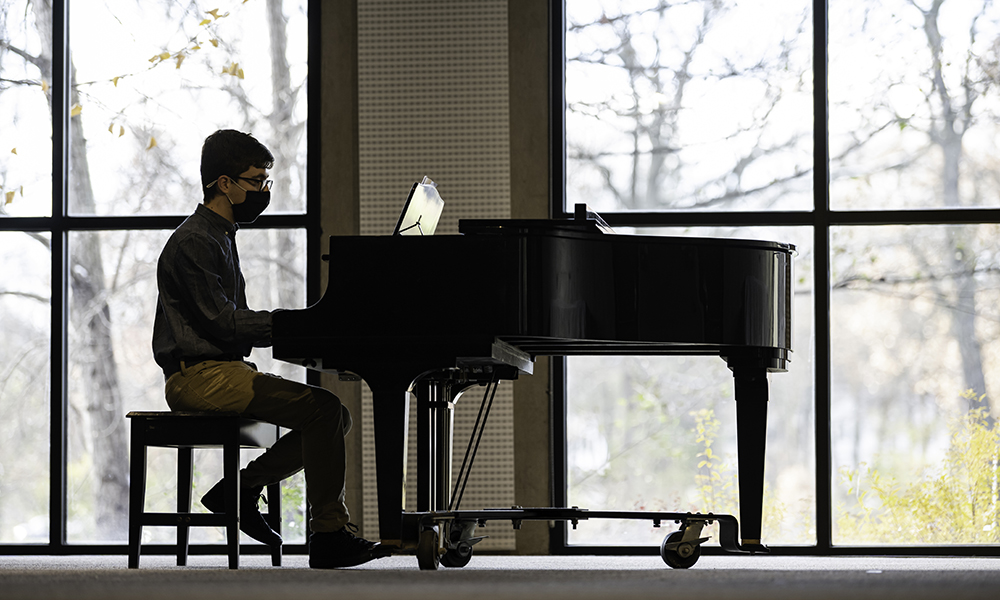 Undergraduate finds room to explore business, computer science, and an American music icon
Rochester's flexible curriculum gives Jacob Rose '24, who plans to major in business with an emphasis on computer science, a chance to research Leonard Bernstein.
Category: Campus Life